7 Best Custom Printing Sites: T Shirts, Hoodies, Mugs, & More!
What are the best sites for ordering custom printed products online?
Making your own printed products just doesn't work for everybody. T shirt printing can be complicated, confusing, and costly. Mug printing can be a headache! Thankfully there are a great many custom printing sites waiting to do it for you.
Here are recommended sites for designing and ordering t shirts, hoodies, mugs, and everything else, online!
Custom Print Sites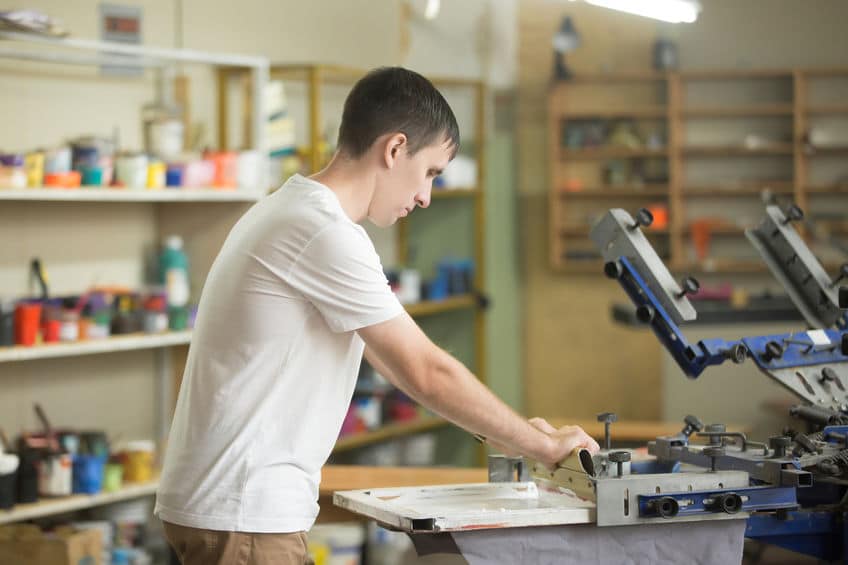 Custom printing is easy with the large range of services offered by the sites we're featuring here.
It doesn't matter what size order or what level of knowledge you have, there is a solution for you!
Have no idea if you want screen printed or sublimation printed tees? Not sure if heat transfer vinyl or a machine embroidered design would be best?
Whether you know exactly what you want or have no idea, check out these companies. Many have easy to use t shirt design software, chat support, and interactive guides which support you as you make your order.
Let's take a look!
Custom Ink

Huge range of print products to order from
The best range of t shirt styles, sizes, & colors - print on top brands
Fast turn around on orders

View All ServicesView T Shirt Printing

Zazzle

Print on clothing, stationary, & everything else!
Great range of Disney merchandise
Awesome deals on quality products

View All ServicesView T Shirt Printing

Design A Shirt

Known for quality printed shirts
Quality clothing brands
Bella + Canvas, Gildan, Champion, Hanes

View All ServicesView T Shirt Printing

Design Hill

T shirt design services, as well as printing
Great online tools to support you
T shirts, tank tops, sweatshirts, hoodies, etc

View All ServicesView T Shirt Printing

Cafe Press

Print on mugs, tees, bedspreads, tote bags, cap, & more!
Choose from pre designed tees or design your own
Create monograms, photo gifts, or text designs

View All ServicesView T Shirt Printing

A2Z Clothing

Custom screen printing & embroidery
Suppliers of blank garments for t shirt business
Not the best for rush orders as a quote must be requested manually beforehand

View All ServicesView T Shirt Printing

Etsy

Huge selection of sellers to choose from
All types of personalize tees using different methods
Support small craft business

View All ServicesView T Shirt Printing
Custom Ink
Custom Ink are one of the biggest and best custom printing sites.
They have a huge array of products that can be customized or personalized in any number of ways.
Here's an idea of some of the products they offer, but it's really just the tip of the iceberg!
A large range of garments:
short & long sleeved tees
performance t shirts
active wear
vests & polos
hoodies & sweatshirts
kids clothing
work & employee clothing
branded garments
A large range of promo products:
drinkware – cups & coozies
stickers & magnets
office goods & stationary
personalized giftware
promotional products
backpacks & tote bags
phone cases
watches
What Sets Custom Ink Apart?
With Custom Ink, we are able to print on top branded garments: Custom Nike shirts and hoodies, Carhartt, Adidas, Puma, Columbia, and many more.
Besides this, their t shirts (and other garments) are the best brands: Comfort Colors shirts, Bella + Canvas, Hanes, Next Level, and more.
---
2. Zazzle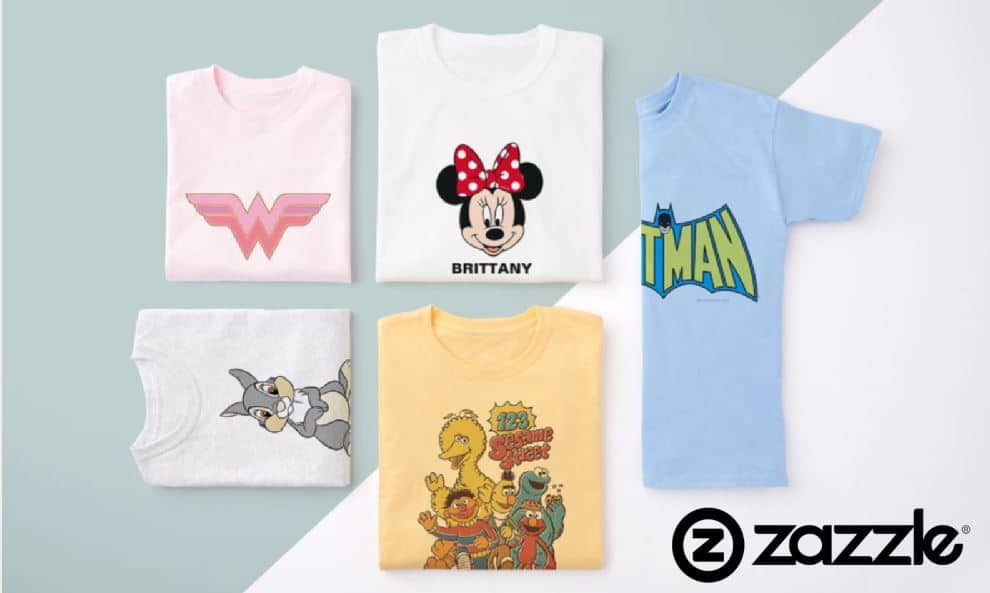 When you want quality printed products fast, visit Zazzle.
Zazzle has a very smooth design and order process that makes this often stressful task a breeze. Create your own designs or choose from the large available selection.
Whether you've got a small order or a large one, Zazzle can take care of you.
Create your own:
baby clothing
kids clothes
t shirts
leggings
hats & caps
tote bags
Create your own:
banners & stickers
invitations & cards
wedding signs & decor
buttons
mouse pads
phone cases
What Sets Zazzle Apart?
Customize Disney T Shirts! Zazzle have tons of great designs that can be further customized. Add something personal to a Micky Mouse tee, a Grinch t shirt, or thousands of other options.
Zazzle also have a great range of print on demand stationary products – wedding invitations, banners, signs, and gift-ware. Use their templates to make the process quick and easy!
---
3. Cafe Press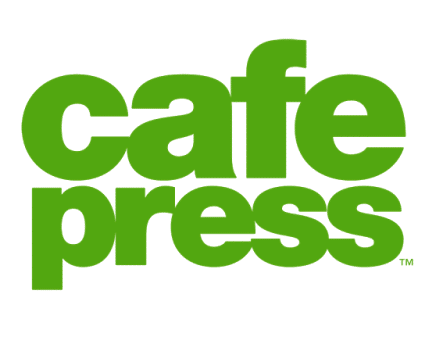 Cafe Press is another one of the large printing companies with a seemingly endless range of products you can have custom printed.
There are no minimum quantities, an easy online design tool, and a satisfaction guarantee.
Not only can you order your own custom designed shirts or other products, you can simply scan through all the designs already available. Tweak it or grab it as is!
Custom printing for:
personalized gifts
custom clothing & apparel
accessories
bed & bath products
kitchen & homewear
home & office
seasonal & occasional
Unique print products:
journals
monogram gifts
pajamas
shower curtains
yard signs
serving trays
underwear!
What Sets Cafe Press Apart?
The large range of printable products that you can choose from definitely makes Cafe Press a great spot to start.
You can go and browse without even knowing what you want and come across a ton of exciting gift or promo ideas. Stuck for a gift idea for your dad? Get him a custom shower curtain! I'm sure mom would love it as well 😂.
---
4. Design Hill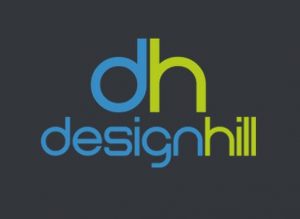 Design Hill is a lot more than a print on demand site – they provide design services for whatever you need done.
Their print on demand products are limited to t shirts and other garments, but their design services can really be used for anything you might want printed elsewhere.
Print on demand products:
men's & women's tees
kids & youth tees
sweatshirts
long sleeved tees
tank tops
hoodies
Use the design services for:
t shirt design
merch design
cup or mug design
hat or cap design
tote bag designs
website design
What Sets Design Hill Apart?
Their t shirt design services can take a lot of stress out of making t shirts for your promotion or business merch. Other sites have plenty of templates and make the process fairly easy, but if you want to skip all that, talk to a Design Hill designer.
Also, if you have all the t shirt equipment, but design is not your strong point, using Design Hill's design services might be the answer you're looking for.
Focus on what you do best, and leave Illustrator and Photoshop to the experts!
---
5. Design A Shirt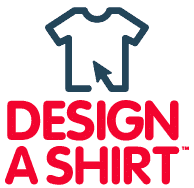 Design A Shirt is exactly as you'd imagine – a site where you can design your own shirt for printing!
The process is made easy with their design studio, allowing you to add graphics, text, team logos, or even photos.
Great for making promotional garments for fundraising or marketing your brand on walking billboards!
Print products:
t shirts
athletic wear
business wear
children's clothing
outerwear
Specialty items:
custom caps
custom visors
bags & totes
aprons
towels
What Sets Design A Shirt Apart?
The Design A Shirt design and ordering process is really quick and easy.
There are a range of templates with t shirt design ideas that help with the creative process!
---
6. A2Z Clothing

A2Z Clothing primarily sell blank t shirts for t shirt businesses, however, they also have some custom printing services.
They are a smaller company than the likes of Custom Ink, but they still have a huge range of garments that can be custom printed.
The prices are very competitive, and the clothing is quality – just as their logo states!
Custom printing services:
Embroidery
Screen Printing
Heat Transfer
Applique & Reverse Applique
Laser Etching
Print on:
t shirts
workwear
hoodies & sweatshirts
infant & toddler clothing
hats, caps, & beanies
What Sets A2Z Clothing Apart?
A2Z Clothing are the spot for cheap t shirt blanks.
The process of ordering custom printed garments is a little slower than other sites, as you need to request a quote for the work first, but the quality is high.
With free shipping on orders over $149, and a customer call center, they are definitely worth a closer look!
---
7. Etsy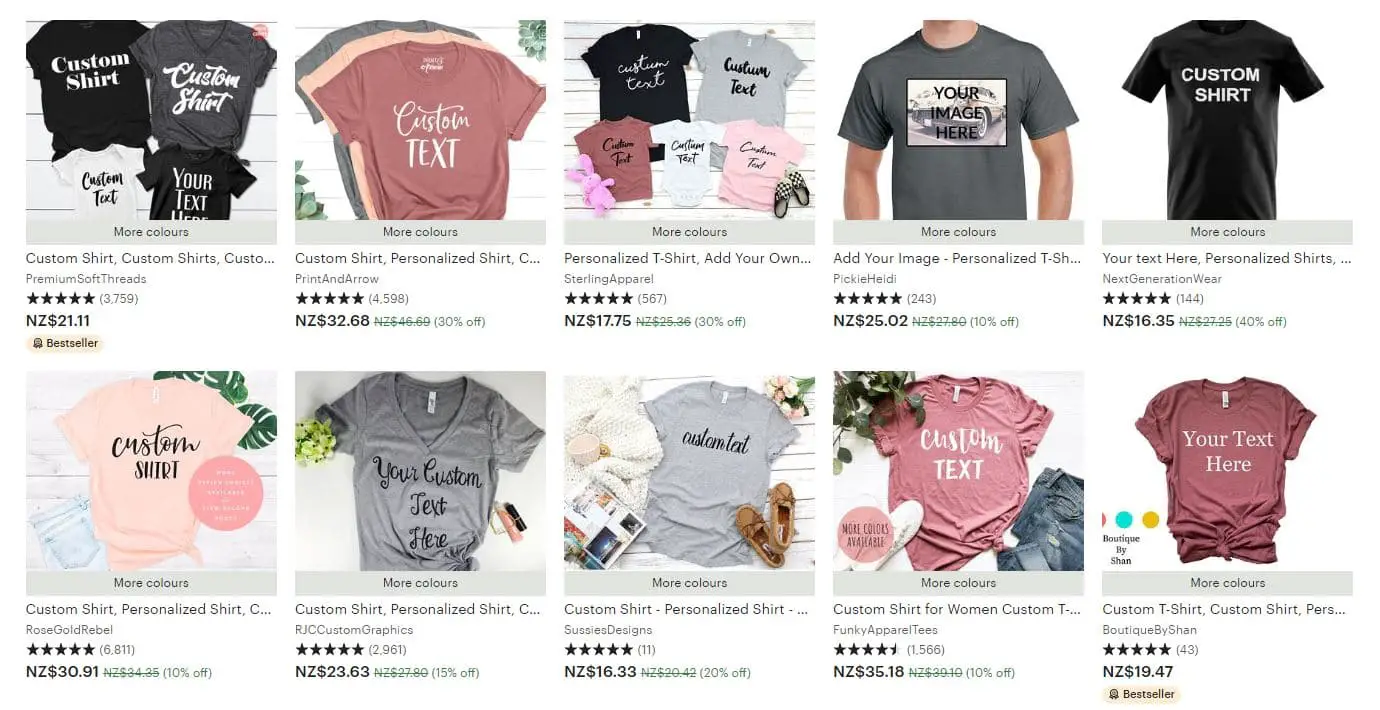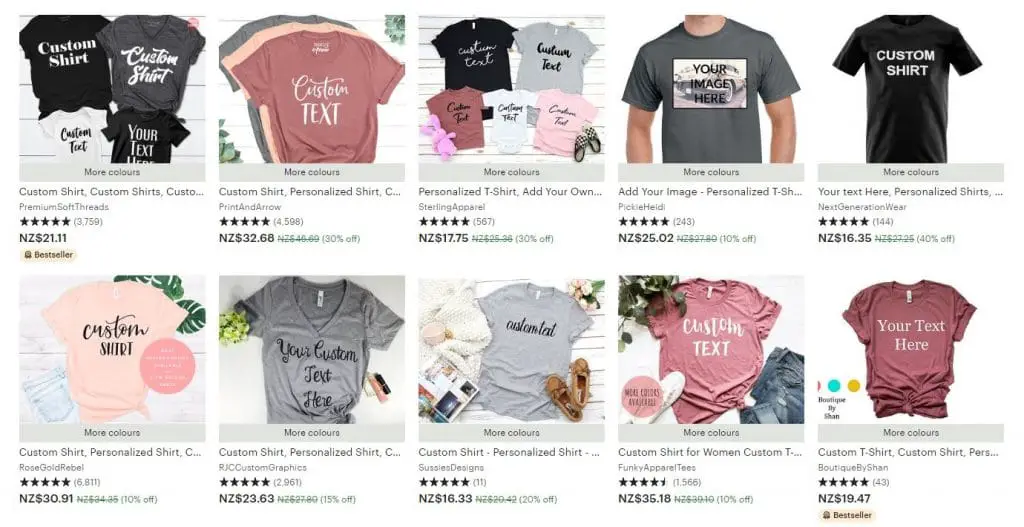 Etsy may not be the first place you think of when you want printed shirts, fabrics, mugs, or even custom printed balloons! But, you can find it all on Etsy!
You might even prefer this option in order to support small craft businesses, and those running their operation from home. There a tons of moms using their Cricut machines and heat presses to make personalized tees and everything else.
This option is best for when you are just wanting a limited number of products. The downside is that if something goes wrong, sometimes it's easier to deal with a bigger company.
Some Etsy sellers may not have the same level of printing knowledge and quality control, so go with those sellers who are highly rated!
Etsy tee print methods:
custom screen printed tees
DTG printing
a lot of HTV options
sublimation printing
heat transfer paper
embroidery
Print on:
garments
mugs
giftware
pens
custom stickers
drink coolers
What Sets Etsy Apart?
Etsy is so different from all these other custom print sites. Or course, Etsy isn't a t shirt printer, but they are a platform with a lot of printers!
There are so many thousands of sellers, each catering to another small niche, so whatever you want printed, I'm sure you'll find it there!
---
Custom T Shirt Printing Near Me
If you're looking for custom printing options near where you live, go online!
That's the fantastic thing about the internet – all of these great t shirt printing sites are near you. Through the online design and printing sites, we all have access to the same great prices and quality printing services.
Let us know your about your experiences down below!
(Please note: This post contains affiliate links. Read our full disclosure policy here.)