What Is The Best Embroidery Machine? Read This Before You Buy
This post contains affiliate links. If you use these links to buy something, we may earn a commission, but it doesn't cost you anything. Thanks!
What is the best embroidery machine?
While we usually focus on heat press machines, we love and enjoy everything to do with the t shirt and garment industry. And don't get us started on crafts! If there's a craft application, we want to write about it!
The best embroidery machine for you is going to depend on how you answer these questions:
is this for home, small business, or commercial use?
how often are you going to use the embroidery machine?
what type of work are you going to be doing?
what is your budget?
Best Embroidery Machines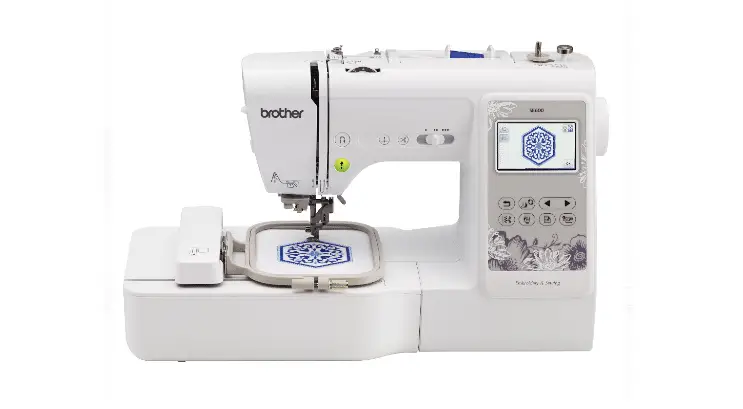 In this post we're sharing the best and most popular embroidery machines for starting out.
The 9 options we have for you have been tried and tested by many hundreds of crafters. Embroidery machines are so much fun to work with, and friends will always be stunned by what you will create.
The Brother SE600 sewing and embroidery machine (pictured above) is a great first machine if this is your first ever! Its main downside is the small 4 x 4 inch embroidery area. Check out the following clip to get a better idea of its capabilities, and then scroll down to see the other recommended machines!
Best Entry Level Embroidery Machines
As I'm sure you're aware, embroidery machines can get pretty pricey! Industrial machines can run into the tens of thousands of dollars!
However, the following embroidery machines for beginners are good for:
home use
crafting projects
small home business
They range in price from a couple hundred dollars, to around a thousand dollars. As with all things, the more you spend, the better the product. But the cheap embroidery machines are still great for doing a ton of projects!
The Brother PE535
The Brother PE535 is one of the cheapest embroidery machines. It is embroidery only, and comes with 80 built in designs, and the ability to transfer more via USB.
The Brother PE800
The Brother PE800 embroidery machine is the next step up. You can create larger designs on this machine which has almost unlimited design options.
The Brother SE1900
The SE1900 is a combination sewing & embroidery machine. It has a 5 x 7 inch embroidery field, and a large color touch screen, and is great for monograms.
The Singer Futura XL-420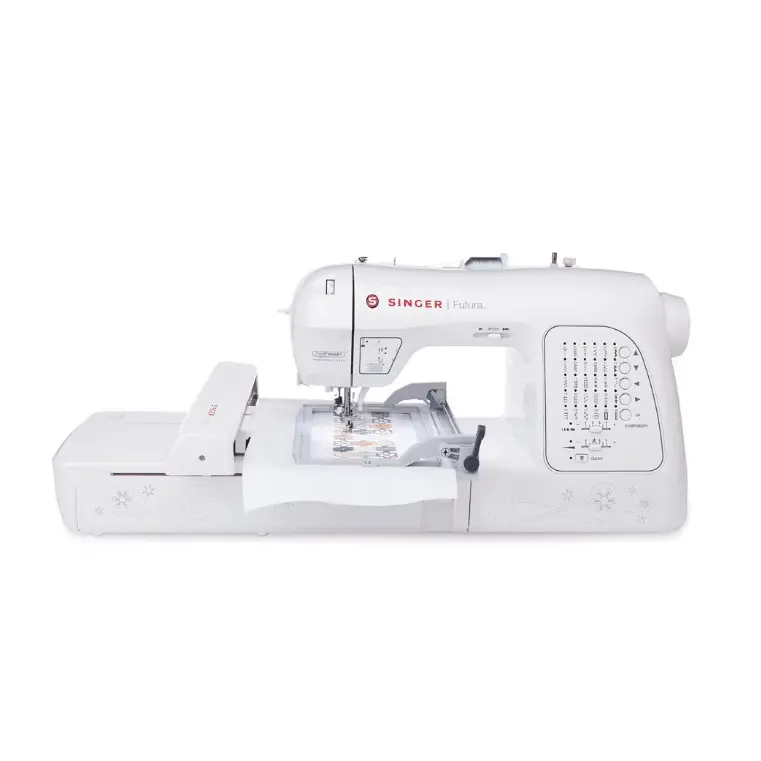 This is a combo sewing & embroidery machine. The Futura XL-420 has an extra large sewing space & is perfect for quilting.
Eversewn Sparrow X
The Eversewn Sparrow X is another sewing & embroidery combo machine. With a design area of 4.75 x 7 inches and two hoop sizes included.
The Eversewn Hero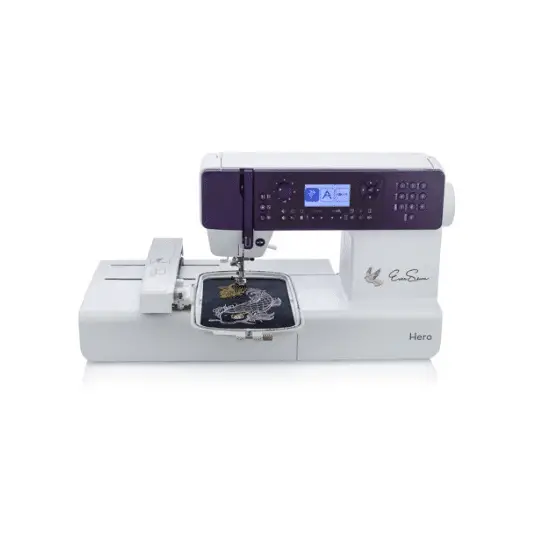 The Eversewn Hero is a bit cheaper than the Sparrow, but is still a great home embroidery machine. Comes with 8 different presser feet.
Singer Legacy SE300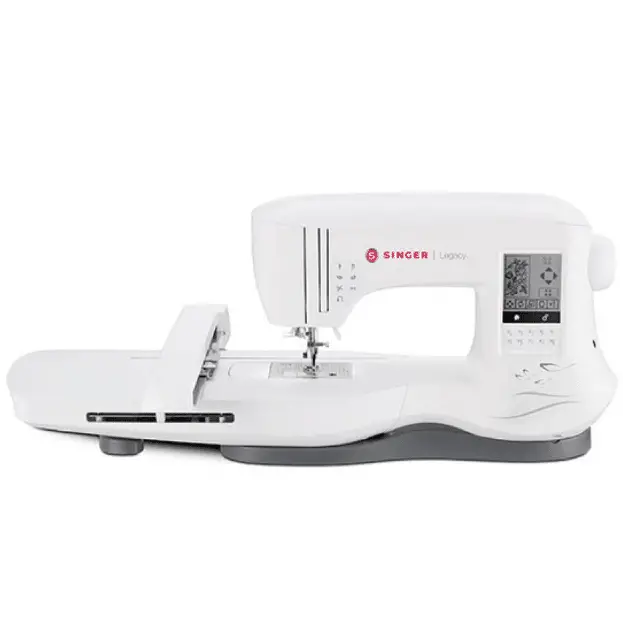 The Singer Legacy SE300 is another combination sewing & embroidery machine. The largest hoop it comes with is 10 x 6 inches.
Janome Memory Craft 400E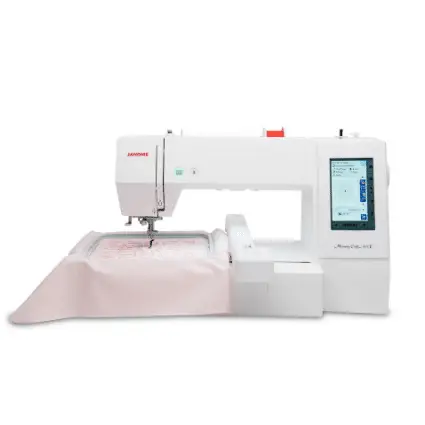 The Janome Memory Craft series are a best selling embroidery machine. These are a little more costly & for those needing a bit more out of their machine.
The Brother SE600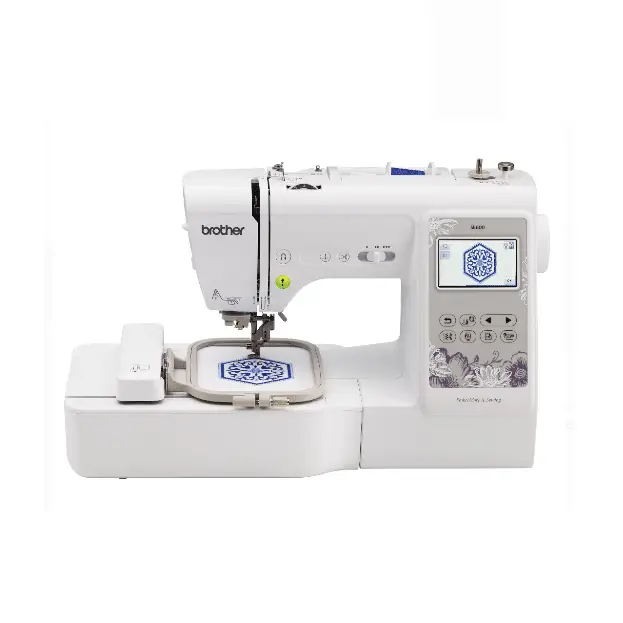 And finally, the Brother SE600 embroidery & sewing machine. This is a very affordable machine, while being of high quality.
The 9 embroidery machines are perfect for all your home crafts and small business needs. They will take some time to learn how to use, but thankfully there are a ton of online tutorials.
Brother embroidery machines are especially popular, and it can be a good idea to go with one of those because there does seem to be more resources which show you how to use them. These are from Brother's own tutorials, but also through Creators on YouTube.
Embroidery Machine Hoops
If you are interested in getting an embroidery machine, but it's all new to you, you will keep seeing 'hoops' mentioned.
If you're like me, you'll be like, 'what on earth is an embroidery hoop?!".
Embroidery hoops are what keep your garment, hat, or beany (or whatever else you are embroidering) in place while the design is stitched out by your machine.
Watch this following video, which will show you what an embroidery machine hoop is, as well as give an explanation of what a stabilizer is all about. This is demonstrated with a Baby Lock Embroidery Machine.
How To Choose An Embroidery Machine
Here are some things you need to keep in mind when buying your first embroidery machine (or when you are ready to upgrade).
1. Hoop Sizes
Have a good think about what you are going to be embroidering onto… Are you making caps and beanies? Baby onesies or polo shirt embroidery?
The size of your embroidery design will be determined by the size of hoop your machine is compatible with (or comes with). Some small embroidery machines have a max size of only 4 x 4 inches – this might limit you in the future from doing designs larger than you would really like.
A larger machine (which will also cost more unfortunately), can have hoops beyond 24 x 30 inches. It's best to go with somewhere in the middle – aim for at least a 6 x 7 inch hoop… if it's in the budget!
It is possible to embroider designs beyond the size of a small hoop, but this can get a bit fiddly moving things around, and is not the best option.
2. Stitch Speed
Each machine has a different stitch speed. For example, the Brother SE400 has an embroidering speed of 400 stitches per minute, while the Eversewn Sparrow can go at 850 stitches per minute.
Keep in mind that some embroidery designs have many thousands of stitches, and so speed can play a factor in your decision (especially if you are getting an embroidery machine for business).
3. Number Of Embroidery Designs
Each embroidery machine will come with pre-loaded designs for you to get started.
Therefore, it's a good idea to check out both the number and type of designs that the machine you are interested in comes with. You are generally always able to load other designs onto the machine, though you may have to purchase these separately (for example, here on Etsy).
New designs are usually loaded via a USB connection with your computer, though more advanced machines can do this via a bluetooth connection.
4. Display Screen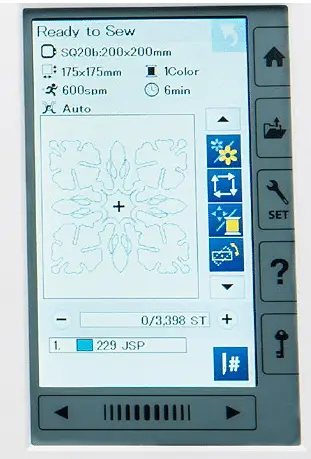 Most (if not all) embroidery machines have a display, and the quality and features of each vary between them.
Most will be LCD screens, and will be of different sizes. Of course, the bigger the screen the easier it is to see the design beforehand, and to do what you need to do before starting.
5. Number of Needles

The cheaper machines will just be single needle machines, which means you will need to change thread colors when necessary (the machine will stop for you).
Better machines will have multiple needles which can take the different colors you need for each project, meaning you won't need to stop and change thread. However, multi needle machines are generally very expensive (eg. the Janome MB-4S).
6. Budget & Price
Whenever I'm thinking of making a big purchase, I always have my budget in mind, then I find the best option within that budget.
It's always tempting to think 'oh, if I only spend another $100 dollars I will get all these other features…', but it's best to set the budget at what you can afford and stick to it!
Computerized Embroidery Machine

What is a computerized embroidery machine?
This just means that the embroidering machine is controlled by the system/software. There isn't really such a thing as a non-computerized embroidery machine – that would just mean hand embroidery!
Even the cheapest embroidery machine (like the Brother PE535) can be considered computerized!
Embroidery Machine For Sale
Where is the best spot to buy an embroidery machine?
Most of the top retailers sell the same brands and models of embroidery machine, so it's really best just to compare the prices between them (as we listed above). Consider shipping costs as well, as some of the larger machines can be pretty heavy!
Thanks for stopping by – please leave any comments down below!
Pin this post!
(Please note: This post contains affiliate links. Read our full disclosure policy here.)