Experience Based: Best Portable Heat Press [2022!]
This post contains affiliate links. If you use these links to buy something, we may earn a commission, but it doesn't cost you anything. Thanks!
Which handheld heat press is the best? 
There are so many options out there for handheld heat presses, but which is going to be the best heat press machine choice for you? We've personally tried out many and will go in-depth on three different handheld portable heat presses in this post.
Whether you're looking for the best heat press for beginners or you're already starting your own custom shirt business we're here to help you make an informed choice about what is the best heat press for you.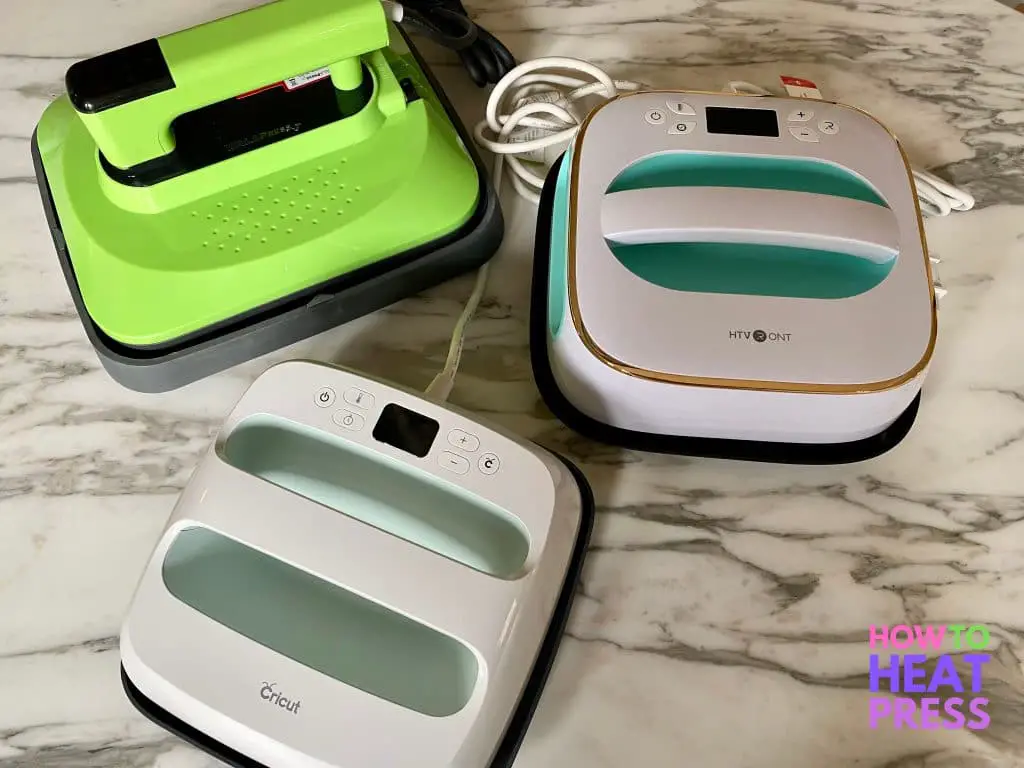 The three presses we've included here we tried out and actually got to feel. We're confident recommending them all, but which will be right for you?
Why should I buy a handheld heat press? 
First off, a handheld press isn't right for everyone. Before you decide which handheld press you should purchase you need to decide if a handheld heat press is even right for you. There are many benefits to having a full-size heat press – and honestly if you have the space and the money for a full-scale heat press you should buy one. Check out our top heat press picks here.
Not enough room for a big heat press? Planning to press items like chairs, car upholstery, or other things that simply won't fit a standard heat press? Do you need the flexibility of a portable heat press? Then let's keep going to find out which handheld heat press is going to be right for you!
Things to Consider When Buying a Handheld/Portable Heat Press
No matter what type of heat press you purchase it's an item you won't want to replace a year from now so make your choice carefully. Here are some questions you should things of before you make your handheld heat press choice:
Will this heat press accommodate my workload? If you plan to make shirts for adults a 9 inch x 9 inch heat press is about as small as you can go without sacrificing quality.
Will the heat press fit in my workspace? Cutting machines can require a lot of space when in use and a heat press is the same. Have a plan for where your heat press will be stored as well as where you'll actually use it.
Do you care what your heat press looks like? Let's be real, the age of Instagram has really upped our ideas for our craft spaces! Some of you might be brand loyalists who already know they're buying that Mint Green Cricut EasyPress (I see you!) to match their Maker. That's cool, and if that's you just got buy it. If you're more flexible though, there are some amazing handheld heat presses waiting for you!
What do the handheld heat press reviews say? Don't live and die by the reivews, but also don't ignore them. You should also consider the potential need for customer service if something goes wrong. In that case you're likely better off purchasing direct from a manufacturer than from Amazon.
The answer to the question of what is the best heat press is obviously going to be answered differently based on your specific needs. Below we'll showcase some of our favorites to help you decide!
How We Compared Handheld Heat Presses
For each of the handheld heat presses we are comparing here we tested the following:
Time to heat up
Weight of press
Consistency of heat across the platen (the pressing area)
Overall ease of use
Included Accessories
All of the handheld heat presses we tried heated evenly throughout the entire heat plate – yay! Below you'll find the heat press pros and cons as well as our bottom line for who we think would be the best fit for each press.
1. Cricut EasyPress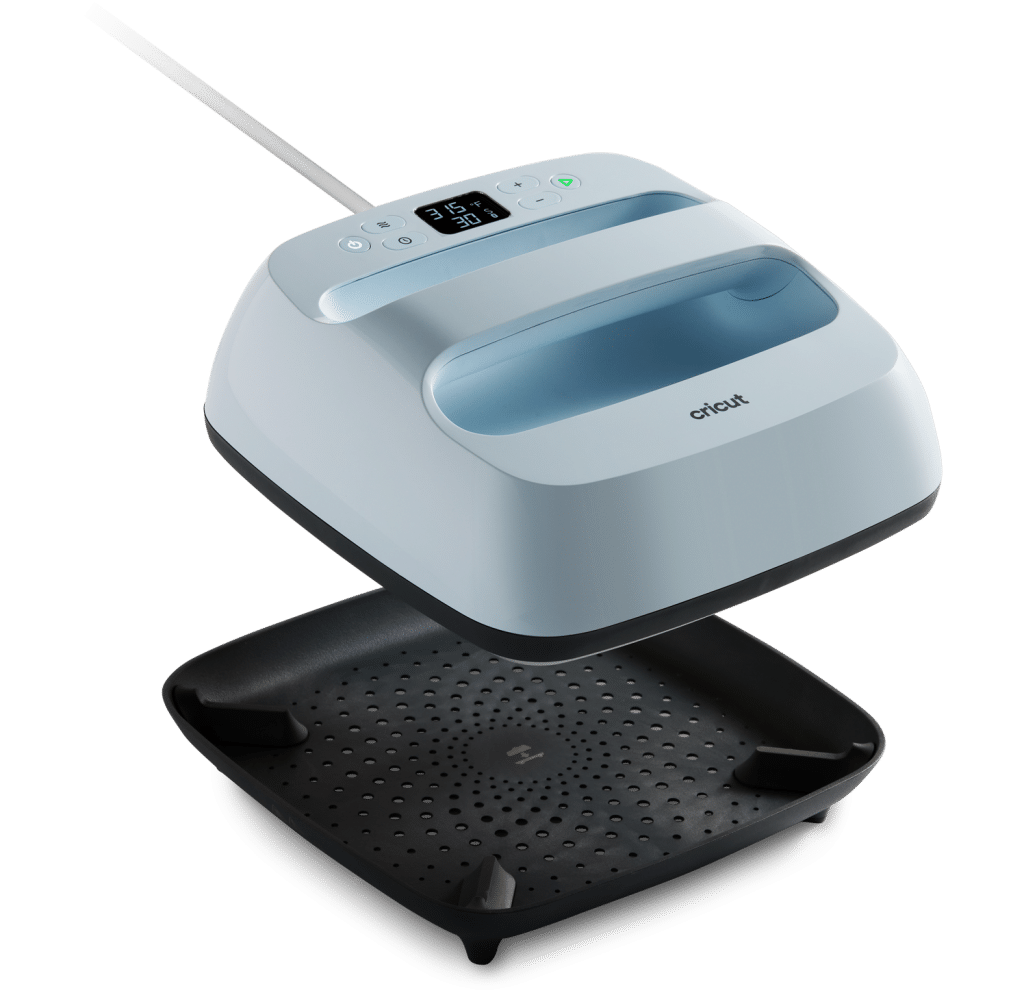 There's a reason Cricut is such a powerhouse brand – the new Cricut EasyPress 3 is just the next in line of a bunch of great presses.
We personally own the Cricut EasyPress 2, and it's done the job for us for years. This is our go-to press when it comes to quick projects, making gifts for friends and family, and even pre-pressing items when we're doing a big batch project with our larger heat press.
The Cricut EasyPress 3 is a good digital heat press machine for beginners. It has a digital readout and pairs with the CricutHeat App to help guide you. The main difference between the Cricut EasyPress 2 and the Cricut EasyPress 3 is the app. Now you can set your press time and temp right from the app helping ensure a successful project every time. The app will also prompt you as you go to make sure you complete every step.
While I think the appeal of the step-by-step help of the app feature is nice, you'll likely not need it after just a few projects.
Features:
Digital LCD display for time and temperature
High temperatures range up to 400 degrees Fahrenheit
Audible beep to let you know time is up
Safety base plate
Beautiful design and colors to match cutting machines
Connects to Cricut Heat app via Bluetooth to guide your project
Comes in 9×9 inch or 12×10 inch sizes (we'd recommend the larger)
Pros
This is a beauty! It'll look good wherever you put it
The Cricut Heat app will be great for guiding beginners
Cricut has solid customer support in case anything goes wrong
Fast heat up – 2 min and 30 seconds to get to 320 degrees farenheit
Cons
On the expensive side compared to others with similar features
Currently only comes in one color, though we know there will eventually be more
Lightweight – this could be a pro when it comes to portablility but it's a con when it comes to you needing to really add all the pressure for the project
Heat pillow not included
Cricut EasyPress 3 Bottom Line – Do it for the 'gram! This is the handheld heat press to have if you're really into having a beautiful craft room or showing off your process on social media.
2. HTVRONT Easy Press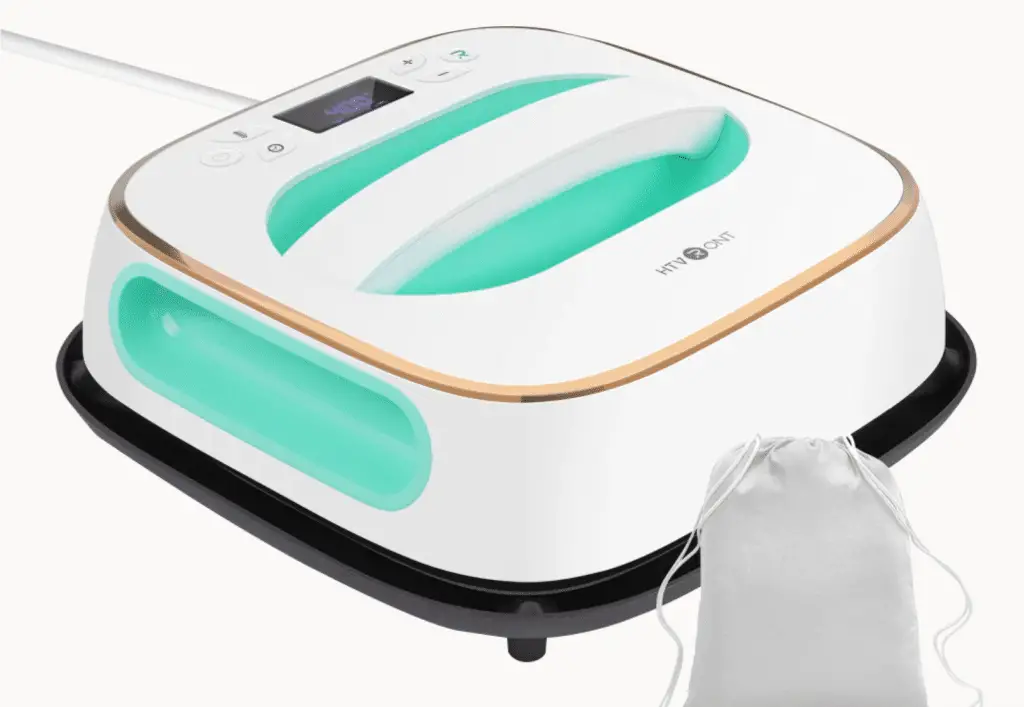 The HTVRONT Easy Press is an awesome alternative to the Cricut EasyPress line. While you know what HTV stands for the RONT in the brand's name stands for "Really Outstanding, Never Temporary" which I suppose is exactly how you want all of your heat press projects to turn out!
When we were trying this press out it felt and functioned essentially the same as our Cricut EasyPress 2. It feels solid and I really like the gold detailing! It comes in two base colors, a vibrant red or seafoam green, both with gold detailing.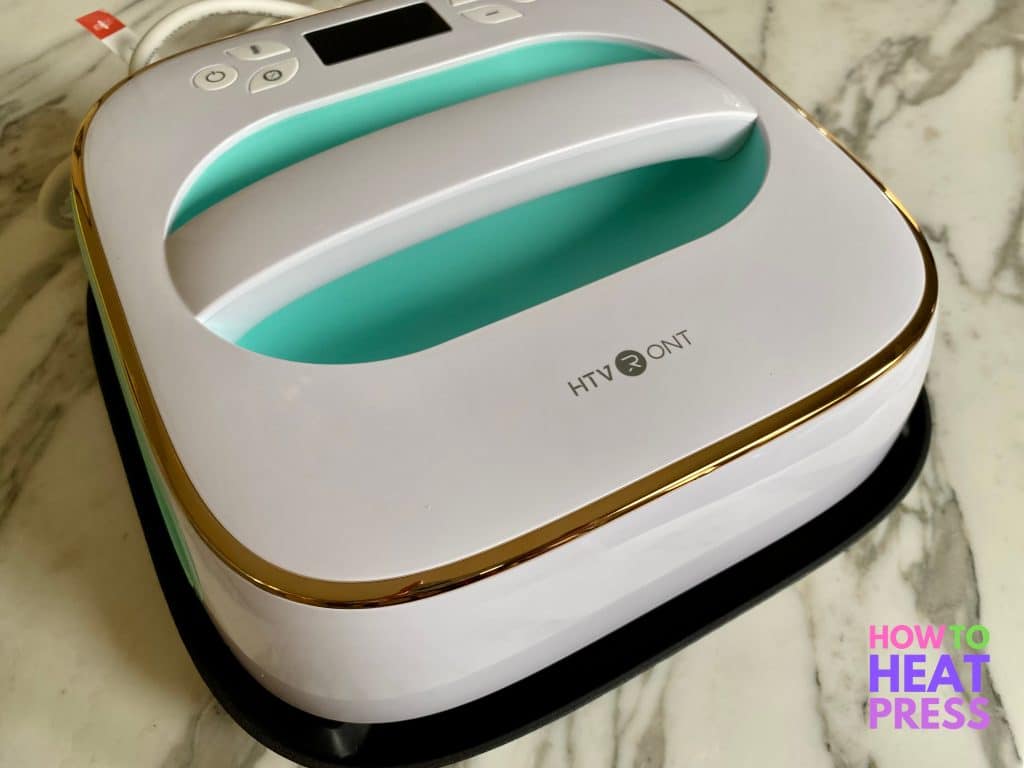 At 10 inches x 10 inches this is slightly smaller than Cricut's largest EasyPress. That being said I think it's definitely big enough to take care of most all of your shirt projects so I wouldn't dismiss it based on size. Rather think of the extra size compared to the small Cricut EasyPress a bonus!
Features:
Digital LCD display for time and temperature
High temperatures range up to 400 degrees Fahrenheit
Shows pounds of pressure while pressing
Safety base plate and cotton storage bag
Beautiful design and colors to match cutting machines
10 inch x 10 inch heat platen
Pros
Very functional size, will do pretty much any shirt design
The pounds of pressure reading allows you to differentiate between light, medium, and firm pressure
Super affordable and often on sale!
Can be purchased direct from HTVRONT or on Amazon
Fast heat up – 2 min and 20 seconds to get to 320 degrees F
Digital countdown and chime for when time is up
Cons
Newer brand with fewer reviews
Fewer color options – and if you're not into the gold bling you're out of luck
Heat pillow not included
HTVRONT Easy Press Bottom Line – Do it for the wallet! This is a great press that functioned exactly like the Cricut EasyPress but comes at a fraction of the price. This is the press for you if you're looking for a quality press without breaking the bank.
3. Heat Transfer Warehouse's WALAPress
Heat Transfer Warehouse came out with this new handheld craft press recently and it's packed with some surprising features! We gave it a try and were quite impressed.
First – it's big! The photo above makes it look tiny but you can see when compared with the Cricut EasyPress 2 and HTVRONT Easy Press the WalaPress is significantly bigger at 12″ x 10″.
Next – it's heavy! The WALAPress is noticeably hefty compared to the other handheld heat presses. That's a reassuring feeling to me.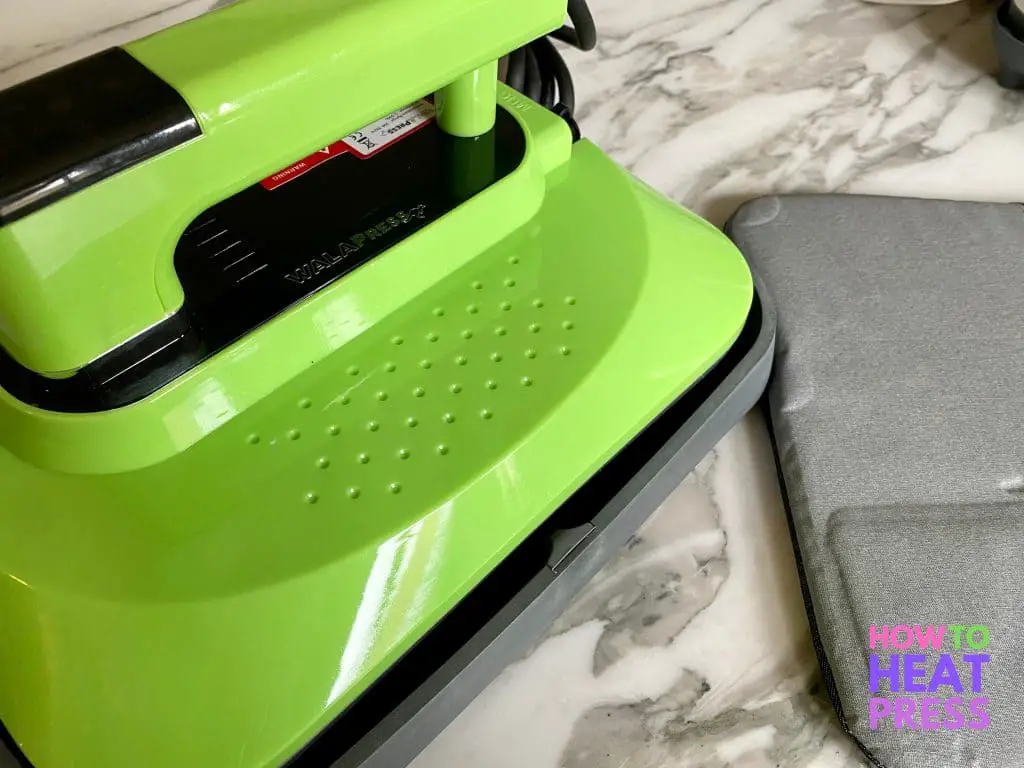 And finally (I saved the most surprising for last) – it vibrates! I know, when it first started up with the vibrations I was shocked. There are multiple vibration settings and they are intended to help better adhere the HTV to your project. While not an industry-standard move I'm into it. The only drawback I can imagine here is for something like Infusible Ink you would want to avoid any movement.
Features:
Digital LCD display for time and temperature
High temperatures range up to 392 degrees Fahrenheit (lower than others, but definitely hot enough for HTV)
Vibrations to help adhere HTV
Safety base plate and pressing pillow included
Beeps when countdown is finished and vibrations stop
10 inch x 12 inch heat platen
Pros
Larger size will allow for even more HTV projects
Vibrations are unique and will help adhere even better with less muscle needed
Can be used in either Celcius or Fahrenheit
Heat Transfer Warehouse has amazing customer service!
Digital countdown, vibrations stop, and a chime for when time is up
Mug attachement – there's a port labeled 'MUG' so hopefully they're planning to make an attachment availble!
Lots of bang for your buck – big platen with vibration function at an affordable price point
Cons
Only comes in bright green (or maybe that's your thing in which case – pro!)
Not very intuitive – you'll need to WALAPress user manual to figure it out
Took the longest to heat up, 4 min and 40 seconds
WALAPress Manual Press Bottom Line – This is another solid option for someone looking for a quality press at a lower price point. Dollar for dollar this is the best press with more functionality because of its size, the vibrations, and the included pressing pillow. It's a deal!
Which handheld heat press is the best?
Well, that's obviously up to you! We know there are others out there but we wanted to focus on the three that we have actually gotten our hands on and can confidently recommend. There are others (especially on Amazon!) but we can't speak to their quality.
Good luck as you make the call – let us know if you have more questions about which manual heat press might be the best fit for you.