Cricut Maker Review: Pros & Cons Of The New Cricut Machine
The Cricut Maker is the newest Cricut machine.
I've been using it for the last 6 months, and I'll tell you all about it in this Cricut Maker Review. We'll also take a look at the features, what it can and can't do, and where you can find the cheapest Cricut Maker!
Before the end, you'll know if the Cricut Maker is worth it or not.
Cricut Maker Review
User Experience

Specifications

Software

Community

Value For Money
Cricut Maker Summary
The Cricut Maker is a 12 inch cutting machine. Materials, such as vinyl, fabrics, or paper, are loaded onto a cutting mat and fed into the machine. The machine is then controlled through Cricut's Design Space software (on your computer) to cut out your chosen design.
This is Cricut's top-of-the-line cutting machine which can be used both for craft & hobby applications, as well as for business puposes. Hundreds, if not thousands of people, are making an income with the Cricut Maker.
Compare prices to get the best deal on the Cricut Maker.
Pros
Best craft cutting machine
Beautiful design
Quality components
Works smoothly
Quiet
Cuts hundreds of materials
Good for business
Easy to learn how to use
Great support & community
Create amazing projects
Cons
Pricey if only for occasional use
Design Space Software can be slow
Semi-complicated to do projects wider than 12 inches
Cricut Maker Review
The Cricut Maker was released in late 2017 and was an immediate hit with crafters, bloggers, craft businesses, and, generally, women everywhere. Probably the only ones who weren't excited were ultra-Silhouette-fans (who, let's face it, were just jealous)!
This machine is a real step-up from the Cricut Explore Air 2. It's for those who want and need the best in life! Here are some of the differences between the Air 2 and the Cricut Maker:
✔️ cut hundreds more materials
✔️ iPad or tablet stand
✔️ commercial grade cutting power
✔️ controlled completely through computer (no setting dials)
✔️ takes a rotary blade, knife blade, and scoring wheel to achieve a much greater range of projects
Let's delve a little deeper into the Cricut Maker.
What Can The Cricut Maker Cut?
Personally, I use the Maker as a vinyl cutting machine. I'm primarily working with:
heat transfer vinyl (iron-on), and
adhesive vinyl
However, if you want to work with basically every material under the sun, the Maker is your machine! Compared with the Cricut Explore Air 2, it can cut much lighter and thinner materials such as delicate paper, or harder and thicker materials like leather and chipboard.
Here's an idea of some of the more unusual materials which can be cut with the Cricut maker.
Fabrics like:
sailcloth
terry cloth
light cotton
velveteen
garment leather
tooling leather
nylon
bonded polyester
muslin
Interesting materials:
washi sheet
shrinky dink
acetate
2.4mm basswood
chiffon
damask chipboard
rice paper
moleskin
tulle
I'm sure there are a few materials that the Cricut Maker can cut in that list that you've never even heard of! I had to look up Shrinky Dink, that's for sure. It's a type of polystyrene that does some amazing things when heated (I'm going to have to try it out now)!
But I'm sure you can see that the Maker is capable of cutting a huge range of fabrics, vinyl, craft boards, papers, and more. It is the best craft cutting machine for doing a huge variety of different projects.
Cricut Maker Blades
In order to cut all these wonderful materials, there is a range of 6 blades that can be used with the Cricut Maker.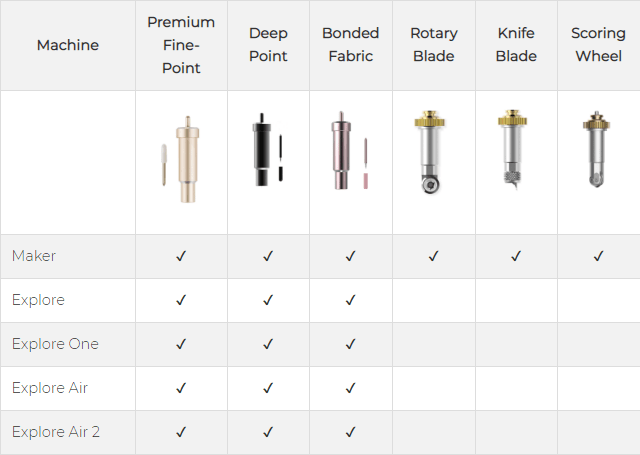 The first three blades can also be used with the Explore Air 2, while the following three blades are only used with the Cricut Maker.
Cricut Maker Blades
The Premium Fine Point Blade – is used for all your standard materials. Iron-on, adhesive vinyl, standard cardstock, and many papers are cut using this blade.
The Deep Point Blade – is used for thicker materials. Corrugated paper, thin leather, and craft foam are some of the material you will cut with this blade.
The Bonded Fabric Blade – is used for cutting bonded fabric. This includes bonded denim, bonded felt, bonded linen, and so many more types of bonded fabric, heavy and light.
The Rotary Blade – is best for flexible or soft materials. Use this to cut materials such as oilcloth, organza, quilt batting, plush, and so on.
The Knife Blade – is for cutting even thicker materials. Up to 7 ounce tooling leather can be cut with this, as well as 2.4 mm balsa wood, 2 mm heavy chipboard, and more.
The Scoring Wheel – comes with 2 tips. The single wheel is for scoring thinner materials, while the double wheel scores thicker materials like cork, foam, or heavy paper.
You do not need to buy all of these blades to start using the Cricut Maker. The machine comes with 2 blades when you buy it: the Fine Point Blade & Housing, along with the Knife Blade & Housing. There's so much you can do with just those two blades – you'll be busy for years, trust me!
For more info, see our complete guide to Cricut blades.
What Can You Make With The Maker?
Here are some of the projects I have made with the Cricut Maker over the past 6 months. I'm very much into using heat press machines, so you'll notice they're mostly heat transfer vinyl projects! Click the image to see the full projects.
There are so many craft projects that can be done with the Maker. Other popular things people make include:
intricate paper flowers
quilts
soft toys
wood model animals
scrapbooking decals
stencils
complex cards & boxes
Cricut Maker Colors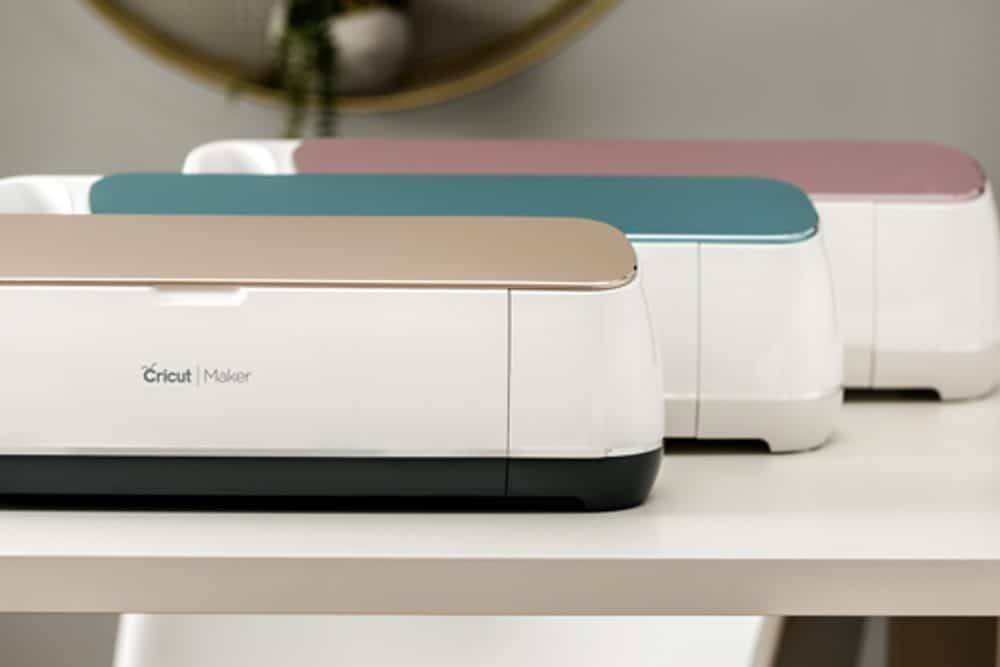 As with all things Cricut, the Maker comes in a range of colors. The original and standard color is 'Champagne', and there are 3 others: Mint, Rose, and Blue (Mint being the most recent).
The Mint Maker came out with the Mint EasyPress in March 2019. If you've got a Mint Air 2, you could get the matching set!
Which color do you like best?
Who Should Get The Cricut Maker?
In my opinion? Everyone and their mom should get a Cricut Maker!! Haha. But seriously… everyone needs a Maker.
However, if you only ever plan to make t-shirts and cards (kinda like me), then you don't really need one. For those types of projects, the Explore Air 2 is more than sufficient (it's also an excellent machine).
However, if you want to keep your options open (definitely like me!), and want to try other cool projects in the future, you better go with the Cricut Maker.
I like having the option to cut wood, fabric, and delicate materials if I want to. Even though I'm mostly using my machine to cut vinyl, I like knowing I can branch out from time-to-time, and make something a bit more unique.
Is The Cricut Maker Worth It?

The Cricut Maker is definitely worth the money. It is an extremely well designed and high quality machine that can do so much!
However the Cricut Maker is probably not worth it for the following people:
those without the patience to learn how to use the machine – it takes a little time and practice to get your head around the software and to just learn the basic features and functions of the machine
those not willing to test and try new things – if you don't want to explore new ideas and new techniques for doing things, this is probably not the machine for you
those on a very limited budget – the machine is not the only purchase you will need to make, there are other tools and accessories you need to get with a Cricut machine
those with very limited time – if you don't have the time, and it's not going to get any use, is there any point getting it?
those who have people that love them – if you have people that love you, they are going to be seeing a whole lot less of you once you have your machine (some husbands have complained of neglect after a Maker has entered the house ?)…
If you fall into any of these groups of people, think a bit longer before buying a Cricut Maker.
BUT the Cricut Maker is worth it for these people:
you love trying new things
you enjoy learning new skills and are interested in personal development
you want the best tools and equipment
you love quality design, manufacturing, and ease of use
you love making awesome gifts and products for friends, family, and business
you're just wanting to upgrade from a Cricut Explore Air 2
If you find yourself in these categories, you have got to buy a Cricut Maker today! I've never had any Cricut Maker issues; it's a great machine, and well worth the money.
Cricut Maker Sale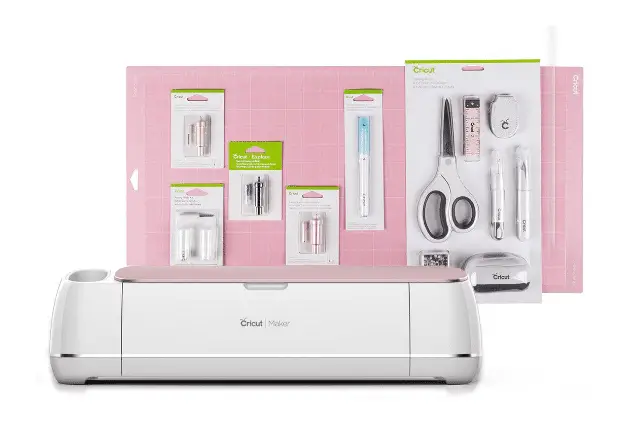 Compare prices to find the cheapest Cricut Maker deal.
You might also like to take a look at these Cricut Bundles. Sometimes if you know what you're into, grabbing a bundle can be the cheaper option.
Thanks for taking the time to read this Cricut Maker Review. I hope it's helped you to know if you should get this machine. Please leave any comments or questions down below!
(Please note: This post contains affiliate links. Read our full disclosure policy here.)