Make Custom Active Wear With Cricut SportFlex Iron-On *PROJECT*
Cricut SportFlex Iron-On is heat transfer vinyl for garments containing polyester and nylon. Most commonly this includes active wear and other sports and workout clothing.
In this post I'll tell you everything you need to know about Cricut SportFlex Iron-On, and show you how to make your very own custom workout gear!
How To Use Cricut SportFlex Iron-On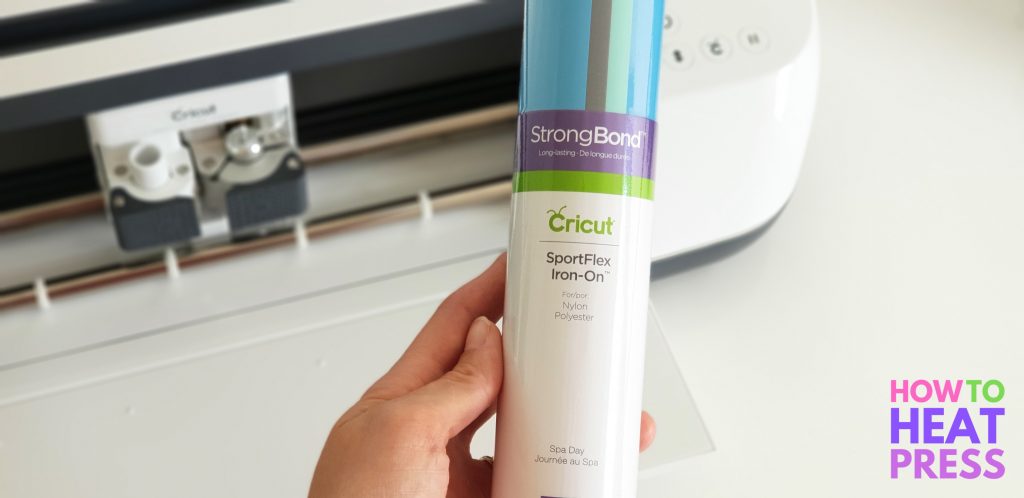 How To Cut Cricut SportFlex:
Mirror your design in Cricut Design Space
If using the Explore Air 2 set your dial to 'custom', select 'browse all materials' and then search for and select 'SportFlex Iron On'. If using the Cricut Maker, the custom options will appear by default. Click 'browse all materials', search for and select 'SportFlex Iron On'
SportFlex Iron On is placed shiny/colored-side down on the cutting mat
Load the mat into the machine and press go
Once the design is cut out, unload the cutting mat
Weed away excess vinyl from your design so that it is ready to transfer
How To Press Cricut SportFlex Iron On with the EasyPress:
Instructions for using the Cricut EasyPress on Polyester and Nylon fabrics, using an EasyPress mat or equivalent.
Pre-wash clothing to remove manufacturing chemicals
Turn on EasyPress, set temperature and allow to heat up
Pre-press garment for 5 seconds to remove moisture and wrinkles
Press design with gentle pressure for 30 seconds (use a protective sheet between the EasyPress and your design with Polyester fabrics)
Turn garment over and press the back for 15 seconds
Peel carrier sheet warm
SportFlex Custom Workout Gear Project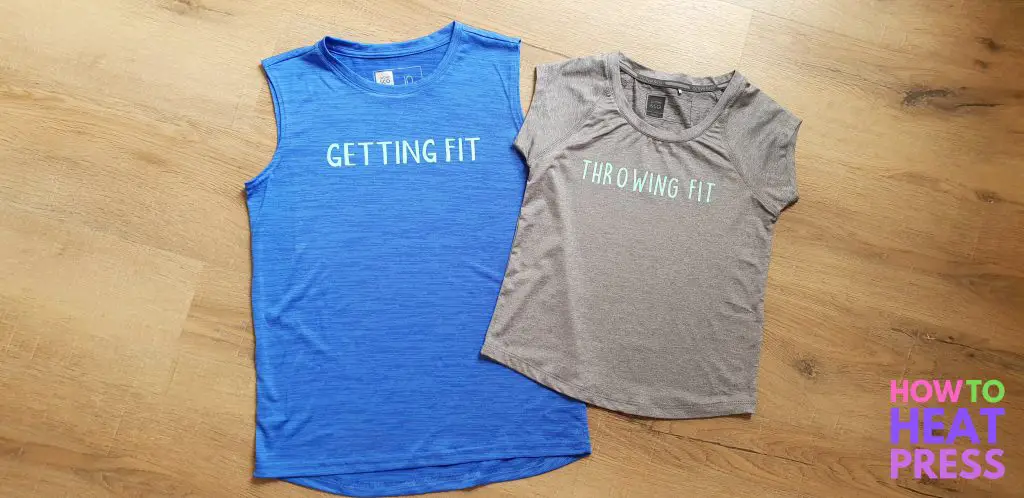 Today I'm making these co-ordinating workout tops.
Here's what I used to complete this project:
2 Plain Activewear shirts
Silicon pad for heat pressing
As well as other everyday Cricut Accessories like the Weeding Tool Set and the green StandardGrip cutting mat.
Active Wear Design
Here is the design I've made in Cricut Design Space. I'm using the free fonts Ciscopic for the adult shirt and DK Lemon Yellow Sun for the kids shirt.  See how to install system fonts into Design Space here.
I decided to make 'GETTING FIT' 8 inches wide for the adult tee, and 'THROWING FIT' 7 inches wide for the kid's tee. When I had my design perfect, I clicked 'Make It'.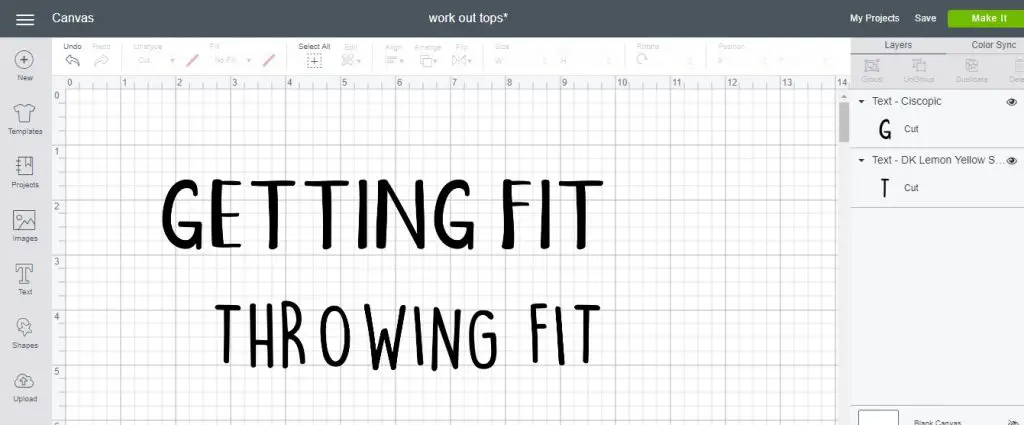 Next, I mirrored my design because I'm using Iron-On. My Cricut Maker will cut it out in reverse, but it will transfer onto the shirt the right way around!
If you have multiple mats, make sure you select the mirror option for EACH mat.

I'm cutting my design out of Cricut SportFlex Iron-On. To get the right cut settings I first clicked 'browse all materials'.

Next I just searched for 'sportflex' and selected SportFlex Iron-On.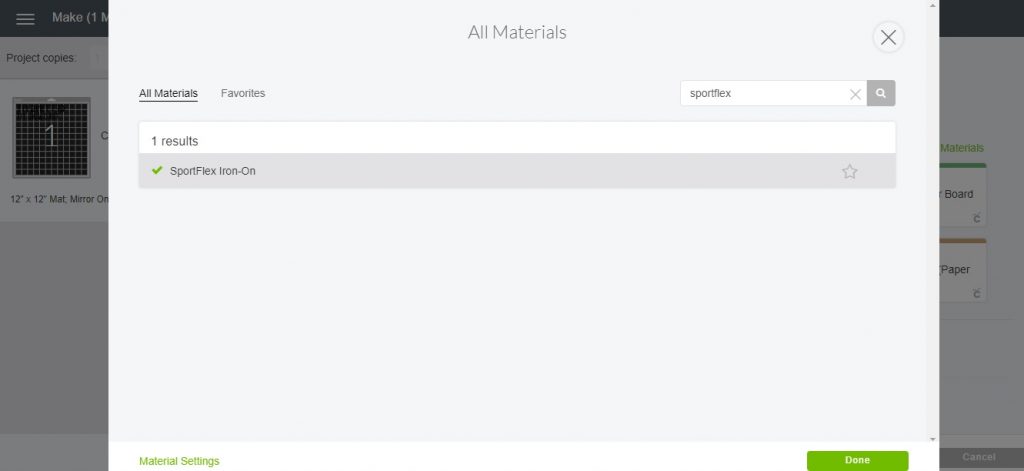 I bought the SportFlex Spa Day sampler which includes the colors Blue Sky, Gray and Sea Foam. This Iron-On is perfect for Polyester and Nylon fabrics.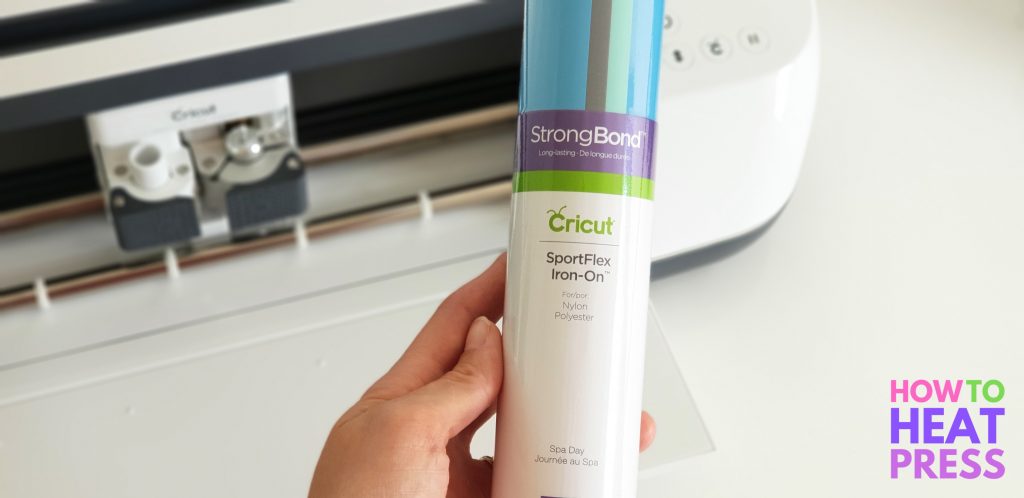 I'm using the color Sea Foam for this project. Such nice colors!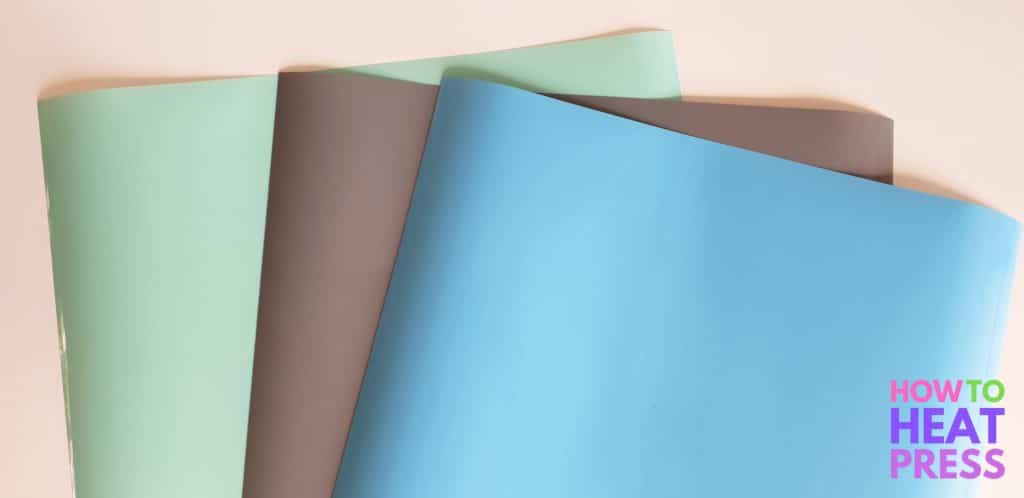 Here's the Cricut Maker cutting out the Iron-On. I'm using the StandardGrip cutting mat and I've placed the vinyl shiny (colored) side down. If you are using a Maker, remember to always leave plenty of room behind the machine as it scans the entire mat before cutting.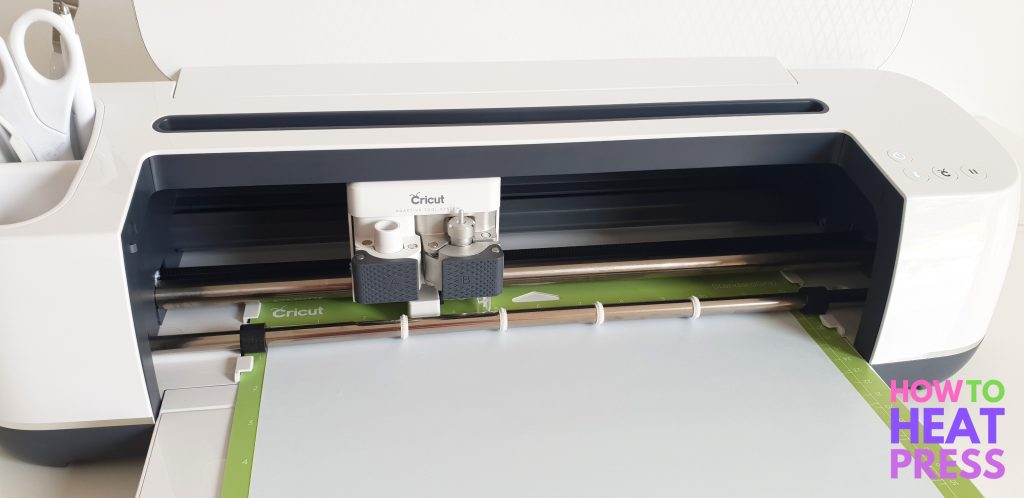 I removed the Iron-On from my mat, separated the designs and then weeded them. I weeded the inside of the letters out first, and then pulling from left to right I removed the rest of the vinyl from the outside. This way you are pulling the vinyl into the cavities of the letters – a more effective and quicker way to weed!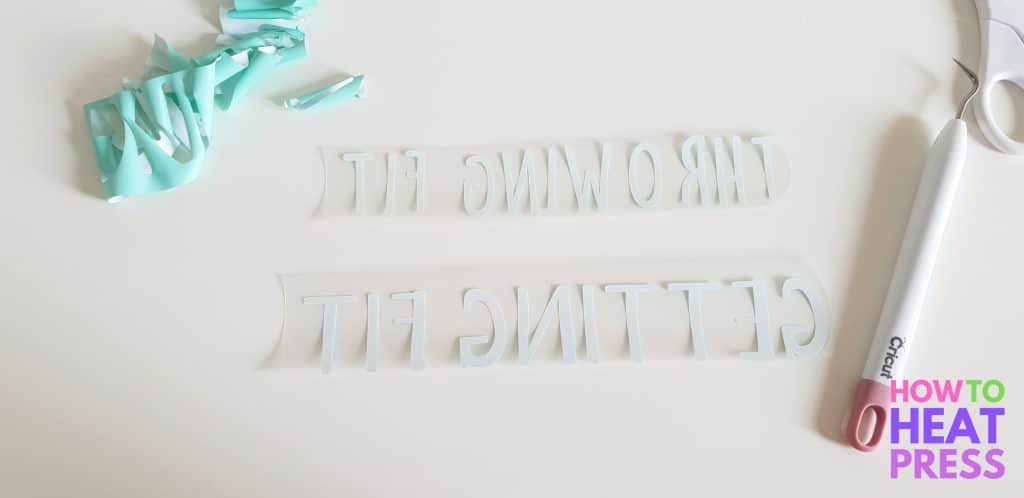 Today I've decided to use the Cricut EasyPress for this transfer. I always use a silicon pad underneath the garment which provides a firm surface to do the transfer on.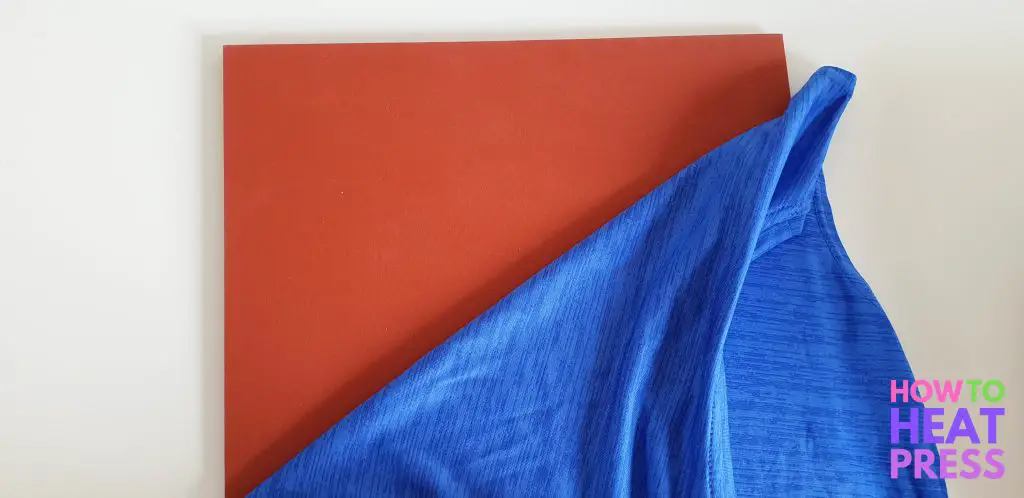 On Cricut's website they have an Interactive Quick Reference Guide for using the EasyPress. First, you select the type of Iron-On + your base material. Then you select whether you are using a towel or the EasyPress mat. The Quick Reference Guide then tells you how to apply the Iron-On.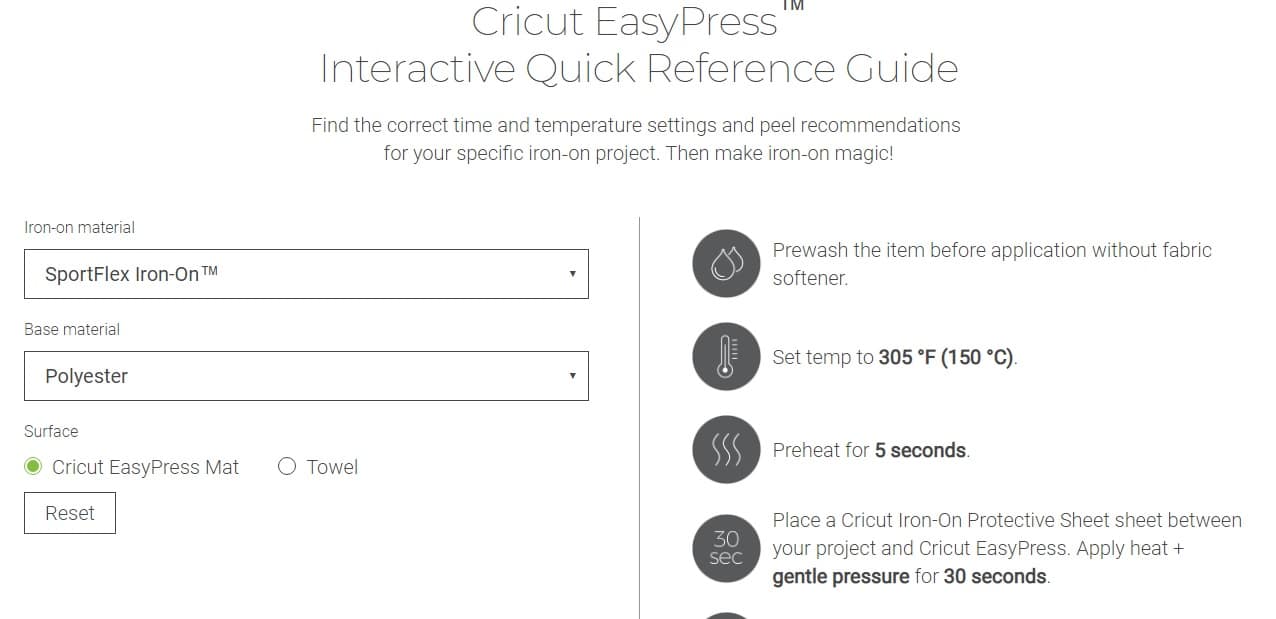 I turned on my EasyPress, set the temperature to 305°F and set the timer for 30 seconds. I let it heat up for a couple minutes. When the EasyPress has fully reached temperature, the go button will turn from orange to green.
Next, I pre-pressed my garment for 5 seconds to remove any moisture or wrinkles. Cricut always recommends pre-washing any clothing before doing heat transfers. This is because any manufacturing chemicals in the clothing can stop the Iron-On from adhering properly.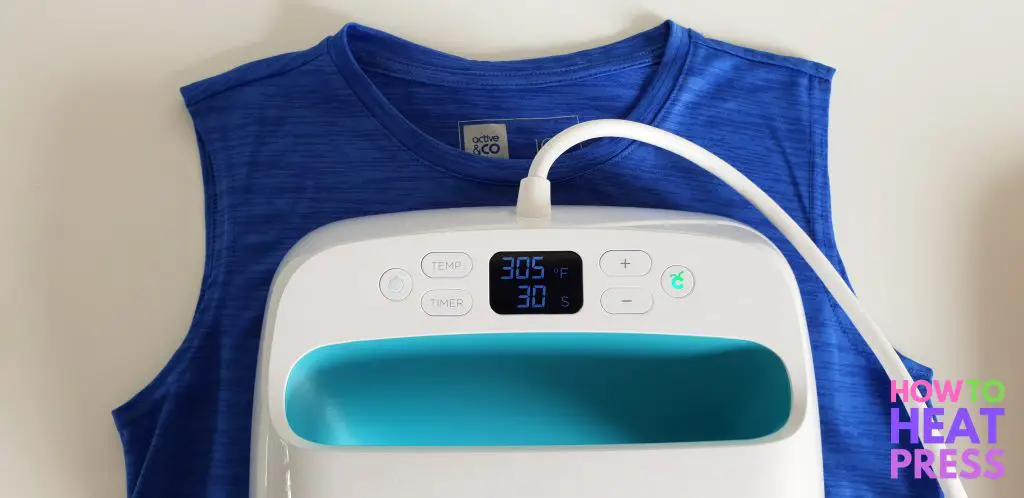 I like to position the design about a 3 fingers width down from the bottom of the collar. I placed the design onto the shirt, covered it with a Teflon sheet and pressed start. When you press the start button, the timer will start counting down. I pressed the design for 30 seconds with gentle pressure.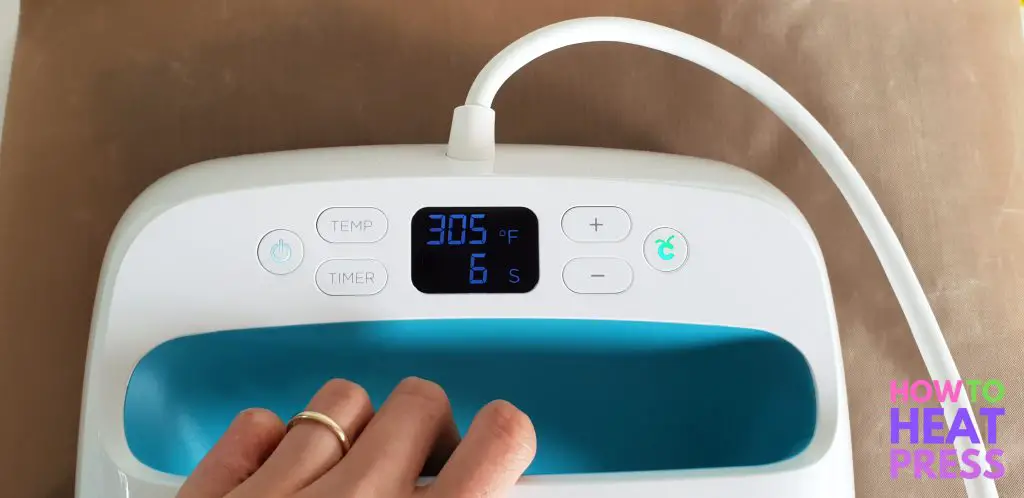 Next, without peeling away the carrier sheet, I turned the shirt over and pressed the back for 15 seconds.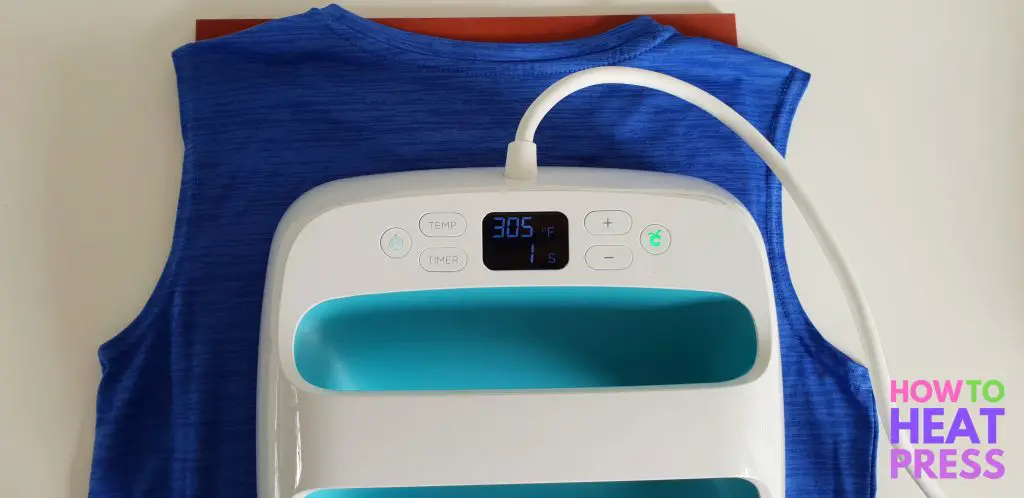 Always check the instructions for your type of Iron-On as to whether the carrier sheet is a hot, warm, or cold peel. Cricut SportFlex is a warm peel.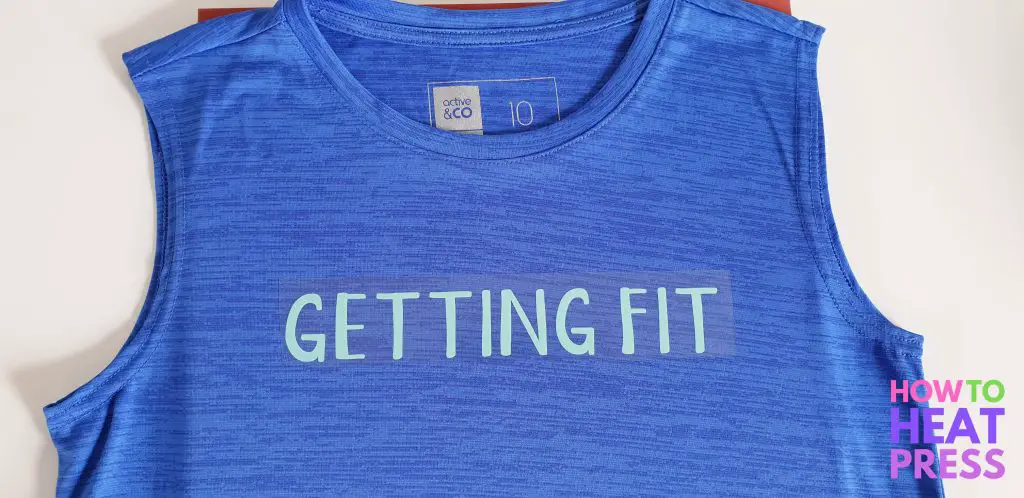 Looks perfect!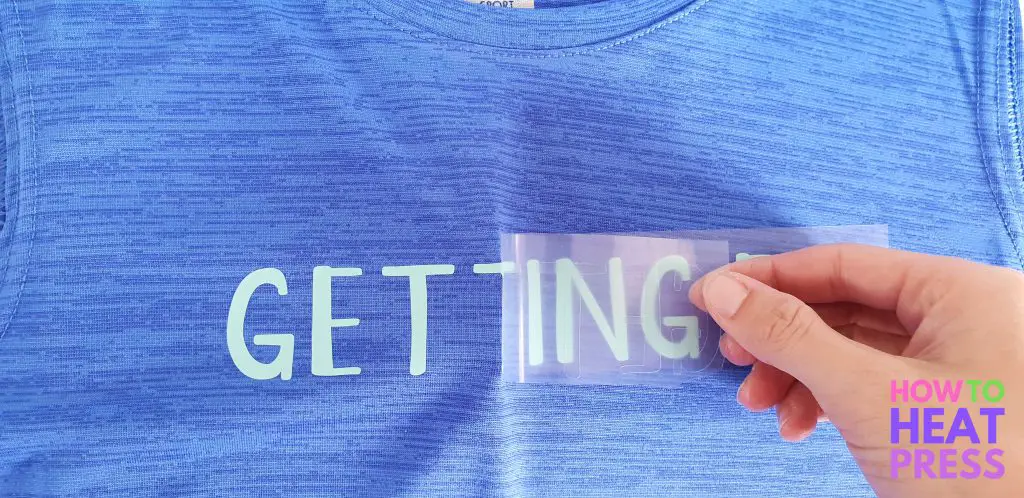 First top all done, then I just repeated the process with the remaining t-shirt!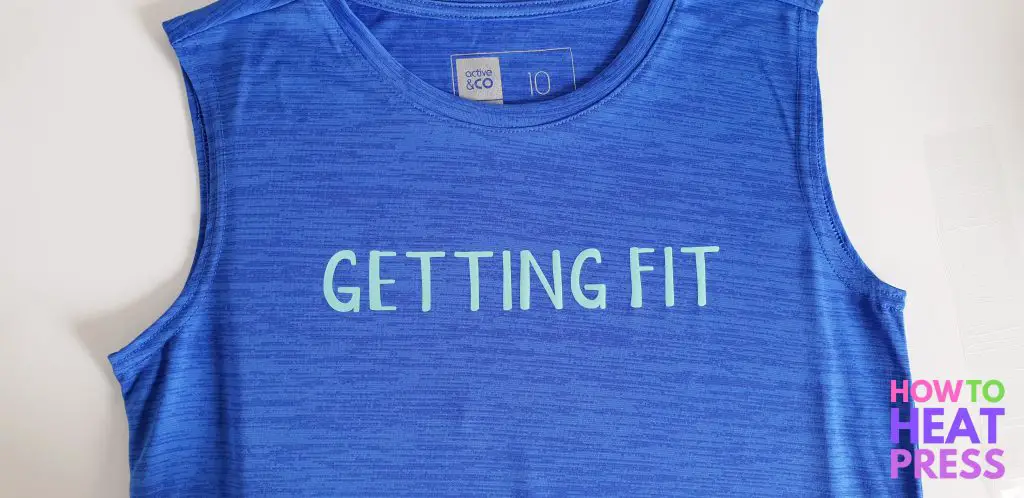 This was a really simple design, but it sure beats plain t-shirts!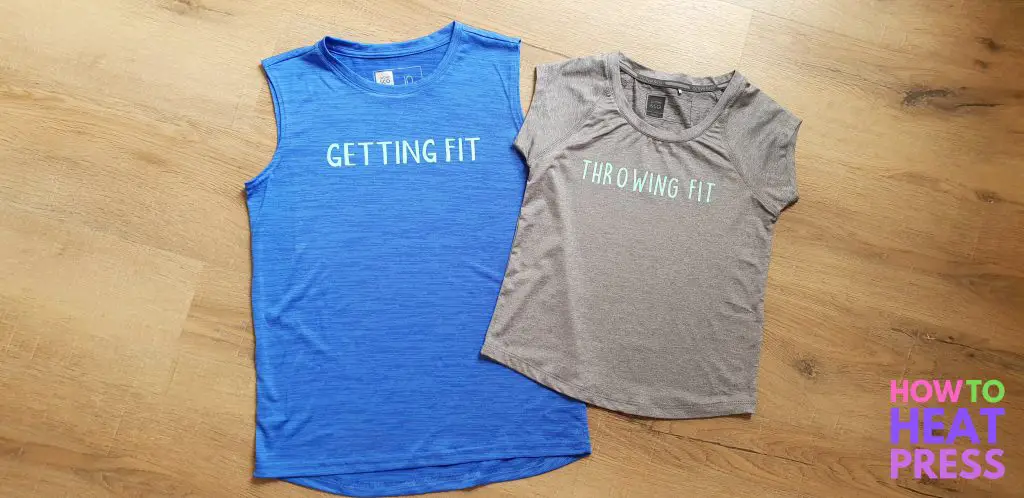 Cricut SportFlex Review
I really enjoyed working with this product. It was easy to cut, weed, and apply – I had no issues! So far it's wearing well and I look forward to further Cricut SportFlex Projects.
Is it the best HTV for sportswear? Maybe! Haha – I haven't tried them all out yet. Another quality alternative is Siser EasyWeed Stretch. But I can whole-heartedly recommend Cricut SportFlex!
Pin this post!
(Please note: This post contains affiliate links. Read our full disclosure policy here.)