Best Vinyl Cutting Machine – Cricut To Graphtec & Everything In Between
Which is the best die cut machine?
With so many good brands out there, it is hard to know! Should you get a Cricut, a Silhouette, A Brother Scan N Cut… or, are you better off with a entry level professional plotter like a Vinyl Systems or Graphtec LITE?
Whatever stage you are at, one of these quality vinyl cutting machines will be for you.
The Best Die Cutting Machine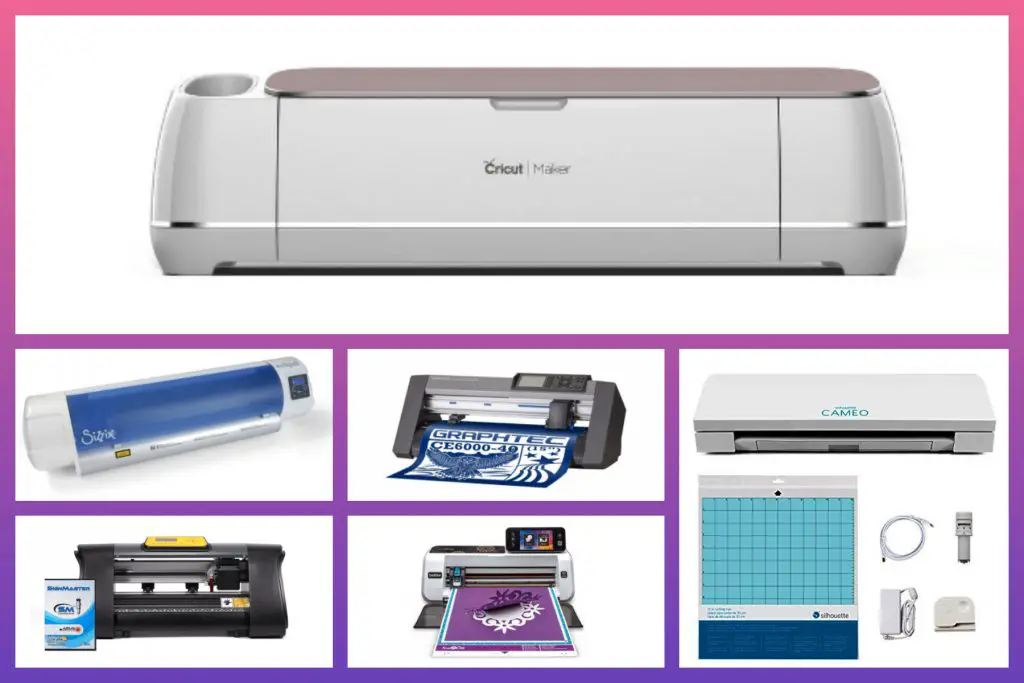 The best die cutting machine?
Depends on what stage you're at and what you want it for… Are you into crafts? Do you want to start making your own t shirts and need to learn about machines like Cricut? Or, is this for business and you need something a bit bigger?
These are the machines we'll be covering.
Older models of these vinyl cutting machines are often still available for purchase (for example, the Cricut Explore Air); but in my opinion, it is best to go with the most current model.
The exception to this is with Cricut. The Cricut Maker is the best vinyl cutting machine (at least for crafts and home use), but it is more expensive. The Explore Air 2 is an excellent machine if the Maker is beyond your budget. We have and still use both of these machines.
Die Cut Machine Features
The main feature of a die cut machine is fairly obvious: they cut!
But that's not all they can do. These machines can also etch, draw and score. The Brother Scan N Cut can even scan.
Etching (or engraving) – often used on metal surfaces like dog tags, plaques and jewelry
Drawing – write and draw designs on paper and cardstock
Scoring – used especially for creating fine folds in card making
Home vinyl cutters can cut many materials including:
Adhesive vinyl and heat transfer vinyl

Cardstock and paper

Fabrics and leathers

Some bonded fabrics
The Maker can cut the greatest range of materials, from balsa wood & chipboard, to silk & burlap.
1. Cricut Cutting Machines
First, I want to share 2 Cricut cutting machines with you: the Maker & the Explore Air 2. Both of these machines are good for home craft use, or for small home craft business use.
Here's a summary of why we prefer Cricut machines for home & craft use.
Let's take a closer look at the Maker & Air 2.
The Cricut Maker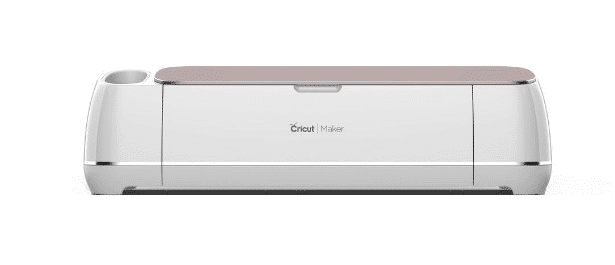 Here are its special features:
Cuts hundreds more materials, from the finest paper to heavy fabrics
The rotary blade used for cutting fabric (from canvas to cotton)
The knife blade used for thicker materials (chipboard or balsa wood)
A scoring wheel for sharper and finer folds
A digital sewing pattern library – access to hundreds of fabric plans to cut instantly
All controlled digitally (no dial on the machine)
For the full range of features, see the Cricut Maker overview.
The Cricut Explore Air 2
vinyl and iron-on
.
Check the full range of features and specs.
2. Silhouette CAMEO 3
The Cameo 3 is up next. There is a bigger leap in performance between this one and the Curio. As you go up in price, you get a more precise and faster cut. They are also able to perform more tasks.
The Cameo 3 is Silhouette's latest cutting machine. The main difference between this machine and the Curio is that this one can be used wirelessly and can hold two tools. It has the largest cutting space of all their machines.
Find the cheapest Silhouette Cameo 3 here.
3.  The Brother Scan N Cut 2
The Brother Scan N Cut 2 is unique as it not only draws, etches, & scores, but also scans.
With this you can hand draw whatever you like, scan your image and then have the machine cut it (as seen in the video below). This machine does not use software and connect up with a computer, it is stand alone with a touch screen. You can bring in outside images via a USB.
This machine, as with the others above, can cut heat transfer vinyl for heat pressing onto t-shirts, etc. We have a written a complete review of the Brother CM350 ScanNCut2 here. 
4. Sizzix Eclips 2
The Eclips 2 has a cutting area of 12 x 12 inches. Perhaps if you're thinking of doing small transfers on small items of clothing, like baby onesies or children's t-shirts, this might be for you.
5. Vinyl Systems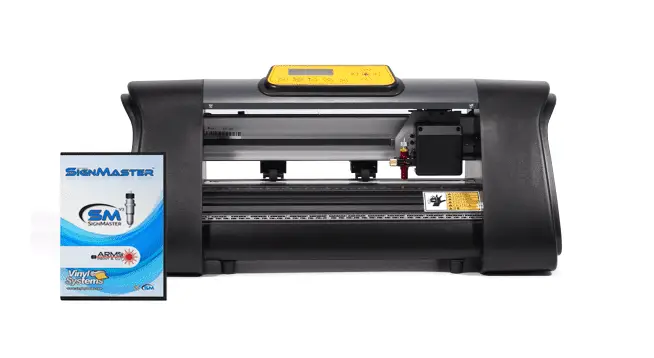 Vinyl Systems Cutters are Heat Press Nation's cutting machine brand. The smallest size has a 14 inch cutting width, while the largest has a 52 inch cutting width.
The larger machines (with contour cutting stepper motors) are great for sign-writing businesses, and/or those who are doing a lot of print & cut t-shirt transfers.
The 3 series of plotters are:
Vinyl Systems Specialist (14″, 28″, 34″, 52″)
Vinyl Systems Edge (28″, 52″)
Vinyl Systems Evo (28″, 52″)
These are good entry units for when you're ready to delve into the world beyond craft die cut machines. In the following video, you can see Estefan using the Vinyl Systems Specialist for its first cut. You can see the Vinyl Systems Edge & Evo in action as well on this playlist.
6. GCC Vinyl Cutter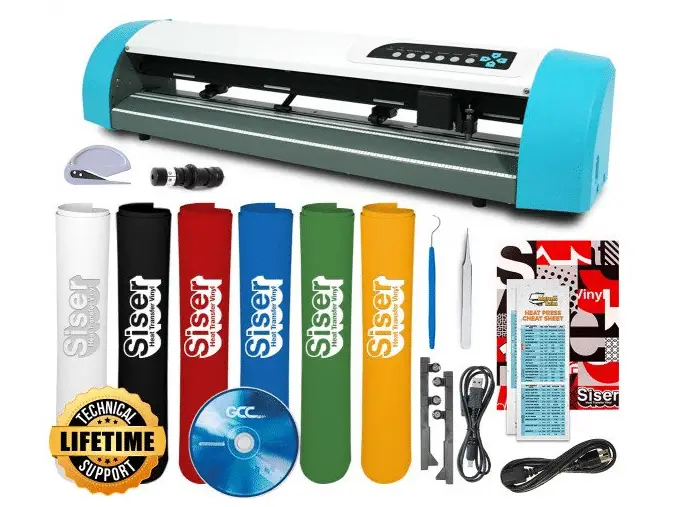 GCC Vinyl Cutter machines are the next level up in quality and features. You can expect great results with these plotters. They feature smooth ease of use, advanced contour cutting systems, long tracking, and have stepper motors.
The GCC cutter is available in 5 different series:
The GCC AR-24 (24″)
The GCC Expert 24 (24″); or the Expert 52 (52″)
The GCC Puma (24″, 52″)
The GCC Jaguar (40″, 52″, 72″)
The GCC RX (24″, 40″, 52″, 72″)
The following is a video on how to set up the GCC Expert 24, but I've set it up to show you what it's like doing a contour cut around a printed logo. Just press play!
7. Graphtec Cutting Machines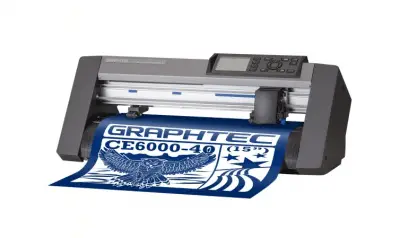 Graphtec Plotters are top of the line commercial cutters.
These machines are not cheap, but they come with features designed to save you time and money, as well as get a better result.
Features are different across the 3 series of Graphtec cutter, but include:
Graphtec ARMS 5.0 for contour cutting
4 point, dual axis skew correction
Tangential control
Compatible with both Mac & Windows
Plugins to use with Coral Draw & Adobe Illustrator
And a whole lot more… find out all about what these features mean in this Graphtec Plotter Review.
This is the entry level Graphtec machine, the CE LITE-50.
Best Vinyl Cutter
Those are all the machines that we will look at in this post. The Vinyl Systems, GCC, and Graphtec cutters are best for commercial use in a busy shop, while the craft cutters are good for craft and small/home business use.
Let us know what you think of them in the comment section below. Thanks for reading!
(Please note: This post contains affiliate links. Read our full disclosure policy here.)