The Best T-Shirt Design Software: Adobe Illustrator + Free Design Software
What is the best t-shirt design software?
For those who are serious about t-shirt design (and graphic design in general), we think Adobe Illustrator is the best. Illustrator is a vector graphics editor. It can take longer to master, but the tools and results can't be compared with cheaper or free products.
Because we like Illustrator so much, we will focus on it in this article. Consider this an Adobe Illustrator review. If you skip to the end of the article, we've got the three best free t-shirt design software programs.
Adobe Illustrator – The Best Graphic Design Software For T-Shirts
Here are 7 reasons why we think Illustrator is the best software for t-shirt design:
1. Illustrator is a vector graphics editor. This is explained further below, but it means you can scale your designs to infinity without losing quality in sizing or color. This is important for designing t-shirt graphics because you will require a range of image or logo sizes depending on the garment.
2. With Illustrator you can start designing from scratch. For example, see this tutorial – wow! You can also import and modify existing designs.
3.  You are able to sketch out a design concept onto paper and then scan it into Adobe Illustrator (Ai). Once you've imported the design into Ai you can manipulate it to your hearts content. Perhaps your t-shirt style is the freehand sketch look? Use Ai to turn your paper design into a digital design, ready to print and press!
4. Illustrator is excellent for creating logos and brand images. The typesetting feature is amazing and allows you to shift and twist text and other design features wherever you want them. However, if you are going to be working with photographs a lot, Photoshop would be the better option. Illustrator is best for logos, graphics, icons, cartoons and other such designs.
5. There are a multitude of both free and paid tutorials teaching you how to use this software. The resources on offer are incredible (we will link to some below). You will always be able to find an answer to your question on a blog or YouTube channel. As part of your subscription you also gain access to the Adobe Forums.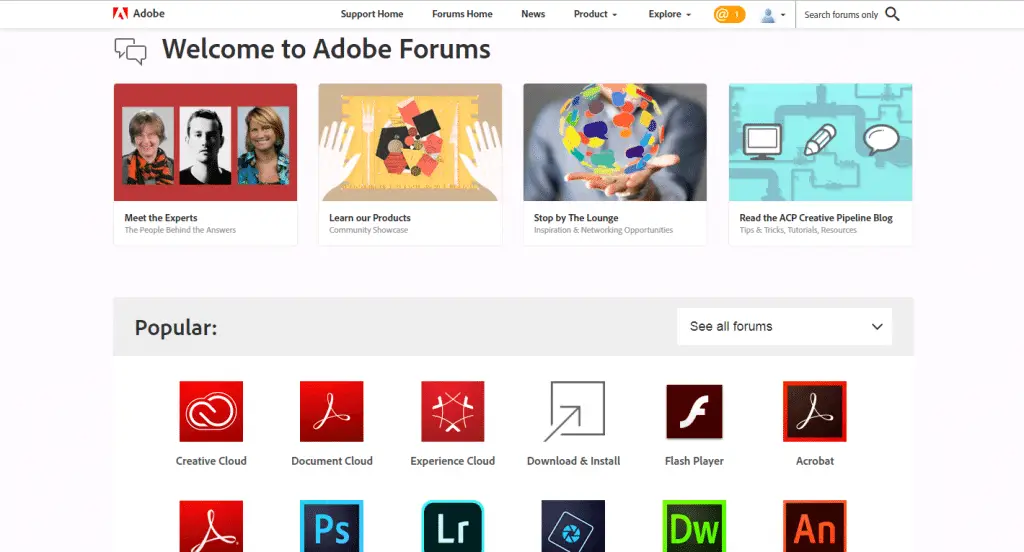 6. Beyond the Forums, quality customer support is provided with an Illustrator subscription. You can talk to real people to help you solve your specific issue.
7. Adobe Illustrator updates at least each year. The tools are always improving, and the program generally becomes more intuitive. Adobe can pour money into the development of their software unlike the various free alternatives.
What Does Adobe Illustrator Do?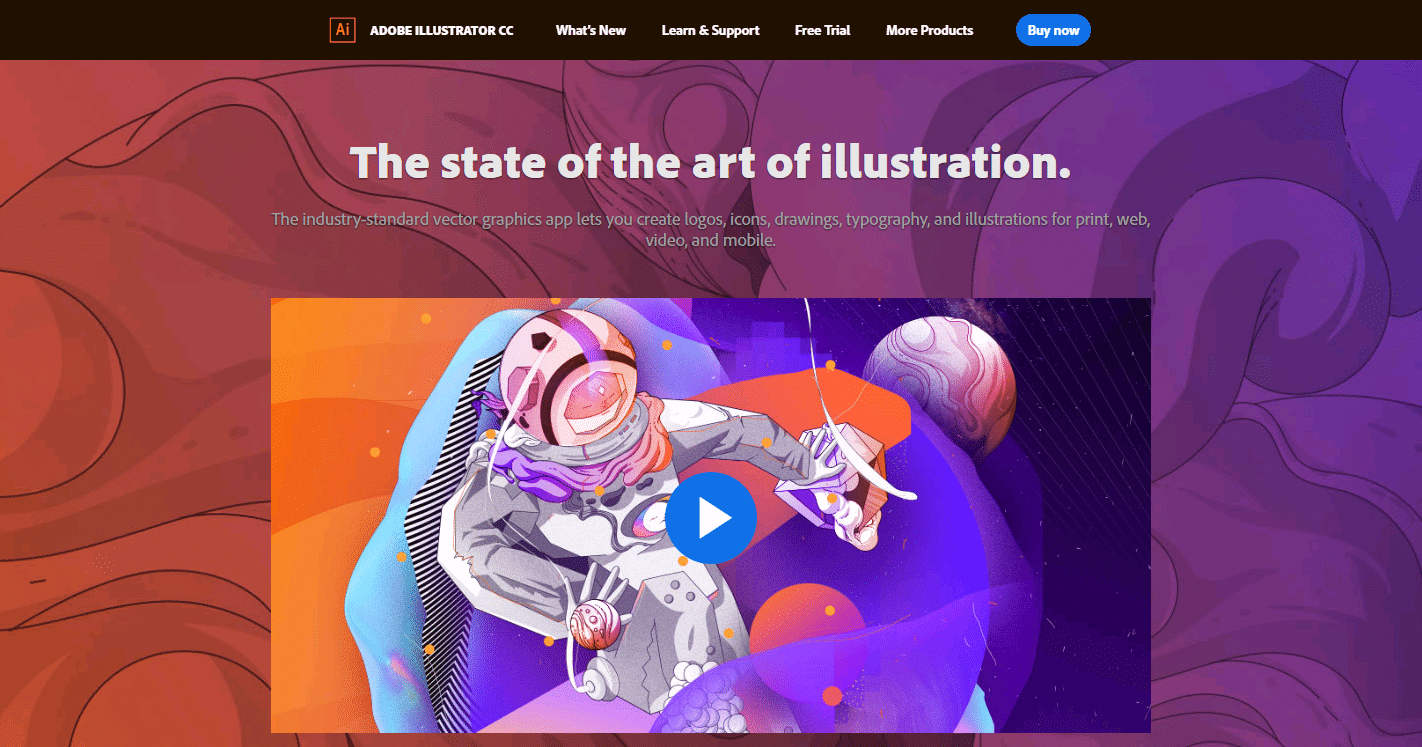 What does Adobe Illustrator do, and what is Adobe Illustrator used for? It is a versatile and varied program. It can be used for many design applications. Examples of design projects you can undertake with this program include:
Logo design
Creating infographics
T-shirt designs – whether text, images, or a mixture of both
Illustrations
Graphics for use in traditional print media
Graphics etc. for use on websites and online media
Typography
Graphic designers all over the world are using Illustrator for all their design needs. This includes a ton of t-shirt designers, whether they are making designs for heat transfer vinyl, designs for screen printing onto t-shirts, or designs for printed images to be heat pressed onto tees. T-shirt design is one application (among many) of what Adobe Illustrator is used for.
But why is Illustrator the best t-shirt design software?
Vector Images Vs Raster Images
As mentioned above, Illustrator is a vector graphics editor. There are two types of computer graphics/images. As you'll have guessed from the title, the other is called raster graphics.
What's the difference? Raster graphics (or bitmap images) have individually defined pixels. Each pixel has its own particular values relating to color and sizing. Raster images cannot be scaled up without becoming pixelated – the quality is no longer good. Vector graphics use lines and curves (and mathematical formulas) to set the shape of an image. This allows one to scale the image up, or to do all sorts of work on it, without loss of quality or distortion. That is why vector images are the best graphics for t-shirt design.
Many people use SVG files for t-shirt design. SVG stands for Scalable Vector Graphics.
CHECK OUT: The Best Free SVG Websites For T-Shirt Design
Free Adobe Illustrator Trial Download
To begin, it's best to sign up for the Adobe Illustrator free trial – this lasts for 7 days. Click 'Free Trial' at the top of this page and your download will begin automatically. If you decide to continue using the software beyond these 7 days, you can choose from one of the following 3 Adobe Illustrator purchase plans.
How Much Is Adobe Illustrator?
How much does Adobe Illustrator cost?
Adobe Illustrator Tutorials
The remarkable thing about our era is the amount of high quality online training available. If I had my time over again, I would not have gone to University! Instead, I would have educated myself with online courses, such as are listed below. There are a lot of super helpful videos out there to teach you how to get started with Adobe Illustrator. Become an online Adobe Illustrator Student today!
Adobe Illustrator's Tutorial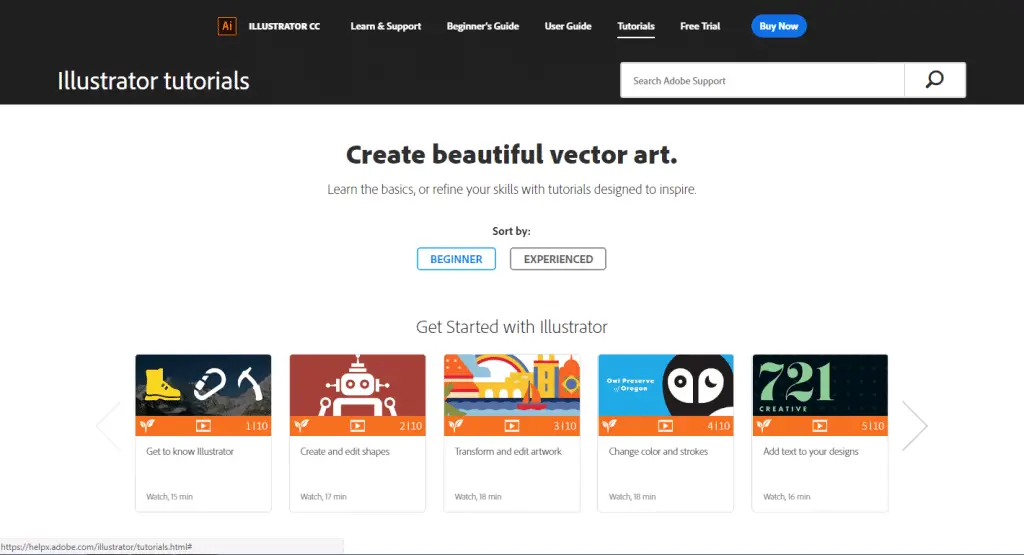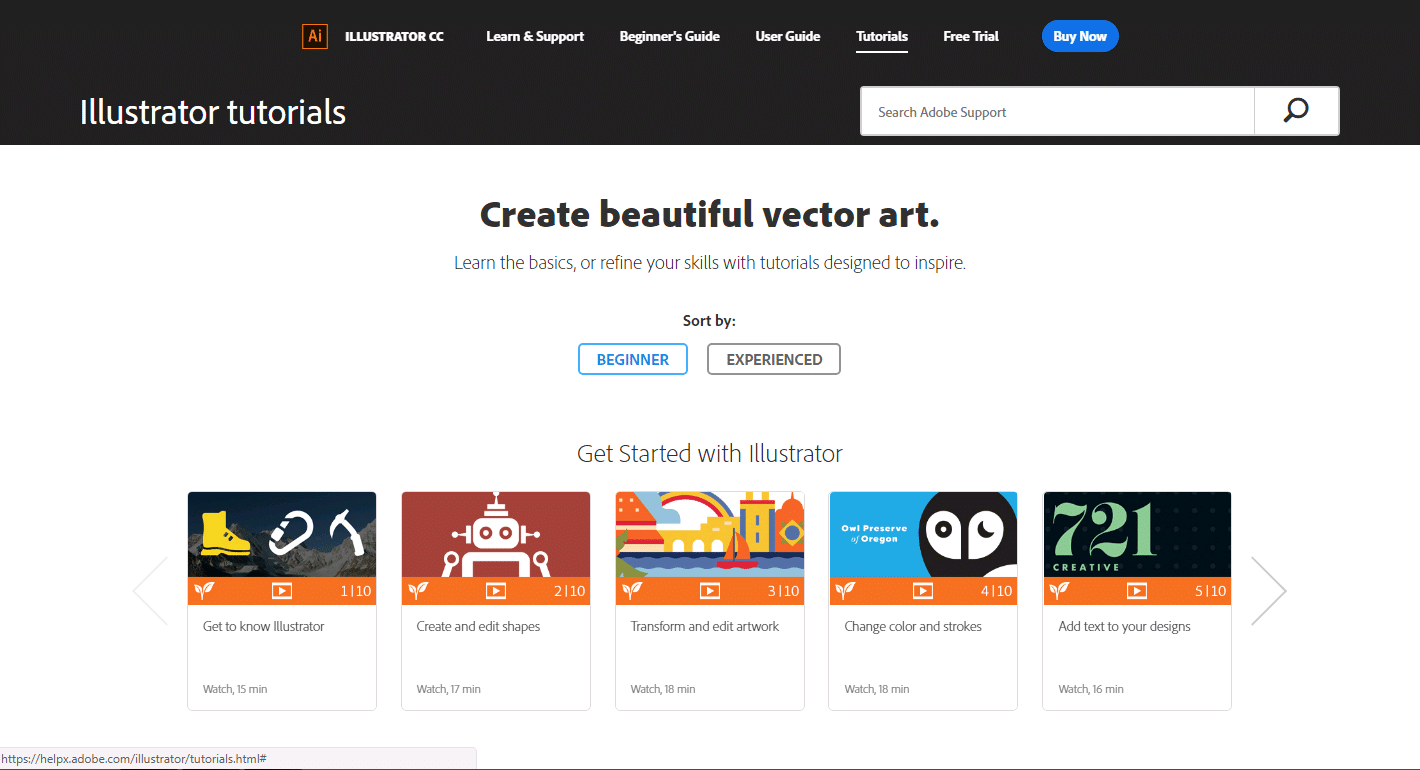 To begin with, watch Ai's own tutorials. You can select beginner or experienced and a range of training videos will be available. Videos for beginners include:
Get to know Illustrator
Create and edit shapes
Add text to your design
Design a logo, web icon, or monogram
There is a huge range available here, watch and see what you think!
YouTube Tutorials
This is a very high quality, 19 video series by TastyTuts on YouTube. You'll be an expert after watching this! But there are also innumerable other Ai tutorials, guides, step-by-step how-to's, and help on YouTube.
Skillshare Courses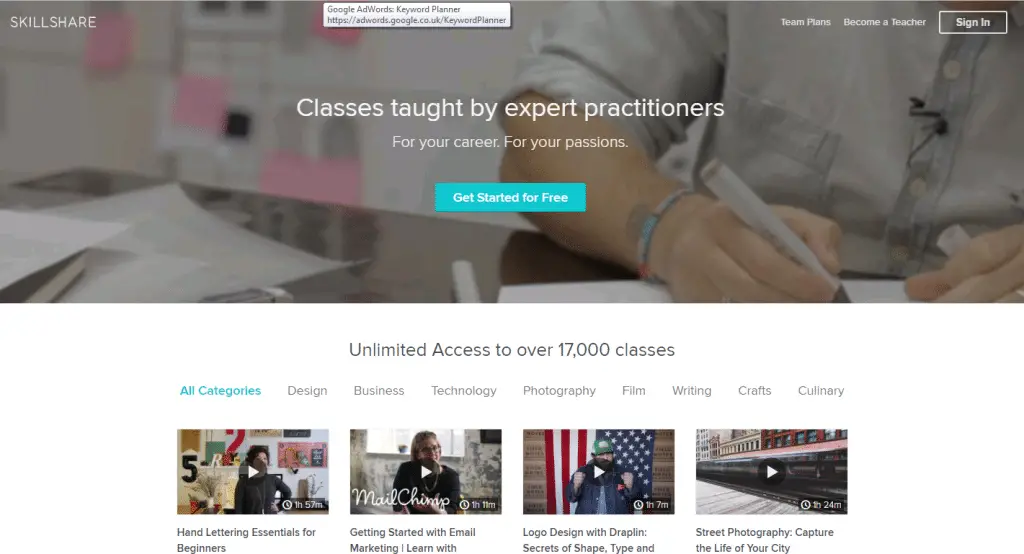 Skillshare.com is another website with a huge number of both Adobe Illustrator and general t-shirt design courses. They have a number of free courses but you can also get one month free to test out as many of the premium courses as you can. A Skillshare membership gives you access to over 17,000 courses for either $8 per month on a yearly term, or $12 per month on a month by month basis.
Some Skillshare courses for you to investigate:
Lynda Courses
Lynda.com is another online learning platform with a mountain high heap of quality Illustrator courses. You can also enjoy their courses free for 30 days.
Should You Get Adobe Illustrator?
Sometimes the excuse people use for not doing the right thing and getting Illustrator is 'there's too much to learn', or 'it's too complicated',  or 'it's too expensive'. Those excuses are not very good. With the wealth of great courses on offer, coupled with the quality of the program, it's win, win, win.  Yes, it's going to take a bit of time to wrap your head around it, but trust me, you'll be glad you did.
The awesome thing is that you're not learning skills that can only be used for t-shirt design. Once you've become proficient, you can use these skills for web design, print media design, and everything else! You can help your friends and family create logos and web graphics for their businesses. You can help them build their websites. And once you've mastered these things, start charging. Illustrator can make you money! The time and money that you spend will be well worth it. Go on, invest in yourself and get Illustrator today.
Adobe Illustrator Free Alternatives
If Ai is too expensive for you, there are a  few Adobe Illustrator free alternatives. We've listed three sites below, but there are plenty of others out there. As we think these are the best free graphic design software for t shirt design, we don't feel the need to list all the others! Try these out first and you're sure to find one that works for you.
1. Inkscape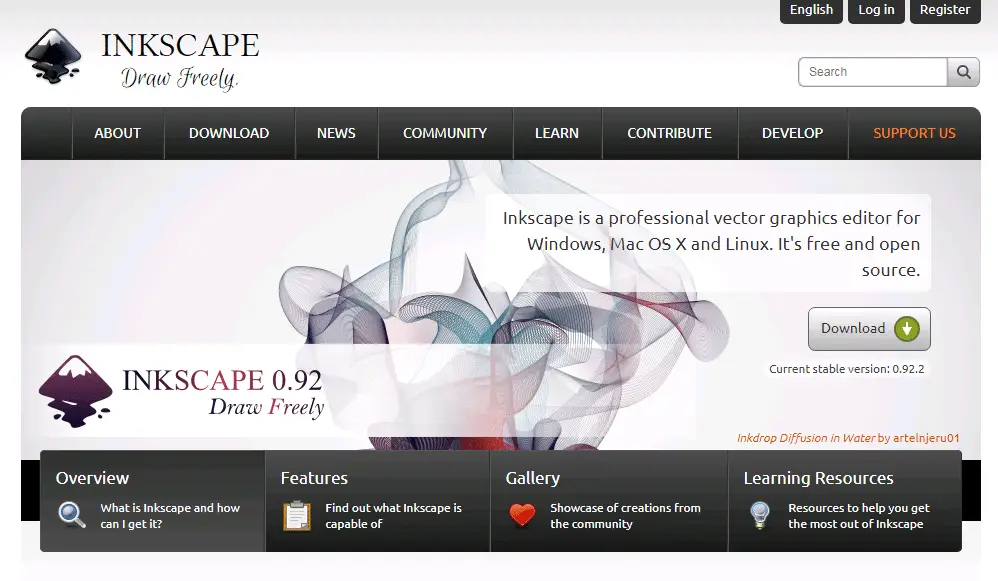 Inkscape is a vector graphics editor that you can download freely. Read about its specific features here. This product is probably the best free graphic design software available, and comes close to Illustrator in performance. However, larger files are not so easy to work with in Inkscape.
2. Alchemy

Alchemy is also available for free download. This software is only for use with a Windows computer. It supports PNG, JPG, PDF and SVG formats. Alchemy has been around since 2012 and is a very capable program.
3. Fatpaint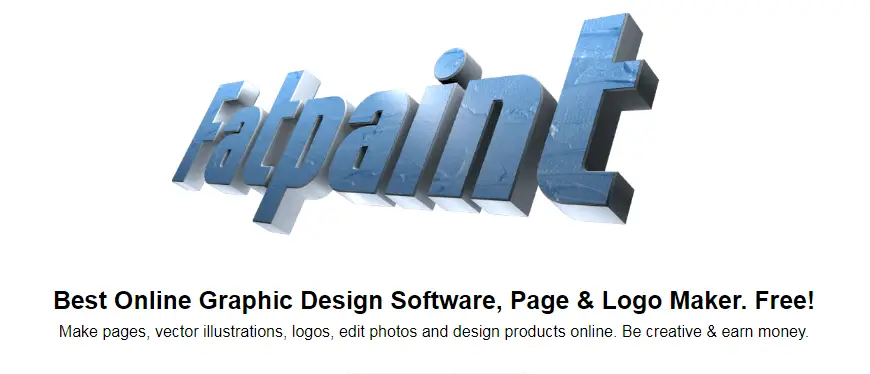 Fatpaint is yet another free vector graphics editor that you can use for t-shirt design. The bonus with this program is that there is nothing to download. You also don't even have to register. Just click 'Start Fatpaint' and you're away laughing (though you will need to have Adobe Flash Player installed).
4. Design Hill Custom T-Shirt Design
Now this is a little bit different: Design Hill offers outsourcing of custom t shirt designs. Design Hill has thousands of designers waiting to design t-shirts for you! You set up a competition and choose the design you like best. Watch the clip for more info.
What Do You Think Is The Best T-Shirt Design Software?
If you're new to software for t-shirt design, it's probably best to begin by playing around with the free programs. But if you've committed to becoming the world's next best t-shirt creator, then you better get Ai.
Why bother yourself trying to learn these other programs when you're just going to have to transition to Illustrator when you outgrow them? No, you've got your heat press machine, you've got your cutting machine, now get Ai!
Thanks for taking the time to read this post. We'd love to hear from you! Please leave a comment below and let us know your experiences with t-shirt design software. We'll be sure to comment back soon!
Pin this post for later! 🙂
(Please note: This post contains affiliate links. Read our full disclosure policy here.)