Heat Resistant Tape – What Is It & How To Use it For Heat Transfers
This post contains affiliate links. If you use these links to buy something, we may earn a commission, but it doesn't cost you anything. Thanks!
What is heat resistant tape?
Heat transfer tape is used to hold heat transfers in place while being pressed, and it should not be confused with vinyl transfer tape, which is very different!
This will be a brief post on why, when, and how to use heat transfer tape, and where you can get some to try out!
Heat Transfer Tape
Heat transfer tape is most often used when applying sublimation transfers to mugs and tiles.
When using a mug heat press you are not going to be able to hold the transfer in place while you close the heat press. That's what the heat tape is for!
Heat tape can withstand the very high heat press temperatures that are needed for sublimation printing – usually around 400°F.
Here are some heat transfer tape buying options!
Heat Resistant Sublimation Tape

2 pack of sublimation transfer tape
Maximum heat resistance: 482 ℉
Width 10mm; length 108 feet

View On Amazon

Selizo High Temp Tape

5 pack heat tape with differing widths
Heat resistance up to 536℉
Sized 1/8", 15/64", 15/64", 15/32", 5/64"

View On Amazon

HPN Heat Tape

Single roll of sublimation tape
Temperatures up to 425˚F
3mm thick, 72 yards long

View On Heat Press NationView Tape Dispenser

Cricut Heat Tape

Made for use with Cricut Infusible Ink
1 roll 2 cm x 52 ft
Temperature resistant up to 400°F (205°C)

View On AmazonView On Cricut
Heat Resistant Tape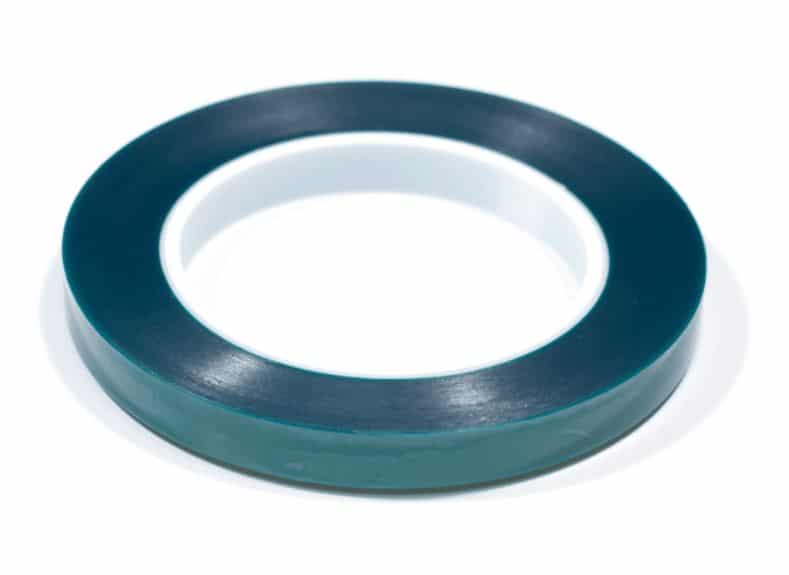 Heat resistant tape comes in many widths and lengths, so you will need to choose according to your needs.
The standard width is 10mm wide, which is the width of most rolls available for sale. This is a perfect size for holding heat transfers onto mugs, tiles, and other sublimation blanks.
Generally you will not need heat resistant tape when applying transfers to t shirts with a standard heat press. Give thanks for gravity, as that is sufficient for holding a transfer in position!
Sometimes, it might be necessary to use heat tape when applying transfers with a cap press machine as well. It will depend on the version you are using!
Good heat tape will have the following qualities:
won't leave any adhesive behind on the substrate
will hold the transfer in place while positioning & pressing
will be easy to peel away after use
won't have an extremely short shelf life where the adhesive deteriorates
will handle the heat
Other uses for heat transfer tape, besides use in a heat press, include:
use with 3D printers
wave soldering
protecting printed circuit board components
electrical insulation
However, if you are using heat tape for something other than with a heat press, please get a second opinion on which is best. We're not experts when it comes to these other applications!
How To Use Heat Tape
Here are some YouTube videos demonstrating how to use heat tape.
In this short video from HPN, we are shown how to sublimate a glass beer stein. Of course, for a project like this, you need to use heat transfer tape.
In this next video, Stefan has printed a transfer using a SawGrass Sublimation Printer. Again, heat resistant tape is a must for application!
And in this final clip, Brian shows where and how to apply heat tape when using one of the Signature Series heat press machines.
Best Heat Tape
There isn't a huge amount of difference between the different brands of heat resistant tape, and thankfully it's pretty cheap.
The HPN heat tape will be better than the cheaper Amazon alternatives, but if the alternatives get the job done then there's no need to spend extra money!
Cricut heat resistant tape was created for use with Infusible Ink transfers and the Cricut EasyPress, however it is the same product and can be used with any heat machine.
Test out a couple and work out which is best for your projects!
(Please note: This post contains affiliate links. Read our full disclosure policy here.)