The Best Transfer Tape For Cricut & Silhouette & How To Use It!
This post contains affiliate links. If you use these links to buy something, we may earn a commission, but it doesn't cost you anything. Thanks!
What is the best vinyl transfer tape?
Should you use regular grip, strong grip, or an alternative transfer tape? Where should you buy it from, and what are some tips and tricks for using it?
We all have lots of questions about transfer tape when we're first starting to use it, and we'll share with you what we've learned in this post!
Vinyl Transfer Tape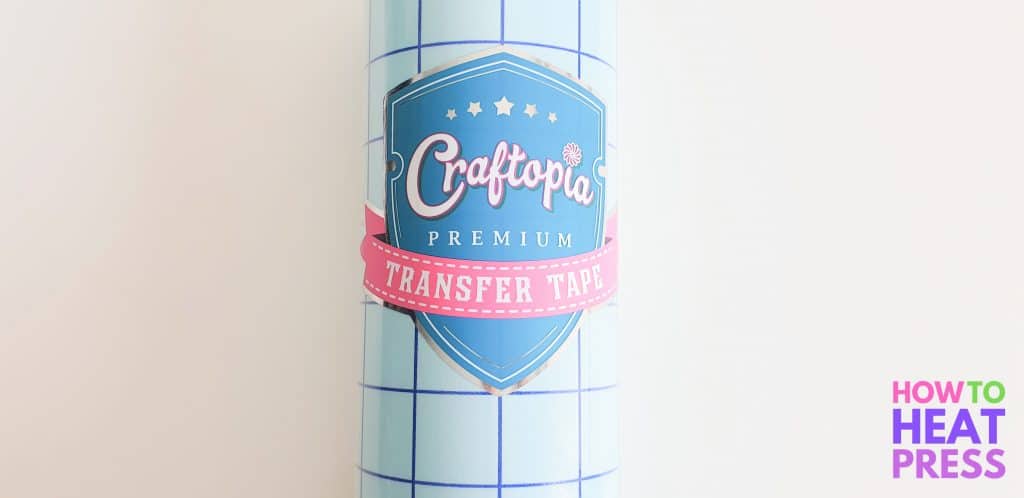 What is transfer tape?
Transfer tape is used to lift a vinyl decal off the backing paper, in order for it to be transferred and applied to a particular surface. Sometimes people also refer to it as vinyl transfer paper.
Imagine if you had a decal with 20 different pieces and you had to peel each piece off and stick it down manually! It wouldn't work – everything would be crooked and nasty!
Transfer tape keeps everything in the correct position, and is especially great for multicolored vinyl decals.
Here are some recommended transfer tapes and alternatives. Then we'll take a closer look at some particular brands and show you how to use it!
Cricut Standard Transfer Tape

12 x 48 inch roll of clear transfer tape
Great for most types of vinyl
Good quality, can be reused

View On CricutView On AmazonView On Michaels

Cricut StrongGrip Transfer Tape

Comes in 12 x 48" or 12 x 96"
Best for certain projects
Not good for use with regular vinyl

View On CricutView On AmazonView On Michaels

Oracal Transfer Tape

Clear gridded transfer tape from Oracal 651
Great range of different sized rolls
Awesome price

View Latest Price

Craftopia Transfer Tape

12 inches X 12 feet long roll
Created by sign makers
Cheaper by the foot compared with others

View Latest Price

Siser Transfer Tape

Large range of widths & lengths available
Great for use with Siser PSV
Use with all cutting machines & vinyl

View On Amazon

Silhouette Transfer Tape

12 inch wide rolls of clear transfer tape
Standard grip adhesive
Good for all brands of vinyl

View On AmazonView On Swing Design

Dollar Tree Transfer Tape

A great alternative to transfer tape
Cheap clear self adhesive shelf liner
Only available as 16 rolls online

View Latest Price

Painters Tape

An unusual alternative to transfer tape
Alright for less import jobs
Not clear so more difficult to position vinyl

View Latest Price
Cricut Transfer Tape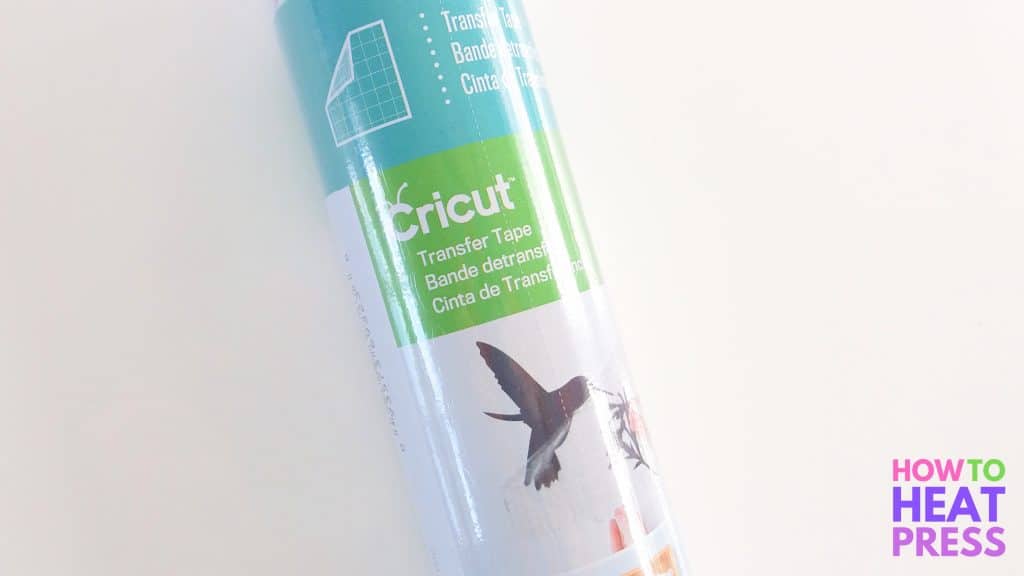 We often use Cricut transfer tape for vinyl projects, not because it's necessarily the best, but just because we picked up a lot of it!
There are many who complain about Cricut transfer tape, but we haven't had any issues with it at all. It always does the job it's supposed to, and is easy to use.
The different types of Cricut brand tape are:
Standard Grip
Strong Grip
Standard Grip is perfectly fine for most vinyl transfers, whereas Strong Grip is best for a few specialty vinyls.
Which Tape To Use
The type of transfer tape you use will depend on a few factors:
The size of the projects you are doing
How often you will be using transfer tape
The type of vinyl you are working with
Here are some examples of when to use which type:
Standard Transfer Tape:
Standard vinyl
Holographic vinyl
Premium vinyl
Premium Glossy Outdoor vinyl
Dry Erase vinyl
Stencil vinyl
Adhesive Foil
Adhesive Foil, matte
StrongGrip Transfer Tape:
Glitter vinyl
Premium vinyl shimmer – permanent
Chalkboard vinyl
For an example of when to use StrongGrip tape, check out this Cricut Chalkboard Vinyl project. I had first tried Standard Grip (what Cricut recommends), but it was not strong enough.
Oracal Transfer Tape
Oracal Transfer Tape for vinyl is another top brand.
Made for use especially with Oracal 651 Vinyl, but perfectly good for use with all other brands. It comes in many sizes, including bulk.
Bulk transfer tape is best for those in business, or for those who are applying large vinyl decals to signs or vehicles.
Silhouette Transfer Tape
Users of the Silhouette Cameo may prefer to use the Silhouette brand option!
It's very similar to Cricut, and usually around the same price. It's a clear tape with grid pattern to help with the alignment of vinyl decals.
Currently it only comes as a 12 inch wide roll (in varying lengths), but with the release of the Silhouette Cameo 4 in larger widths, we can expect some wider rolls to be released in the future.
Cheap Transfer Tape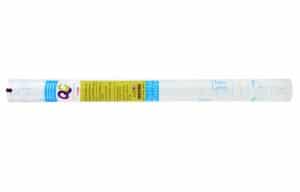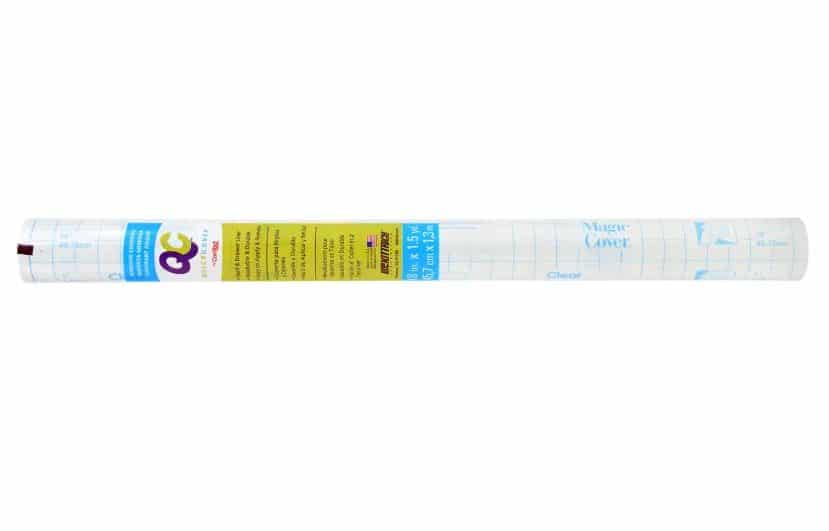 While I haven't used this myself, there are so many people who swear by this contact paper from Dollar Tree.
These are rolls of 'Con-Tact Quick Cover Clear Self-Adhesive Shelf Liners' which apparently work perfectly for transferring vinyl.
Here are quotes from a popular Cricut Facebook Group:
"Only stuff I use…"
"I usually buy a ton of rolls at a time and the cashier is like…are you a teacher?"
"Love this as transfer tape!"
However, there are detractors from those who love it…
"I don't understand how everyone loves this stuff it never works for me. I love blue painters tape though…"
"Don't care for it…"
"It never works for me I have 4 rolls of it too ?…"
Unless you know it works for what you need it for, it might be best to pop down to your local store and test out a single roll before you buy 16!
How To Use Transfer Tape
We have a ton of posts on the site where we show you how to use Cricut transfer tape.
Here is the process we used to apply vinyl decals on kitchen containers.
Cut your design out of adhesive vinyl with your Cricut machine
Weed away all excess vinyl leaving behind only your design
Apply transfer tape over top of your design slowly, burnishing as you go
Remove vinyl backing paper
Apply vinyl to your desired surface
Burnish over top of the transfer tape so that the design is well-adhered to the substrate
Roll the tape back onto itself to remove it (slowly)
Here's a look at the process of using transfer tape to apply adhesive vinyl:
The transfer tape is applied to the weeded design.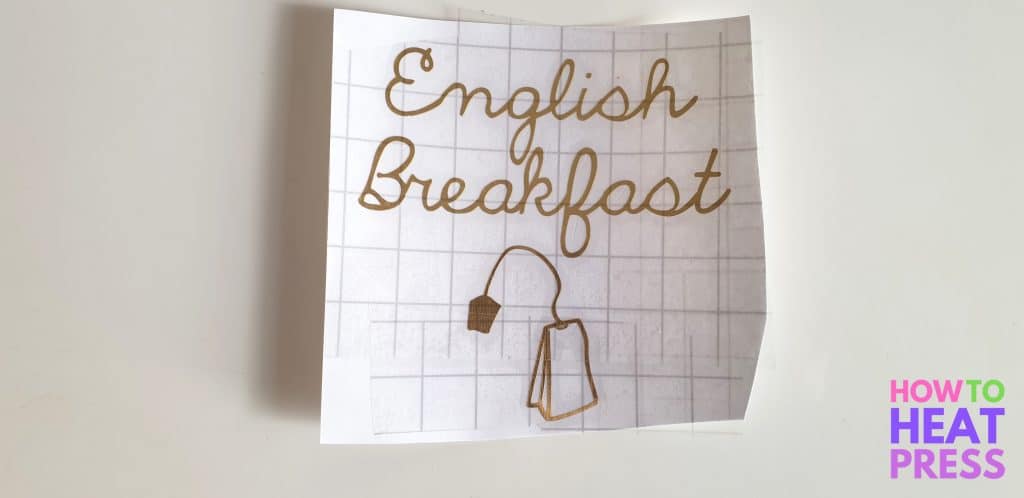 The backing paper is removed, the vinyl is now stuck to the transfer tape.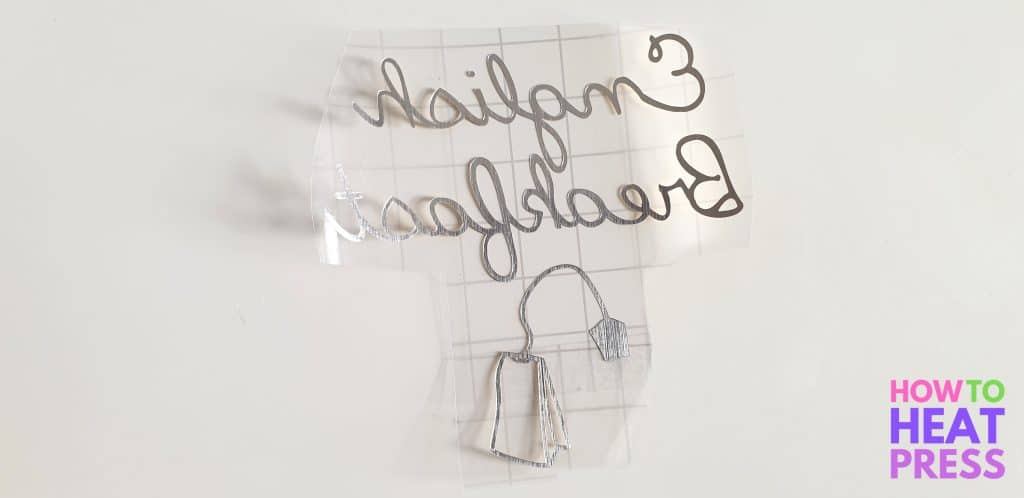 The vinyl design is applied to the canister and burnished with a squeegee.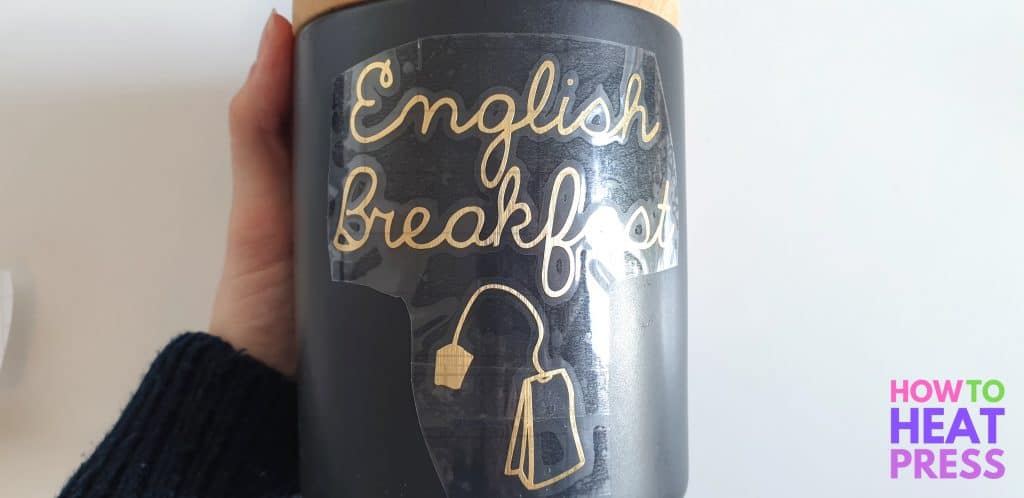 The transfer tape is slowly rolled away, flat onto itself.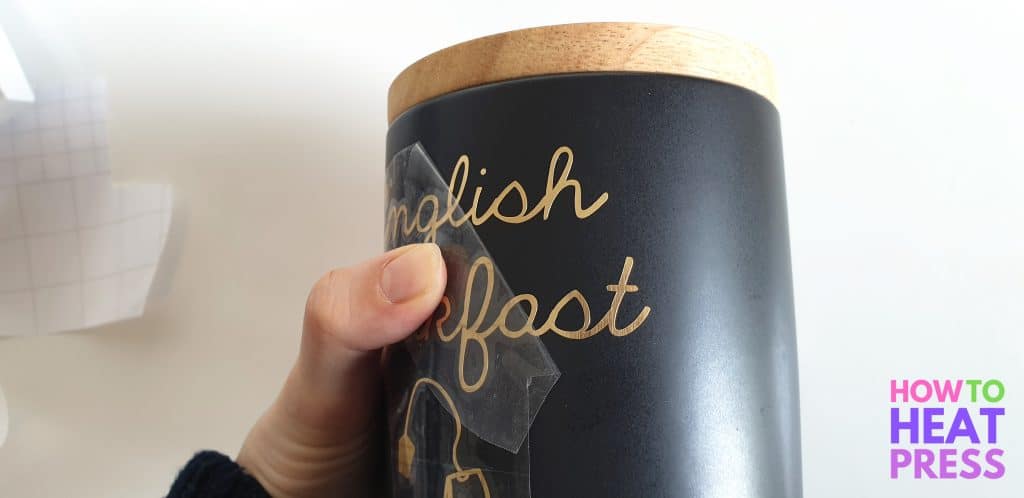 The project is finished!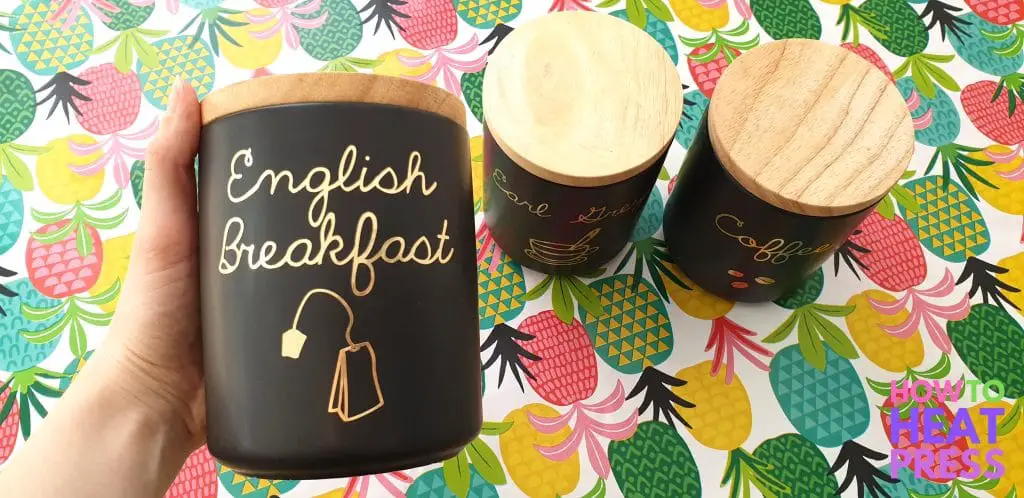 Transfer Paper For Vinyl
Here are some more projects on the blog which show you how to use transfer tape with different types of vinyl.
Using Cricut StrongGrip transfer tape to make a Christmas chalkboard countdown sign.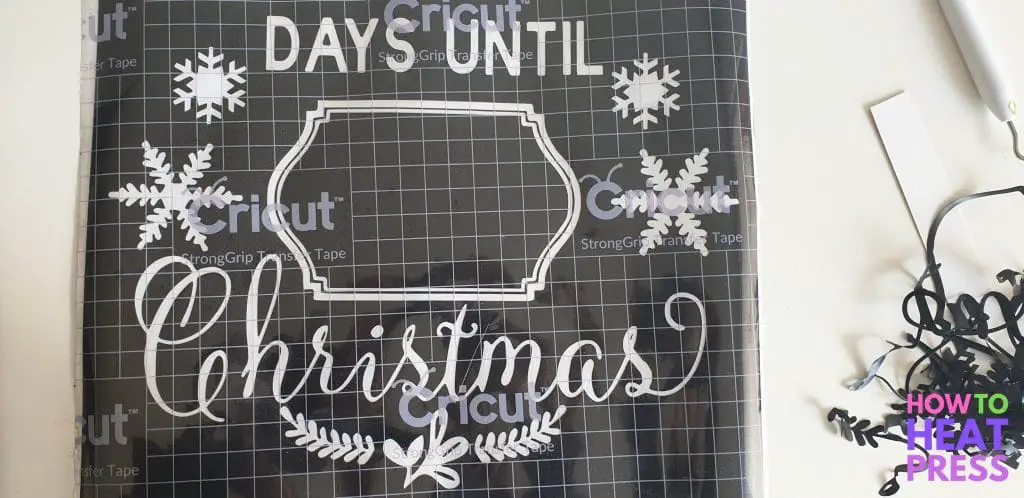 How to do a multicolor vinyl decal using clear Cricut tape.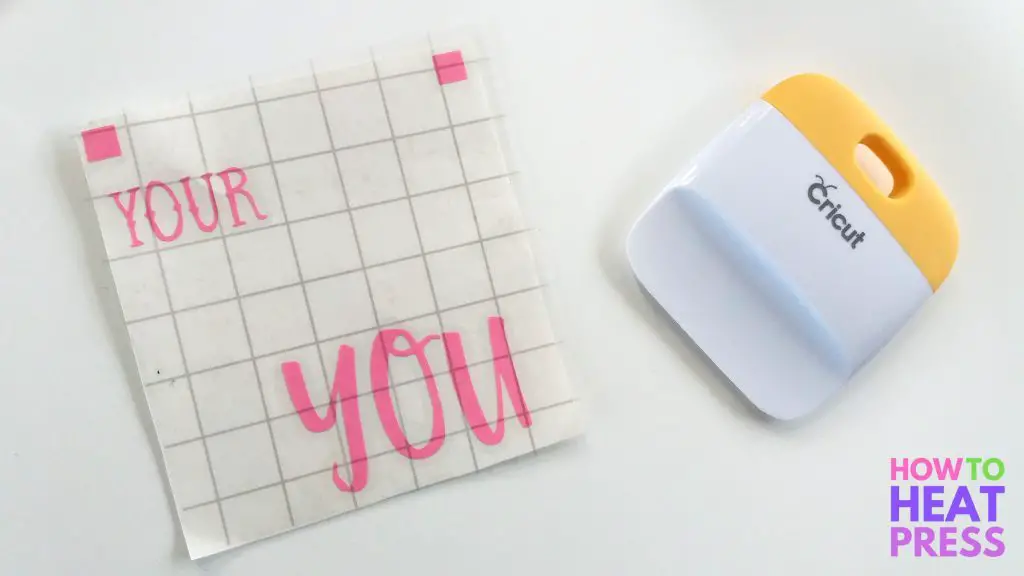 Some tips and tricks for using transfer tape to apply vinyl to a curved surface.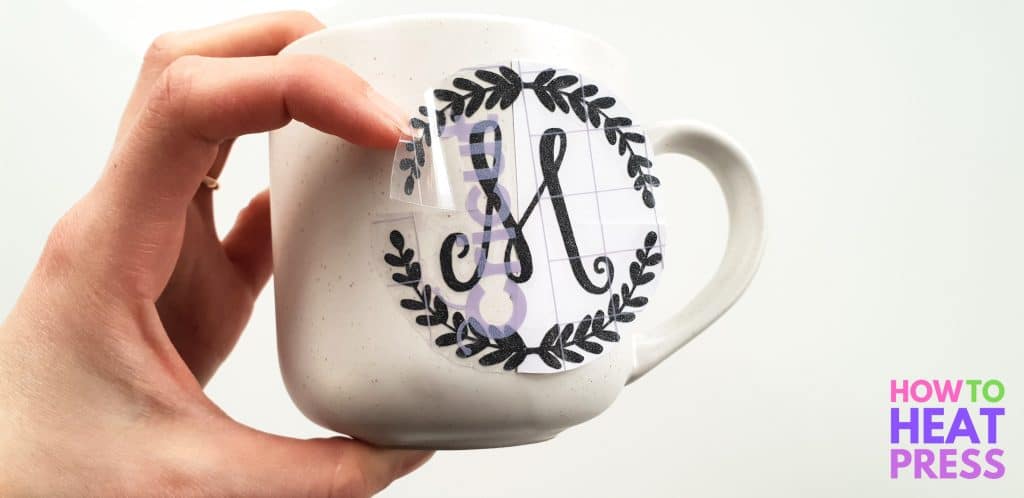 Best Transfer Tape For Vinyl
I don't believe there is a single best tape for vinyl, because it's going to depend on the type of vinyl you're using, the substrate you're applying it to, and your budget!
You certainly don't have to use the same brand tape as the vinyl you are using, and there are many Cricut transfer tape alternatives.
Certain tapes work really well for some, while others absolutely hate it!
It's all about testing out a few different kinds, and learning how to use each one. Thankfully it's not a hugely expensive product, and I'm sure it won't take long before you find one that you love!
Let us know down below your preferred type, and we'd love to test it out ourselves and add it to the list!
(Please note: This post contains affiliate links. Read our full disclosure policy here.)