Sizzix Machine Guide – Big Shot, Foldaway, Plus, & Sidekick!
This post contains affiliate links. If you use these links to buy something, we may earn a commission, but it doesn't cost you anything. Thanks!
Sizzix Die Cutter Machines – should you get one?
Let's take a good look at each Sizzix machine to determine whether or not one is right for you!
Sizzix Machine Review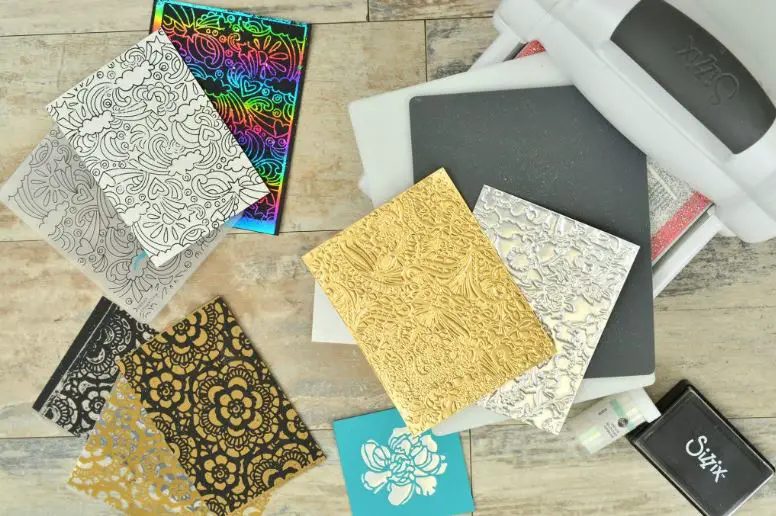 All of these Sizzix models are manual cutting and embossing machines. They are generally a lot cheaper than electronic cutting machines, and are good for those wanting to stick to scrapbooking and card making.
The benefits of using these manual machines include:
no computer or software programs needed
smaller, more portable and easy to store
quicker to pick up and get started
Here are all the different Sizzix machines that are available today!
Sizzix Sidekick

The smallest & cheapest Sizzix machine for embossing items up to 2.5 inches
For scrapbooking & cardmaking
Includes cutting pads and dies

View On Scrapbook.comView On Sizzix.com

Sizzix Texture Boutique

Small, affordable Sizzix for adding textures to cardstock
For cardmaking and embellishing - does not cut
Varying inclusions depending on retailer

View On Scrapbook.comView On Amazon

Sizzix Big Kick

A die cutting & embossing machine
Works for items up to 6 inches wide
One of the older machines with less buying options

View On Scrapbook.comView On Amazon

Sizzix Big Shot

A larger manual die cut & embossing machine
Can be used with different materials
Bundles & starter kits available

View On Scrapbook.comView On Amazon

Sizzix Big Shot Foldaway

Similar to the big shot but it folds away cleaner
Great for a range of papercrafts & scrapbooking
Works with a large range of Sizzix materials

View On Scrapbook.comView On Sizzix.com

Sizzix Big Shot Plus

Cut & emboss a huge range of materials up to 9 inches
Works with the smallest to largest of Sizzix Thinlets
The best Sizzix machine!

View On Scrapbook.comView On Amazon
The Sizzix Sidekick
This is an entry level Sizzix die cut machine, that makes for the perfect gift for teens. It's great for beginners, or those who just need a handy little machine for those small tasks.
One of the big benefits is that the starter kit comes with basically everything you need to get going – just supply the materials and you're away!
Pros:
the cheapest Sizzix machine
embosses & cuts
takes up little space
easy to use
great for kids & teens
good for small projects
Cons:
cannot do large pieces of card – only 2.5 inches
will not work with larger embossing folders
The Sizzix Texture Boutique
The Texture Boutique machine is an embossing only machine – it is not a die cut machine. However, there are videos on YouTube showing how you can use it for cutting, but remember it's not designed to do so!
There are a huge range of embossing folders for use with the Texture Boutique, giving you endless design options.
Pros:
create beautiful embossed designs for cards & scrapbooking
larger than the sidekick at 4.5 inches
quick to set up & start using
super easy – no learning curve
Cons:
still a small embossing machine
complaints that it's easily damaged
The Sizzix Big Kick
The Big Kick is larger than the previous machines, but it is an older machine with limited availability these days.
Unlike other Sizzix machines, there is very little content supporting the Big Kick, and it is no longer promoted as the best option. The Big Shot machine is a far better alternative to the Sizzix Big Kick.
The Sizzix Big Shot
The standard Big Shot machine is a 6 inch wide manual embossing and cutting machine.
The Big Shot range are the best Sizzix machines, and are still very affordable when compared to the likes of the Cricut Maker. It can also cut a wider range of materials than previous machines listed, including, vellum, thicker cardstock (like glitter), craft foam, vinyl and HTV, felt, and much more.
Pros:
a wider cutting area for larger projects
cuts a greater range of materials
stronger casing & roller system
carry handle
easy to use
range of colors
Cons:
still a much smaller cutting area than most electric cutting machines
The Big Shot Foldaway
The Sizzix Big Shot Foldaway is the best option if you want the easiest die cut machine to store away! This option folds away smaller than the standard Big Shot.
This is the same size (6 inches) as the Big Shot, but it's much more compact. This machine also has a little more pressure.
Pros:
folds away easily
less bulky
uses all the same dies
storage compartment
button goes away with the click of a button
Cons:
buy dies & embossing folders separately
The Big Shot Plus
The Sizzix Big Shot Plus is the best manual die cut machine – especially if you get one of the bundles!
The main difference between the Plus and the standard Big Shot is the size. The Plus is 9 inches wide, compared with 6, allowing you to do much larger cuts. It can cut the same materials as the Big Shot, but can work with the biggest Sizzix Thinlets.
Pros:
largest Big Shot machine
good for beginners & advanced crafters
use specific products for the Plus
plenty of supporting content online
Sizzix Project Ideas
So those are all the different Sizzix machines!
Take a look at the following projects you will be able to complete with a Sizzix machine. So many fun and amazing craft projects!
3D Paper Crafts.
Intricate card designs.
Beautiful card and paper cut-outs.
Cardstock embellishments.
Iron on vinyl.
Party favor packaging!
Wonderful pieces of art.
3D party favor bags.
Paper and card flowers.
There are so many custom cards you can make!
Best Sizzix
So you see, there are so many different things you can create with your own Sizzix Machine – imagine it and make it!
The Big Shot is definitely the recommended option (either the Standard, Foldaway, or Plus), as you can do so much more with them. And, it's not nice being so limited in size with the smaller machines.
You might also want to compare Sizzix with Spellbinders machines – another type of die cut machine!
(Please note: This post contains affiliate links. Read our full disclosure policy here.)