Heat Press Pillow Guide: For Longer Lasting Heat Transfers
This post contains affiliate links. If you use these links to buy something, we may earn a commission, but it doesn't cost you anything. Thanks!
What is a heat press pillow?
Using a heat press pillow will help you to complete a better heat transfer – especially when you're pressing over lumpy & bumpy garments. Heat press pillows can be bought in a range of shapes and sizes, or you can even make your own (which we'll get into as well).
Find out everything you need to know about heat press pillows below!
The Best Heat Press Pillow
What are heat press pillows used for?
They are used for creating a flat and even surface for applying heat transfers.
For example, if you are pressing a logo made from heat transfer vinyl onto the chest of a button down shirt, the buttons will create an uneven surface. When you bring the heat press down, the pressure will not be even because the buttons raise it up slightly. BUT, if you slip a heat press pillow under (or inside) the shirt, the button will be pressed down into the foam of the pillow, and you will be left with an even surface.
When should you use a heat press pillow?
Use a Teflon pillow if you are applying heat transfers on garments with:
zippers
buttons
snaps or domes
seams
hoodies
fabric overlaps
Also, you can use a Telfon heat pillow when you are pressing vinyl onto both sides of a garment. This will stop the two transfers sticking together.
Heat Press Pillow Sizes
If you just buy one large heat press pillow, this will be good for most projects, big or small. For example, you can use a large Teflon pillow for pressing a small baby bodysuit. Just lay the small garment on top of the large pillow.
One occasion where you might need specific sizes, is if you are pressing vinyl on both sides of a garment. Ideally, you want to put the pillow inside the t-shirt (or whatever item of clothing). You won't be able to get a big pillow into a small t-shirt!
However, you can also just use a regular Teflon sheet for this as well.
The most common sizes of heat press pillows for sale are:
10 x 10 inches
12 x 14 inches
16 x 20 inches
Though each seller has their own shapes and sizes for sale (see next).
Buy Heat Press Pillows
There are a number of heat press pillow sellers on Amazon. Choose the size and shape that is best going to suit the project you are working on.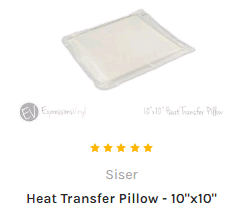 Expressions Vinyl also sells Siser Teflon heat pillows, so make sure you compare prices with Amazon and grab the best deal.
How To Use Heat Press Pillows
I love the following heat press pillow tutorial from Ellebee Creates. She has a great example of when and why you might need to use a heat press pillow, and then shows how to use it while pressing a layered HTV design onto a baby bodysuit.
Also see 'How To Use Heat Transfer Pillows' from Expressions Vinyl. Another very good explanation on how and why to use Teflon heat pillows.
Make Your Own Teflon Pillow
If you have a sewing machine handy, and the time to spare, making your own heat press pillows will be the cheaper option.
Here's what you need to make a DIY heat press pillow:
Ellebee Creates has one of the best tutorials I've come across on how to make it all come together perfectly.
Heat Press Pillow Alternatives
Some alternatives to buying or making your own heat transfer pillows include:
Placing a folded tea towel underneath the garment
If using an iron, pressing on a silicon pad, which has some 'give', rather than a wooden chopping board (when using my Cricut Easy Press, I use this silicon pressing pad)
Blank mouse pads (not if they have ink images on them – it might transfer!)
What else have you used to create an even surface for a heat transfer? – Let me know in the comments below!
You might also like:
Pin for later! 🙂
(Please note: This post contains affiliate links. Read our full disclosure policy here.)