Geo Knight DK3 Digital Mug Press Review
The Geo Knight DK3 Digital Mug Press is about as good as it gets if you're thinking about investing in a mug press.
This machine is built exclusively for pressing mugs. It is not part of a multifunction machine. It presses sublimation images onto mugs from top to bottom and handle to handle – a full wrap.
Let's take a look at this high quality machine mug press from Geo Knight.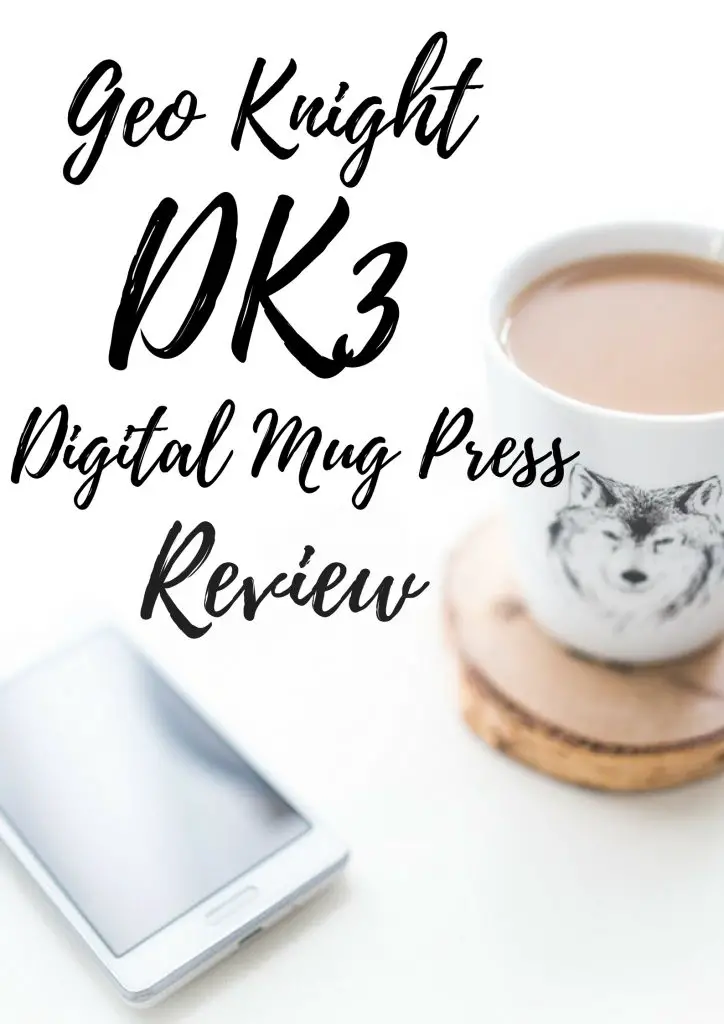 Who Is The DK3 Mug Press For?
This machine is for the person or business that believes they will have a steady demand for their products. You will be shelling out a significant amount for this press and it would be nice to recoup your investment in as quick a time as possible. If you have good reason to believe there is demand in your area or market for mugs, go for it. This is a great press.
If you're looking at this press because you imagine that maybe, at some point in the future, you might just get an order here or there, then you should probably hold off for the moment. Most sublimation businesses do not get many such orders and it might be a better idea to invest in something that you know you'll be using soon.
Are you thinking about this product because you would like to start an Etsy store? These businesses are seeing much success – find your market and pitch them the products they want. But even before buying your own mug press and producing products yourself, you might like to use a drop-shipping platform like Printful first to get proof of concept. Test your ideas before laying out too much money.
Another way to test your designs without buying a mug press, is to use a convection oven. There are tons of videos on YouTube showing how this is done.
Finally, if you're simply someone that loves designing and creating, and money is no object for you, then why not get the best?!
The Manufacturer – Geo Knight
The manufacturer of this mug press, Geo Knight & Co Inc, were featured on Fox's Manufacturing Marvels a few years ago – this video lets you know a little about the company.
Features
Totally adjustable (no parts you need to change)

Digital display (see below for more information)

Stores up to 70 presets

Digital read of pressure (removes the guesswork!)

Suitable for 11 oz, 15 oz, and 16 oz mugs

Mug is placed in the machine sideways, as opposed to upright, making adjustment easier

Choose your own end of cycle alarms/beeps from 10 available options

Exclusive coil winding technology in the heat platen for an even reliable heat

Solid steel frame

150

℉ to 400℉ temperature range
Specifications
30 pound shipping weight

450 Watts / 4 Amps / 120 Volts

Dimensions: 15 inches wide, 13 inches tall, 15 inches long

Option to add international 220V for a fee
What Size Mugs Can I Press With The DK3?
As mentioned above, this press can take 11, 15, and 16 oz ceramic mugs and is fully adjustable. You do not need to swap in and out different pads or plates as you use different sized mugs.
Other items  that you can press with this machine include appropriate beer steins, stainless steel water bottles, polysub mugs and stainless steel travel mugs.
Geo Knight DK3 Digital Display
The display on this heat press shows the:
Time

Temperature (150℉ to 400℉)

Pressure bar graph (0 least resistance to 9 most resistance)

Heating and timing indicators
You are also able to set up and save up to 70 preset functions for the different wraps and substrates you will be using.
When you turn the machine on, the temperature reading will show 150℉ until it rises higher than that. Most items you press in this machine will require a setting of between 350℉ and 400℉.
The following video clearly displays and demonstrates use of Geo Knight digital control panels.
Accessories
What else do you need in order to use the DK3 mug press?
Warranty
This machine comes with a:
3 year, 3000 mug warranty on the heat platen

3 year warranty on the digital control panel

1 year warranty on the entire press
Along with these warranties, it also comes with free lifetime technical support.
Price
Click here to view the Geo Knight DK3 Digital Mug Press on Ebay.
The Verdict
If it's a mug press you want, and this one is not out of your budget, then they don't come much better than the DK3. It is a strong and high quality press built by a very reputable company with a long history of excellence in this industry. This mug press will not let you down. However, as was said above, be sure you have the target market and demand before you get one for your business.
Further Resources
DK3 Owners manual (pdf) – very informative
T-Shirt forums for further advice, answers, support and community (search DK3) 
Inspiration & Education
Pressing stainless steel travel mugs:
Imaging polysub mugs:
Pressing a textured ceramic mug:
Thanks for reading this post! Have you tried out this mug press? Let us know what you thought of it in the comments below! If you're after a flat t-shirt press, read these 13 things you need to know before buying one!
(Please note: This post contains affiliate links. Read our full disclosure policy here.)