Review: Supacolor Heat Transfers using Pro World's Online Designer
This post contains affiliate links. If you use these links to buy something, we may earn a commission, but it doesn't cost you anything. Thanks!
Supacolor Heat Transfer Review
New wearable Supacolor Custom Heat Transfers are supposed to be a game-changer – but are they really? Check out the video below and read on to find out!
Rumor has it they are a new way to create super high-quality custom shirts without a sublimation printer or hours of cutting and pressing. We made a batch of 60 shirts for our pal Hank's company Rocky Mountain Aardvarks to find out what Suapcolor heat transfers are all about.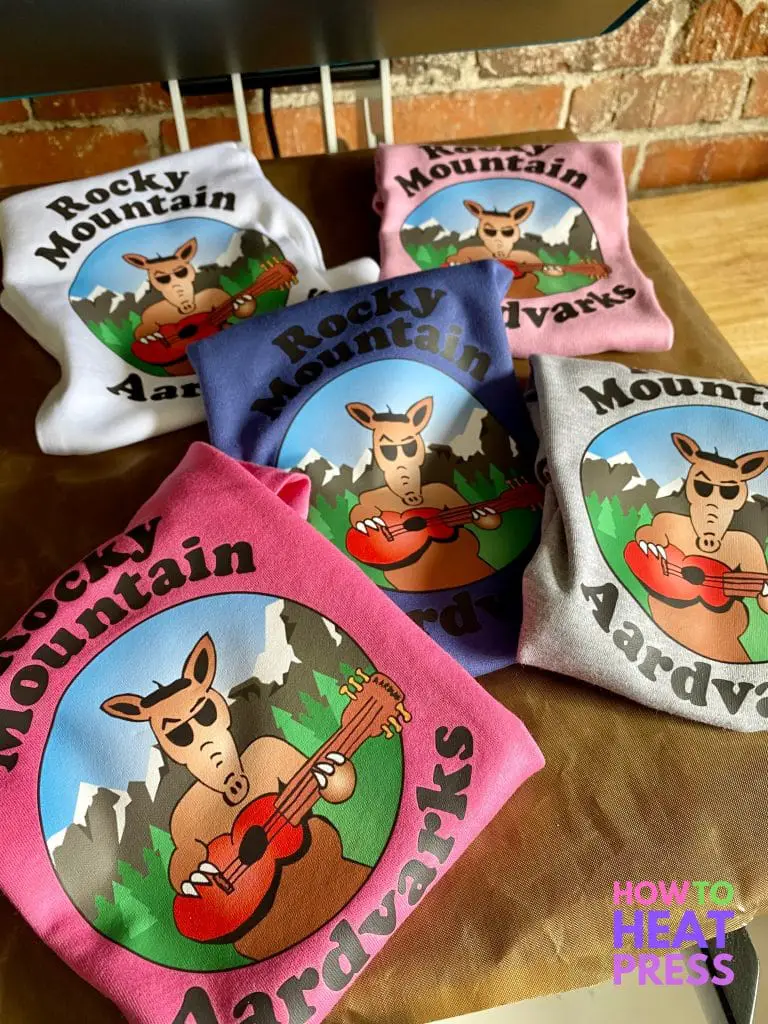 We tried out a batch of Supacolor Heat Transfers from ProWorld to see if they lived up to the hype!
What is Supacolor?
Supacolor claims to be the "World's Best Heat Transfers". So what makes them the world's best? What you're ordering when you go with Supacolor Heat Transfers is basically a ready-to-heat press design that will save you TONS of time. All you need is a heat press!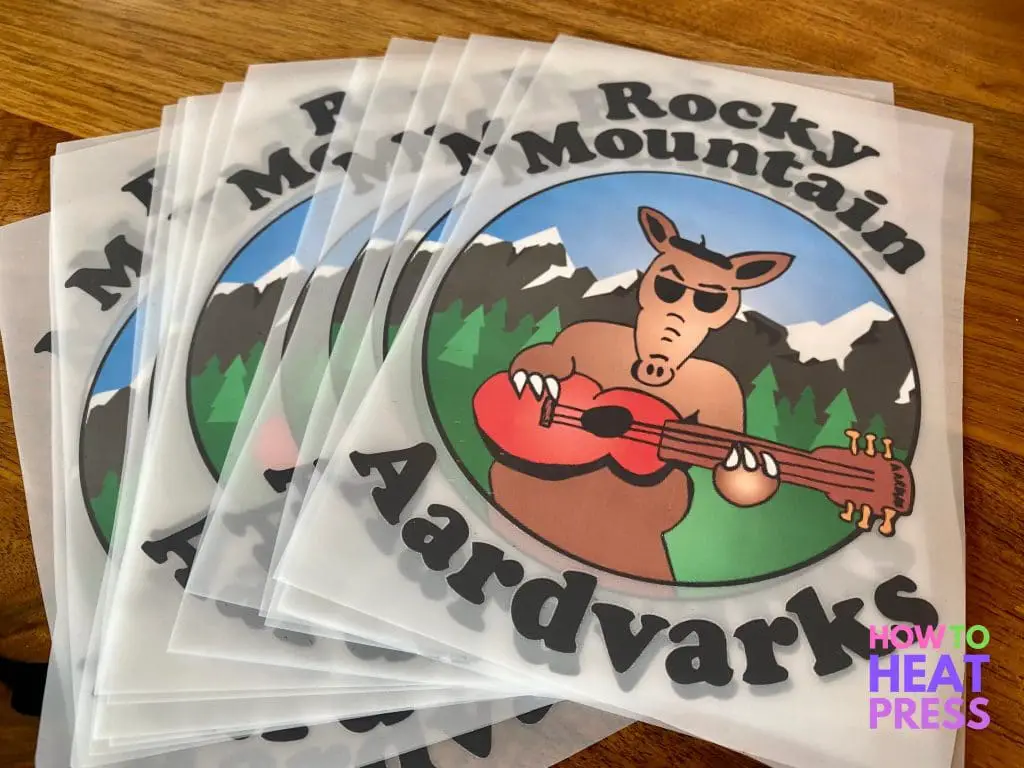 If you're currently in the business of cutting and layering HTV to create designs this is going to be a great alternative for you. With Supacolor Heat Transfers you're going to be able to get the same effect (even better with color gradients!) with a single press and a fraction of the time.
Supacolor Wearable Heat Transfers can be pressed on cotton, polycotton blends, and non sublimated polyester. Printing on polyester that's already patterned or sublimated? No problem, Supacolor Blocker Heat Transfers will get the job done.
Supacolor Heat Transfers have some really outstanding features:
Vibrant Colors with unlimited color gradients
Water-based (a nice alternative to PVC!)
Super durable, no cracking or fading even after 70+ washes!
Affordable bulk and gang sheet options
You can get Supacolor transfers from a couple of vendors. In our opinion going with ProWorld is your best bet as their design software includes tons of free editable templates and your designs will be checked by a real person to spot any issues before printing.
They're also crazy fast – my order arrived with FedEx 2 day delivery at just a $15 charge! That's great news for small business owners needing a fast turnaround on orders.
Uploading Designs for Supacolor Heat Transfers
While you're going to save a lot of time when it comes to actually heat pressing your designs with Supacolor transfers you'll want to take your time perfecting your designs before they're printed.
ProWorld has a great new design tool to help with this! The first thing you'll need to do is upload your artwork. As you can see below they'll accept pretty much any file format. The most important thing here is to upload your best quality file with the highest resolution possible.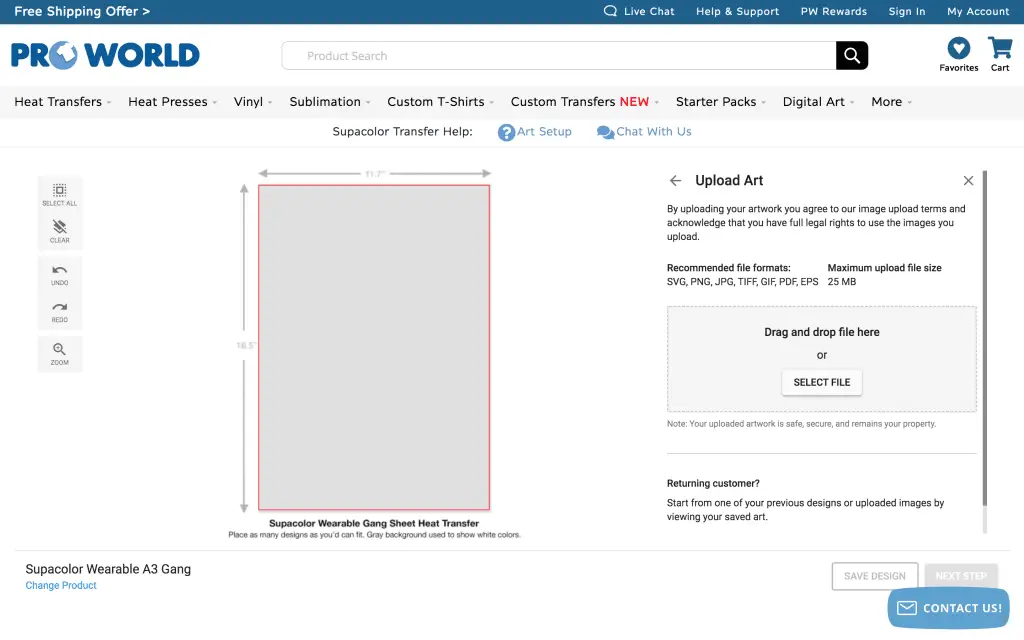 Fine Tuning Your Design
One of the best features is the ability to remove white backgrounds as you can see below. In the image I used there was a white rectangle I didn't want in the final product. Pro World's design software made removing it quick and easy!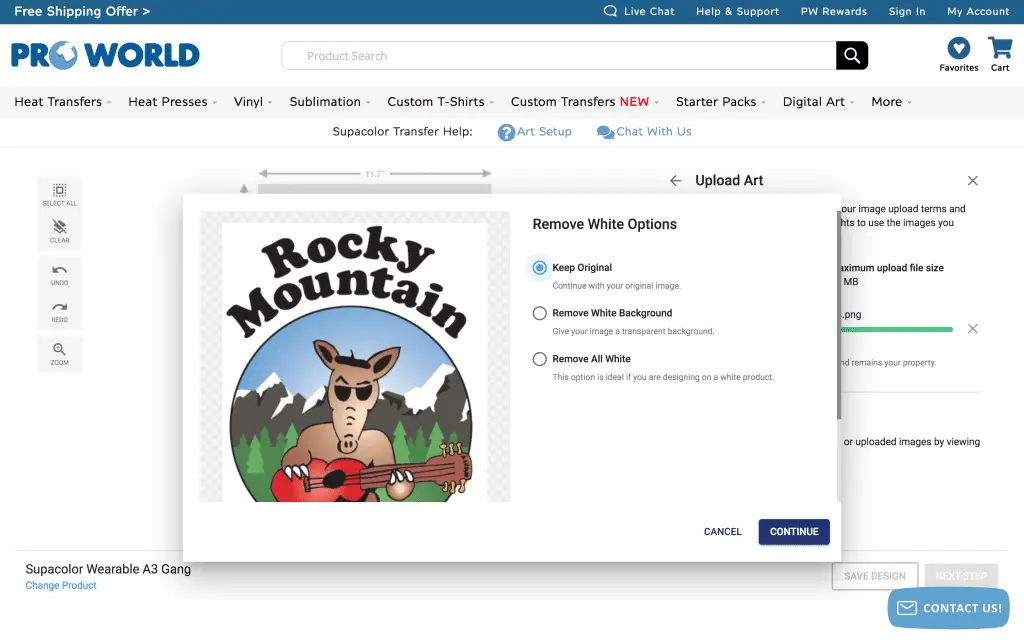 I needed to be careful not to remove all white because my design included white snow-capped mountains that I did want to include as well as some little white nails on the aardvark. The design team helped make sure the little filler spots in letters like R and O were all removed as well.
Next, I selected a full color profile. It's amazing that they can really print any color under the sun!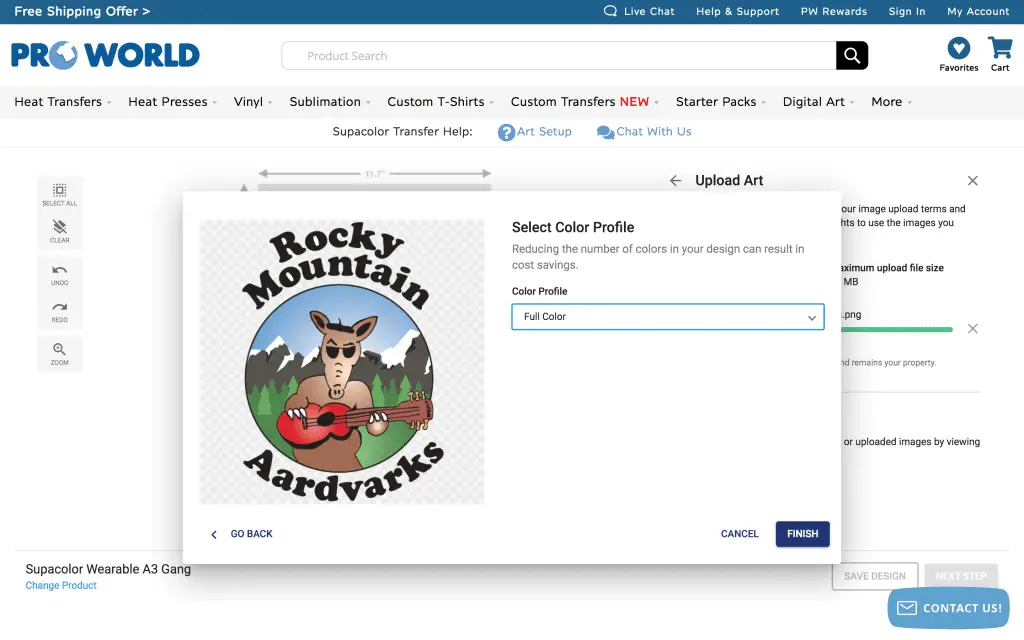 Your final step is creating the layout for your heat transfers. This is where you have a lot of flexibility and can really maximize cost savings. You can either order specific sizes or choose the gang sheet option (pictured below) to include multiple designs of different sizes.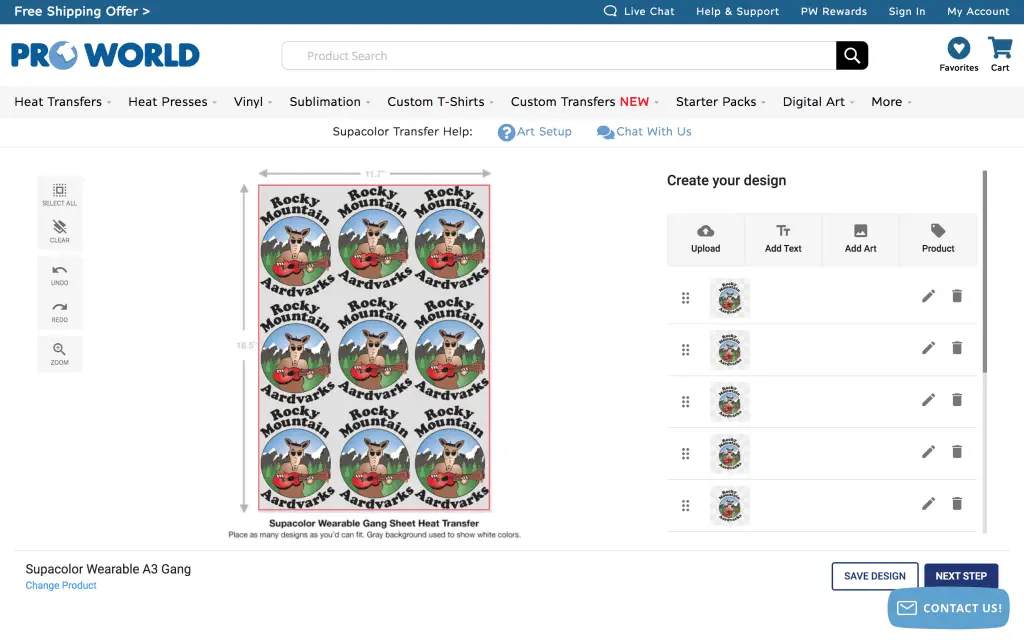 Supacolor Heat Transfer Sizing
Do you need a specific size heat transfer? You can choose from the available sizes shown below: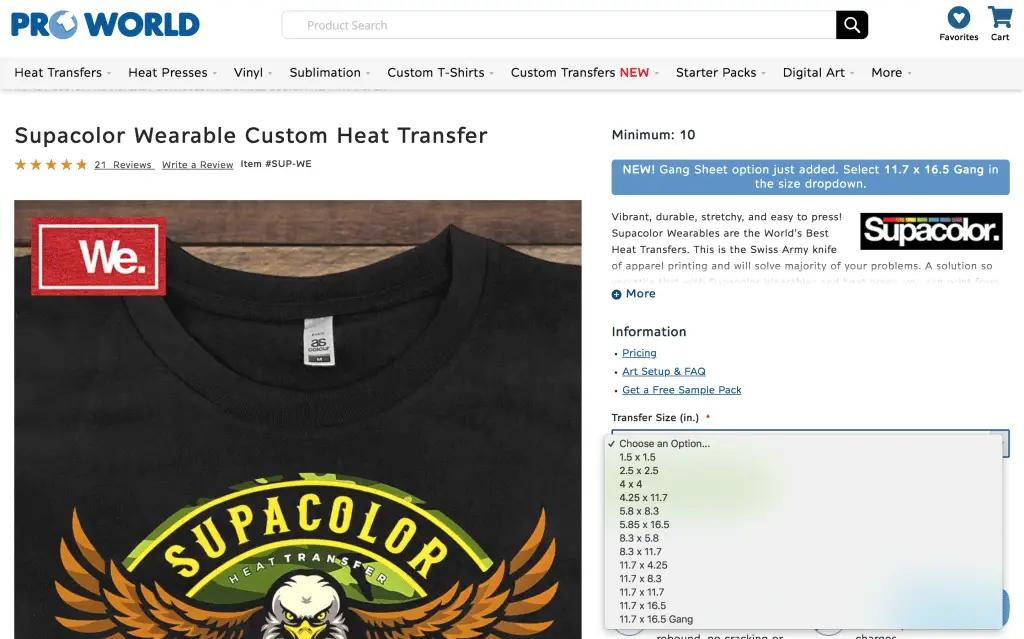 After you've placed your order a real human (yay!) will actually review your artwork and order and give you feedback. I love that Pro World offers this. I know we've all been there when we look at something too long and overlook what to someone else is a glaring mistake! Rest easy knowing another set of eyes has given your design a thorough review.
Once you accept the feedback and confirm the order it's time to get excited about your shipment! Your custom heat transfer order will be printed and will arrive at your door in just 2 days!
Pricing For Supacolor Heat Transfers
As you'd imagine the pricing for Supacolor Heat Transfers depends on the size and the quantity. The bigger the print the more expensive it's going to be. Conversely, the more prints you order the cheaper they're going to be.
There is a minimum order of 10 prints making it less cost-effective if your client only wants one custom shirt. Click here for the current pricing breakdown at Pro World.
How to Prep Supacolor Heat Transfers for Application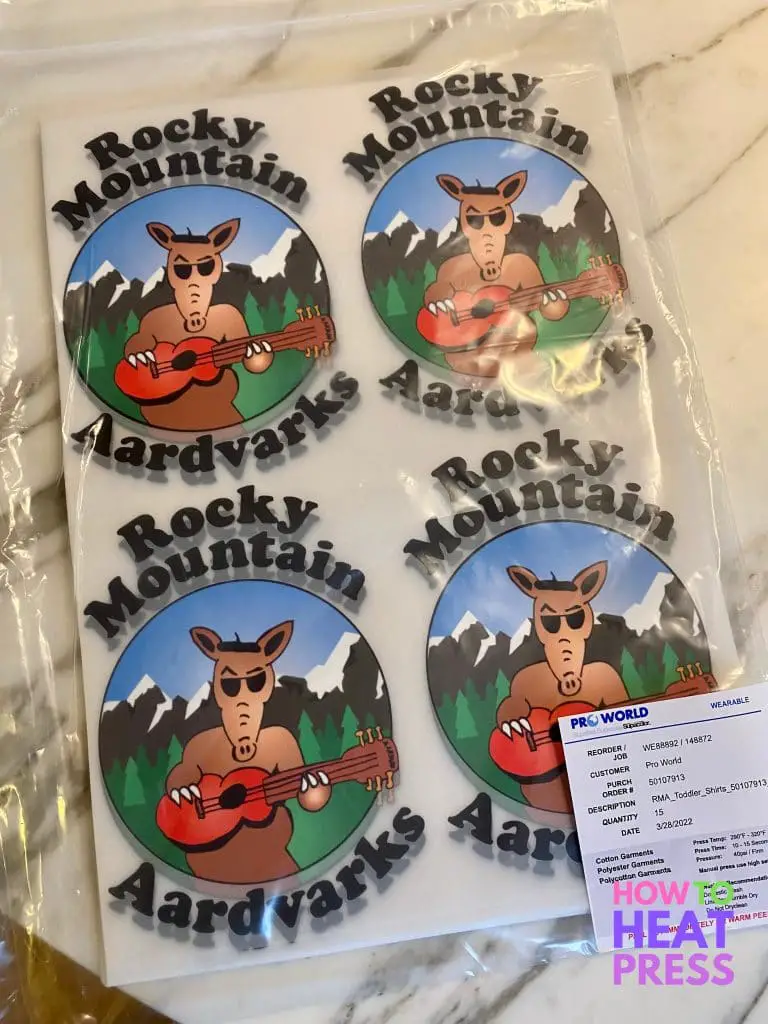 Expect your Supacolor Transfers to arrive within 2 days if you order from Pro World. That's a big deal if you're printing shirts for a client! When they arrive they'll either be cut to size based on your order or on gang sheets like the ones pictured above.
Cut your transfers into individual sheets if need be.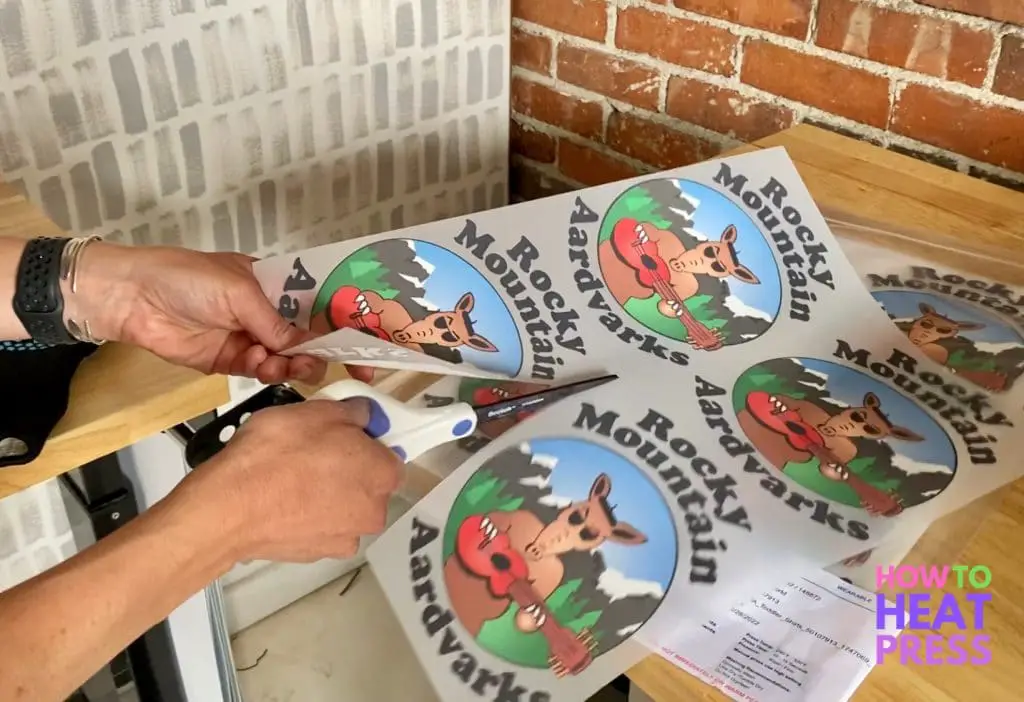 The Supacolor Transfers pictured below are the wearable variety with a white background. You can tell from the photo below the transfers have a slightly bumpy feel on the back – that's the adhesive. If you're using a sublimated (patterned) polyester make sure to order the blocker transfers with a black background to avoid any bleeding of colors.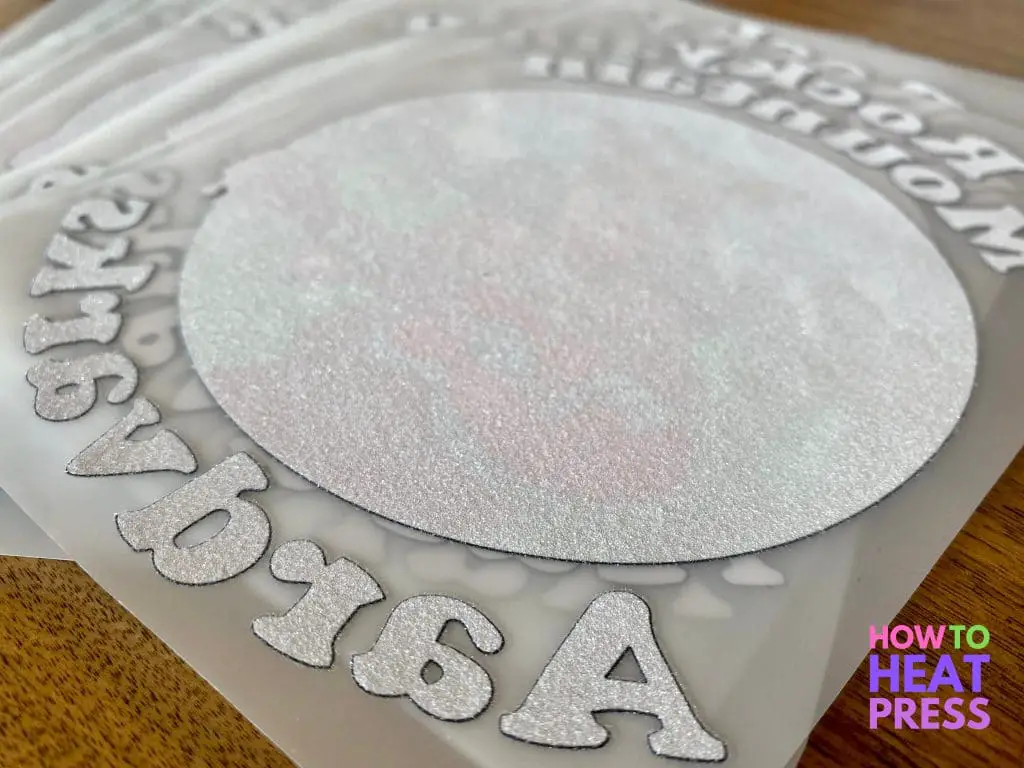 For this batch I used the TransPro Plus 1620 from Pro World but any table top press will work. The first key is setting your heat press to firm pressure. To set your heat press for firm pressure tighten the pressure knob until you are no longer able to close the press. Next, slowly loosen the knob until you can close the press.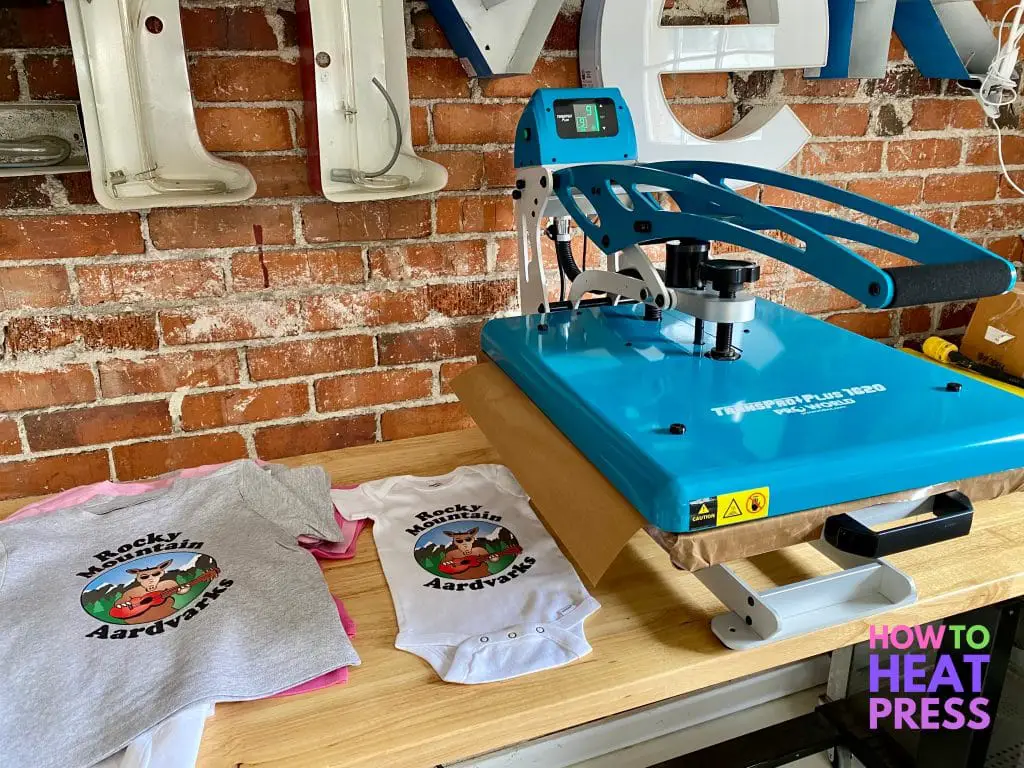 As with all heat press projects, it's a good idea to pre-press your garment – more heat press tips here. I set the heat press to 320°F which is the temp I'll also use for pressing. Part of making sure the Supacolor transfers adhere well is getting rid of any moisture in the shirt. If there's still steam coming off the shirt after one press go ahead and it again.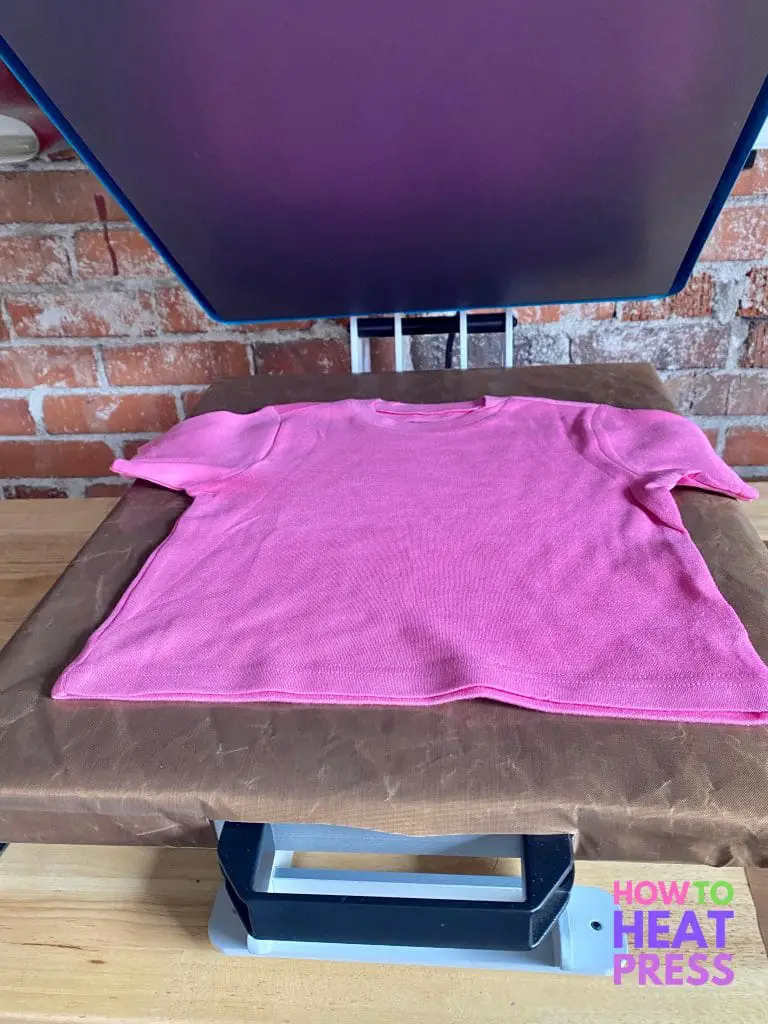 Applying Supacolor Heat Transfers
You need a standard heat press to apply Supacolor transfers, not a portable/handheld heat press.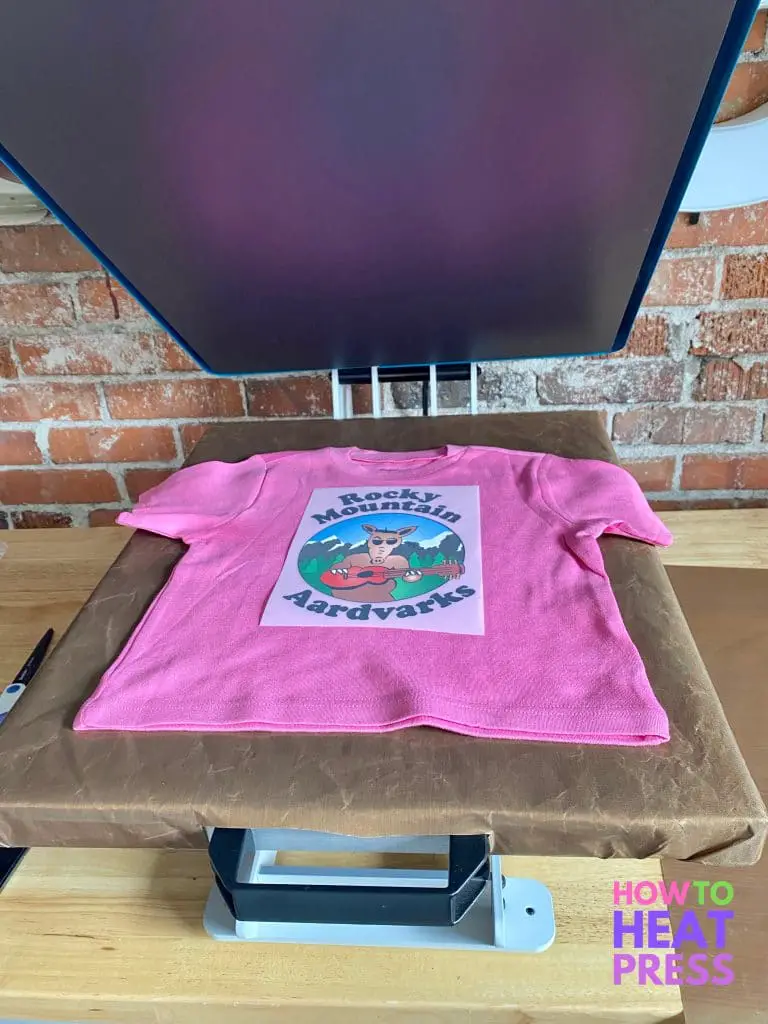 Here is the step-by-step guide for pressing Supacolor Transfers:
Set press to 320°F and allow it to fully heat up
Adjust the pressure of your press so you'll get firm pressure
Pre-press your garments to get out moisture and wrinkles
Apply transfer either alone or with parchment paper on top for 15 seconds
IMMEDIATELY peel hot low and fast with confidence
Re-press either with parchment paper or by itself. If the design is peeling don't fret – just lay down edges or letters before repressing.
Helpful Tips for Supacolor Heat Transfers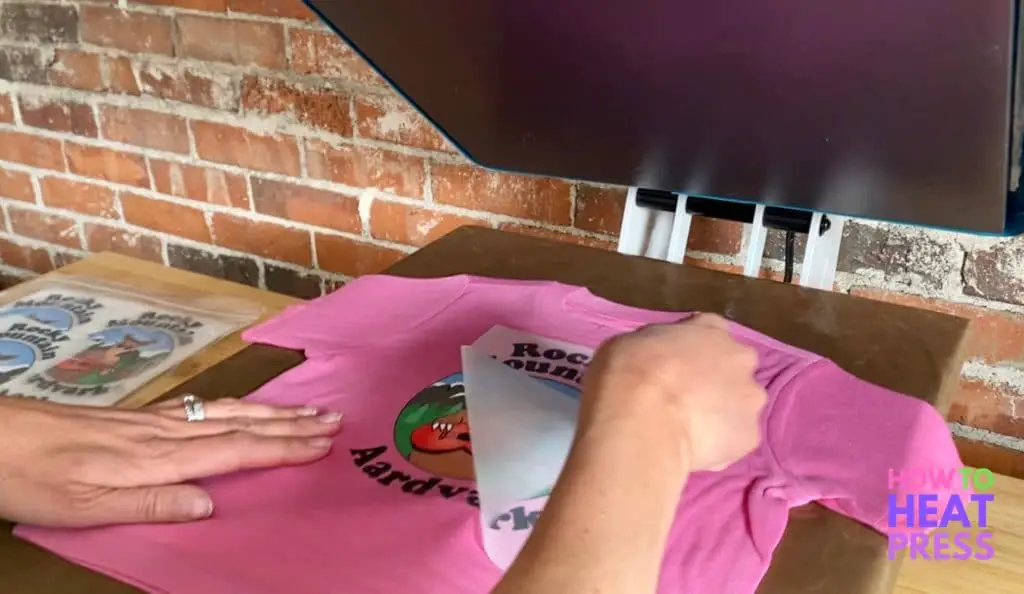 Tip #1: Avoid using heat press pillows for Supacolor Heat Transfers. It's always a good idea to use a teflon sheet (affordable and can be used over and over) or parchment paper both underneath your project as well as on top to protect both the garment and the heat platen. In this case, parchment paper is best to avoid causing your design to turn out looking too shiny.
Tip #2: Peeling with confidence immediately is a must! Just go for it. Below you can see an example of some of the letters peeling up after the first press. This isn't a problem, just lay down the design or letters and it'll all stick nicely on the repress. For what it's worth this only happened on the first shirt out of 60+ we made so I think it was an issue of the press not being fully heated up.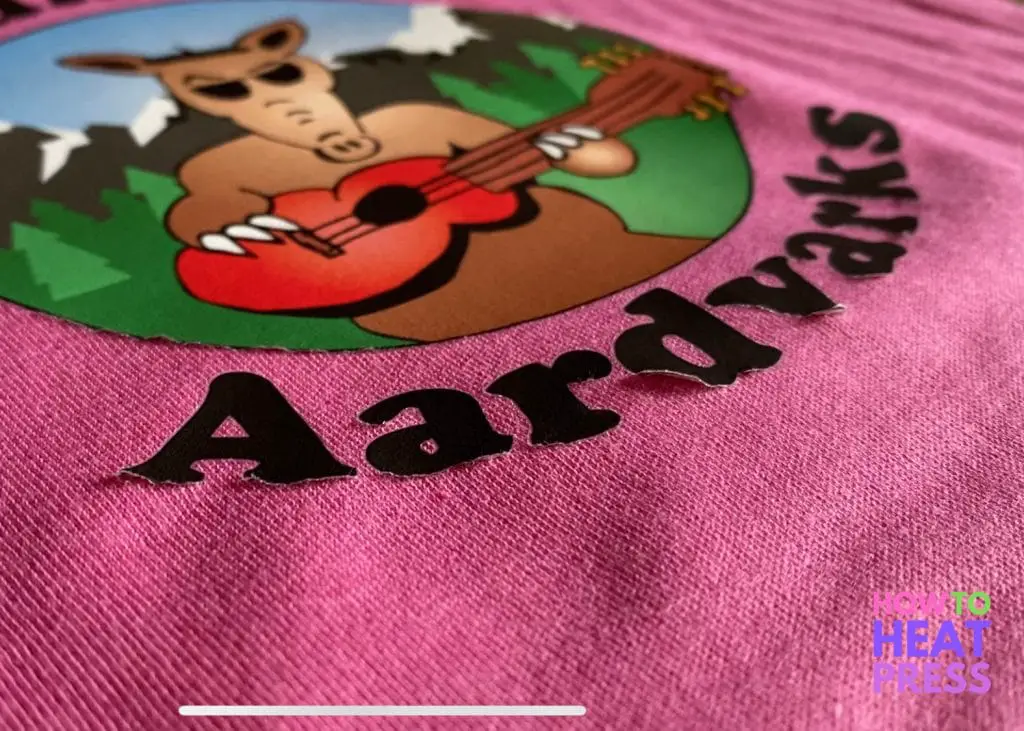 Tip # 3: Use a SUPER high-quality image for your design. You can see below that if you really zoom in the pixels of the design are actually visible – that shows you how high quality the prints are. While I still love the shirts and you have to be realllllllly looking to notice next time I'll make sure to use a very high resolution image.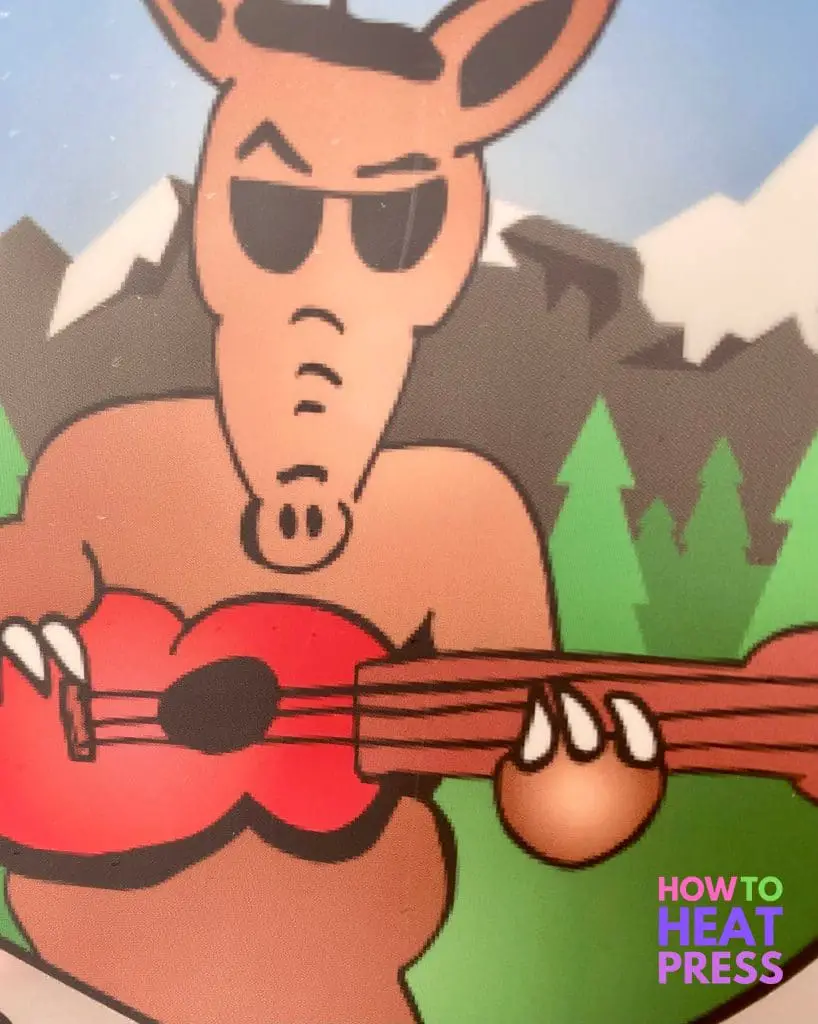 Do Supacolor Heat Transfers Last?
When compared to other printable heat transfers you're going to be blown away. If you've done at-home print jobs onto transfer paper forget everything you've learned. Supacolor claims the transfers will remain colorfast and crack free for 70+ washes and I believe it.
Here's a photo of one of the Onesies after being washed on repeat with all of my laundry loads for a couple of weeks, it looks brand new!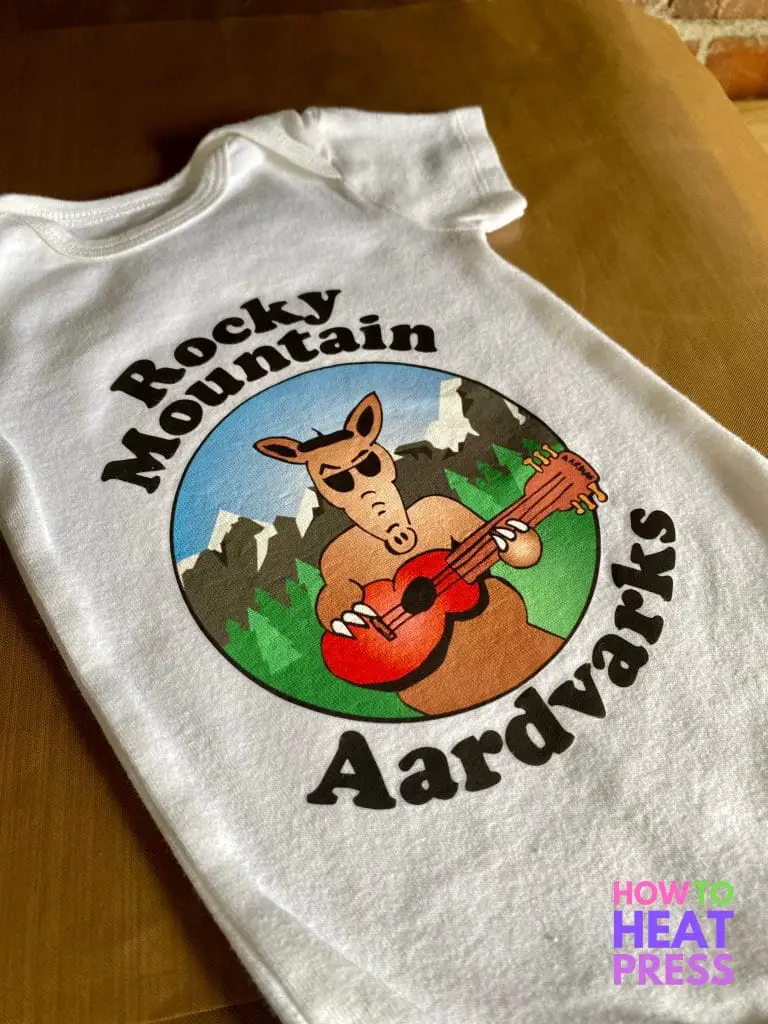 Are Supacolor Transfers Worth It?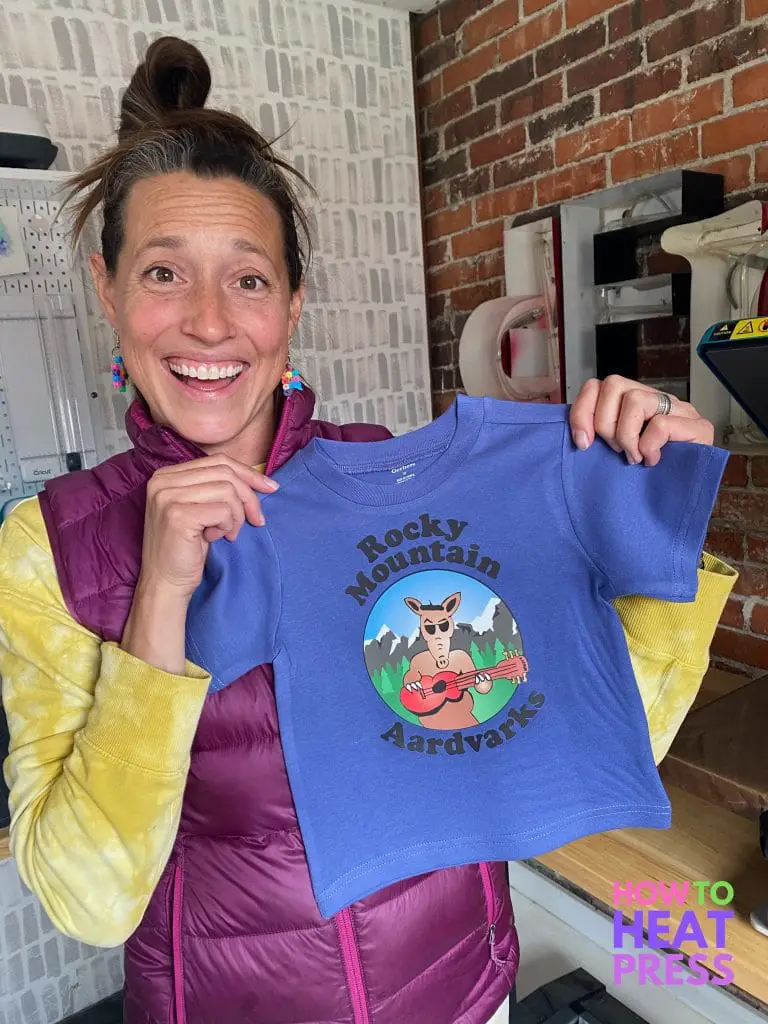 The bottom line here is yes – Supacolor Heat Transfers are pretty impressive! The application was easy and the results are really professional.
Supacolor transfers are perfect for:
Small businesses unable (or not wanting) to meet the minimums required by many printers
Full-color designs with detailed gradients
Anyone wanting to make custom shirts in a fraction of the time required by screenprinting or multilayered HTV
Hope you've learned a ton about Supacolor Heat Transfers! We'd love to know how you have used them and what you think!