17 Best Heat Press Tips And Tricks
That's right, we've got 17 heat press tips and tricks for you in this article today.
Even if you've been heat pressing for years, I'm sure you're going to find something on the list to help you. And if you have any tips and tricks that we've missed, be sure to add it in the comments section below!
Heat Press Tips & Tricks
Let's get into them.
1. The Heat Press Weeding Trick
As my main man Joe demonstrates in the video below, you can use your heat press to make weeding faster and easier. If you heat up the base of the heat press, you can lay the HTV onto the warmed platen. The heat loosens up the adhesive and will allow you to remove the excess vinyl more easily.
If you don't have a swing-away styled machine as in the video, you can still use a clamshell. Just lay the vinyl on it for 5 seconds or so and then bring it out to weed.
2. Pre-Press Your T-Shirts
The heat press pre-press! It can be easily forgotten, but it's an essential part of getting a perfect transfer. This simply means pressing a garment on its own first, without the transfer. This removes moisture and wrinkles, and it primes the fabric to receive the heat transfer. You only need to do it for 2-3 seconds, or perhaps a little longer if you're in a humid climate. If you want more info, read these 6 reasons why you should pre-heat your t-shirts.
3. Placing The Transfer On Straight
There are a few tricks to getting a transfer lined up straight and centered on your garment. The most basic way is to simply fold your t-shirt in two to create a line showing you the midpoint. You can watch the video below to see how heat press pro Matt goes about it!
4. Use Teflon Sheets Or Parchment Paper
Teflon sheets are the number one heat press accessory. They are placed between the t-shirt/transfer and the top platen of the heat press. This protects everyone involved: the t-shirt, transfer, and platen!
Most heat presses actually come with a free Teflon sheet, but if yours didn't, it's a good idea to order some. However, parchment paper is just as good. It does the same job. We end up using parchment paper quite often! And, if you don't have either, use a thin kitchen towel in the meantime.
BE INSPIRED: 27 Silhouette CAMEO Project Ideas
5. A Lower Teflon Sheet
Some people like attaching a Teflon sheet onto the lower platen as well.
This serves a number of purposes, such as:
Protecting the rubber pad from inks or vinyls
It protects the rubber pad from getting any chunks or chips being taken out of it
Protecting the pad from general wear and tear
Making the lower platen more slippery – you can pull tees out and move them around easier on the Teflon than on the usual base
Overall, it will extend the life of the lower pad
You can buy special lower platen protectors on Amazon or attach a regular Teflon sheet over the base with strong magnets.
6. Write A Mirror Reminder On Your Cutting Mat
If you are doing heat transfers, you need to remember to mirror your design. This is especially important if there are words in the design! It doesn't really matter if a symmetrical design is not mirrored.  One way to remember is to write 'MIRROR' a number of times on your cutting mat. Then, as you're loading the vinyl, you'll see and remember!
7. Check For Cold Spots
Once a year or so it is good to check the heat health of your heat press. Using a laser temperature gun you can check to see if the platen is reaching the right temperature evenly across the whole platen.
 It is important that the press is heating up evenly so that transfers transfer well!
8. Follow Application Instructions
Each vinyl manufacturer has their own application instructions. This will include the best time, temperature and pressure to press at. The manufacturer will have tried and tested their vinyl and determined the optimal settings. If you follow the instructions and you end up with peeling vinyl, you have recourse with the maker.
8. Use Heat Tape
High temperature tape or heat tape is another handy heat press accessory. If you don't already know what it is, you can probably guess! Heat tape can be used to affix a transfer in place. It is most handy when pressing mugs and caps.
9. Use Heat Press Pillows For Lumpy Projects
Use heat press pillows when you are pressing around buttons, pockets and seams. Raised parts on garments cause uneven pressure which can effect the transfer negatively. The Teflon covered pillows help to even the pressure out. You can make your own pillows from an ironing board cover, as demonstrated in the video below.
10. Place Cold Peel HTV On A Cold Surface
If you have a cold peel transfer, but can't wait to do the grand reveal, take the top out of the press and place it on a cold surface. This might be a cool table or wall. I've even seen people putting them into a chest freezer for a minute!
11. Grease The Heat Press
It is recommended that you grease your heat press once a year. The metal on metal areas need to glide smoothly but will get dry over time. You can use a product like White Lithium Grease
 or any high heat, high pressure lubricant.
12. A Dedicated Circuit
To avoid overloaded circuits and blown fuses, don't use your heat press on the same circuit as other high voltage equipment. A dedicated circuit is ideal, but this can be unfeasible to arrange. You can get away with using lower voltage equipment at the same time, but just try to keep the number of electrical devices down while you're using your machine.
DISCOVER: The Best Vinyl Cutting Machines For T-Shirt Design
13. Avoid Using Extension Cords
If possible, avoid using extension cords with your heat press. If you have to use one, which is often the case, make sure the amperage of the press and cord are equal to avoid overheating. You might want to check with the heat press manufacturer for more details if you are unsure what amp rated cord you need.
14. Clean Your Heat Press
Heat press platens get dirty with use and it's good to give them a clean from time to time. Of course, if you accidentally melt some vinyl on the hot plate then you'll also need to give it a good clean. The best product to use is EZ-OFF Hot Iron Cleaner. Want more info? Read this extensive article on cleaning a heat press.
15. Press Large Transfers In Stages
If you want to press a transfer larger than the size of your platen, press it in stages. This is totally fine to do, even if you need to overlap a little bit. Watch the following video for a demonstration using the awesome Pink Craft Press.
16. Keep Your Vinyl Scraps
Don't throw away any scrap vinyl! Especially if you use a Cricut or Silhouette machine. Cutting mats make it much easier to use up every spare piece – you never know when you're going to need a little bit of this or that color for something. Not long ago I needed the smallest piece of black vinyl for the peacocks eye (below). See this blog post from Expressions vinyl for some ideas for using up vinyl scraps.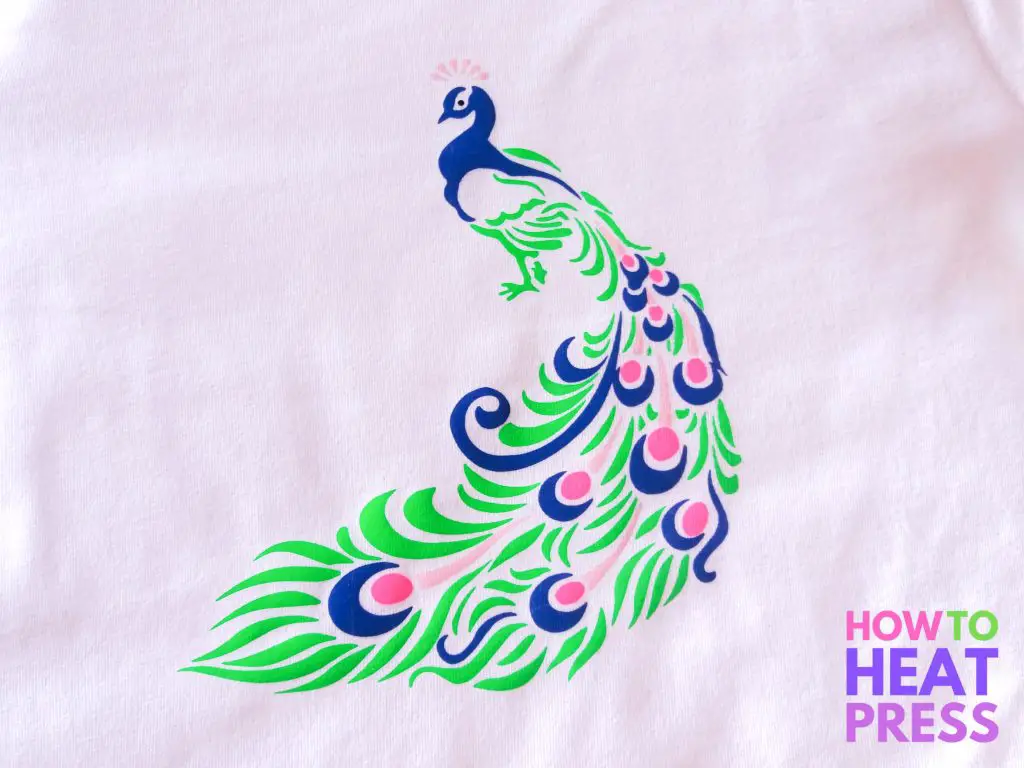 17. How to Align HTV with a Carrier Sheet
To get your designs perfectly positioned on a garment, you can use the carrier sheet as a guide. Make a weeding box around your design and then weed out any excess vinyl. Next, cut around your weeding box.
Fold your shirt in half and press it so that you have a center line. Then, fold your carrier sheet in half and line up both lines so that your design will be perfectly centered on the garment.
I love using the exact same size weeding box around multiple layers in a design so that every component of my design is in perfect placement. This way I can easily use the carrier sheet to know where to position each layer.
For a visual demonstration of using the carrier sheet to align HTV, watch the video below.
More Heat Press Tips?
We'd love to hear from you if you have any more heat press tips or tricks. We know that there are plenty that we have missed! So if you leave one in the comment section below then we'd love to include it – there's always room for more.
Pin this post!
(Please note: This post contains affiliate links. Read our full disclosure policy here.)