How To Make A Multicolored HTV Tee In Cricut Design Space
A few weeks ago I visited a friend's farm with my 2 year old. They had a magnificent multicolored peacock strutting around outside their home. Ever since seeing it, my toddler has been obsessed with them! So when I came across a cute peacock design, I knew I had to use it to make her a t-shirt.
In this post I'm going to show you how to make a t-shirt with multiple colors of heat transfer vinyl. The difficult part of the project was figuring out how to separate and then cut multiple colors in Cricut Design Space (the software you use with a Cricut cutting machine). Design Space separates the colors OK, but it scrambles them up and places them out of position. I will show you how to cut multiple colors while keeping the segments in the proper place.
How To Make A Multicolored HTV T-Shirt In 9 Steps
I'll show you exactly how I did this project. I had a lot of fun making the t-shirt, so I hope you enjoy reading!
Materials I Used For This Project
I used my Cricut Explore Air 2 – my favorite cutting machine (especially for the price!)

I used my Cricut tool kit – essential for heat transfer vinyl projects! The Air 2 linked above does not come with these tools, though you can choose to buy them as a bundle.
And I am using Siser EasyWeed from this exact bundle on Amazon. I love Siser EasyWeed. The finish just looks so good.

Now let's get into it!
#1 Upload Your Multicolored Design
The first step is to find a design, or create your own. I found my peacock design from thecraftchop.com. We also have a post listing the 11 best websites with free SVG cut files.
Create a new project in Cricut Design Space and upload your image. Then, insert your image into your new project.
#2 Size Your Design
Decide how big you want your design to be. I used this post from Expressions Vinyl as a guide for how big my design should be. Because I'm making a t-shirt for my toddler, I decided to make the width of my design 5 inches. The height is just a little taller than this.
#3 Attach Each Color To The Mat
Cricut Design Space automatically separated the colors of my design to be cut on different mats. However, all the pieces in each color appeared scrambled up when I went to cut it. I wanted all my pieces to have the exact same placement as shown in the design, so that I can easily press it onto my shirt.
Therefore, I needed to attach all the components of each color to the mats so that it cut in the exact same placement. For example, I selected every blue piece in my design while holding down ctrl, and then clicked attach. Then I selected all the green pieces in my design and clicked attach. I repeated this with all of my colors.
After attaching everything I had four attached groups for the four main colors in my design (the fifth mat was the eye of the peacock which didn't need anything done to it).
#4 Create Weeding Boxes For Each Color
I didn't use weeding boxes when I originally made this t-shirt, but boy do I wish I had! After cutting out my design with my Cricut it was really hard to see where the cuts were because they were so tiny! I had to shine the bright light on my phone over the HTV to try and see all the cuts when cutting my design away from the big sheet of vinyl. I really wish I had used weeding boxes so that I knew I wasn't going to accidentally cut away a piece of my design.
In the screenshot below, I have shown how to add weeding boxes for the sake of this Cricut tutorial. If you don't know how to add weeding boxes around your design, you can also check out the video below:
As demostrated in that video, I used the shape tool to make a box around my design. I duplicated this box so that I ended up with four boxes of the same size (I made a separate smaller one for the eye of the peacock as it would be easy to place the eye on the t-shirt manually).
Next, I selected one of my color groups, held down ctrl, clicked the weeding box, and attached them all together. I moved that box to the side and selected the color I wanted it to be, as it automatically defaults to black.
I repeated this process with all four of my attached color groups so that they were all attached to weeding boxes.
The method shown in the video above works especially well for this peacock design, where there are so many intricate pieces.
Here is a screenshot showing my weeding boxes around each color:
#5 Mirror The Design On Each Mat
Now it's time to click 'Make It' and all your mats will appear. You will need to go through and change each mat to mirror your design (as you are using heat transfer vinyl).
Check everything has attached properly and you are ready to cut!
Here's what my mats looked like (with the weeding boxes added in for this tutorial – I really wish I had used those!):
#6 Set Your Dial
Don't forget to set your dial to vinyl! How many times have I forgotten to set my dial to the correct setting?! The worst part is not realizing until the cut is all complete and going to weed a butchered piece of vinyl that has been cut as cardstock!
#7 Cut Out Your Design
Load your mat, making sure that both sides slip right under the front roller. Once I loaded my mat in crooked and ended up cutting my mat! If you are cutting out a very small and intricate design, such as this peacock design, I would skip selecting fast mode for this cut!
#8 Weed Your Design
This should be easy peasy with the weeding boxes! This peacock design had some really tiny pieces, so make sure none of them get lifted up with the excess vinyl.
#9 Press Your Design
The next step is to press your shirt!
I pre-pressed my tee first to remove any moisture and wrinkles. I found the middle of the shirt by folding it in half and then pressed a line down the center. Then I started by pressing the blue layer first, as this made the most sense. I used the blue layer as a guide to press all the other colors.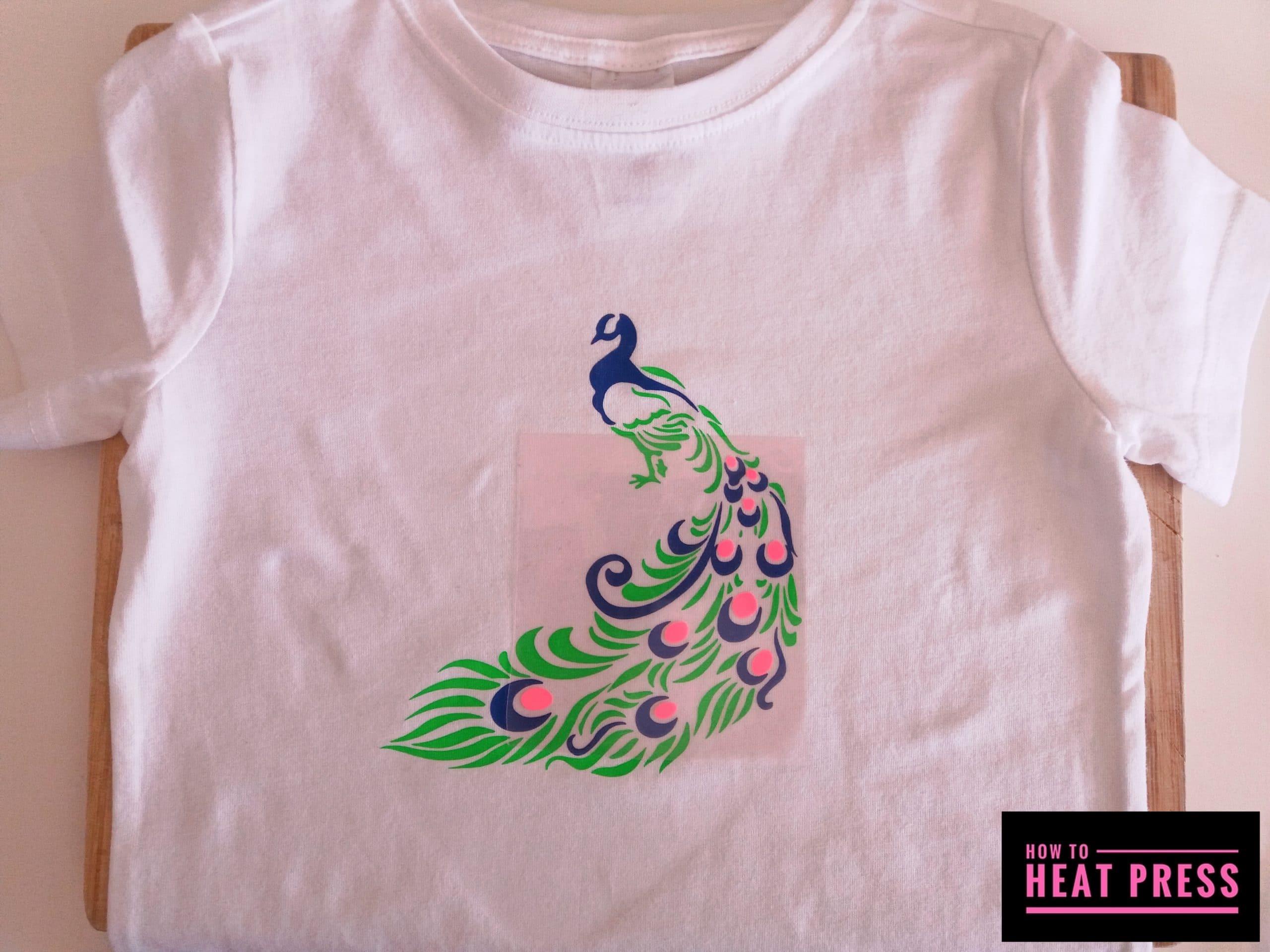 To press Siser EasyWeed with an iron:
Find a stable surface to press on, such as a wooden chopping board or craft table (not your ironing board!)
Set your iron halfway between cotton and linen and allow it to reach temperature
Pre-press your garment for 2-3 seconds to remove moisture and wrinkles
Place a teflon sheet or some parchment paper over your shirt so that you don't scorch it or ruin the vinyl that you've previously pressed

Press firmly with your iron for 5-10 seconds on your design, doing it in sections if you need to (don't slide your iron, you need to mimic the work of a heat press!)

Peel hot or cold. Carefully remove the carrier sheet and if any part of the design has not adhered correctly then replace the carrier sheet and re-press for a few more seconds
To press Siser EasyWeed with a heat press:
Wait for your heat press to heat up to the desired temperature (305°F/150°C)
Set to medium pressure
Pre-press your garment to remove moisture and wrinkles
Use a teflon sheet or parchment paper to cover your design
Press each color of the design for 1 second to tack and then press all layers at the end for a full 10 seconds
Peel hot or cold and carefully remove the carrier sheet to make sure the vinyl is well-adhered to the garment
Here's a look at the finished multicolored masterpiece!
Isn't it so cute?!
We hope you enjoyed this tutorial! Please leave us a comment below if you have questions about this process, or let us know what you've been working on!
Resources
Multicolored HTV vinyl projects with a Silhouette cutting machine
(Please note: This post contains affiliate links. Read our full disclosure policy here.)