The Cricut BrightPad | What Is It & Should You Get One?
What is the Cricut BrightPad, and do you need one?
Just the fact that it's a pretty Cricut product is enough for me to go, 'yes, I need one!' But let's find out all about the features, and how to use the BrightPad, so that you can decide whether or not you should pick one up today!
Cricut BrightPad Review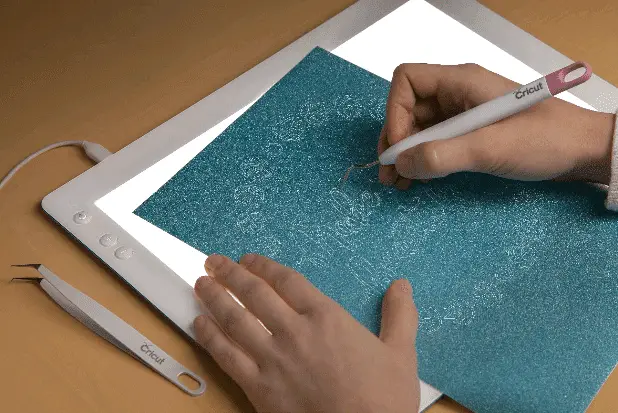 The Cricut BrightPad resembles an iPad or tablet, but don't be fooled, it is very different. It is a light box – a hard surfaced pad with bright LED lights inside. It's only function is ON/OFF, along with 5 brightness settings.
While that sounds very simple (and it is), there are a range of uses for it that make it a very useful crafting tool. Let's take a look.
What Is The Cricut BrightPad Used For?
Here are some common uses of the Cricut BrightPad.
Weeding vinyl and iron-on (heat transfer vinyl)
Generally the primary use of the Cricut BrightPad, it's a huge help for weeding adhesive and heat transfer vinyl. It's often very hard to see where the cuts have been made in vinyl or iron-on, and difficult to determine what needs weeded, and what needs to remain!
it's especially great for weeding very small intricate designs
thicker vinyls, such as glitter HTV, is much harder to see through and hides the cuts – the BrightPad reveals them!
foil vinyl and htv is notoriously difficult to weed, but made so much easier with this light box
View this post on Instagram
Tracing or hand-lettering
I remember tracing as a kid, and having to hold things up to the window to make it possible. I wish I had a BrightPad then. This tool is perfect for tracing for all small scale applications.
use for tracing artwork
children's tracing project
illumination for hand-lettering
tracing practice for hand-lettering
use for children as they learn how to write the alphabet
View this post on Instagram
Any other craft projects needing more light!
Other projects that you may need more light for:
tracing patterns for embroidery
making jewelry
needlework
any delicate work with tweezers
Let me know more uses for the Cricut BrightPad (or light boxes in general) in the comments below!
BrightPad Features
Here are the features of the BrightPad:
5 brightness settings (400, 1300, 2200, 3100, and 4000 lumens). You can use the different light settings for the different times of the day. For example, use the lowest setting for nighttime weeding.
A hard scratch resistant surface that will not be scratched by your weeding tools. The entire BrightPad is quite durable and hardy!
A non-slip base keeps the BrightPad from moving about if you are working on a smooth surface
3 buttons – On/Off, an increase lighting and a decrease lighting button
Bright and uniform LED lights keep the entire surface of the lighting pad at equal light levels
A USB power cord and wall adapter allow you to plug the BrightPad into the wall or your computer
Two colors: Rose or Mint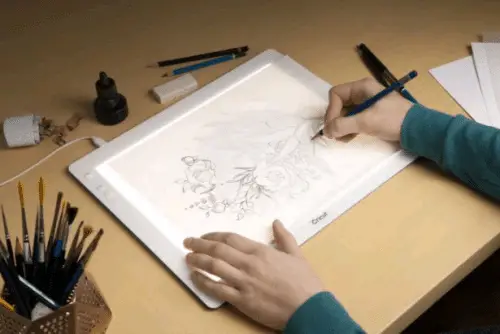 What's Included With The BrightPad?
Here's what comes in the box:
The Cricut BrightPad
Welcome Booklet
USB Power Cord (6 foot long)
Wall Power Adapter
Warranty info
Who Should Get A BrightPad?
? Frequent Vinyl Weeders – for those people that do a lot of vinyl projects, getting a BrightPad makes sense. Especially if you are often weeding at night – that's when the BrightPad is especially useful.
? Tracers & Handletterers – this is a great tool if you are often tracing or needing more light for hand-lettering projects.
? Cricut Aficionados – if you just love Cricut products, and have got to get them all, then of course this is for you! Add it to your ever growing collection today!
? As A Gift – the BrightPad makes a fantastic gift for a friend or family member that loves Cricut crafts. It's not too expensive, and not too cheap, and you can be sure that if they like Cricut, they'll love this.
If you don't do a lot of weeding or tracing, and you don't feel like you have to have everything that Cricut releases, I wouldn't worry about getting a BrightPad. Weeding vinyl and HTV (even the thick stuff) is totally do-able without a light pad – it may just be a bit slower!
Where To Buy A Cricut BrightPad
Buy the Cricut BrightPad on Amazon, or compare prices with Cricut.com. Both stores have been running sales on this stylish light box lately, so you might get lucky!
Pin this post!
(Please note: This post contains affiliate links. Read our full disclosure policy here.)