How To Use The Contour Tool In Cricut Design Space
This post contains affiliate links. If you use these links to buy something, we may earn a commission, but it doesn't cost you anything. Thanks!
The Cricut Contour Tool… what's it all about?
Thankfully, the Cricut contour tool in Design Space is very easy use.
What is it used for? It allows you to remove any part of an SVG design that you don't want. You are able to hide unwanted cut lines so that they won't be cut out as part of your design.
How To Contour In Cricut Design Space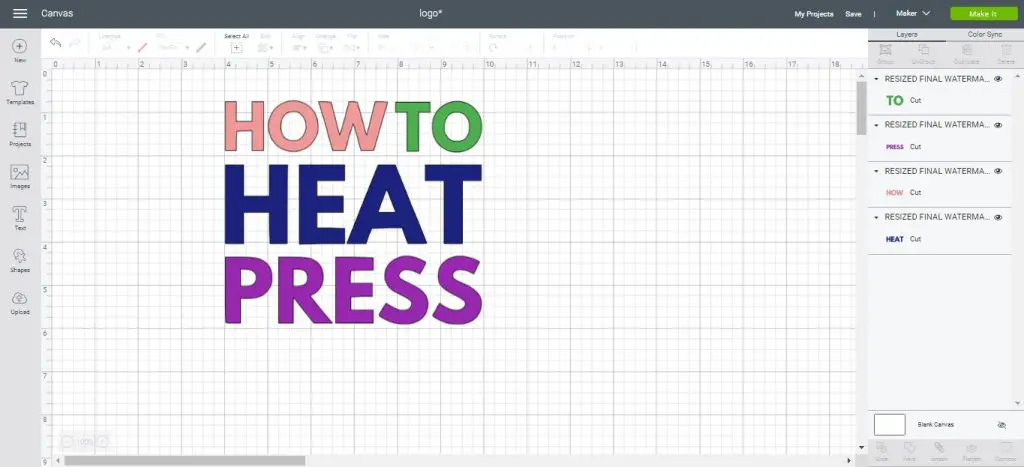 What the contour tool is used for:
Use it to remove/hide cut lines from a design
Delete any details from a design that you don't want
Use it to change a single layered design into multiple colors
Use the Cricut contour tool to customize SVGs found within Cricut Design Space, or those from other SVG websites!
For example, you might to remove the word 'big' in this SVG. You are able to use contour to effectively delete all of the unwanted cut lines to do with 'big', and then you can add what you like, or leave it like that.
How To Use The Contour Tool
The contour tool is found in the bottom right hand corner of the Design Space Canvas, below the layers panel.
Before the contour tool is available to use, you need to ungroup your layers so that you are dealing with only one layer at a time. The layer must also be selected, as the 'How To Heat Press' logo is below.
When using the contour tool:
You can hide all cut lines in the layer at once by clicking 'Hide All Contours' (one element will always remain selected by default)
You can restore all cut lines in the layer at once by clicking 'Show All Contours'
Hidden cut lines are light gray, while remaining cut lines will show as a dark gray
You can zoom in and out for a better view of the layer
Once you have removed cut lines from within a layer, you can restore them again at any time by selecting the layer and clicking on the contour tool again.
 How To Change Colors In A Design
Now I'll show you how you can use the contour tool to isolate elements in a design, so that you can change their color.
Below is a screenshot of my design in Cricut Design Space. You can see in the layers panel to the right that this design has only one layer. I cannot ungroup it at all to change the words into different colors. It is essentially a welded image.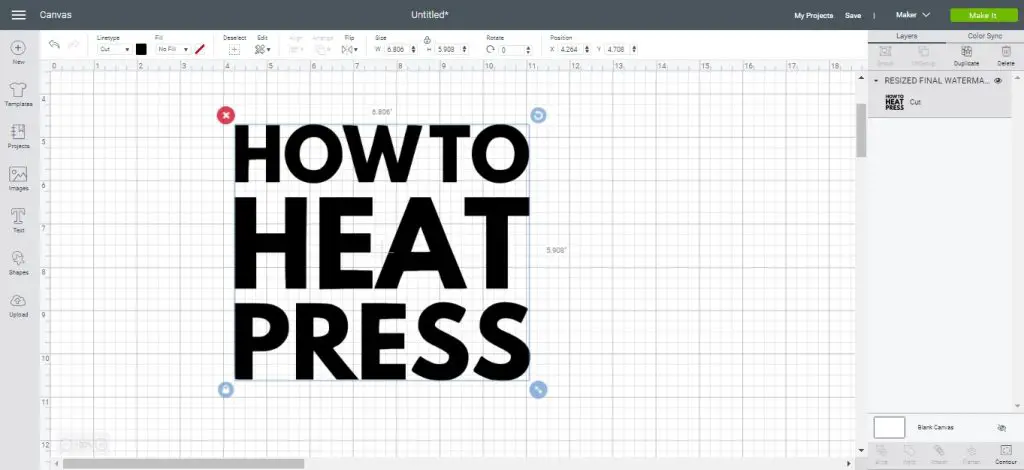 By clicking on contour, this shows me all the components that are included in the design. I can remove any components I don't want, or in this instance, I can use it to isolate parts of the design to change their color.
I'm going to start by clicking 'Hide All Contours' which will de-select everything. Then I'm going to start by selecting one word 'HOW'.
I clicked all the letters in the word 'HOW', including the circle in the 'O'.
I exited out of the contour tool and you can see now that everything is gone except the 'HOW'.
This is now isolated from my original design. I'll insert the design onto my canvas again (or you can duplicate the original design) to isolate the next word.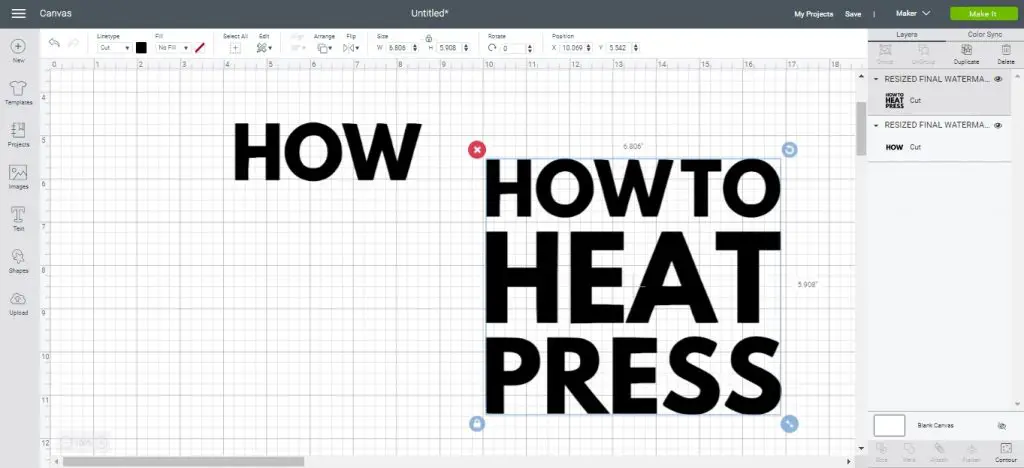 This time I'm going to remove everything except the word 'TO'. I clicked 'Hide All Contours' which de-selected everything, and then I selected the word 'TO'.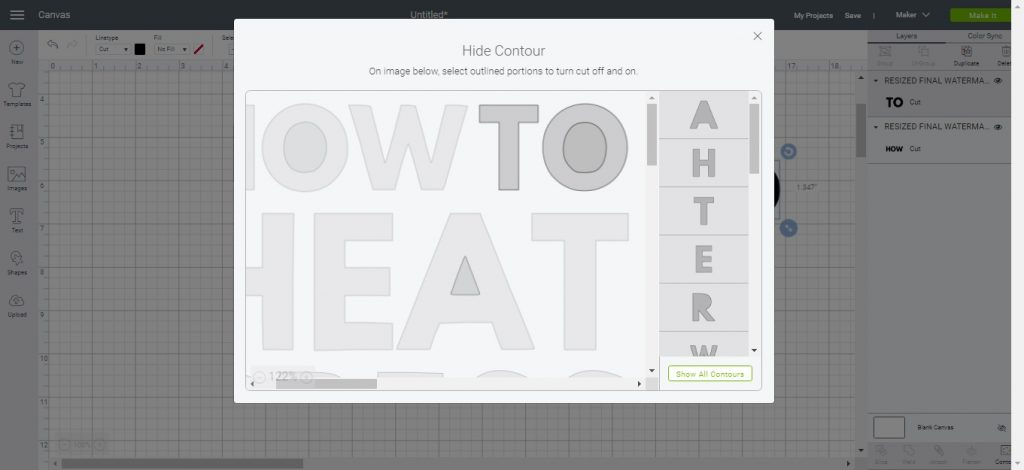 Now I've got the words 'HOW' and 'TO' isolated on my canvas and I'm going to repeat the process with the remaining words in my design, 'HEAT and 'PRESS', so that eventually I'll have four separate words.
Now that I've isolated each word, I changed the color of each one and rearranged them like my original design, and hey presto – my logo!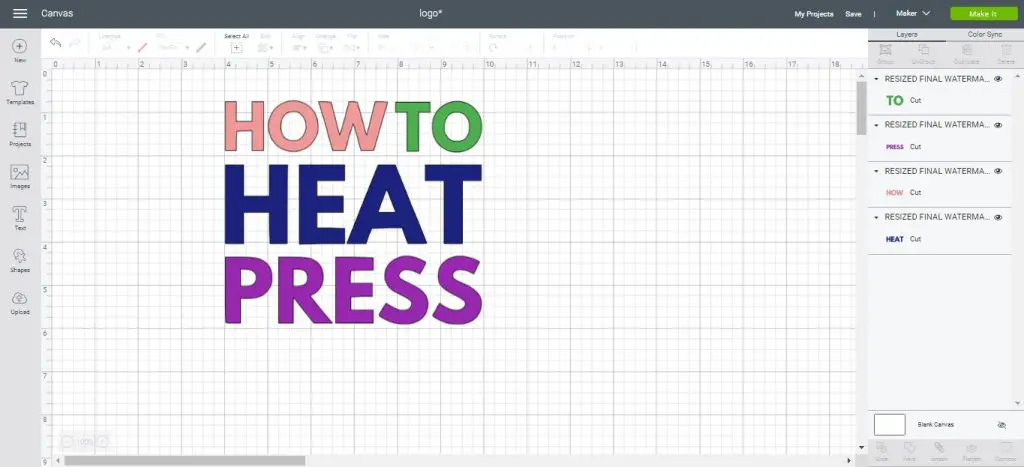 We used our website logo to make this tee! Learn how to cut everything on one mat with Cricut in that Cricut tutorial.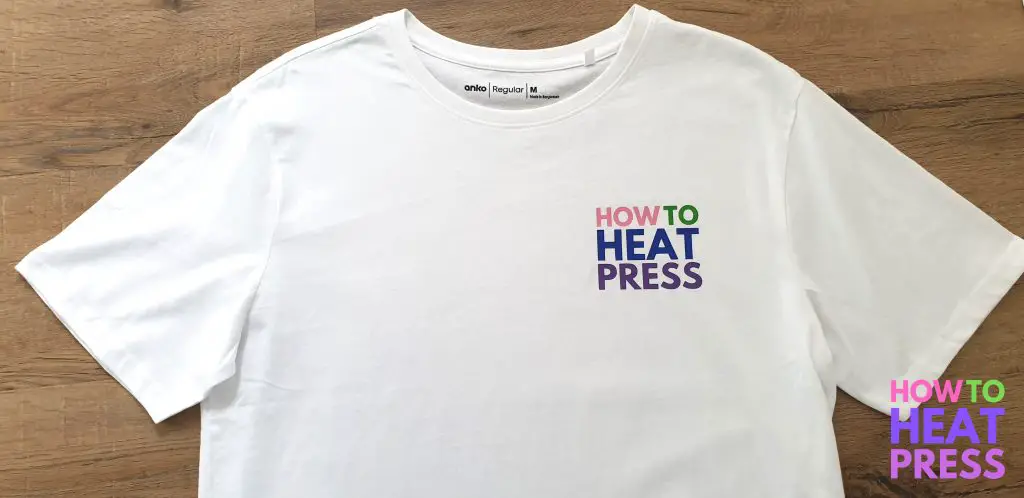 Cricut Design Space Contour
So that's all there is to it… I hope you now understand what the Cricut Contour tool is all about, and how you might use it yourself for upcoming projects.
Thanks for visiting; leave any comments or questions down below!
(Please note: This post contains affiliate links. Read our full disclosure policy here.)