5 Best YouTube Cricut Channels – Learn Cricut On YouTube!
Watching the best YouTube Cricut Channels will make you a Cricut PRO in no time.
I know that without YouTube, I would have been lost when I first started with my Explore Air 2. These tutorials are a valuable resource, so I want to share some of my favorite Cricut YouTube channels with you here today.
Learn Cricut With The Best Cricut YouTube Channels
Here are my top 5 favorite Cricut content creators. These 5 women and men are primarily teaching how to use Cricut cutting machines on their channels. They have other content as well, but you'll see that they are mainly focused on and excited about their Cricut machines.
Let's check them out!
1. Learn Cricut with AuntieTay
AuntieTay's YouTube Channel is one of the very best for learning Cricut. She shows us how to do a huge variety of Cricut projects, how to make gifts, and how to use all the different Cricut products, like Print & Cut Stickers.
She is a lot of fun to watch and learn from, being very passionate and enthusiastic.
2. Learn Cricut with Melody Lane
Melody Lane has another well known and much loved YouTube Cricut Channel. She creates many longer How To videos, in excess of an hour, so if you like that style, she's the one for you!
You can also join her large Facebook group with 150,000 other people at Cricut Design Space with Melody Lane.
3. Learn Cricut with Tanner Bell
Tanner Bell's YouTube Cricut channel is next up. An absolute crafting fanatic, his enthusiasm will certainly transfer over and get you excited about Cricuting!
He has a lot of beginner tutorials, how to's, project ideas, and a lot more. You can also visit him over at A Little Craft in Your Day.
4. Learn Cricut with Lorrie Nunemaker
Lorrie Nunemaker is another very familiar name in Cricut circles. Her YouTube channel is full of wonderful Cricut project ideas and how to videos.
She also has great reviews of Cricut products and can also be followed on her website at lorrienunemaker.com.
5. Learn Cricut with Jennifer Maker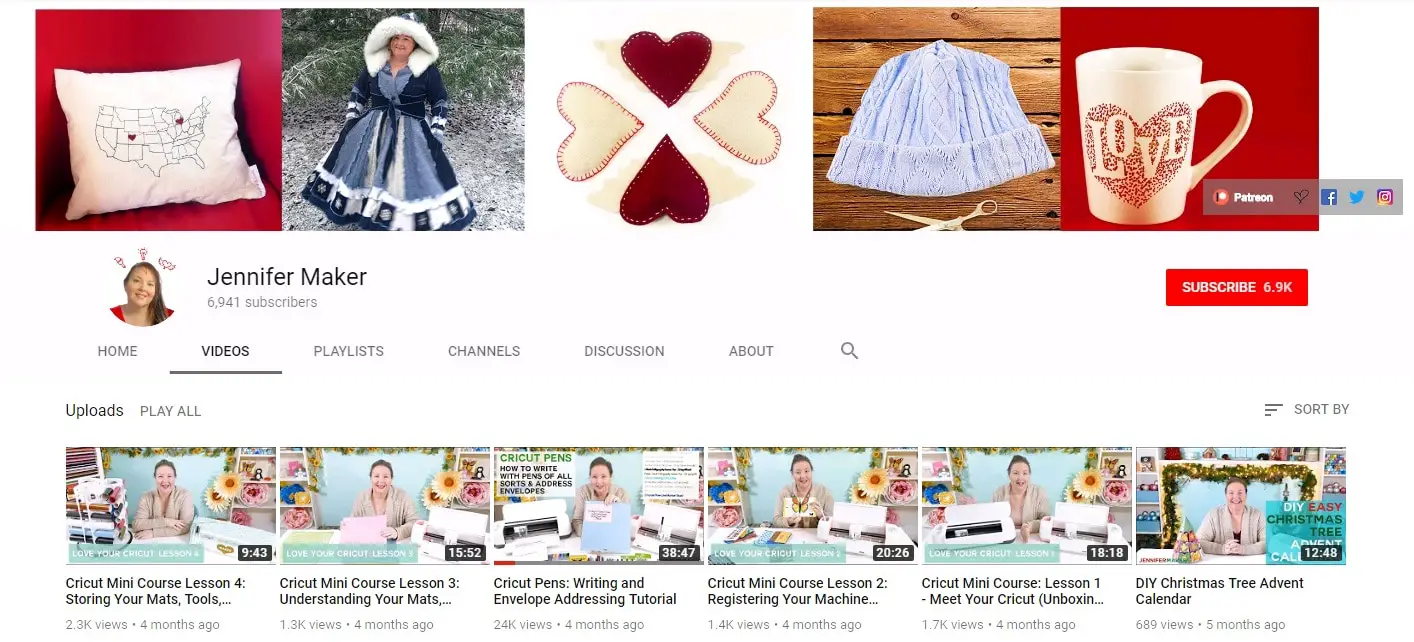 The last Cricut YouTube channel on our list is Jennifer Maker's channel. It is another very valuable resource with a ton of Cricut video tutorials and, as you can see in the picture, mini Cricut courses! Jennifer is very friendly and super knowledgeable and is well worth watching.
Do You Know More Great YouTube Cricut Creators?
In my opinion, those are the 5 best Cricut YouTube channels out there right now!
There are a ton of other great Cricut videos on YouTube, which we'd love for you to link to in the comments section below. Link to the best of the best and we'd love to share them out further. We are often sharing awesome videos on our Facebook page, so be sure to follow us over there.
Thanks for visiting, and here are a few of our Cricut project tutorials that we've done:
(Please note: This post contains affiliate links. Read our full disclosure policy here.)