Cricut Access: Is It Worth It?
This post contains affiliate links. If you use these links to buy something, we may earn a commission, but it doesn't cost you anything. Thanks!
Is Cricut Access worth it? Or is it not necessary?
This is one of those things you need to know about Cricut! Today we're going to give you a thorough review of Cricut Access – what's included, how much it costs, the pros and cons, FAQS and all the rest.
What is Cricut Access?

Cricut Access is a subscription which gives you special access to images, fonts and projects in Cricut Design Space. Also included is Cricut.com shop discounts, free or discounted shipping, a priority member care line, and more.
Here's what is included when you subscribe:
Unlimited access to over 400 fonts
Unlimited access to over 100,000 images
Total access to 7,000 projects
10% off physical products at Cricut.com, including machines, vinyl, accessories and more
10% off premium licensed fonts and designs, and ready to make projects from brands such as Disney
Priority member care line (50% less wait time)
You can actually get a free month of Cricut Access when you purchase a new Cricut cutting machine. This instantly gives you access to thousands of images, hundreds of fonts, and other designs and projects so that you can start creating right away!
How to Use Cricut Access
How do you know what's included in your Cricut Access subscription and what's not?
Well, in Cricut Design Space, all the images, fonts, ready-to-make projects and so on will be flagged with an 
at the top of the image if it is included. If it is not flagged, then it is not included in Cricut Access.
Access Fonts And Images
When selecting a font, you will see that all the Cricut Access fonts have the
symbol next to them.
You can filter images by Cricut Access, so that you see over 100,000 images available for you to use. Just click the Access box on the left side to select it.
Access Projects
You can also filter the projects as well, to only show you ones included in Cricut Access. Click the filter at the top and select Cricut Access.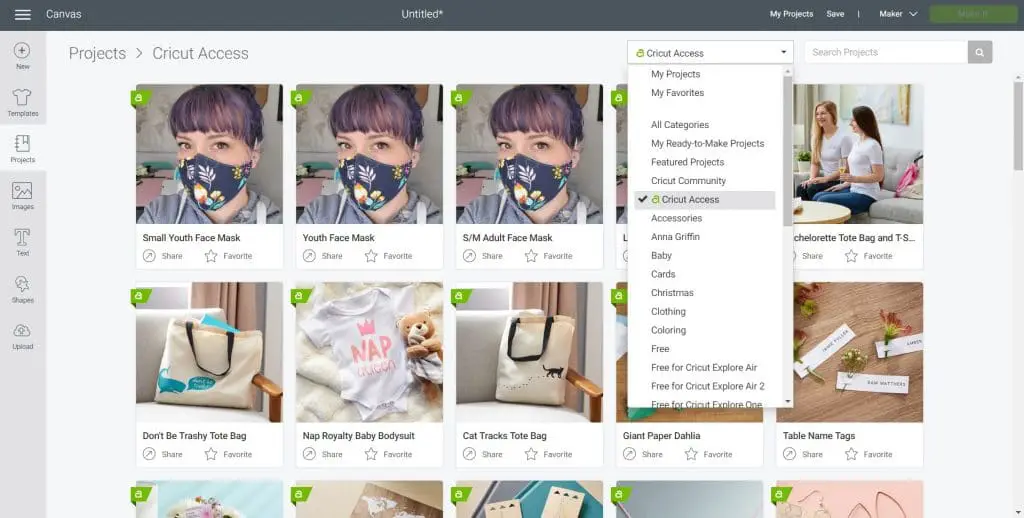 Cricut Access Plans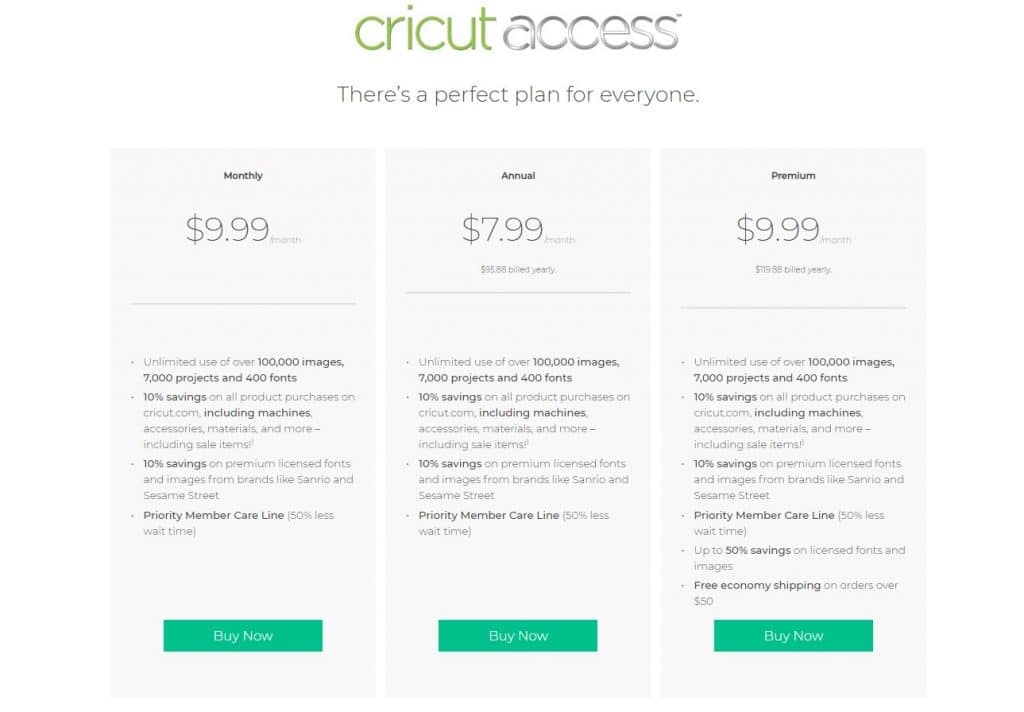 You can purchase either a monthly or yearly subscription to Cricut Access.
There are three different plans available:
Monthly – $9.99 per month
Annual – $7.99 per month or $95.88 per year
Premium – $9.99 per month or $119.88 per year
All of the plans include the same basic perks, which include:
Unlimited use of over 100,000 images, 7,000 projects and 400 fonts
10% off all physical purchases at Cricut.com
10% off premium licensed fonts and designs in Cricut Design Space
Priority Member Care Line (50% less wait time)
The difference with Cricut Access (Premium) is that it has a couple of additional perks included:
Up to 50% off licensed fonts and images
Free economy shipping on orders over $50
Subscriptions can be purchased via:
Cricut.com (US and Canada only)
Cricut Design Space, on a computer or mobile device (iOS or Android)
Via Design Space on Desktop (US, CA, & UK):
Sign in
Select the menu in the top left corner
Select Cricut Access
Choose your plan
Enter payment information
Enter your Cricut ID password
To purchase a subscription on Cricut.com:
Sign in
Select and add the Access plan to your cart
Complete check out
Your subscription will be activated to your Design Space account
Cricut Access Pros & Cons
Here are the pros and cons of a Cricut Access subscription!
Pros:
Great discounts on physical and digital products
Library of images, fonts and projects included in your subscription
Images and SVGs are high quality and well designed
More projects and images are constantly being added
You are able to unsubscribe and re-subscribe again at any time
Get an annual subscription for a great discount
You become a priority member if you need help with anything
Will save you money in the long run if you spend a lot of time crafting!
Cons:
Some designs may not be available to you depending on your location
Can be expensive if you don't make projects often enough
Not everything in Design Space is included in Access
Premium subscription is only available to Canada and the US
In many countries, only a monthly plan is available using the Cricut Design Space mobile apps for iOS and android
FAQS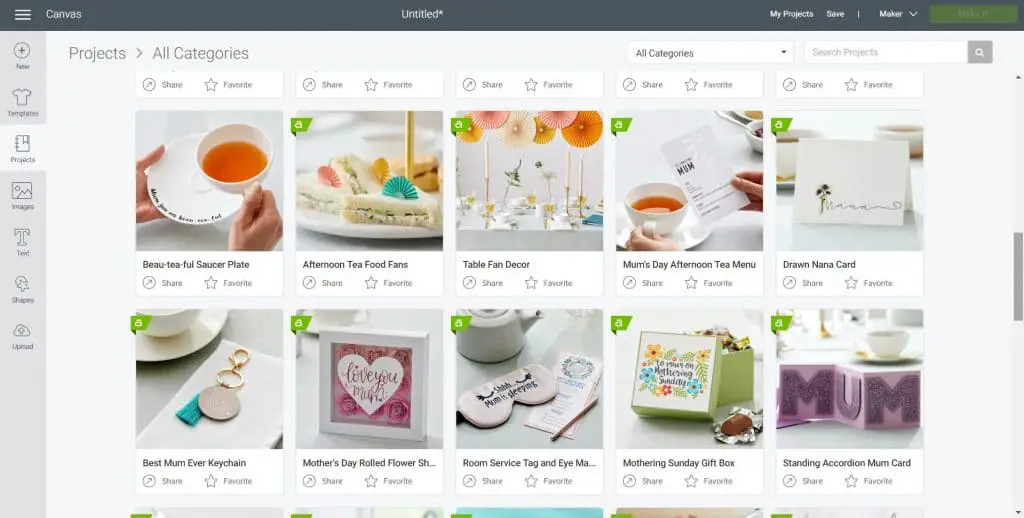 Is there a free trial?
Yes, sign up with your credit card and you will get a 1 month free trial. You also get a 1 month free trial after purchasing a new Cricut machine.
Can you unsubscribe/subscribe at any time?
Yes, cancel at anytime, and sign up again at any time.
Do you get access to everything in Cricut Design Space?
No, not everything in Cricut Design Space is included. Only images and projects flagged with the Access symbol are included.
Are there discount codes for Cricut Access?
Not that we're aware of at this stage! We've always hoped for one on Cyber Monday!
Cricut Access Review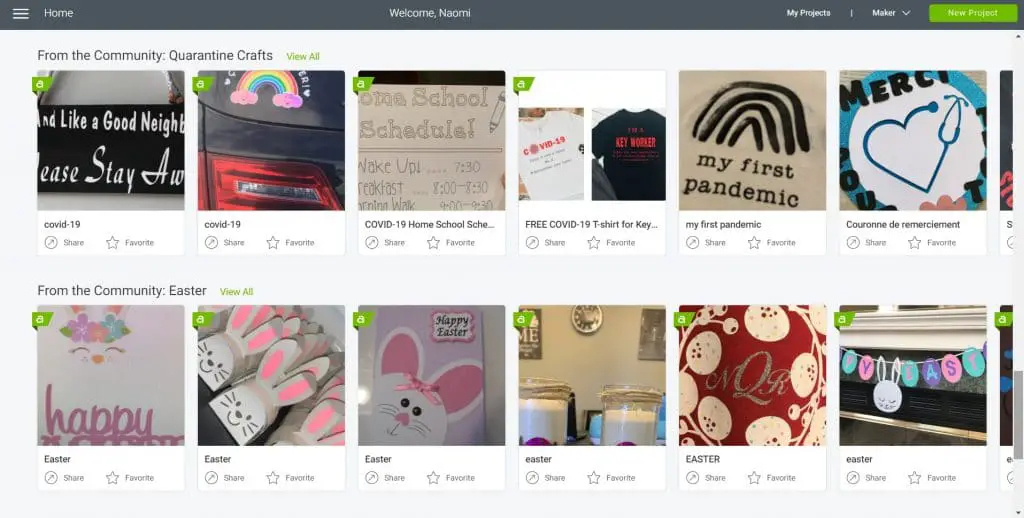 So, is it worth the money?
The answer to this question depends entirely on you! How much time do you have to craft? (Probably a lot, while in quarantine!) How passionate are you? What types of projects do you intend to make? What is your budget? How much money do you currently spend on designs and fonts? Do you have a Cricut business? Do you often make gifts for friends and family? Would a subscription actually be saving you money?
If you've got the time and money to dedicate to Cricut crafts then sure – a subscription is going to be well worth it for you! Especially if you've got a thriving Cricut business. You'll be saving 10% off all your physical purchases too, and you'll get great discounts on shipping (or even free shipping!). In that case, getting a subscription would save you money! You'll have thousands of images and projects at your fingertips to let your imagination run wild – every craft fanatic's dream!
However, if you're just making the odd project here and there, then maybe an Access subscription isn't for you. After all, you don't want to be paying 10 bucks a month if you only end up making one project do you? If you only use free fonts and designs from the web anyway, then maybe you don't need it! In that case, check out the resources down below.
I hope that has helped answer that question for you! Please leave a comment down below!
Resources:
(Please note: This post contains affiliate links. Read our full disclosure policy here.)