5 Heat Press Accessories That Will Save You Valuable Time & Costly Mistakes
Here are 5 great heat press accessories available on Amazon which will benefit the beginner and professional alike. These accessories will save you time and costly mistakes.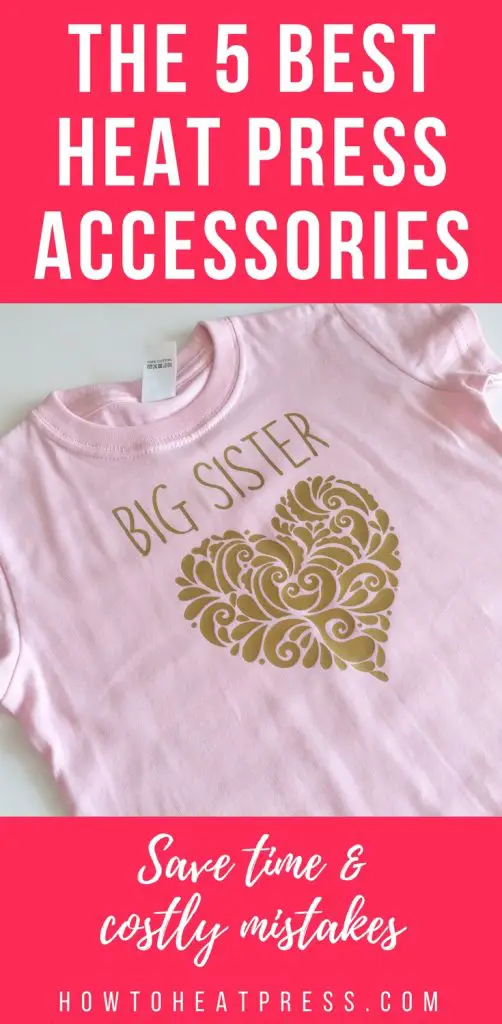 #1 Digital Laser Thermometer
Perhaps the number one accessory you can have for your pressing needs is one of these: a digital laser infrared thermometer. Aside from being very cool – being able to point at something and find out its temperature is a real novelty – it is a very handy tool to be sure your heat platen is evenly heated and ready to use.
There are many thermometer guns for sale on Amazon around the same price, but we have linked here to their best seller. It will be suitable for all heat press requirements.  
#2 Teflon Sheets
Most heat press machines come with one teflon sheet when you buy them. However, it's a good idea to have some spares around in case something happens to that one.
You always want to be using a teflon sheet when pressing to make sure you do not get any ink onto your heat platen. The platen can be difficult to clean and you may end up tainting many t-shirts to come if you do not take this simple precaution.
If something did happen to your one teflon sheet and you were in a bind, many have found parchment baking paper to be useful instead.
#3 Heat Press Cleaner
I hear you ask, how do I clean my heat press if I do get transfer onto it?
In case you do have an accident and end up with ink or vinyl on your heat platen, it will be handy to have a tube of this good stuff to save the day.
Ez-Off hot iron cleaner is great for cleaning your machine. Not only will it get any unwanted transfer residue off your press, but it will remove any starchy build up from the garments themselves.
Read our full article on how to clean your heat press here.
#4 Heat Tape
Heat tape is another handy accessory to have lying around while heat pressing. This will hold your transfer in perfect place. It can be particularly helpful when you are using several layers of vinyl. In this case everything needs to stay right in place for your design to look great.
This tape is designed for use in a heat press. It will leave no residue and can be easily removed.
#5 Vinyl Weeding Tool Kit
If you're cutting and weeding your own vinyl then make sure you have a weeding tool kit. These items will definitely help you as you prepare your vinyl for transfer.
The kit we have linked to here is the Cricut basic craft tools set which has over 1000 reviews and a 4.8 star rating on Amazon (at the time of writing). If you own a Silhouette cutting machine, there is a Silhouette Cameo tool kit available for a similar price.
We hope you found this article helpful. Thanks for reading! 
(Please note: This post contains affiliate links. Read our full disclosure policy here.)