9 Best Heat Press Table & Stand Options – Budget To Advanced!
This post contains affiliate links. If you use these links to buy something, we may earn a commission, but it doesn't cost you anything. Thanks!
A dedicated heat press stand can be so important!
Not only will it save your back in the long run, but it will also speed up your workflow, make things easier, and help keep your workspace tidy!
Let's take a look at all the heat press work tables on offer!
The Best Heat Press Stand
While an ordinary craft room table might be Ok for working with something like the Cricut EasyPress, if you have a real heat press machine, you're going to need something better!
What do you need to think about when buying a table for your heat press?
You need something strong and sturdy, that won't shift or wobble when being used
It needs to be the right height to make your work easier
Something with storage space underneath is a plus
With wheels/castors if you would like to move it around
Here are our top picks, starting with the most affordable heat press tables, and working up to the purpose built heat press stands.
LapWorks Utility Cart

Supports up to 350 pounds
Very cheap cart option
Dimensions 18.5 x 14.5 x 23 inches tall

View On Amazon

Seville Classics Mobile Workstation

Can carry up to 500 pounds of load
Single shelf, easy to move on wheels, stylish design
Dimensions 24" x 34" x 37.5" inches

View On Amazon

Seville Classics Rolling Cabinet

Can carry up to 300 pounds of weight
Very sturdy, includes wheels & storage drawers
Dimensions 28" x 24" x 34.5" inches

View On Amazon

Seville Classics Adjustable Table

Supports up to 1000 pounds
Manual height adjustment from 28.5 to 42 inches
Work surface 48" X 24" X 1.5"(thick)

View On Amazon

HPN Universal Heat Press Stand

Use with all heat press machines
Storage & castors - heavy-duty steel and aluminum
32" L x 21" W x 26" H

View On Heat Press Nation

Hotronix Caddie Stand

For use with Hotronix Auto Clam Heat Press and Hotronix HAXX Series
Counter Caddie or purchase with stand
22" x 12" x 8"

View On Pro WorldView On Swing Design

Geo Knight DK Universal Stand

Designed for DK20S, DK20SP, DC16, DC16AP, DK20, & DK16, but universal
Heavy steel welded framework & industrial grade casters
26" D x 16" W x 29" H

View On Heat Press NationView On Swing Design

Heat Printing Equipment Cart

Universal stand with adjustable height
Holds up to 600 pounds
37" L x 23.75" W workspace, 17-35"H

View On Pro World
Let's take a closer look at these machines.
LapWorks Utility Cart
This LapWorks stand can carry up to 350 pounds, and is a good cheap option for lighter, smaller heat press machines. You can connect multiple stands together to make the unit larger and give it more support.
While the top is made of durable plastic, this shouldn't be a problem with the heat from a press, provided the lower and upper platen are raised up (as most machines are).
This unit also has wheels, but stability may be an issue for heavier heat press machines. It is recommended you have significant weight on the lower platform to support the weight up top.
Pros:
cheapest heavy duty stand
castors for shifting around the room
multiple can be connected together to form a larger & stronger work station
Cons:
not as stable or durable as other options
Seville Classics Mobile Workstation

This heavy duty rolling heat press table is a simple and elegant solution for your workshop or craft room.
It has a tough steel frame that can support up to 500 pounds of weight – much more than most heat press machines, even when factoring the downward press pressure.
With dimensions of 24 x 36 x 37.5 inches, it also comes with helpful wheels which lock it into place when in use.
Pros:
suitable for most beginner heat press machines
looks extremely tidy
very strong support
excellent reviews
one year warranty
Cons:
may not be large enough for some heat press machines
Seville Classics Rolling Cabinet
The Seville Classics UltraHD 6-Drawer Rolling Cabinet has been used as a heat press stand by many.
It's a solid unit with stainless steel doors, that can carry a weight of up to 300 pounds. Given that most 15 x 15 inch heat press machines weigh between 50 and 80 pounds, this is certainly sufficient for the task.
The dimensions on this machine are 28 long x 24 deep x 34.5 high, though please check the listing carefully before purchase to ensure it hasn't changed!
Pros:
comes with wheels making your press easy to move
can carry much more weight than the average heat press
looks good in the workshop or craft room
easy to wipe down & clean
comes with storage drawers
Cons:
most heat press machines would need to sit sideways on the stand
Adjustable Heat Press Stand
This is an excellent heat press table especially because it has an adjustable height. Change the table height from 28.5 to 42 inches.
What's more, this table is very solid and strong, with a decent amount of workspace. It is 48 inches in length, while being 24 inches deep.
It is built with strong powder-coated industrial steel and has rubber padded feet to keep it from shifting.
Pros:
adjustable height
solid with rubber feet
thick hardwood table top
multi-purpose
Cons:
may not be deep enough for all heat press machines
price is getting up there
HPN Heat Press Stand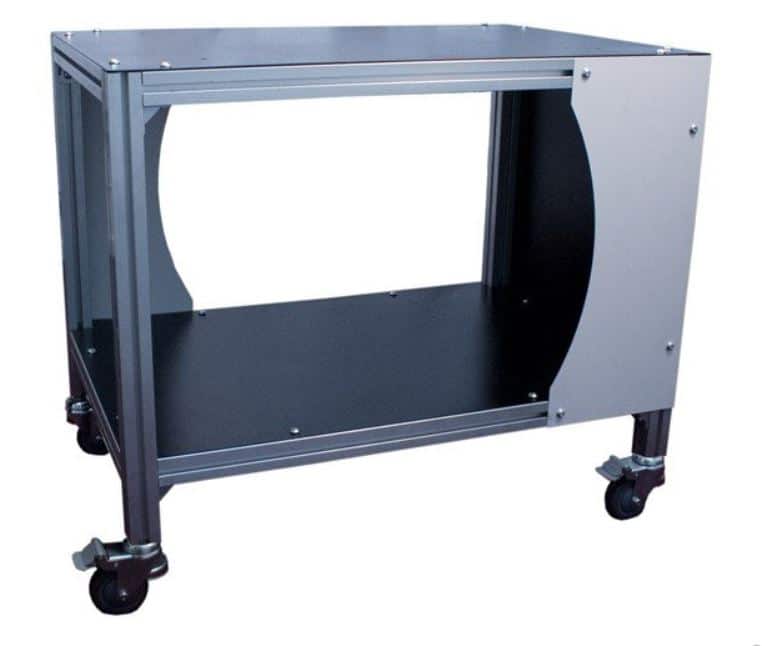 This purpose-built heat press cart is a step up from the previous tables. The price is comparable, but the features are not.
This unit is the right shape and size for many heat press machines, with dimensions of 32″ L x 21″ W x 26″ H. It is very strong, made of steel and aluminum, and built to support the weight of a press.
The height is perfect for pressing, and it has locking wheels to keep it from shifting. This stand is the one you can see in the first image of the post. HPN uses this machine in their own show room, so it must be good!
Pros:
a strong reinforced heat press cart
the best size for 15×15 inch machines and beyond
easy to move around and lock into place
contained storage shelf
Cons:
you need to pay a bit more for quality
Hotronix Caddie Stand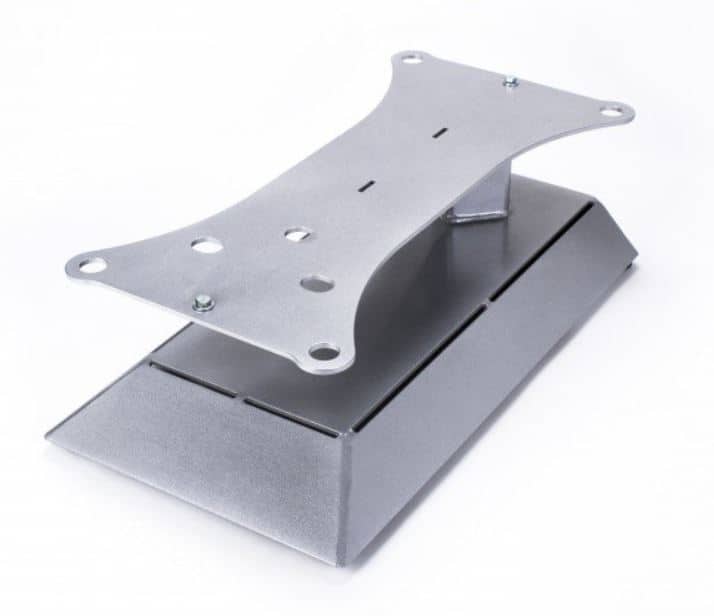 This Hotronix heat press counter caddie stand is compatible with many Hotronix heat press machines, including the Clamshell Maxx, the Hotronix Auto Clam, and the Hotronix Hover Press.
The dimensions are 22″ x 12″ x 8″, but remember this is just for the Hotronix presses. The great thing about this stand is that it gives the press the threadability feature where you slip your garment around the lower platen to decorate.
Pros:
solid stand for Hotronix presses
press attaches to the stand
enables threadability
Cons:
only for Hotronix
quite expensive
Geo Knight Stand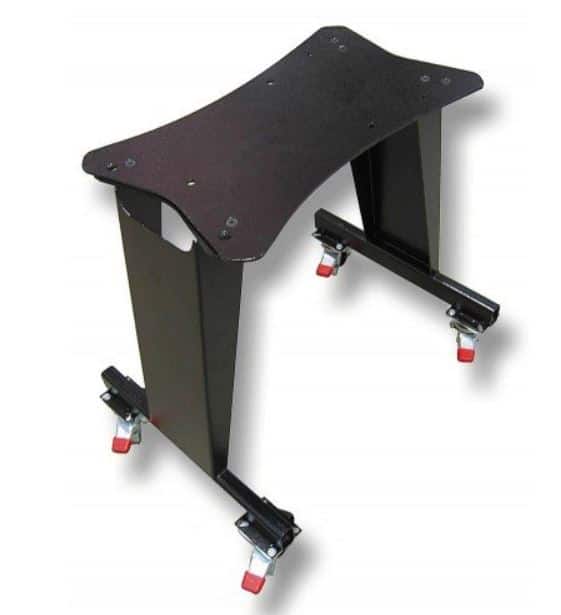 This stand for Geo Knight heat press machines is designed especially for the DK20S, DK20SP, DC16, DC16AP, DK20, and DK16 – it's not for other machines or brands.
It's a quality option for those with a George Knight machine!
Pros:
heavy steel frame
quality castors making it portable
great height for pressing
Cons:
costly
only for Geo Knight Press
Heat Printing Equipment Cart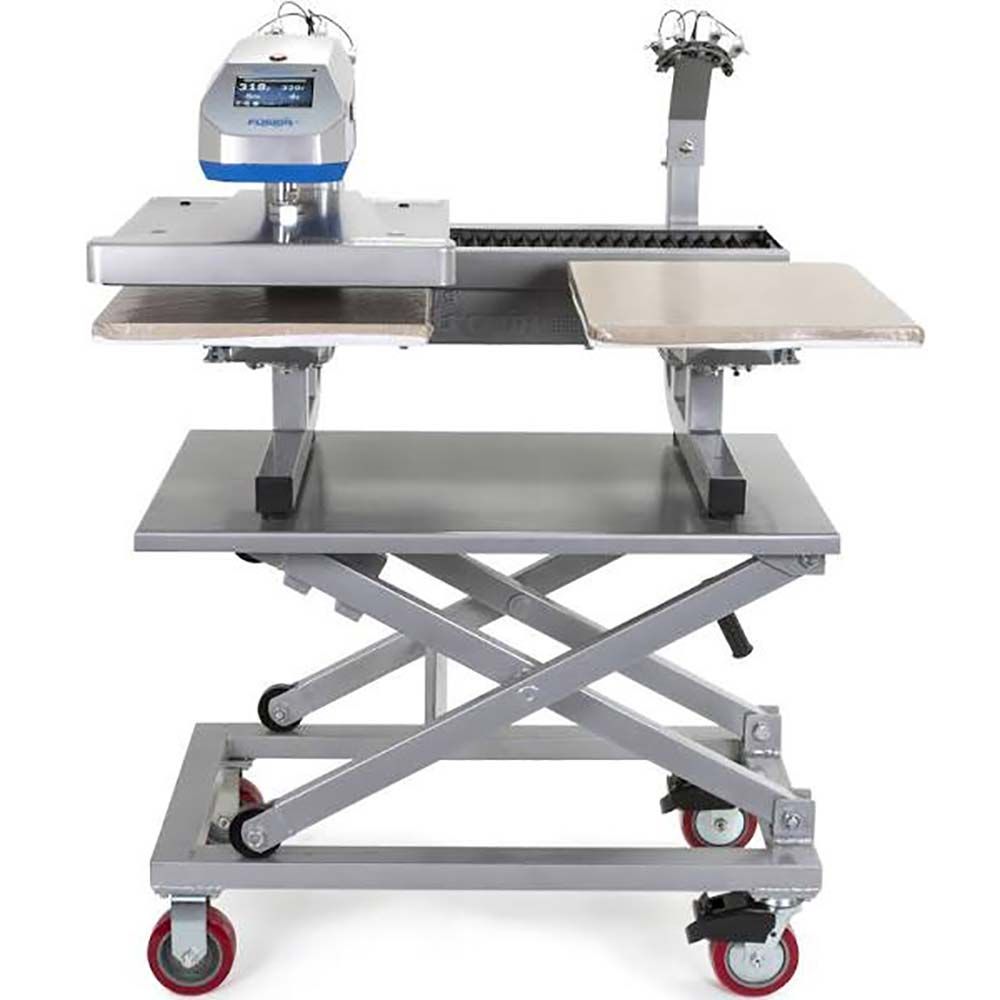 And finally, the Pro World Heat Printing Equipment Cart.
This is definitely one of the best, if not the best, heat press cart. However, at around $600 it's not cheap!
This is a super strong cart with adjustable height, locking casters, and can be used with most heat press machines. It has a weight limit of 600 pounds, and workspace dimensions of 37 L x 23.75 W. The height can be adjusted with a crank from 17″ to 35″ making it perfect for various machines and individuals.
Pros:
industrial grade steel & castors
comes fully assembled
very high quality castors that will last
perfect height for all types of heat pressing
Heat Press Cart
So those are our picks for the best heat press cart, table, and stand.
Another spot that is worth taking a look at is Walmart. They also have a good selection of heavy duty utility carts which can be suitable for heat press machines. It's best to get one with a flat surface, and without a lip at the top!
Thanks for stopping by!
(Please note: This post contains affiliate links. Read our full disclosure policy here.)