Hotronix Fusion & Hotronix Air Fusion Heat Press Machines Review
Hotronix heat press machines are what you need when you need the best!
These US made heat press machines offer the greatest ease of use, the most helpful features, and are constructed with the highest quality components.
Stahls Hotronix Heat Press Machines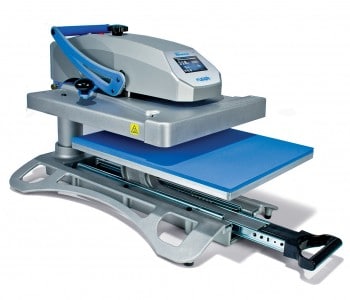 We're going to focus in on the Hotronix Fusion heat press:
16 x 20 Hotronix Fusion heat press
16 x 20 Hotronix Air Fusion tabletop version (w/ or w/o stand)
the 16 x 20 Hotronix Air Fusion Dual heat press
These machines are quality commercial machines for serious t-shirt businesses. They are great for small and large businesses wanting an easy to use and extremely high quality machine. Features such as threadability and preset functions make them one of the fastest heat press machines to use on the market.
You have got to see this comparison between Hotronix heat press machines and imported models. Josh Ellsworth even slicing a cheap heat press platen apart to demonstrate the difference!
Hotronix Fusion Features
The Hotronix Fusion is a high spec heat press with features for quicker work flow and a higher quality heat transfer press. Many of these features deserve their own section to best deal with the capabilities – so that's what we've got now!
Threadable Platen
Threadability is a feature that enables you to slip your garment over the bottom plate of the press. This means you are able to press only the side of your t-shirt or jumper that is receiving the transfer.
This is good because it means there is less likelihood of seams or zippers disrupting the pressure of the press. If there are lumps and bumps in your garment, or it is not completely flat, the pressure is unlikely to be even. This could mean a less than best adhesion of your transfer. Heat press pillows also help pressing on uneven surfaces.
Interchangable Platens
The Fusion comes with a 16 x 20 base plate which is suitable for pressing all of sizes of garments. It can also be positioned either way. For example, with the 20 inch side to the front or to the side (in portrait or landscape position) – a handy feature allowing you to adapt the press to your garment.
There are also multiple sizes of lower platen that you can order, including:
7 inch round

6 x 10

8 x 10

11 x 15
You are also able to order custom heat platens from Stahls'.
Dual Style Heat Press
This is a dual style heat press – it can be used as a draw or swing-away press, or as a combination of both! Both are excellent styles that can be used as best suits your situation and preference.
The style you decide to use on a given job may depend on the item you are pressing. Perhaps a thick sweatshirt would be better done threaded and draw style, while a commemorative dish towel would be done unthreaded and swing-away – don't ask me who's getting commemorative dish towels made up though!
Touch Screen Display
If you watched the video above, you will have seen that the time and temperature setting is done on a touch-screen display. This screen displays a lot of information, including:
The temperature you have set the press

The temperature it is currently at

The time you have set the press for

The pressure the machine is currently at

The name of the preset function you are on

A press counter (literally, how many presses and pre-presses you've done)

The date and time
Digital Pressure Readings
The pressure is set by turning a knob on the top of the press while it is open. However, this press is special because you get a digital read as to what pressure the machine is set to.
Hotronix Features
Besides that, the Hotronix Fusion also has the following features:
Quick change for swapping platens

Auto on/off

A twin set timing ability allowing you to preset preheating and application

A beautiful cast aluminium alloy frame

Finished with a durable powder coat
Hotronix Fusion Warranty
The Hotronix Fusion comes with the following warranty:
Lifetime heating element warranty

5 year warranty on major components

2 year warranty on circuitry board

1 year warranty on parts and labor
Buy Hotronix Heat Press Machines
There are many retailers who sell the range of Hotronix Fusion heat press machines. We can highly recommend Heat Press Nation for their support and advice.
Thanks for reading this review, please leave us a comment below if you have any questions or comments regarding the Hotronix Fusion heat press.
Pin this post! 🙂
(Please note: This post contains affiliate links. Read our full disclosure policy here.)