The Cricut EasyPress Mat & Best Alternatives!
This post contains affiliate links. If you use these links to buy something, we may earn a commission, but it doesn't cost you anything. Thanks!
Should you get a Cricut EasyPress mat?
Can you just use an ironing board, towel, or other cloth? Or are some of the other Cricut EasyPress Mat alternatives worth checking out? We'll take a look at the official EasyPress Mat and answer these other questions below!
Cricut EasyPress Mat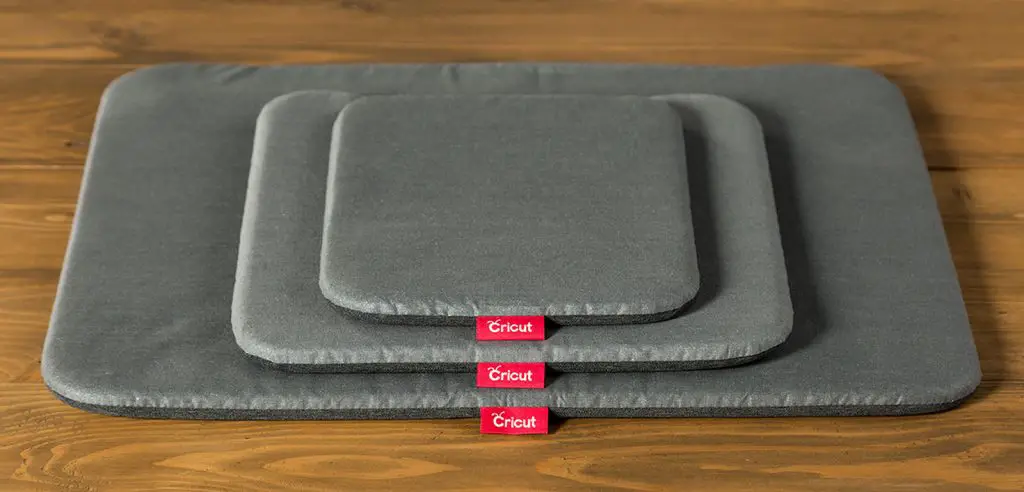 The official Cricut Easy Press Mat is available in 3 sizes:
8 x 10 inches
12 x 12 inches
20 x 16 inches
The pressing mats are larger than the Cricut EasyPress machine itself, which comes in:
6 x 7 inches
9 x 9 inches
10 x 12 inches
But don't think that if, for example, you have the 6 x 7 EasyPress, that you have to get the 8 x 10 mat. You don't necessarily need to get the mat that "matches" your EasyPress. Nor do you have to stick with only getting one size mat if you have one size EasyPress.
These pressing mats are more useful for heat transfers than you might initially think. They can be used as heat press pillows to help you avoid problems with seams, buttons, and zippers when heat pressing.
Even if you have the largest EasyPress, you might find the smallest pillow the most helpful in some situations. For example, when pressing baby onesies and toddlers tees, the small mat is best. It can easily be inserted inside the garment and allows you to press around the seams.
Here is where you can pick up Easy Press Mats and other good alternatives.
Cricut EasyPress Mat 8 x 10

The smallest EasyPress Mat
The 8 x 10 inch mat is great for use with small garments like baby onesies
Can be inserted into kids clothes & used as a heat press pillow

View On AmazonView On CricutView On Michaels

Cricut EasyPress Mat 12 x 12

The medium EasyPress Mat
Good for use with all sizes of the EasyPress machine
Can be inserted into t shirts as a heat press pillow

View On AmazonView On CricutView On Michaels

Cricut EasyPress Mat 16 x 20

The largest EasyPress Mat
Great for large transfers
Best for working with the largest EasyPress

View On AmazonView On CricutView On Michaels

Nicapa EasyPress Mat

3 sizes of Nicapa Mat for EasyPress
A good alternative to Cricut brand mats
Use as a heat press pillow

View 8 x 10View 12 x 12View 16 x 20

RUSPEPA Silicone Pad 12 × 15

An alternative to the regular EasyPress Mats
Does not slide around at all
Protects work surface from the heat

View On Amazon
The Official Cricut Easy Press Mat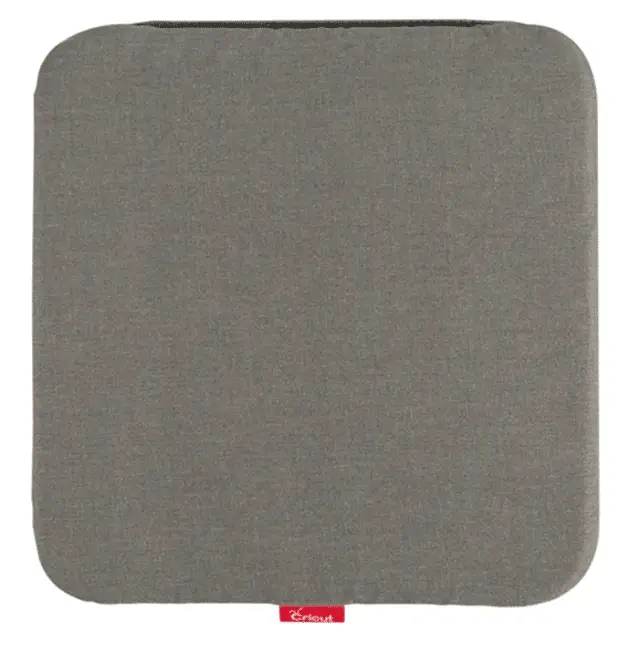 If you're like me, you're going to go with the official Cricut Easy Press Mat (or mats)! For better or for worse, I just like having the genuine Cricut products. While the alternatives (listed below) are good, and I even have one of them, nothing beats the real deal.
Just take a look at all the layers in this bad boy!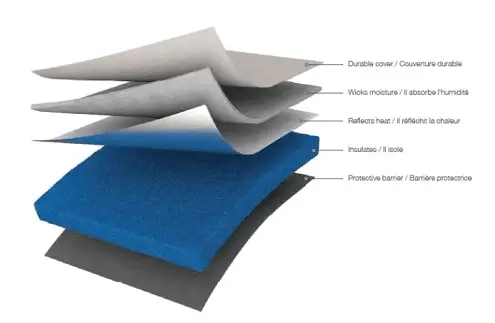 The different layers of the EasyPress Mat are:
the heat resistant cover
a felt moisture wicking layer
a foil reflective heat layer
silicon insulation layer
the protective barrier layer
Does even an onion have more layers than that…?
Because heat reflects back up from the mat, rather than going through into your work table top, you can press at a lower temperature. This is much better for your garments in particular.
The official mats are your best bet when it comes to which EasyPress mat you should buy, but let's take a look at the alternatives as well.
Easy Press Mat Alternatives
There are a few Cricut EasyPress Mat alternatives that you can choose to buy, besides using other things around the house. We'll look at the two most popular options.
Nicapa Mat
Nicapa seem to simply rip off whatever Cricut is putting out when it comes to cutting machine and heat press accessories. But it seems to be working for them, so more power to them. The Nicapa Easy Press mats are very similar to Cricut's original, though we can probably assume they are not quite as good or engineered to the same level.
As I write this article, there is 50% OFF Cricut EasyPress Mats on Cricut.com. Nicapa mats are usually priced around the same as the official mats, and are of similar quality.
If I could get an official mat for the same price or cheaper, I would go for that. If the Nicapa pressing mat worked out significantly cheaper than the official Cricut heat press mats, I would go with that one.
The Nicapa heat press mats:
are good to a max temp of 428℉
can be used as a heat press pillow
prevent heat from reaching your work surface
RUSPERA Mat
The other option is to go with the RUSPEPA 12 × 15 Silicone Pad (or something similar). This is the mat I first bought because the official version was not out yet.
This mat is quite good in that it's:
usually very cheap
it has more weight to it (being made of silicon)
it does not move around on the table at all
it's a good size at 12 x 15 inches (possibly too small for large EasyPress)
It's really up to you as to what you choose. This type of mat works very well, I've personally not had any issues with my transfers, and I can also use it in my heat press machine if needed.
The RUSPERA heat press pad:
weighs about 1.4 pounds
is a 1/3 inch thick
is also good for heat pressing with a home iron
Cricut EasyPress Mat Tips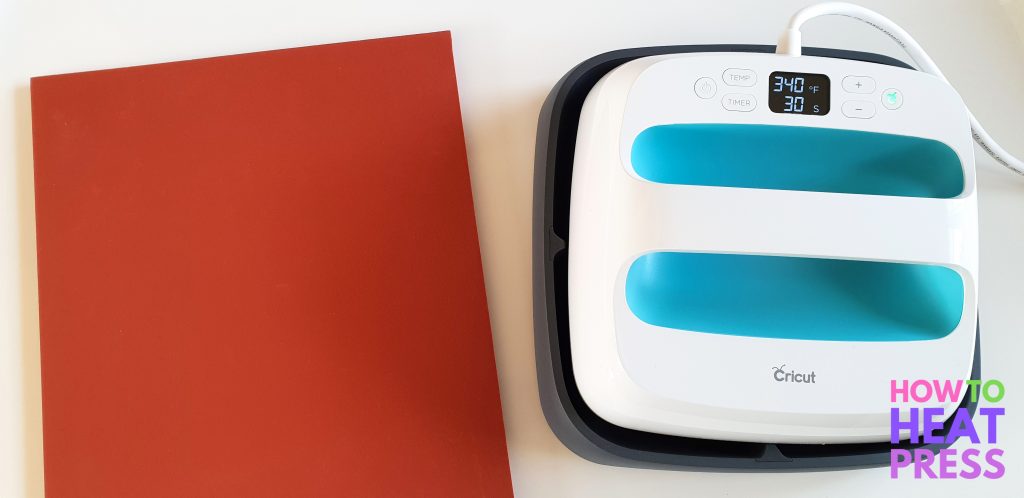 Here are a few final thoughts & tips for using your EasyPress Mat:
 Cricut press settings are different for each mat – find settings here
the 8 x 10 inch mat is perfect for working with baby onesies and kids clothes
use as an alternative to heat press pillows
great for pressing tote bags as they easily fit inside
use as a small ironing board for craft fabrics
get different sizes for working with different substrates
We hope you've found some useful information that will help you to choose the best heat press mat for your needs.
Please leave any other info, comments, or questions in the comment section below. Thank you for visiting!
Pin this post!
(Please note: This post contains affiliate links. Read our full disclosure policy here.)