The Samantha Font Family & Best Alternatives
This post contains affiliate links. If you use these links to buy something, we may earn a commission, but it doesn't cost you anything. Thanks!
The Samantha Font by Laura Worthington – what's it all about?
The Samantha Font is one of the best script fonts, as well as being one of the most expensive!
Despite the price, it is totally worth it if you are going to use it, and especially if you've got commercial purposes in mind. Let's find out what all the fuss is about!
Samantha Font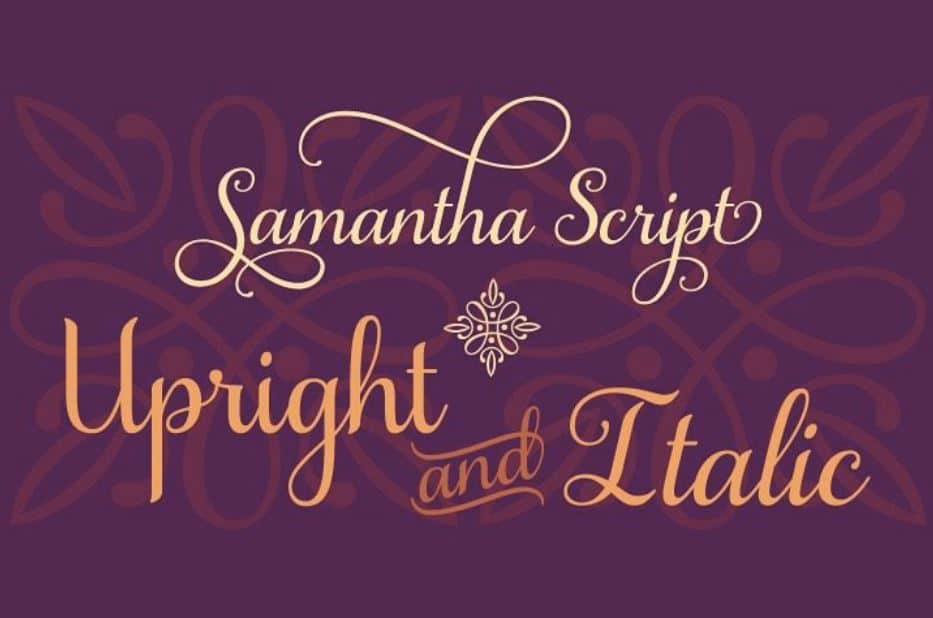 If you're anything like me, you were almost sick up when you saw the price of this font at $75 – $100.
I didn't even know fonts could be that expensive (…and then I saw the 'Ever Looser Font' ?)!
The cheapest price for Samantha Font is here on Mighty Deals for $17. That's the price for a single font (eg. Samantha Upright), or get the entire font family for $73.
Once the price has sunk in, I think the font is worth the money – we are getting so much more than an ordinary font!
Here's what's included with the $99 Samantha Font Family from Fontbundles:
Samantha Upright in regular & bold
Samantha Italic in regular & bold
Over 1100 alternatives & swash characters (glyphs)
60 ornaments
45 catchwords
Lining, old style, & swash numerals
Each of the four fonts in the family (Upright Regular, Upright Bold, Italic Regular, Italic Bold) are available for sale separately at $75 each.
I think it's probably best to get three extras for the added $25, which would cost $225 bought separately. However, if you were to go with one, the Samantha Upright Regular is the most popular option.
If you are using Adobe Illustrator or Creative Cloud for design, check to see if you have access to the font already. It comes included with many of these packages (more info)!
Samantha Glyphs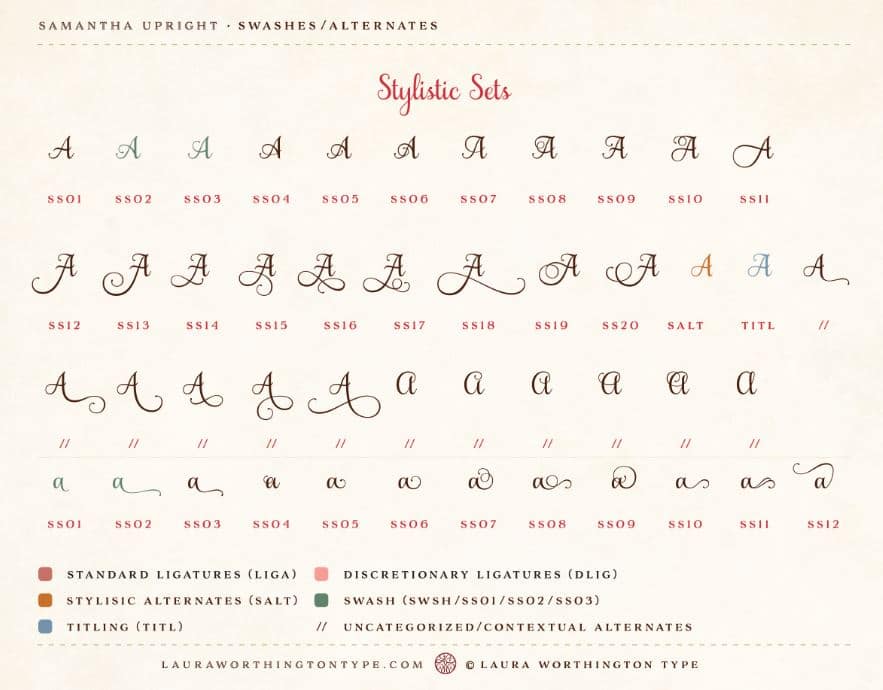 What makes the Samantha Font so popular is the huge range of alternate glyphs.
These are the additional flourishes that are added to the individual letters which make it all so pretty. Each letter of the alphabet has up to 20+ variants that are accessed from your computers character map.
The glyphs allow you to create really unique and stunning designs, often unlike anything that has been done before!
How To Use Samantha Font
Here are a couple of tutorials on how to use this font by Laura Worthington.
Firstly, from Fontbundles, showing how to use the character map to access the Samantha glyphs on a Windows PC.
And here is one on how to use Samantha Font on a Mac.
Samantha Font Project Ideas
Here are some ideas for things to make using the Samantha Font and your Cricut Machine!
Cut out a stencil and customize an entrance mat!
 

View this post on Instagram

 
Use it to create cake toppers or wedding place names.
 

View this post on Instagram

 
Cut it out in vinyl and make a farmhouse style sign.
 

View this post on Instagram

 
Make vinyl labels and apply eveywhere!
 

View this post on Instagram

 
Make an cushion design with HTV.
 

View this post on Instagram

 
Samantha Font Free
Unfortunately there is no such thing as a free Samantha font. The real deal must always be paid for!
However, there are a few similar free Samantha Font alternatives! Consider these options 🙂
Let me know in the comments below if you have any other alternatives to the Laura Worthington font – I'd love to check them out!
(Please note: This post contains affiliate links. Read our full disclosure policy here.)