Cricut Wedding Project Ideas | Wedding Place Name Project
This post contains affiliate links. If you use these links to buy something, we may earn a commission, but it doesn't cost you anything. Thanks!
Cricut + wedding = Cricut wedding!
If you have a Cricut machine, you can easily make birthdays, weddings, anniversaries, and other special occasions much more memorable.
Recently, I had the option of doing just that at a family wedding. I created around 70 custom place names out of gold glitter cardstock, which were placed on the dinner plates.
Cricut Wedding Projects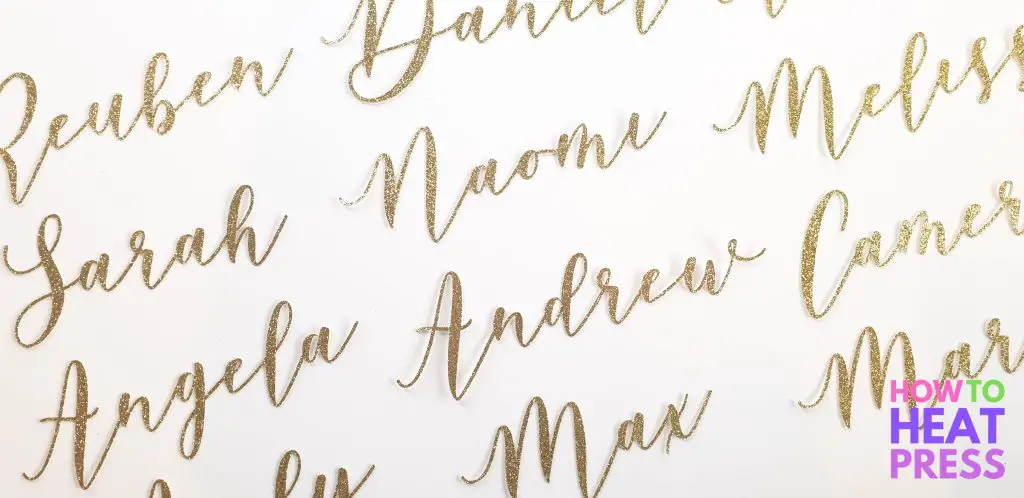 One of the best things about having a Cricut is the opportunity to create things that are special and personalized for friends and family (along with yourself, of course)!
I got so much positive feedback about these names – a lot of people wanting to know how I made them! They really made everyone at the wedding reception feel personally welcomed to the celebration.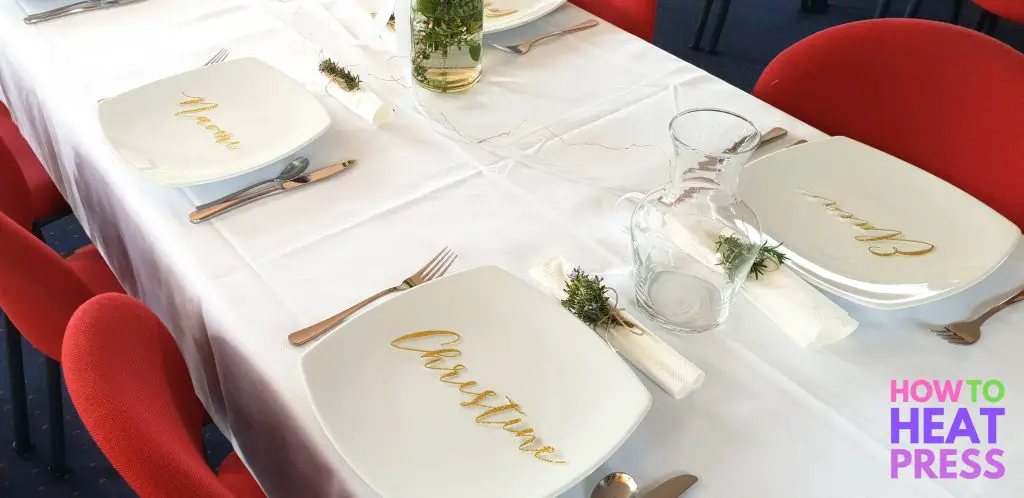 Custom Wedding Place Names
For this Cricut wedding project I used my Cricut Explore Air 2 (though I've just got a Cricut Maker, the Air 2 is fine with cardstock – for more info, read 'what is the best Cricut Machine?').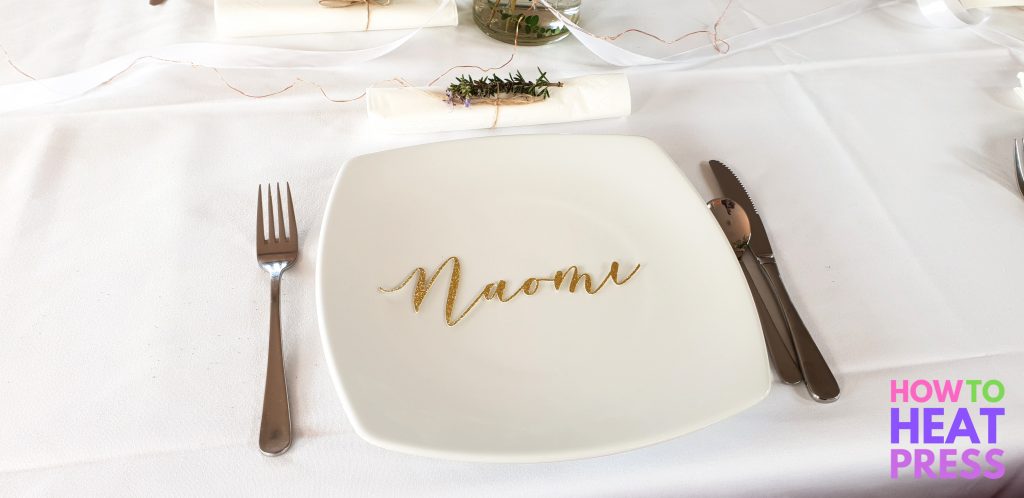 To make these place names I used thick gold glitter cardstock from my local craft store.
I used the font wisdom script (free to download when I used it) to write out all the names, and I used the weld tool in Design Space to make each name cut out as one image (not separate letters).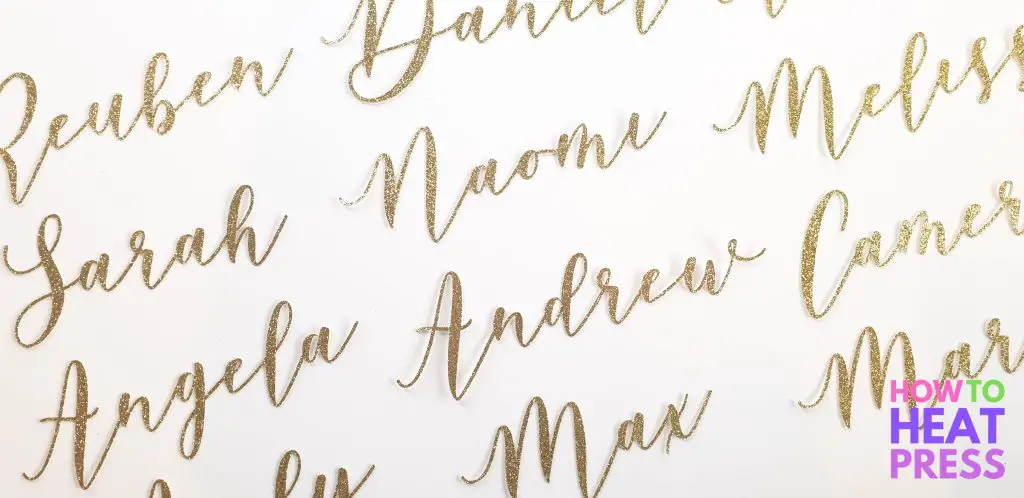 I set the dial to 'custom' on my Air 2, browsed through the materials and selected 'glitter cardstock'.
Cardstock can vary in thickness from brand to brand, so it's best to always do a test cut with a new material, before cutting out your whole project. And especially if the material you're using is expensive!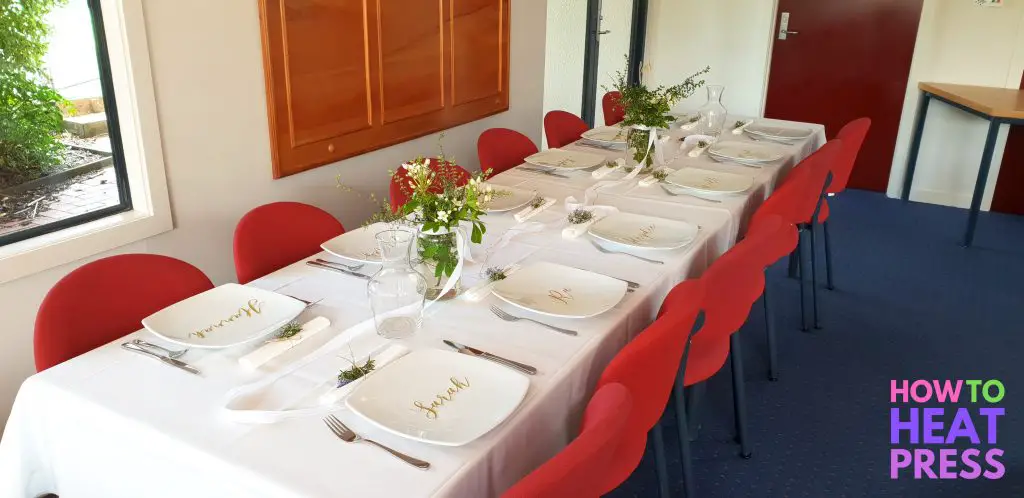 My test cut revealed some small cuts into my mat, so I opted to change the default pressure to less. I did another test cut, and with less pressure my cardstock cut perfectly the second time.
I used my Cricut weeder to weed out the insides of the letters, and then my spatula tool to gently lift them away from the mat. Done!
Custom Wedding Table Numbers
I also made some table numbers to go with the place names, using the same font, wisdom script. I made these a bit larger than the names, so they could be easily read from across the room.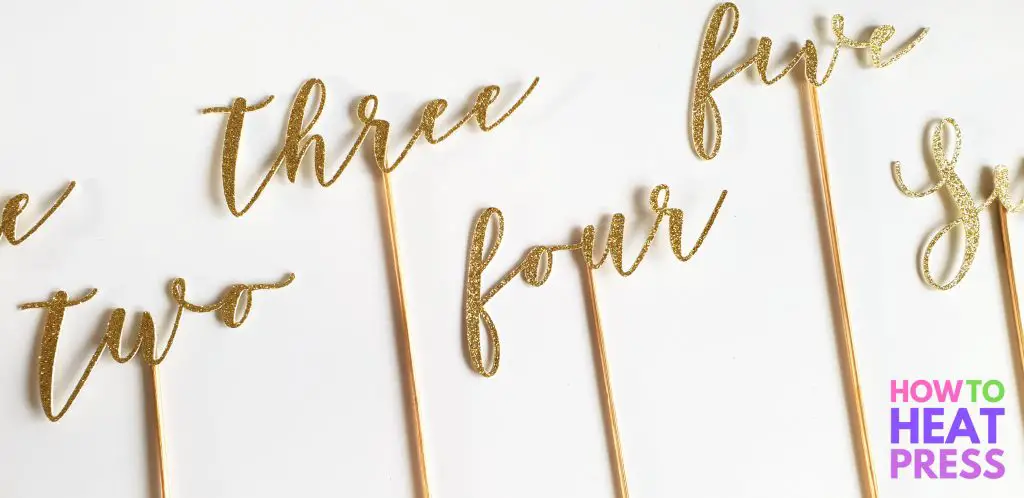 Unlike the names, the table numbers had glitter cardstock on both sides because they were placed into vases and needed to look good from both sides.
I cut one mat of the table numbers the normal way around, and then mirrored the project and cut out the mat again. Then I glued both sides of the cardstock together. The cardstock I used was quite thick, so two layers made it strong enough to hold up well on the skewers.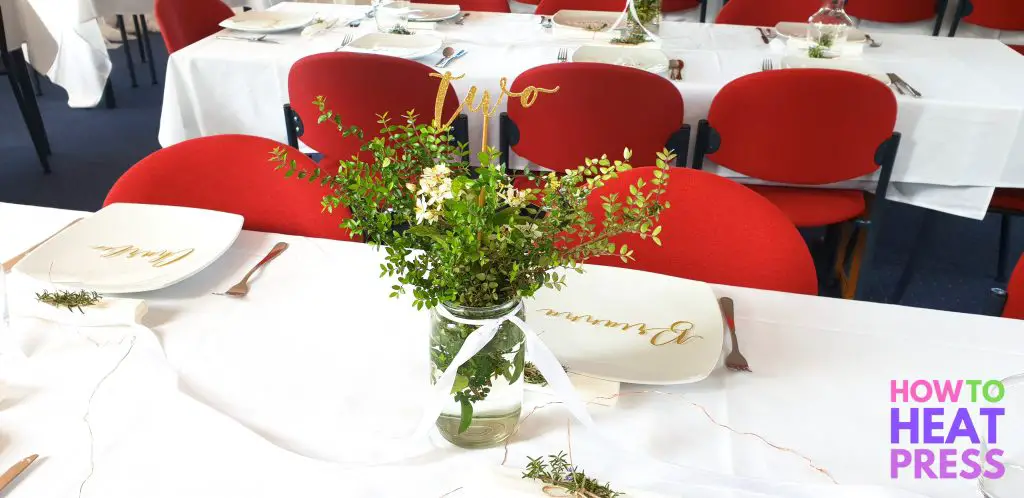 I also painted the skewers gold, but the gold paint didn't show up that great on the skewers. I placed the table numbers into the vases of flowers on the tables. They looked great!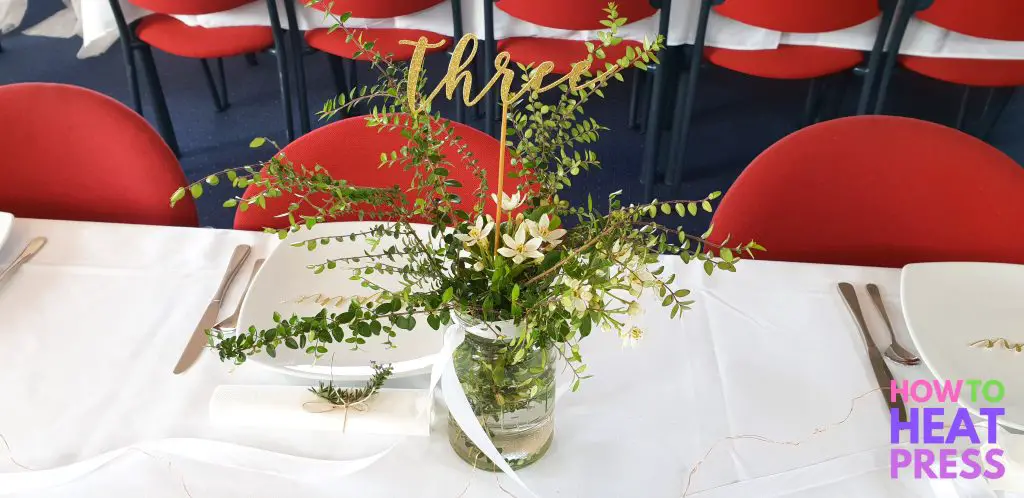 These place names and table numbers were a special and personalized touch to this wedding reception. But there are so many other things you could make with your Cricut too…
Cricut Wedding Ideas
There are so many things you can make with your Cricut machine for weddings! Here are some more great ideas for personalizing your wedding with Cricut.
Cricut Wedding Hangers
Very quick and easy to make, but it's these little touches that make the day extra special and memorable.
 

View this post on Instagram

 
Custom Cricut Wine Bottles
Take the labels off your wine bottles and replace them with a custom vinyl wedding decal!
 

View this post on Instagram

 
Cricut Just Married Decal
It's not a wedding wagon if there's no 'Just Married' sign in the window! Make your own with your Cricut using adhesive vinyl.
 

View this post on Instagram

 
Cricut Wedding Cake Toppers
Every wedding cake needs an awesome cake topper. Customize yours with your Cricut!
 

View this post on Instagram

 
 

View this post on Instagram

 
Menus & Invitations
Make incredibly intricate and impressive menus and invitations for weddings with Cricut.
 

View this post on Instagram

 
Cricut Wedding T-Shirts
And last but not least, wedding t-shirts! Make your own t-shirts using heat transfer vinyl. Use an iron, the Cricut EasyPress, or a heat press machine.
 

View this post on Instagram

 
More Cricut Wedding Ideas
And here are some final ideas for what to make with your Cricut for weddings:
Wedding banners
Monogrammed wedding ring dish
Personalized bridal party gifts
Custom wedding favors
Signs for wedding tables
Let me know your ideas in the comments below. Thanks!
Pin this post! 🙂
(Please note: This post contains affiliate links. Read our full disclosure policy here.)