How To Clean Your Heat Press – Protect Your Press From Mess!
This post contains affiliate links. If you use these links to buy something, we may earn a commission, but it doesn't cost you anything. Thanks!
How do you clean a heat press?
What happened? Did you forget to use a Teflon sheet when you last used your press? Did you accidentally press your transfer the wrong way up? Or did you try to press a fabric at too high a temperature? Does your house now smell like burning plastic and chemicals??!
I've hear it all before and will give you some tricks and tips for cleaning your heat press machine below.
How To Clean A Heat Press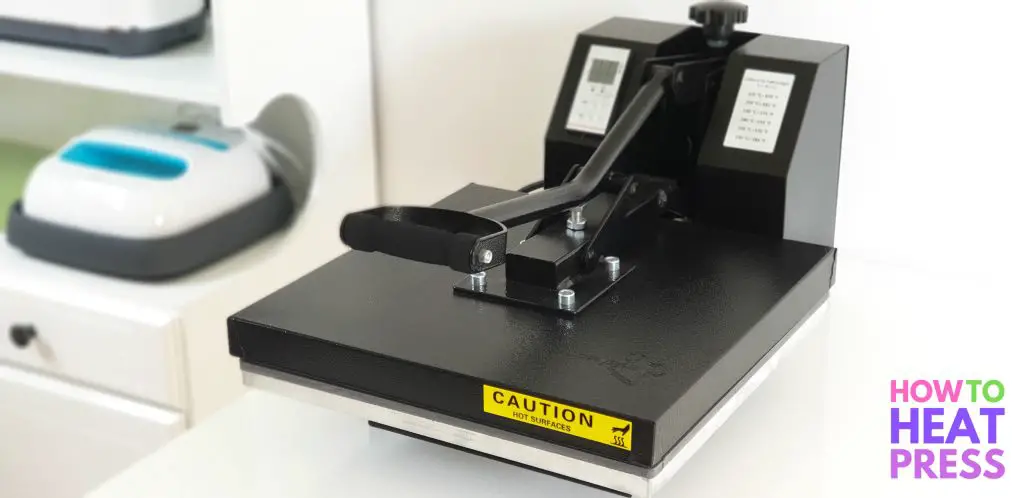 The following is probably not what you want to hear if an accident has already happened, but I have to begin by saying that most of the scenarios mentioned could have been avoided by using a Teflon sheet.
If an accident occurs with ink or vinyl, a Teflon sheet can be cleaned much easier than the heat press! Or, of course, it might be easier to throw away a soiled Teflon sheet (as they do not cost much, and tend to come in three or five packs). However, replacement platens, if they can be bought at all, can be very expensive. 
We'll give some general advice in this article, but always refer to your heat press instruction manual first. Check if the manufacturer has a specific product or procedure they recommend, but the products and techniques mentioned below are a great next step.
The Best Heat Press Cleaner
One product, which seems to solve most problems, is called EZ-Off Hot Iron Cleaner. It's a good idea to have some ready in case of an unexpected accident, but if that has already happened, your press should be fine until it arrives.
Also, this product is good for giving your press a general clean every once in awhile. You will get a build up of starch from t-shirts, and other grime will invariably find its way onto your press. This product will make your platen look like new again!
EZ-off how iron cleaner is used on the heat press (or iron) while it is hot. Make sure you've got plenty of ventilation as it will cause a bit of a smell. 
Remove HTV
Be careful if you are going to attempt to scrape vinyl off the platen with something like a paint scraper. This technique is really too risky – you are highly likely to scratch, scrape and gouge marks into the platen. Only attempt this if you know what you're doing.

Otherwise, best to order some of the EZ-Off cleaner and use a plastic or teflon scraper.  
Either way, the vinyl will come off easier as the platen warms up (assuming it had been turned off). There is a greater likelihood of scratching the platen if you attempt to clean it while cold.
Remove Sublimation Ink
The first thing you can try to remove ink from the heat platen is warm, soapy water. The level of success you will have doing this depends on how long the ink has been on the platen, and how baked on it is.
If warm water doesn't work, try EZ-Off cleaner. This is more than likely to solve the problem.
Remove A Burned Garment
Polypropylene is often the culprit when it comes to melting a fabric onto a heat press. This has a lower melting point than cotton or polyester so it can be easily done.

Depending on the amount of polypropylene build up, you will want to gently scrape away the excess with a plastic, teflon or nylon scraper as the press warms up. Once the majority of the build up has been removed, you can give it a go over with EZ-Off cleaner.
How To Clean Heat Press
Whatever you do, don't attempt to clean your press with a solvent. You might start a fire!
The moral of the story is to always use a Teflon sheet when making your own custom tees, and it's always a good idea to have a tube of EZ-Off Hot Iron Cleaner nearby!
Before you clean your heat press though, always check your user manual first and follow the instructions there. There is much variation between presses so it's best to follow the approved methods of cleaning before turning to those mentioned above.
Thanks for reading this post. Feel free to share your heat press horror stories below in the comments section. How did you clean your heat press?
(Please note: This post contains affiliate links. Read our full disclosure policy here.)