Heat Press Vs Iron | Iron Vs Heat Press – Which Is Best?
This post contains affiliate links. If you use these links to buy something, we may earn a commission, but it doesn't cost you anything. Thanks!
Which is better, an iron or a heat press?
The first transfer I did was an iron-on image that I was given as a gift. I remember setting the iron up and placing the transfer on a blank t-shirt. It was an exciting moment. To my amazement, it worked! The image transferred with the hot iron and the t-shirt lasted many years.
Iron on transfers are a fantastic and fun way to start doing heat transfers. They are easy to do and a low cost way to play around and test things out.
If you know that making your own t-shirts with heat transfers is for you, of course you're going to ask, 'is a heat press better than an iron?'
Is A Heat Press Better Than An Iron?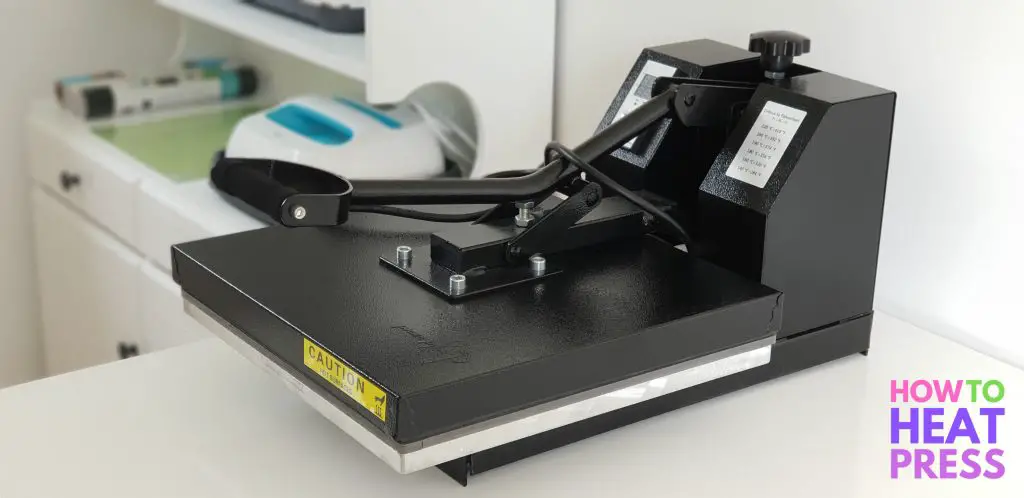 A successful heat transfer is all about having the right time, temperature and pressure. Those are the three main factors which influence whether or not your heat transfer will adhere or peel. We'll start by looking at those 3 main reasons why a heat press is better than an iron, before looking at 4 more important reasons.
1. Time
Heat press machines have digital timers that are set before the press to get the exact time needed. Each manufacturer of vinyl specifies the right amount of time for their product.
Why is a heat press timer a good thing?
With the timer set, you can do something else while the press is counting down – set up the next t-shirt!
You don't have to make a racket counting down (like I use to do!)… 15, 14, 13, 12…
You get the exact time right – it's not that hard to count down from 20, but still, you're always going to be a second or two off, right?
2. Temperature
Most household irons can get to a temperature of around 400°F. This is hot enough for most, if not all, heat transfers. But the problem with irons is that you usually don't know what temperature it's set to.
Say, for example, your transfer requires a press temperature of 345°F – which would not be unusual. Well, can you actually set the temperature of your iron for that exact setting? No, unfortunately you just have to turn it on and stick the dial to somewhere between cotton and linen.
Most heat press machines reach temperatures between 450-500°F. This is hot enough for any heat transfer that you are likely to do in the home. You can set the temperature and not worry about it!
3. Pressure
Pressure is so important when applying transfers to t-shirts. It can mean the difference between a t-shirt lasting 6 months, or lasting many years. It means the difference between properly applied heat transfer vinyl, and peeling vinyl.
The level of pressure a transfer requires is specified by the manufacturer, just like the time and temperature. Pressure is usually measured from light or soft to hard or firm.
For example:
It is hard to measure pressure when you are pressing with an iron. All you can do is press down firmly and hope for the best! To be honest, it's not difficult and works out most of the time, but it's just not as good. There's no denying that you are able to get better, more consistent pressure with a heat press than with an iron.
4. Steam Irons Have Holes
Steam irons have holes in the hot plate which will affect the pressure. When you are doing a heat transfer with a steam iron, the area under the steam holes is not being pressed down. Usually you will end up pressing multiple times over an iron-on transfer which mitigates this to some extent.
The other option, if you prefer to use an iron for heat transfers, is to get a dry iron like the one pictured to the left. A dry iron does not have any holes in the base and won't suffer from lack of pressure as a steam iron may.
5. Irons Have A Small Pressing Area
Irons have a very small pressing area. Maybe the size of an iron plate is 5 x 3 inches – and that's at the wide end! This means you have to do most heat transfers in stages. Don't get me wrong, it works, but it's not ideal!
6. Irons Are More Likely To Scorch
It is much easier to burn, scorch or mark your garments when you are pressing with an iron. Irons were not designed to do heat transfers.
They weren't made to be firmly pressed down upon a garment, and so if you go overboard on the time, it will damage your project.
Using Teflon sheets or parchment paper can help to prevent this. Place it over your t-shirt and transfer and press over top of it. These sheets are essential when using a heat press machine as well. 
7. Customer Confidence And Satisfaction
If you are selling t-shirts then you've got to get a heat press! Your customers will be far more confident they are receiving a quality product if it was made using a heat press. They will be much more satisfied getting a t-shirt that was pressed with a heat press than with an iron. It will more than likely last a lot longer and look a lot better.
Iron Vs Heat Press
There are some definite benefits to using an iron – it's not all bad. Let me list the positives here:
Irons are great for beginners learning how to do heat transfers
They are easy to use – doing your first iron-on transfer is very simple
Irons are cheap, but you more than likely already have one in your house
They are small and easy to store away
Irons heat up very quickly – heat press machines can take 10 mins or more
Setting up an iron is also done very quickly
As we said, irons are an excellent choice for heat pressing newbies and beginners. They are also good if you are not doing many t-shirt projects. You don't need a heat press if you're not going to use it. You can read our post on using an iron for heat transfers for more information.
BUT if you're ready to take your transferring to the next level, or you are a more frequent t-shirt creator, you gotta get a heat press – an iron doesn't compare!
Heat Press Pros
Well, heat press machines are actually designed and made for this job. Their purpose in life is to get your transfers stuck to garments!
Besides that plain fact, here are a few more reasons a heat press is the best choice for heat transfers:
You are able to set the time, temperature and pressure as is required
Heat press machines have a much larger pressing area (the standard size is a 15 x 15 heat press)
You will achieve a more professional result
Heat press machines are also very affordable these days. You are going to have to spend a bit of money for a decent one, but it's not going to destroy your bank account. And if you are able to make t-shirts for sale and gifts, it will pay for itself in no time.
Do not be intimidated at the thought of getting a professional machine and upping your game. You won't regret it, and your friends will thank you for the top notch tees!
We hope that you have found this article informative and helpful. Thanks for reading, please feel free to leave us a comment with your thoughts!
(Please note: This post contains affiliate links. Read our full disclosure policy here.)