How To Make Heat Press Transfers: 7 Methods!
This post contains affiliate links. If you use these links to buy something, we may earn a commission, but it doesn't cost you anything. Thanks!
So you want to learn how to make heat press transfers?
We've been making heat press transfers for a long time now, and still find the process so exciting and enjoyable. Let us share with you 7 different ways how to make heat transfers for home, crafts, & business.
How To Make Heat Transfers
These 7 methods of making custom heat transfers are great for home hobby projects, but can be scaled up for business use as well.
There are so many different ways of decorating your own shirts, we recommend trying them all if possible!
HTV Transfers
Perhaps the most common way to make you own heat transfers is with heat transfer vinyl.
A design is cut into the HTV with a cutting machine (I prefer Cricut cutting machines for craft use). There are tens of thousands of free cut files that you can choose from.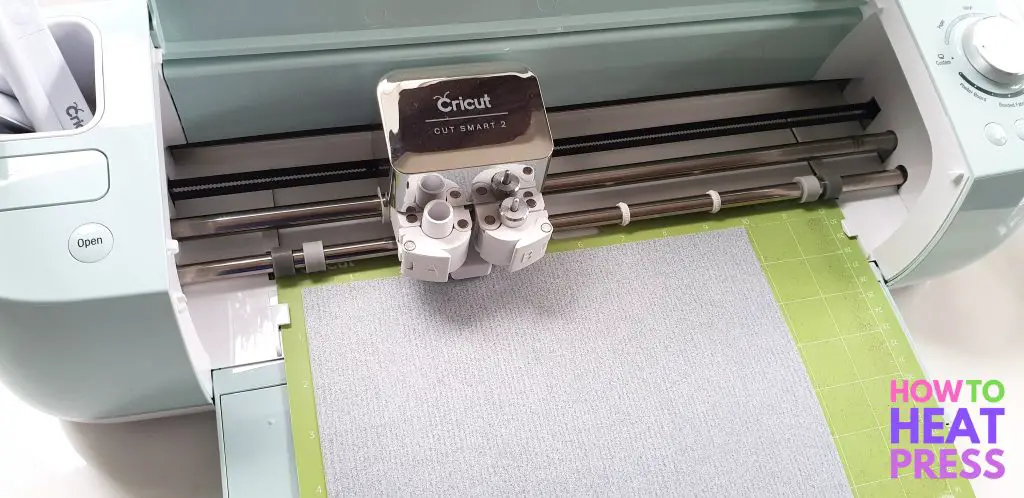 The design is cut (in reverse) into the vinyl, and then the excess vinyl is pulled away. This process is called weeding the vinyl.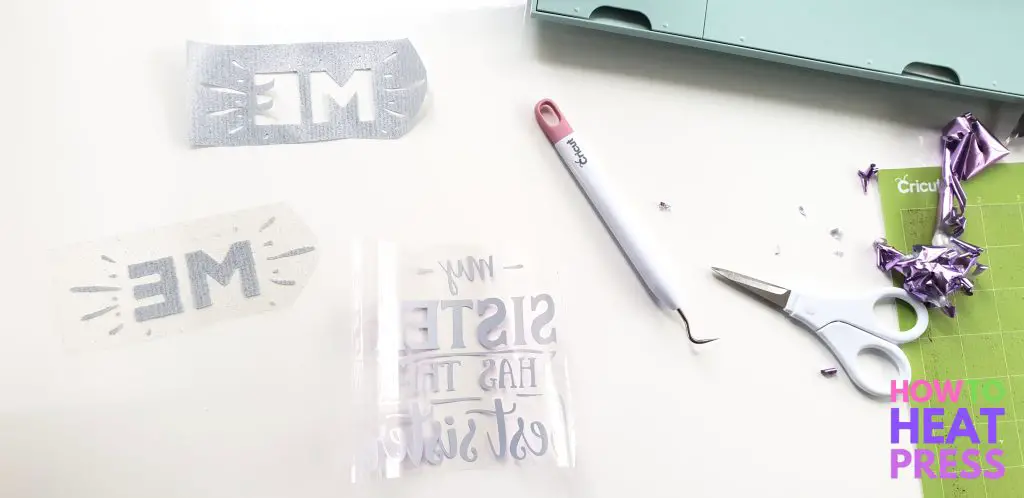 You can see that after weeding, you are left with the design, which is then ready to be pressed onto your item of clothing. The transfer can be applied using a heat press, iron, or EasyPress!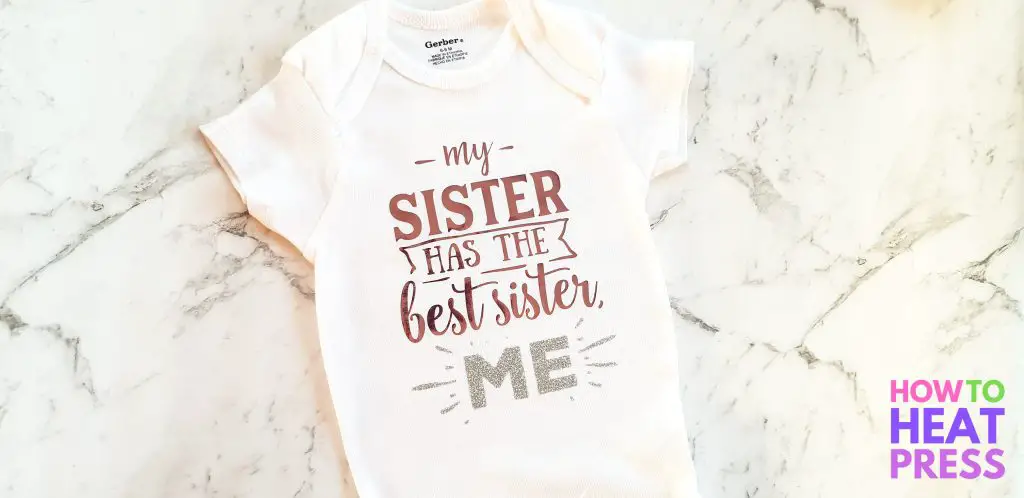 We have a ton of tutorials on how to make heat transfers using iron-on or HTV (same thing). Take a look at some of my favorites here:
Cricut Infusible Ink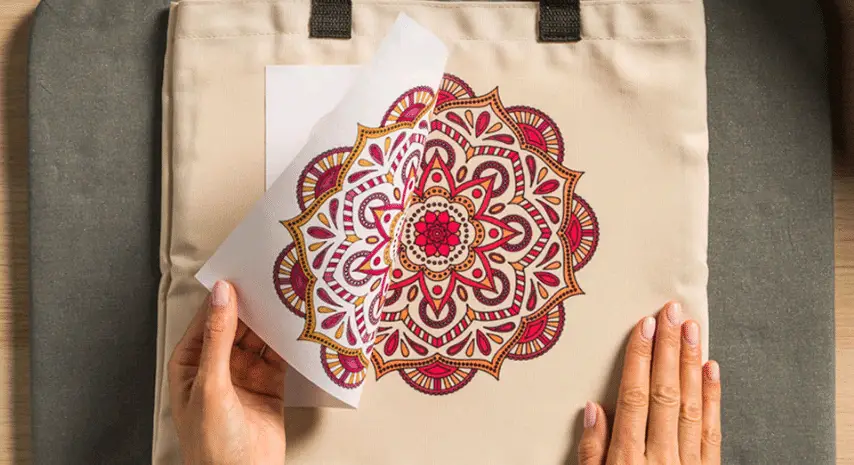 Cricut Infusible Ink is a brand new way to make easy ink transfers at home without the need for a printer!
This innovative product allows you to cut out your own designs from pre-printed transfer sheets, and apply them using the Cricut EasyPress 2 or a heat press machine (not suitable for use with your home iron).
Their is a large range of transfer sheets available, including solid color sheets, or different designs. You are also able to purchase Infusible Ink Markers which allow you to turn your (or your kid's) artwork into a heat transfer!
InkJet Transfer Paper
Using Avery Transfer Paper is another way you can make heat transfers at home. All you need for this method of making heat transfers is:
an inkjet printer
a cutting machine
an iron, EasyPress, or heat press
Once you have chosen your design, you can print it through an ordinary inkjet printer onto the inkjet transfer paper. Then using the print and cut feature with your cutting machine, you cut around the outside of the image.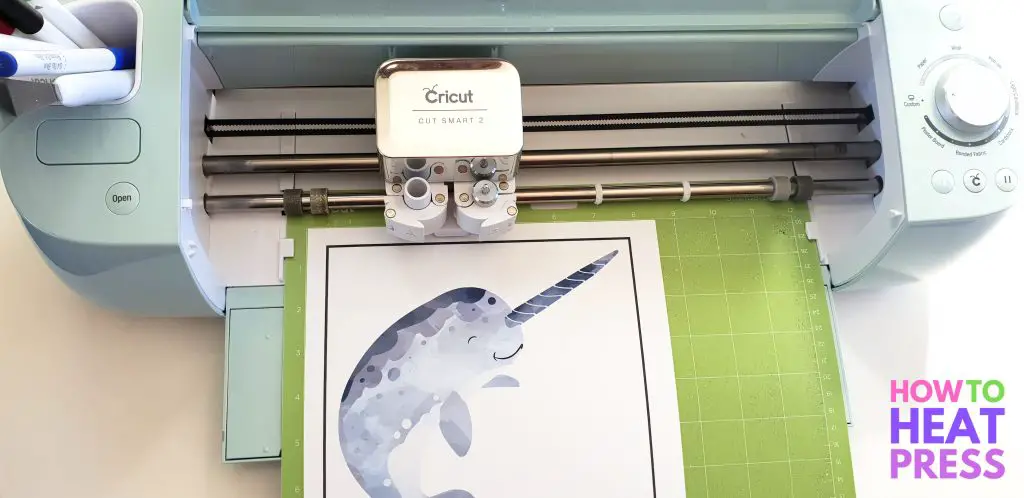 Once the transfer has been printed and cut, the backing paper is pulled away and the transfer can be positioned onto the garment. That's how to make a custom inkjet transfer – now it just needs pressed!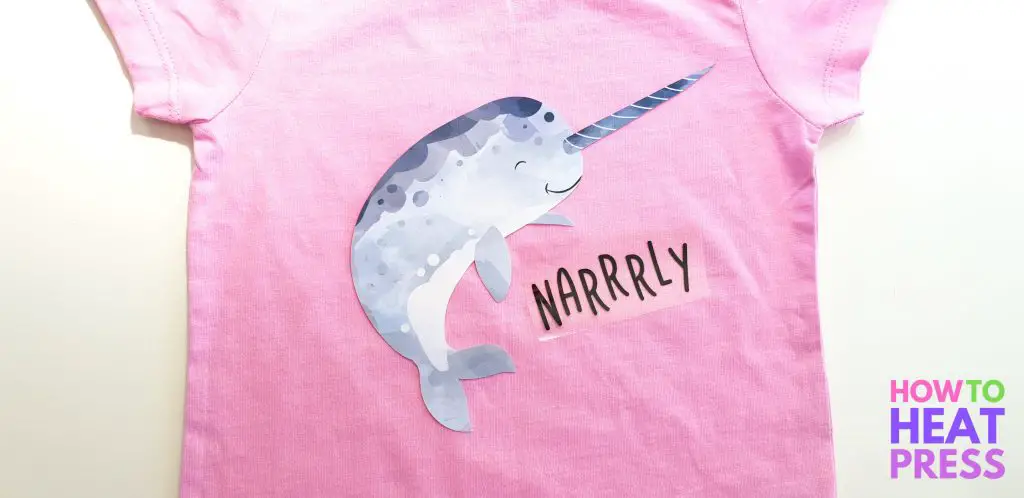 It's super easy to make these custom heat press transfers, and Avery Paper works well with an iron, EasyPress, or heat press.
And that's all there is to it! Here is the final result.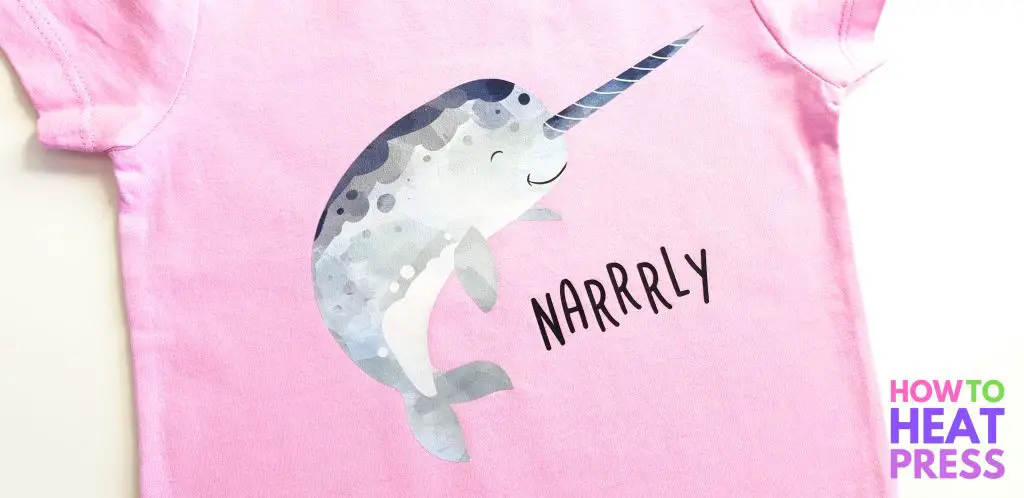 See here for the full tutorial on how to make a shirt with clipart.
Screen Printing
We recently featured a project showing how to make a heat press transfer with freezer paper stencils and screen printing ink.
These types of transfer have a different look to both HTV and inkjet transfer paper transfers. The screen printing ink colors the cotton, rather than sitting on top of it (as with the previous 2 methods).
For how to make a custom heat transfer this way, you need:
Iron, EasyPress, or heat press
Cutting machine
Freezer paper
The design is cut (with the cutting machine) out of freezer paper to make a stencil. You've got to remember to weed out the design rather than the excess in this case!
The freezer paper is then ironed into place on the t-shirt.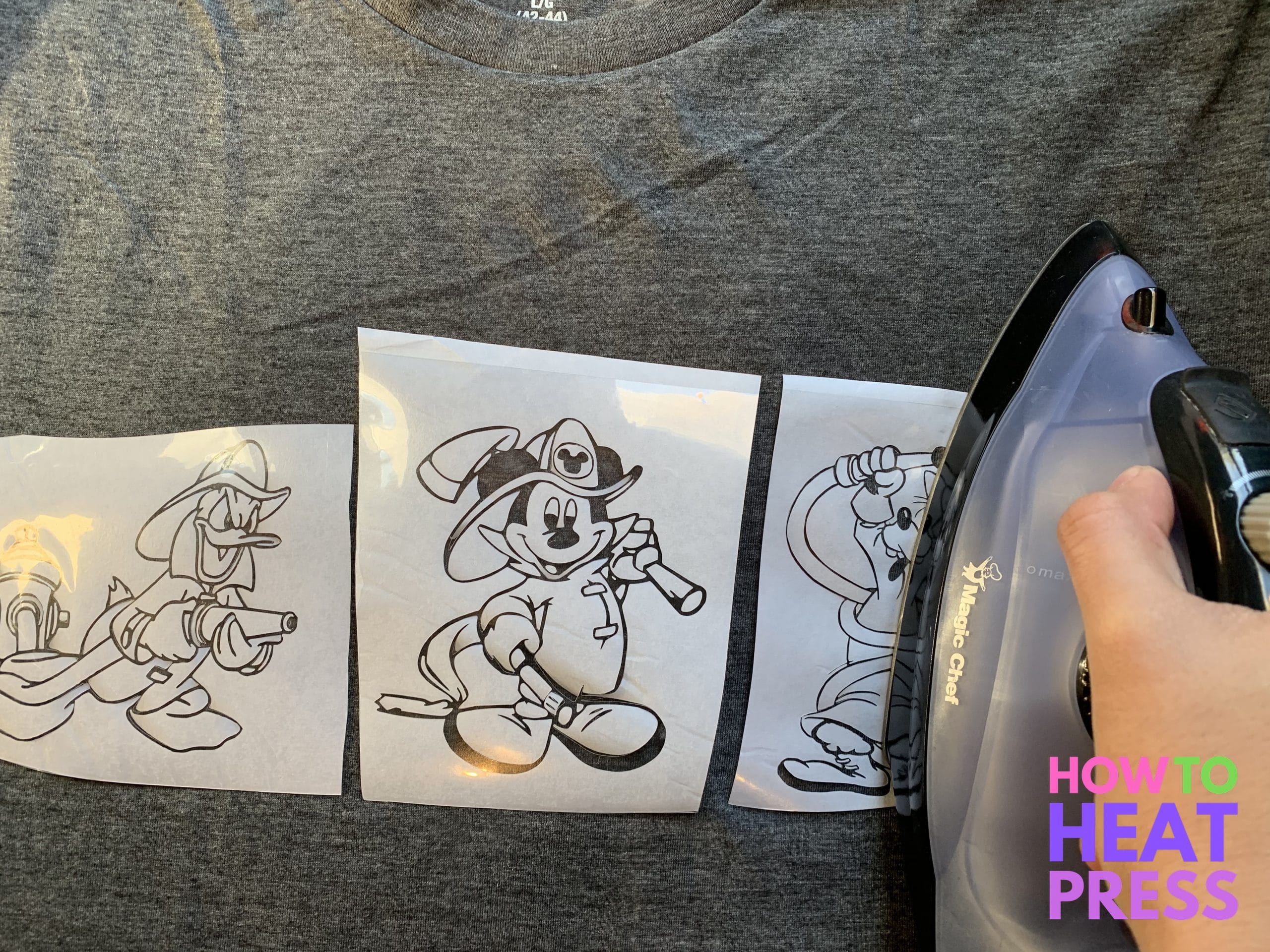 Then Speedball screen printing ink is painted over the stencil, and applied to the garment.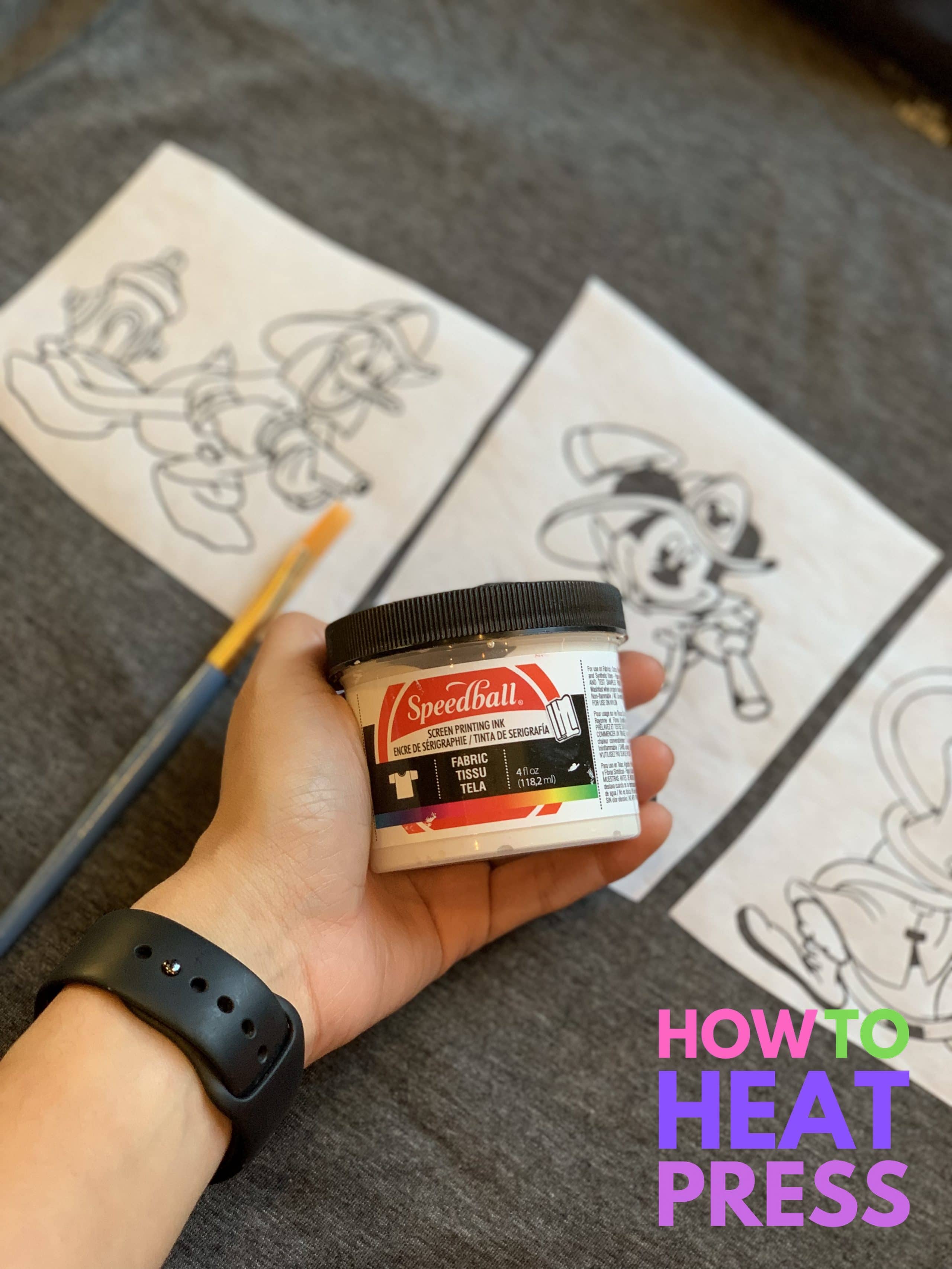 And that's how to make a custom t-shirt with a freezer paper stencil!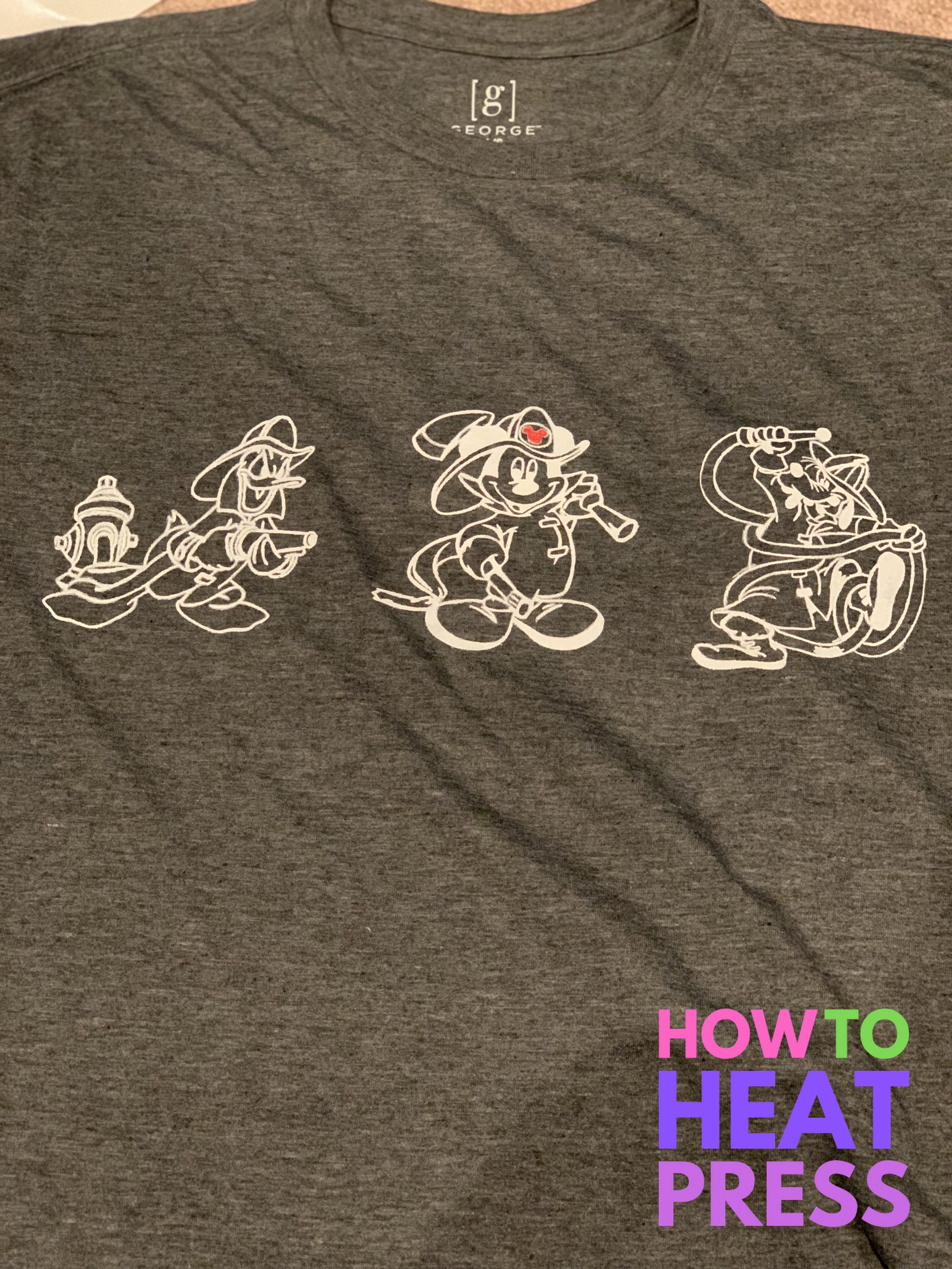 You can see the freezer paper stencil project here – with tons of other examples (make sure you check out the Storm Pooper baby onesie transfer)!
Siser Easy Subli Transfers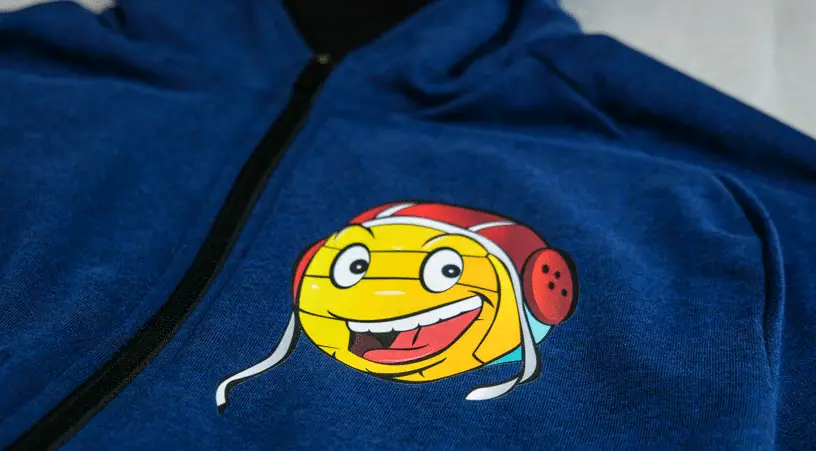 Siser EasySubli Heat Transfer Vinyl is a new and unique way to make heat transfers for business or home crafts.
It's also the best way to create sublimation transfers for dark colored garments. Usually, sublimation transfers are only for white polyester garments or blanks that have been poly coated.
This new product is an HTV that is printed on with EasySubli Inks and can then be heat pressed onto cotton & dark tees. The finished effect is a bit different from usual sublimation transfers (more info below), and the versatility is off the charts.
You need to have a sublimation printer, preferably the SawGrass SG400 or SG800, to use EasySubli Inks and HTV.
See the full range of EasySubli products over at Heat Press Nation, which includes:
Siser EasySubli sheets
EasySubli printer kits
EasySubli masks (for transferring off backing paper)
Rhinestone Heat Transfers
Another great way to make DIY heat press transfers is with Rhinestones. Rhinestone transfers transform ordinary garments into sparkling statement pieces!
To make your own heat press transfers with Rhinestones, here's what you need:
A cutting machine
A heat press or iron
A Rhinestone kit
I think Rhinestone transfers are especially fun for girls clothing – as long as she doesn't try to pick them off!
Sublimation Transfers
How to make a sublimation transfer? Now that's a little more complicated than the above methods.
In order to make your own sublimation transfers you need to have a dedicated sublimation printer set up with sublimation ink. This machine can't be used at all for ordinary printing if it is set up for sublimation.
The other difficulty is that Sublimation transfers need to be pressed with significant pressure at 400 degrees. An iron can't get hot enough for this, and while the new EasyPress 2 can reach those temperatures, I'd be hesitant to do sublimation transfers with it because it would be hard to achieve enough even pressure.
Here's everything you need to know from my favorite heat press and heat transfer supplier, Heat Press Nation.
How To Make Heat Transfers
So those are the 7 most common & innovative methods of making your own heat transfers – at least at home.
There are some other methods such as:
Plastisol transfers – a PVC based ink that is printed onto paper and pressed onto the garment
Screen printing – commercial screen printing involves screens with ink (not freezer paper!)
DTG transfers – a direct to garment transfer is printed directly onto the t-shirt
Our favorite method is definitely using all the different types of heat transfer vinyl. There are just so many to choose from and play around with, it's hard to run out of new options!
Thanks for visiting – please leave any comments or questions in the comment section below!
Pin this post!
(Please note: This post contains affiliate links. Read our full disclosure policy here.)