Siser Easy Subli Review: Sublimation On Cotton & Dark Shirts
Siser Easy Subli is finally here and we can do sublimation on cotton!
But what exactly is Siser EasySubli?
Let's find out!
Siser Easy Subli Review
User Experience

Innovative Design

Applications

Community

Value For Money
Summary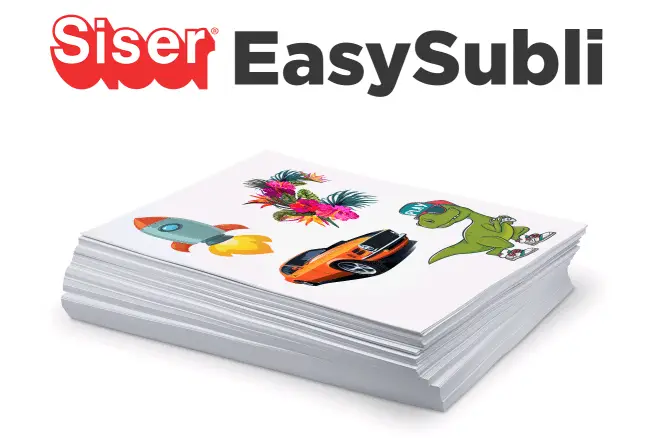 So what is Siser Easy Subli?
In a nut shell, Siser Easy Subli is a printable heat transfer vinyl that is specially designed to work with sublimation printers and inks.
The product has been formulated in partnership with SawGrass, and the ink is produced by them for use with the SawGrass SG400 & SG800 sublimation printers.
Why is it a game changer?
1. It is applied at a much lower temperature to regular sublimation transfers
2. It is pressed for a much shorter period of time
3. The Easy Subli inks can also be used on regular sublimation paper
This is a white, flat, soft HTV for making sublimation transfers that can be pressed onto a range of colored clothing and substrates. Learn more below!
Pros
Sublimate onto cotton, poly blends, colored polyester
Feels soft to the touch
Low application time and temperature
Multiple vibrant colors without layering
Siser engineered
In partnership with SawGrass
Quality inks
Easy to work with
Can be used with a home iron
Compatible with SG400 & SG800 sublimation printers
The Easy Subli sheets can also be used with regular sublimation ink
Cons
Similar to other printable HTVs and iron-on transfer papers, it sits on top of the garment
Unknown how the inks will work with other sublimation printers at this stage
Siser EasySubli & Sawgrass
For all those who have been wanting to do sublimation on cotton, the time has arrived!
Siser North America and SawGrass Technologies have teamed up to create these innovative sublimation products.
Here are the products.
Easy Subli Heat Transfer Vinyl

Create quick & easy sublimation transfers for cotton & dark shirts
1 sheet, 5 pack, 10 pack, 15 pack, 25 pack, 50 pack
Currently 8.4 x 11 inches

View Latest Price

Easy Subli Ink for SawGrass

Specially formulated for use with SawGrass sub printers & Easy Subli HTV
Can be used with regular subli transfer paper
Long lasting color vibrancy

View Latest Price

Easy Subli Transfer Mask

Used for transferring multiple parts onto substrate
Similar to transfer tape used with adhesive vinyl
Great for transferring text transfers

View Latest Price

Complete Easy Subli Kit

Everything you need to get set up with Easy Subli
SG400 sublimation printer
Inks, media, masks, tools, & video tutorials!

View Latest Price
Let's see what's so different about Siser Easy Subli!
Sublimation On Cotton
Siser Easy Subli allows us to use our sublimation printers to create sublimation transfers for dark shirts.
It can be used for:
light and dark cotton garments
light and dark polyester shirts
cotton/poly blends
even fleece!
Until now, sublimation was only for printing on white polyester garments. Also, sublimation transfers needed to be applied at high temperatures at long time periods.
Here is a 50 second run down on how Siser Easy Subli works – from Heat Press Nation.
Low Temp Sublimation Transfers
Siser EasySubli transfers are applied at only 310°F!
Usually, sublimation transfers are pressed at 400°F.
Usually, pressing sublimation transfers at 400°F really affects the garment that you are transferring onto. It is an extremely high temperature that can damage garments and other substrates.
That's why it can't be understated what an innovation being able to press sublimation transfers at 310°F is… your garments will thank you for it!
Fast Sublimation On Cotton T Shirts
Easy Subli Transfers are much quicker to press than regular sublimation transfers.
Regular transfers are generally pressed for 30 seconds, while Easy Subli transfers only need 15 seconds!
This is good because, again, your garments are not under heat and pressure for an excessive amount of time, possibly damaging them. But, perhaps even better, you're saving tons of time doing transfers in half the usual time!
How To Use Siser Easy Subli
The best way to learn and understand how to use Siser Easy Subli is to watch the process. Check out these demonstations and tutorials for the full low down.
1. Guide to Siser Easy Subli
In this first video, Rudy from Siser covers:
what you can use Easy Subli on (basically everything!)
the pros of Easy Subli
how to make a transfer using Easy Subli, the SawGrass SG400, Silhouette Cameo, & a home iron!
2. Dye Sublimation on Cotton
In this next video, Joe from Siser gives us:
an overview of Easy Subli
how to use Easy Subli with Silhouette Cameo
a bunch of Easy Subli project examples (fleece, 50/50 blends, 100% cotton…)
3. Siser EasySubli vs. Sawgrass Sublijet-HD
In this video, Heat Press Nation have compared Siser Easy Subli ink with SawGrass Sublijet ink. You can see the difference on a range of substrates (caps, t-shirts, aluminum photo panel, 100% poly tees, etc.).
The results demonstrate that SawGrass Sublijet ink is better on all the usual sublimation blanks, but, of course, Siser Easy Subli is best on cotton and dark fabrics.
The Easy Subli Inks have been formulated especially for printing on Siser Easy Subli HTV, and that is where you get the best results. It's a bonus that they can also be used for traditional sublimation.
Check it out for yourself in this short video.
EasySubli Details
Here are some further details about Siser Easy Subli that you might be interested in, or that you will need to know.
Siser Easy Subli is:
Buy Easy Subli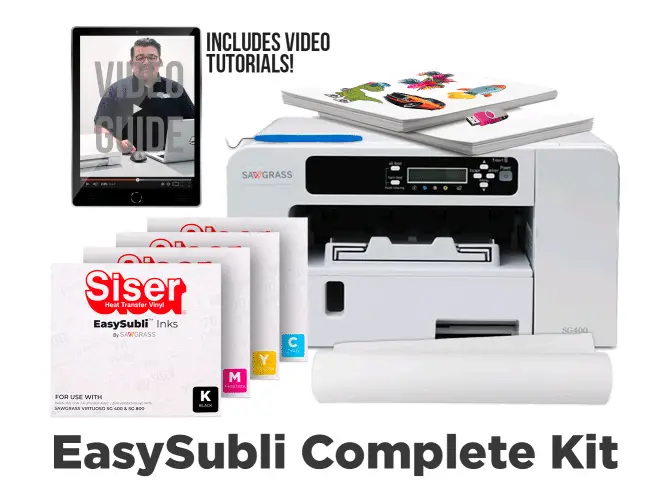 Are you ready to try Siser Easy Subli?
If you are, I can recommend the Heat Press Nation Complete EasySubli Kit. With this sublimation bundle you are getting a ton of value and everything you need to get started with Siser EasySubli.
This week we've had the release of Siser EasySubli and the annoucement of Cricut Infusible Ink – it really is the time for ink transfers!
Please leave any comments or questions down below, or head on over to HPN and ask away in the chat box on their site. Thanks for visiting!
(Please note: This post contains affiliate links. Read our full disclosure policy here.)