Cricut Printer – Do Cricut Machines Print?
This post contains affiliate links. If you use these links to buy something, we may earn a commission, but it doesn't cost you anything. Thanks!
If you're looking for a Cricut printer, you're not going to find one!
Cricut machines are not printers, they are cutting machines that can cut a huge range of materials, from leather to tissue paper. They are the ultimate edition to your craft room. While Cricut machines cannot print, they can do much better!
Cricut Printer
Cricut machines do look a little like printers, and so it's totally understandable why you might think they can print, but they do not!
You will see in the Cricut Explore Air 2 above, there are two accessory adapters. The adapter on the right is holding the standard carbide cutting blade, while the other adapter can hold either a pen, or the scoring stylus. There is no ink used in Cricut cutting machines.
The two best Cricut cutting machines are the Cricut Maker and the Cricut Explore Air 2. The Cricut Maker is the more recent and better of the two.
So while Cricut machines can't print, they can be used in conjunction with printers. Cricut printable vinyl or sticker paper can be used with the print and cut feature.
Using Cricut With A Printer
The 'print and cut' feature makes it sound like the Cricut can print, but again, it can't!
Printable vinyl or sticker paper is placed into an inkjet printer and designs printed onto it. The printed sheets are then placed into your Cricut and the machine will cut around the images or text, creating stickers!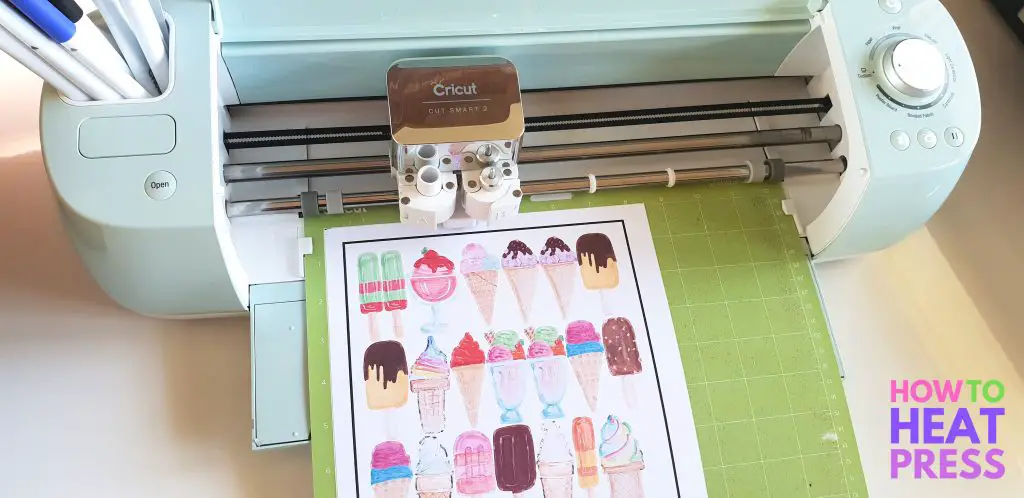 See this complete Cricut printable vinyl project here.
I hope this short post has helped you to understand what a Cricut is and what it can do. Does Cricut print? No. While you have not found a Cricut printer, I'm sure you agree, the Cricut cutting machines are still pretty awesome.
Do you think Cricut should add a printing feature to future cutting machines? They did actually have one called the Cricut Imagine which is no longer available. You can read more about it in this Cricut history!
As yet, I don't think there are any cutting machines that can print – at least not in the craft cutting machine category!
Pin it!
(Please note: This post contains affiliate links. Read our full disclosure policy here.)