Rincons 15X15 Clamshell Heat Press Machine Review – A Perfect Heat Press For Making & Selling T-Shirts
Do you want to know everything there is to know about the Rincons 15×15 clamshell heat press before purchasing? Sounds like a good idea to me. It is a joy to be able to review this one for you.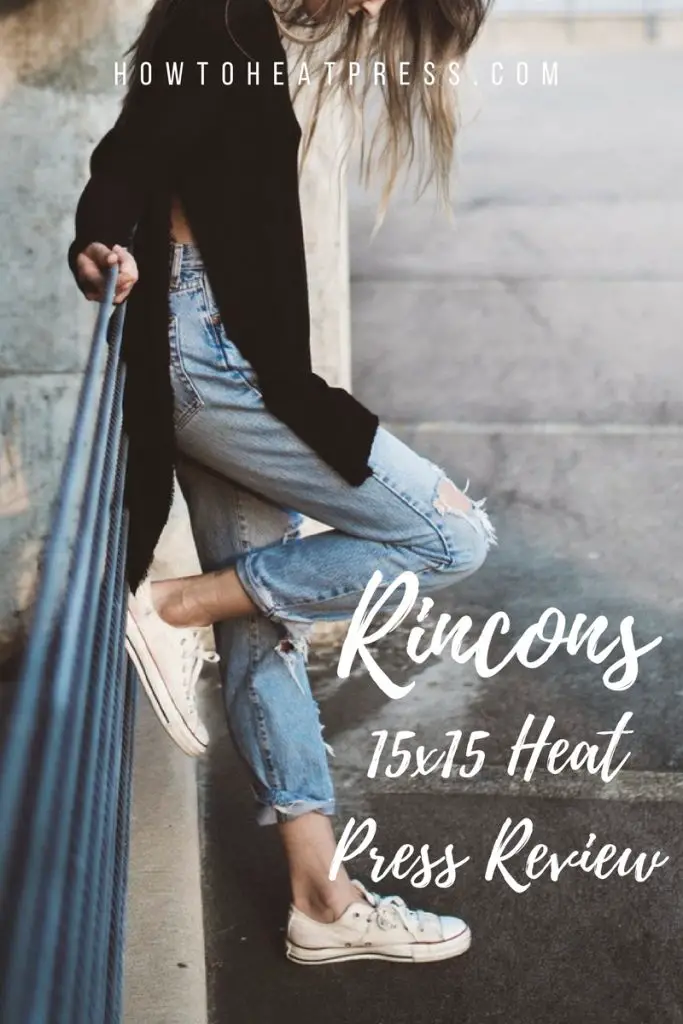 Select a heading in the contents below or continue to read our full review.
What Do Users Think Of The Rincons 15×15 Heat Press?

Owners and users of this heat press only have good things to say. At the time of writing this post, it has 14 five star reviews on Amazon. And that's ONLY 14 five star reviews. It is not worthy of anything less.
Some of the main reasons why it has been a preferred machine for so many people is because:
The machine works perfectly

The sellers have great customer service

It comes with a detailed and helpful instruction manual

It is durable and lightweight
And of course, another main reason this heat press sells and reviews well is because its users love it and recommend it. When something works well, recommendations by word of mouth build sales momentum.
What Style Is This Machine?
This is a clamshell heat press. It might be obvious, but let me just say it anyway, this type of press opens and closes like a clamshell. If you would like to know more about the different styles of heat press available – clamshell, swing-away or draw – check out our article where we have reviewed and compared them.
In a nutshell, however, clamshell presses are great as they do not need as much space to operate them. There are less moves involved in doing the press – with a swing-away, for example, you need to open the press and lift it up and then swing it away.
There is plenty of space between the bottom cushion and the top heat platen. You don't need to worry about burning your hand. Just focus on what you're doing and you can't go wrong.
Clamshells are simple and easy to use, you will be an expert in no time.
Temperature & Time
This machine has a digital time and temperature display. The temperature range is 0 – 450℉ or 0 – 232℃.
You will need to set the specific temperature for each type of transfer. Most are applied at around 300-330℉, obviously falling well within the range. The machine will beep to tell you when it has heated up to the set temperature.
The temperature setting on this machine is in farenheit, but there is a conversion chart in the instruction manual, or of course you can check conversions online.
This temperature range makes it suitable for pressing all types of transfers including:
Heat Transfer Vinyl (HTV)

Sublimation

Rhinstones

Glittered vinyl

And much more
You will also set the timer for each press. Usually this will be between 10 and 20 seconds. The machine will begin counting down once closed and it will beep when the cycle is complete – though of course you'll be able to see when it's finished with the countdown! Please note that it's not a good idea to leave your press unattended while it's in action.
Pressure Settings
The pressure is set with a knob on the top of the machine. It is not a numbered dial but one where you turn it and then judge for yourself. You cannot be totally aware of what it is set to, like with a Hix Heat Press, but with a little practice this will not be an issue at all.
If you find that your heat transfer vinyl is not adhering well to the fabric, just tighten the pressure up a bit. If you find that the press is too difficult to open, loosen the pressure a bit.
Other Specifications
Construction
This is a steel frame constructed heat press. It is solid and sturdy without being overly heavy.
Weight
It weighs in at about 55 lbs and is therefore slightly more portable than many other presses. Make sure you get a hand from someone if you think that lifting it might put your back out!
Input Voltage
Input voltage is standard 110 – 120. It is best to use this machine plugged into its own socket. This is so that you don't blow a fuse from having too many devices going off the one socket.
What Else Does This Press Come With?
Well, not a whole lot! Just a teflon sheet to cover your t-shirt and transfer during the press. This will protect your top platen from getting any transfer on it in the case of an accidental wrong-way-up transfer. You might like to get some spares as well. It's good to have a few on hand.
The following video is not of the best quality, sorry, but it is informative and will give you a good look at the Rincons Heat Press in action.
Where Is The Rincons 15×15 Heat Press Made?
It is made in China – but this doesn't need to be a negative! In fact, it's a positive. The manufacturers know what they are doing – trust me, they can make a heat press – but they can produce the product far cheaper in China.
You are essentially getting the same machine you would if it were produced in the US, but it's much cheaper! It's basic economics – labour is cheaper in China so why not make the most of it?
The other reason its place of origin should not matter to you is because Rincons is a California based business. They sell a great product at a great price and are there to support you should anything go wrong with your machine.
Warranty
If purchased through Amazon, this machine comes with a 1 year warranty. If bought directly through the seller it could be less than a one year warranty. Though, if the Amazon comments are anything to go by, you aren't going to need it!
Instruction Manual
This press comes with an instruction manual. This might sound like a no-brainer, but believe me it's not! Many heat press machines do not come with manuals and users have to spend hours scouring the internet looking for information on how to use their machine.
This machine not only comes with instructions, it comes with good instructions! They are understandable and helpful. They fulfill their purpose of teaching you how to setup and use your new machine.
Many purchasers have been over the moon about this seemingly insignificant detail.
Price Of The Rincons 15×15 Heat Press
Click here to view the Rincons 15×15 clamshell heat press machine on Amazon.
Rincons Contact Details 
Address: 11297 Iris Ln, El Momte, CA 91731
Phone: 626-308-0826
Website: www.rinconsheatpress.com
Email: rinconsheatpress@yahoo.com
Contact: http://www.rinconsheatpress.com/contact.html
Thanks for reading this article, we hope it has answered all of your questions. Please comment with any other questions you would like us to answer.
Happy pressing!
(Please note: This post contains affiliate links. Read our full disclosure policy here.)