Different Heat Press Styles: Clamshell, Swing Away or Draw?
This post contains affiliate links. If you use these links to buy something, we may earn a commission, but it doesn't cost you anything. Thanks!
Let's take a look at the different heat press styles: Clamshell, Swing Away, and Draw!
In this article we discuss the pros and cons of five different styles of heat press. It's an important consideration when you are buying a heat press machine!
The Best Heat Press Style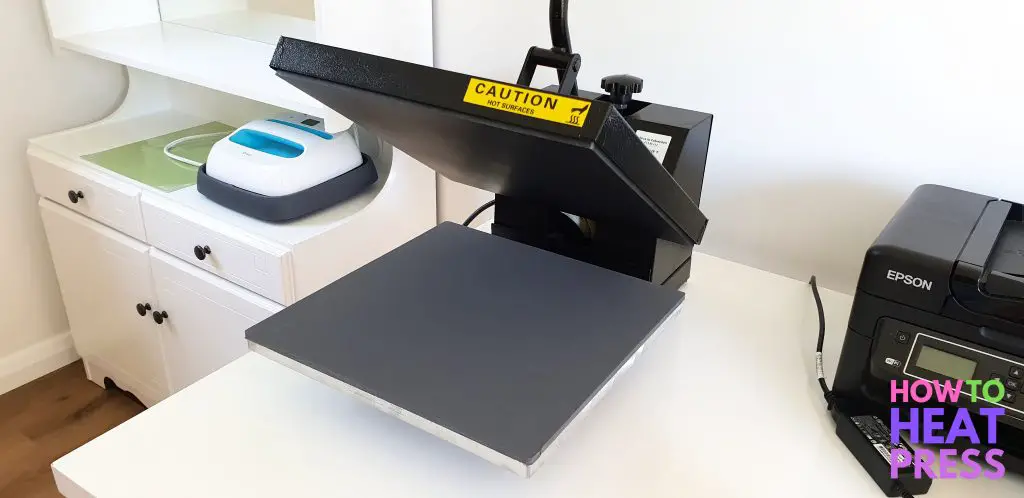 Like all things, each heat press style has its own pros and cons. You will need to consider your personal circumstances to know which suits you best.
Here are some questions you need to be asking yourself:
How much space do I have to access and use my machine?

Which style has the features I need?

What is my budget for a heat press?

Which style do I think looks the best?
Other questions you might be asking are:
Will the pressing ability differ from one style press to another?

Is one style more physically difficult to use than another?

Is one style more difficult to learn how to use than another?

Will one style of press last longer than another?

Is one style more prone to mechanical problems than another?
Let's find out the answer to all these questions, and more, starting with a relatively new style to the market: EasyPress Style!
The Cricut Heat Press

The Cricut Heat Press is a unique heat press style. It's something of a combination iron and heat press!
The EasyPress is the best heat press style for many people:
those doing infrequent heat transfers for family and friends
if you do not have a lot of room
when you like storing everything away
if you want something that's quick and easy to use
The EasyPress has a single heat plate that is applied onto the heat transfer. Pressure is then applied manually. It has a digital time and temperature display setting.
We have multiple EasyPress and heat press machines, and use different machines depending on what we're doing. For example, if we're only pressing a single t shirt, more often than not we'll use the EasyPress. It heats up quickly and there's no fuss.
EasyPress Pros & Cons:
Pros:
different sizes & colors to choose from
compact & easy to store
reaches 400°F – suitable for sublimation
reasonably cheap
Cons:
must manually assert pressure
largest size is still smallish at 12 x 10 inches
Clamshell Heat Press
Clamshell style heat press machines, such as the MPress from HPN, are probably the most common style of heat press – especially for beginners.
Not that the Clamshell style is less advanced than a Swing Away, but perhaps they are cheaper to manufacture and therefore make a better entry level machine.
Let's take a look at the pros and cons.
Clamshell Pros & Cons:
Pros:
Many affordable heat press machines

Don't take up as much space as swing away style machine

There is less involved mechanically with a clamshell
Cons:
More difficult to lay out t shirt & transfer if the machine doesn't open wide

Some cheaper clamshells come down unevenly & pinch the transfer
There are very cheap intro Clamshells like the popular PowerPress heat press, mid priced machines in the HPN Signature Series range, and more advanced US made Clamshells for business.
This video gives a good demonstration of how to use a basic manual clamshell heat press:
Swing Away Heat Press
The Swing-Away style heat press opens and closes up and down. Once open it can be swung away to the side (usually to either side, but depends on the specific press).
Swing Away Pros & Cons:
Pros:
there are many cheap swing-away style presses availablet

as the top heat platen swings away, allowing you to work more freely

there is more work room when laying out your garment and transfer

there is less chance of burning yourself

easy to learn how to use
Cons:
this style requires a bit more space for the swinging platen

because of all the swinging, every now and again you might need to tighten the odd screw
This video gives you a look at how a swing-away heat press works:
Draw Heat Presses

This style is also known as the 'pull out' style because you can pull out the lower platen in order to arrange your garment. This allows many of the same advantages as the swing-away style, such as the ability to work more freely, though it is basically a clamshell press with a pull out bottom.
There are cheaper draw heat presses, like the HPN Craft Press pictured (the cheapest draw press I know of), and more expensive machines such as the Hotronix Fusion 16 x 20 combination swing-away and draw.
Draw Heat Press Pros & Cons:
Pros:
work area pulls out from under the top platen giving plenty of room to lay out your garment

hands are kept safe from the heat of the top platen

often these machines allow you to slip your t-shirt over the draw – means you're only pressing the side receiving the transfer
Cons:
Costs a bit more

As with the swing-away press, you may need a bit more space in order to pull out the bottom level
This video demonstrates how a draw heat press is used:
Auto Open Heat Press
Auto Open machines are generally clamshell style, and they open automatically once the time countdown has completed.
There are semi-auto machines, like the HPN Black Series machine pictured above, or there are fully-auto machines which will also close at the press of a button. Insta Heat Press Machines are an example. The latter require air-compressors and can be quite a bit more expensive.
Auto open machines are very good for business use, as it allows you to carry on working while the heat press does the work!
Auto Open Pros & Cons:
Pros:
save time by not needing to open the press manually
peace of mind you won't over heat your transfers
combined with quality clamshell style
Check out this Auto Open Hotronix demonstration:
Heat Press Styles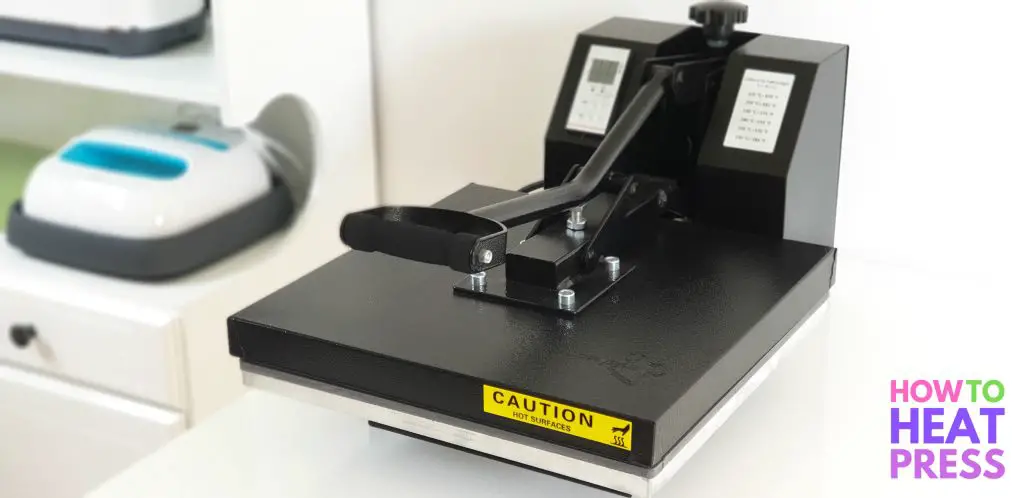 So where does this leave you if you're new to the game?
The clamshell style press is a great starter style. They are very easy to use and are best sellers on Amazon. The PowerPress heat press is a popular machine (which we also have), and is good for beginners.
However, the style of press is not all that important. It's all about what works for you!
I recommend going with the:
machine you think you'll be most comfortable using

style you like the look of the best

heat press which suits your price range
Good luck!
Thanks for checking out our article on heat press styles. We hope you found this helpful! Leave any comments or questions below. 
(Please note: This post contains affiliate links. Read our full disclosure policy here.)