HPN Signature Series Heat Press Review!
This post contains affiliate links. If you use these links to buy something, we may earn a commission, but it doesn't cost you anything. Thanks!
HPN Signature Series Heat Press Machines are a quality mid-range priced heat press.
These machines are great for advanced small business and come in a range of style and price points. They are a step up in quality from the HPN Mpress and Black Series heat press – let's take a good look at the range and see if they're right for you!
*The NEW Signature Pro range has just been released – this post will be updated shortly!
Signature Series Heat Press Machines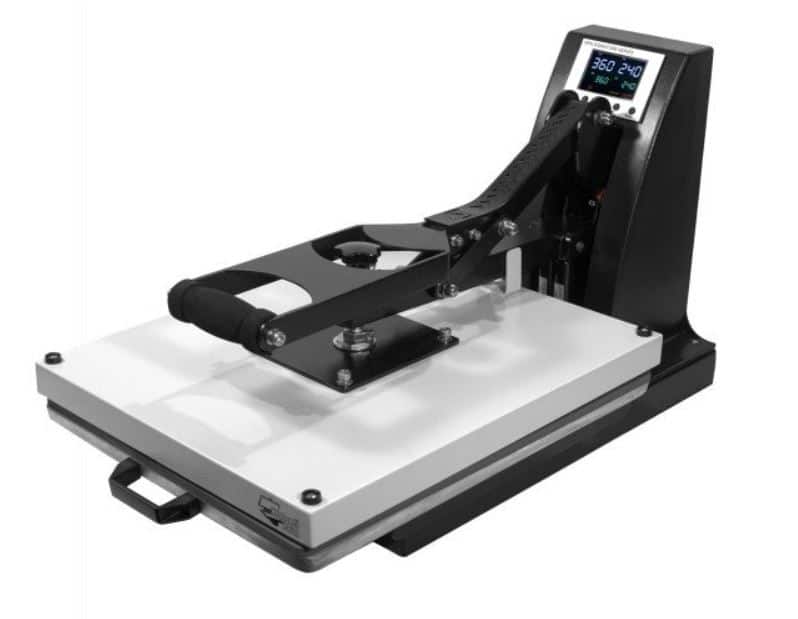 Within the Signature Series Heat Press range, perhaps the most popular machines are the draw style t shirt presses.
You'll see in the table below that the Signature Series range also has a Swing Away style press in a range of sizes and a multifunction heat press option.
The draw style presses are great because they are so much easier to work with. You are able to layout your garment and heat transfer without any obstruction from above.
Other great features of the Signature Series Range include:
Optional Auto Open feature
Gas Shock Opening Mechanism for smooth use
Improved heating elements for faster heat up
We'll get into more of the features below, but first, let's take a look a what's available!
Sig Series 15 x 15

15" x 15" presses available as manual or auto open
Many versions have slide out draw feature
Gas shock opening mechanism

View Latest Prices

Sig Series 16 x 20

16" x 20" presses available as manual or auto open
Clamshell drawer style and others
Great size for pressing large t shirts

View Latest Prices

Sig Series 16 x 24

16" x 24" press available as manual or auto open
Slide out drawer style heat press
Press items up to 1/2 inch thick

View Latest Prices

Sig Series Swing Away Heat Press

Many different swing away sizes
Exclusive secondary leverage handle
Improved pressure adjustment

View Latest Prices

Sig Series 8 in 1 Multifunction Press

2 different t shirt press sizes: 12 x 15 or 15 x 15
Quality multifunction heat press
T Shirt, cap/hat, plate, bottle, mug, press

View Latest Prices

Sig Series Cap/Label Heat Press

Dedicated cap or label press, or combo cap/label press
3.25 x 5.5 upper platen on cap press
6 x 8 label press platen

View Cap PressView Label PressView Combo Press

Sig Series Sublimation Mug Press

Single, 2, 4, or 6 mug/cup attachment sizes
For a range of mugs, shot glasses, bottles, tumblers, etc
Grade A heating element

View Latest Prices

Sig Series Automatic Mug Press

For 11 ounce sublimation mugs
Fully auto open & close
Perfect for sublimating mugs

View Latest Prices
Heat Press Nation
There are other benefits which come along with shopping at Heat Press Nation.
HPN's Signature Series Presses also come with the following features & add ons:
In house testing before shipping
A 1 year parts & service warranty
Free lifetime tech support
Awesome supporting content (tutorials, hows to guides) on YouTube
And there is a fantastic HPN Creators Facebook Group which you should join, even if you haven't bought a press yet!
The Signature Series Press can apply the following types of transfers (though obviously you won't be doing some of these with a mug press):
Heat Transfer Paper
Heat Transfer Vinyl
Sublimation
Rhinestones
Embroidery Patches
Plastisol
Curing screen printed t shirts
And they can press onto a wide range of garments and other substrates. With the ability to press items up to a 1/2 inch thick, you'll be able to press all sorts of sublimation blanks!
Which Signature Press Is Best For You?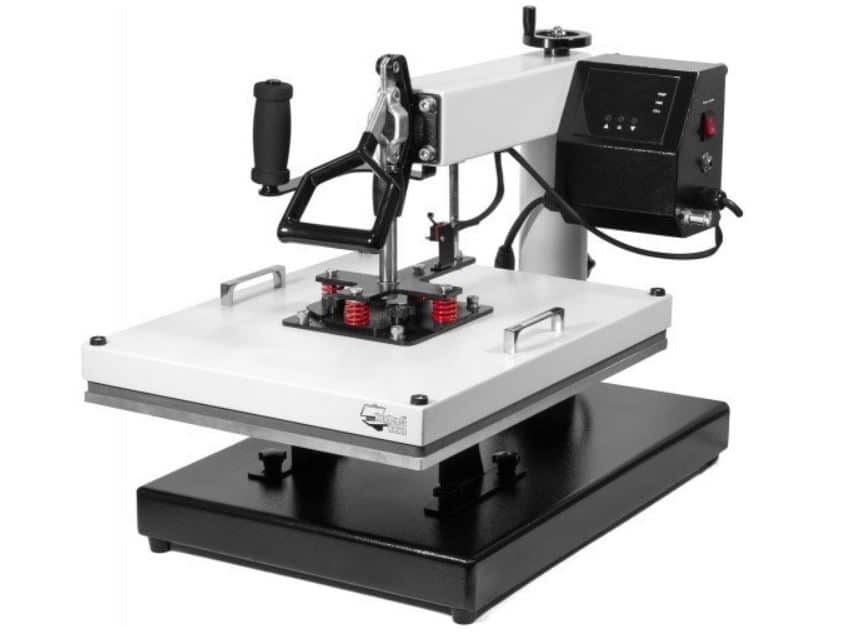 As mentioned above, the slide out drawer presses are among the most popular. And, if you were thinking of going that route, I'd definitely recommend the Auto Open option.
Auto opening heat press machines are better, especially for business, because you don't have to waste time waiting! You can be setting up your next t-shirt, and not have to worry about opening the machine when it's finished.
I always hear people say that once they went auto open, they could never go back. And with the auto opening Signature Series machines, the price difference is negligible.
The swing away style press comes in three sizes and is great for people with plenty of room. A lot of people just prefer a swing-away press to a clamshell or draw style machine.
One of the benefits of swing-away machines is that they come down directly upon the transfer, rather than hitting the back first and pinching down, as a clamshell tends to do.
If you are really unsure whether you should get a Clamshell or Swing Away, watch the following video featuring Signature Series machines!
Signature Series Multifunction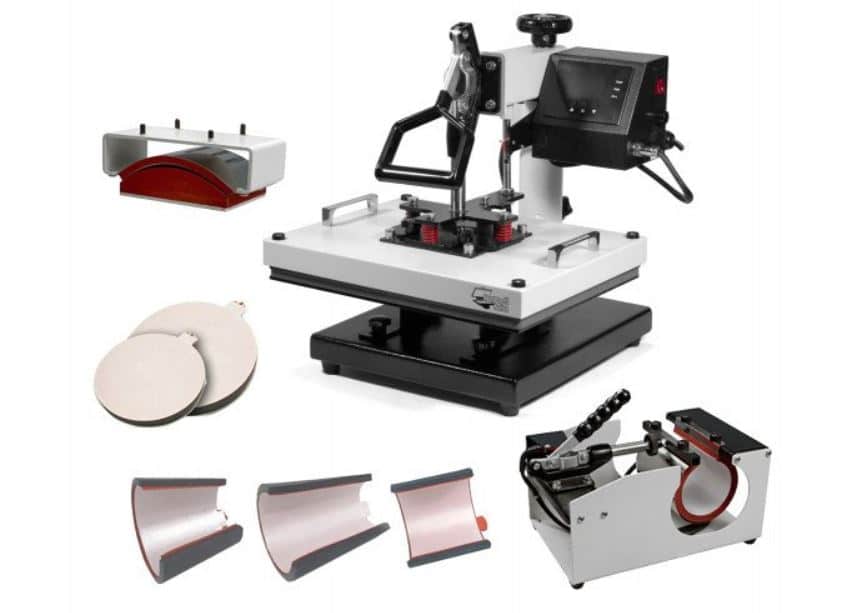 Multifunction heat press machines are another option altogether, and they can be perfect for those wanting to do a bit of everything.
Often, the attachment presses aren't quite as good as if you were to get a standalone machine, especially if you're going for a cheap one off Amazon. However, in the case of the Signature Series Multifunction, I think you're pretty safe.
Both the machines are a 8 in 1 multifunction with the only difference being the size of the t shirt press. One with a 12 x 15 inch platen, and the other 15″ x 15″.
For business purposes, it would almost always be better to go with a 15 x 15-inch heat press – unless you were exclusively pressing baby onesies or something like that.
Signature Series In Action
In this tutorial, you can see a sublimation transfer being pressed onto a rewards plaque using the HPN Signature Series Swing Away Heat Press.
In this next guide, Jared and Britney have used their sublimation printer to create a transfer to be pressed with the Signature Series 6 in 1 Mug Press.
For more of these awesome tutorials, make sure you follow HPN on Facebook and on YouTube!
Thanks for visiting, we hope this has helped you to choose which Signature Series press is best for you!
(Please note: This post contains affiliate links. Read our full disclosure policy here.)