My First Christmas SVG Project – Baby Onesie With Siser Glitter HTV
I've got a friend's little bub coming up to her first Christmas, so she's in need of a new Christmas baby onesie.
We're in New Zealand for Christmas, and so believe it or not, a baby onesie will probably be all she's wearing! The 25th of December will be the middle of summer, and Christmas is usually very hot and sunny there.
My First Christmas Onesie With Glitter Iron On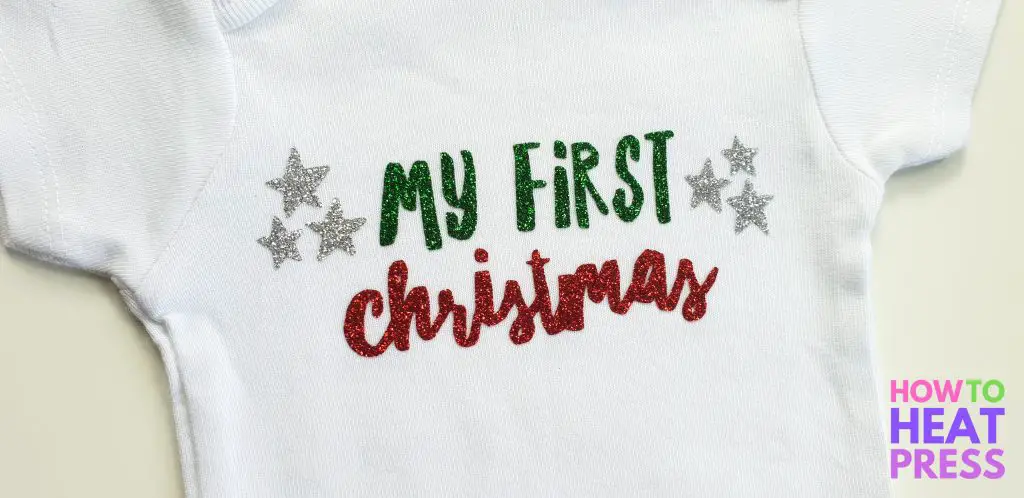 I'm using this My First Christmas SVG from Creative Fabrica and I'm cutting it with Siser glitter heat transfer vinyl. There are some more paid and free 'My First Christmas' SVGs at the bottom of this post.
My First Christmas SVG Project
I downloaded my SVG file and uploaded it to Cricut Design Space. Now I'm going to change the colors of my design and choose what size I need it to be. I'll make my design about 5 inches wide for my baby onesie.

After choosing the size and colors, I can take a look at the design in the mat preview. Since I'm using heat transfer vinyl (iron on) on my onesie, I'm going to mirror all of the mats. My Cricut will cut it out in reverse, and when I transfer the design onto the garment, it will appear the right way around.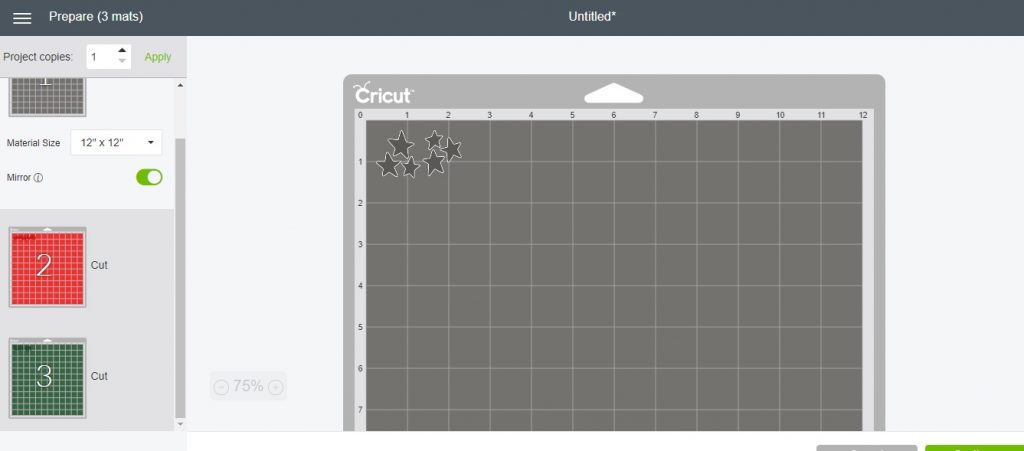 To cut Siser glitter HTV I have set the dial on my Cricut Explore Air 2 machine to 'custom', and have selected 'glitter iron on' from the materials listed. Now I'm all ready to cut.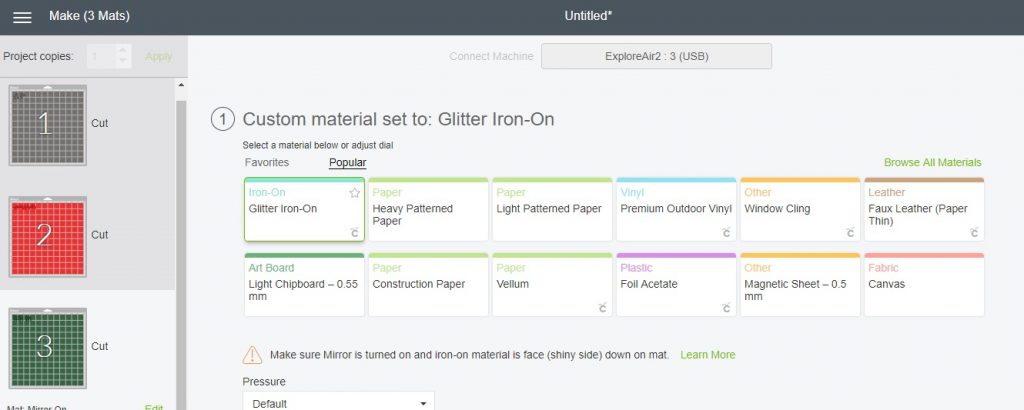 I've placed my Siser glitter HTV shiny side down (carrier sheet facing down) on my standard mat.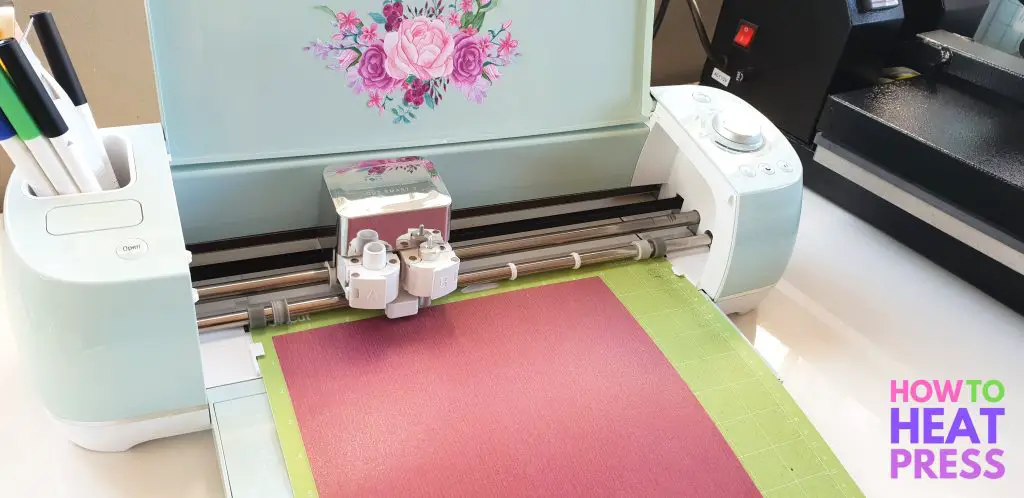 It is really hard to see the cut lines in glitter HTV, since it is so glittery! Although I didn't in this project, I recommend you use weeding boxes around your designs. This will make weeding easier, especially if you have small and intricate designs.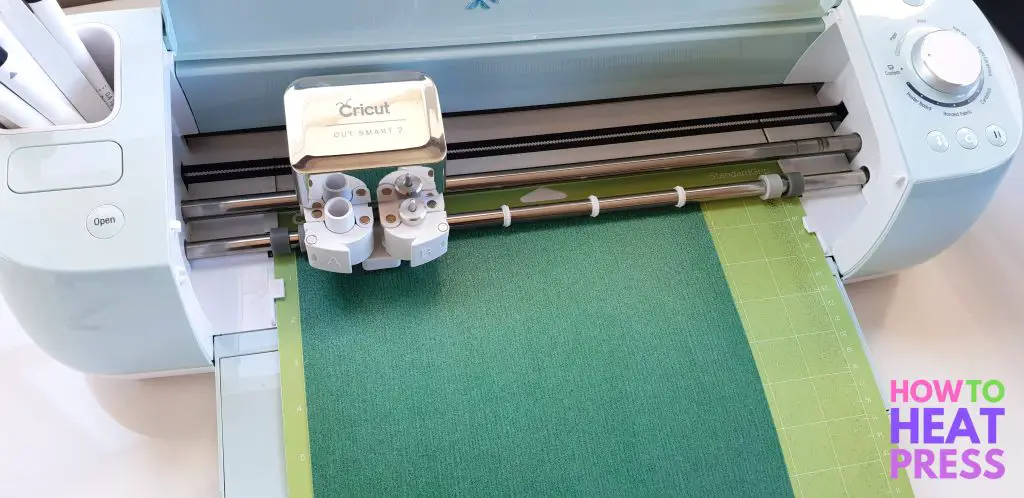 Now I'm going to weed all the different colored pieces in my design with my Cricut weeder. Glitter heat transfer is so pretty that I hate having to waste any of it!!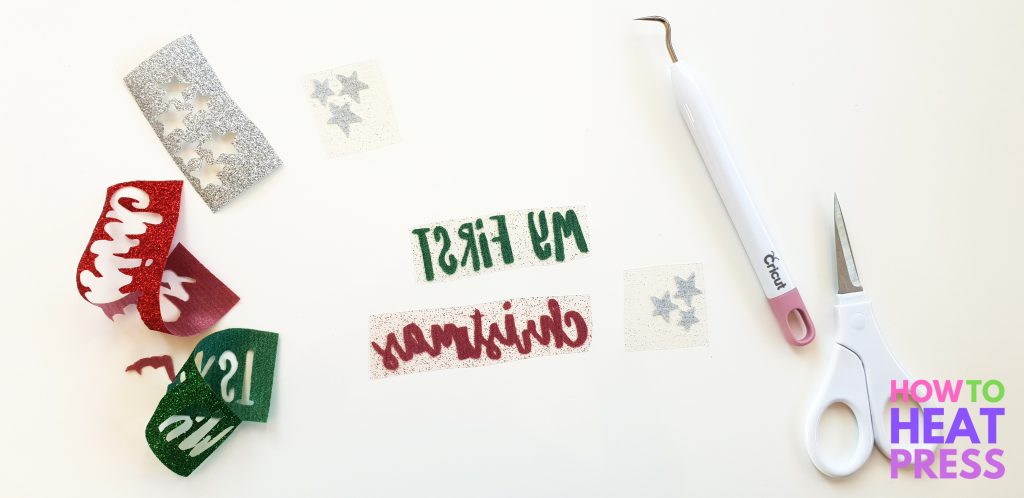 Next I turned on my Power Press heat press, set it to 320°F, and waited a few minutes for it to reach temperature. Then I pre-pressed my baby onesie for a couple seconds to remove any moisture and wrinkles from the garment.
I also folded my onesie in half and pressed it for another couple seconds, so that a line would be pressed down the middle of the onesie. This will help me line up my transfer.
If you have one, or you are able to buy one, it's best to use a heat press pillow within your garment. Especially for smaller garments like baby onesies.
Placing a heat press pillow within the baby onesie will raise the area that is being transferred onto, which will allow for better pressure. Otherwise, the press will put more pressure on any seams, domes and pockets rather than applying adequate pressure onto your transfer. Use heat press pillows for pre-pressing as well.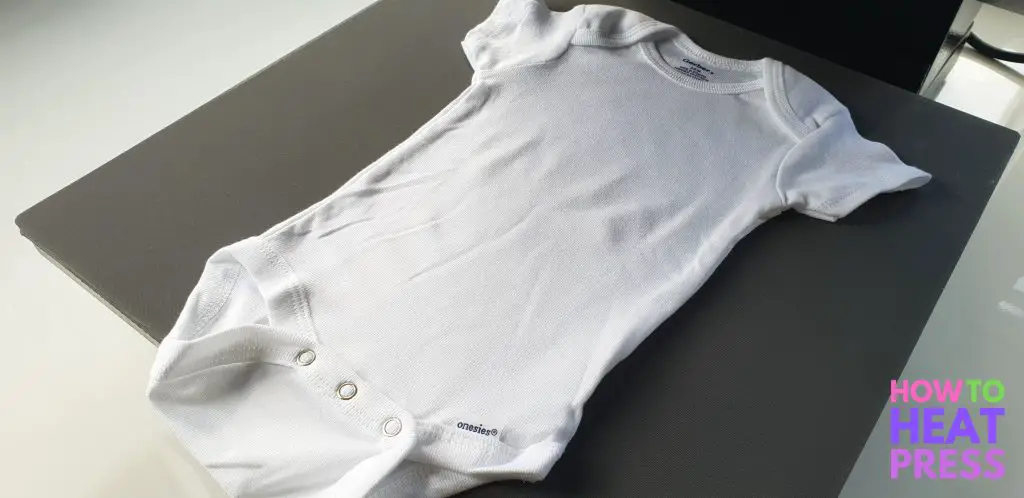 Starting with my first line of text, I folded the carrier sheet in half. Then I matched up the fold in the carrier sheet with the center line on my baby onesie. I repeated this step with my second line of text, so that I knew my design was perfectly positioned in the middle of the garment.
I usually place my designs about 3 fingers down from the collar. Now I'm all ready to press it.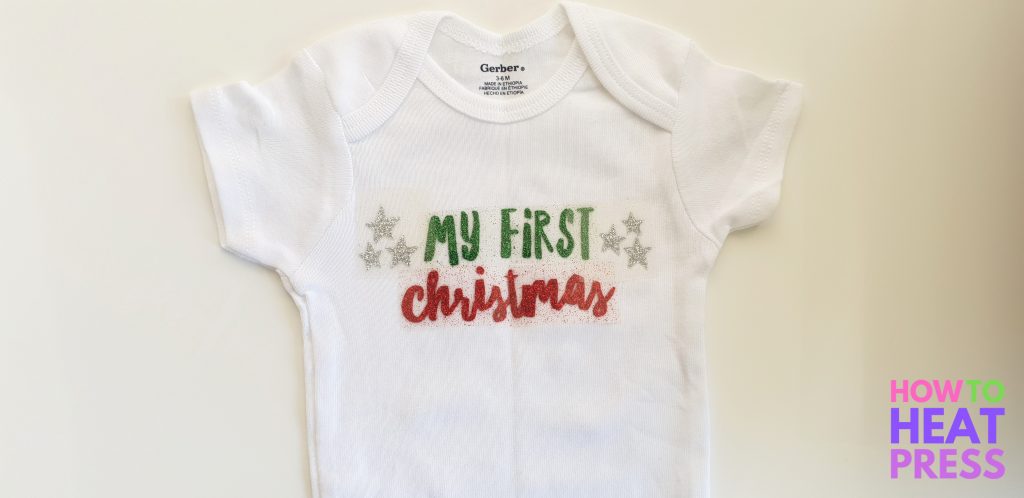 I placed a teflon sheet over my design to protect it from the press, and then pressed it at 320°F for 15 seconds with firm pressure. Siser recommends 15-20 seconds for glitter heat transfer vinyl.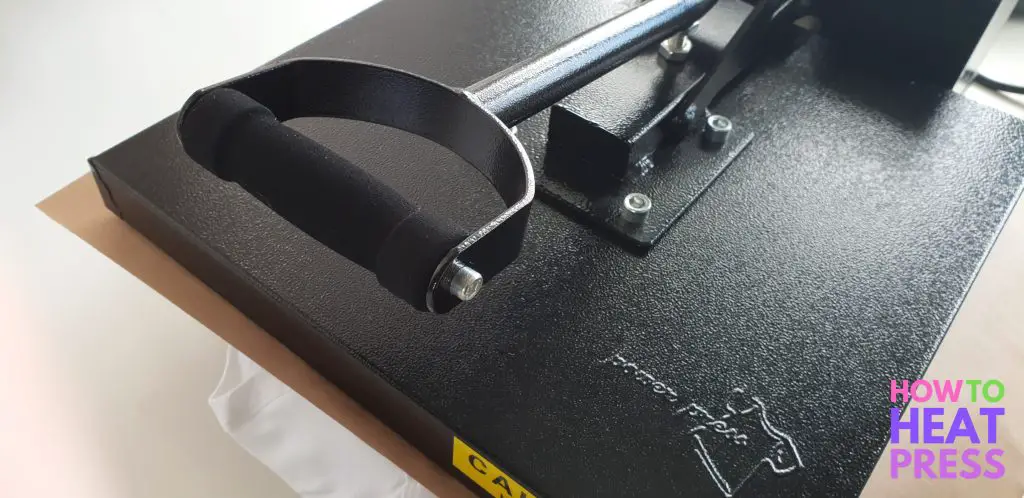 After 15 seconds I removed my garment from the press and let it cool for a few seconds, as Siser glitter is a warm peel. I like to remove the carrier sheet, and then press it for the remaining 5 seconds without it, so that I know it is well adhered. If you remove the carrier sheet, make sure you use a teflon sheet if pressing it again.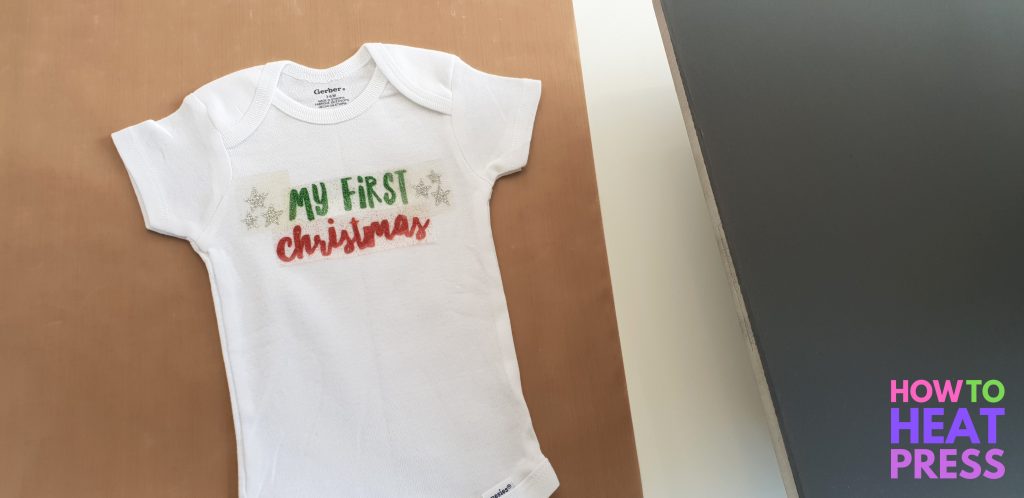 All done – what a fun custom gift this is! I think I'll be making a few more of these – maybe even matching toddler and baby shirts for my two girls.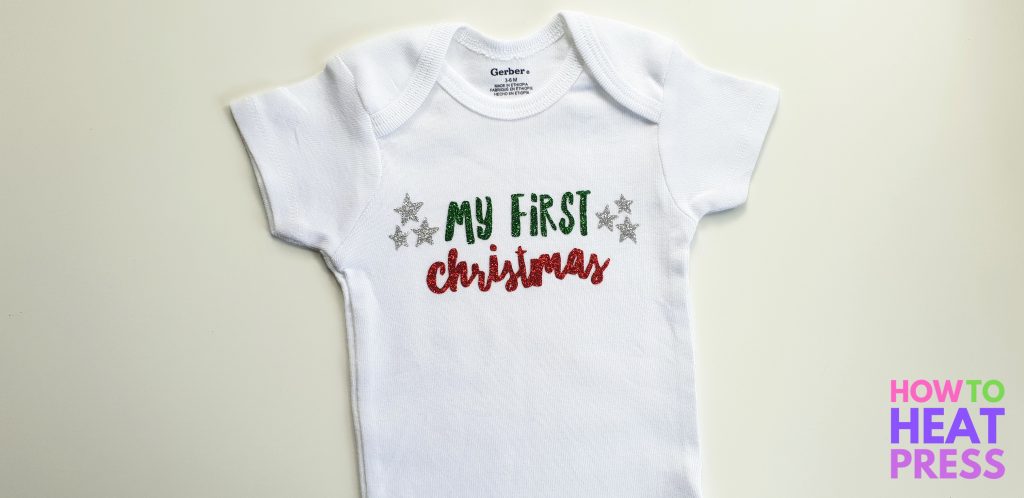 I love Siser glitter – perfect for Christmas time!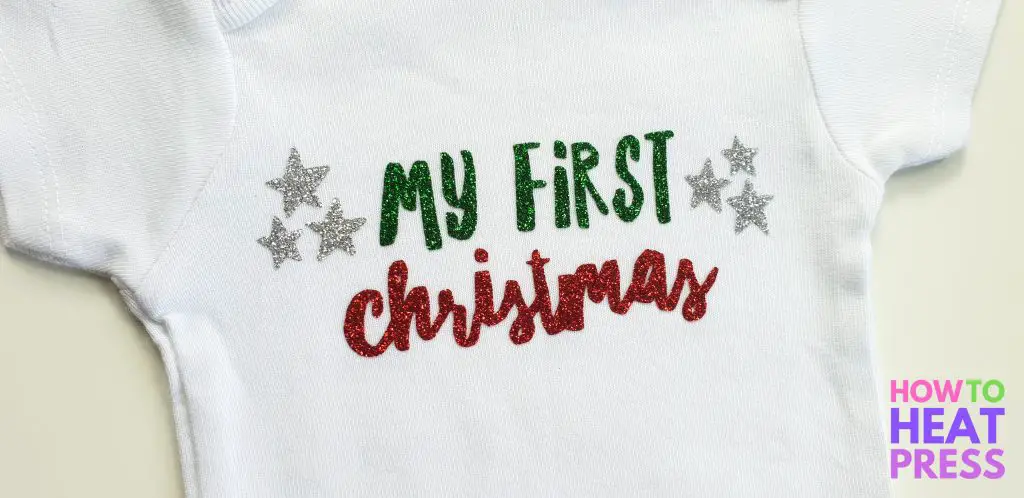 My First Christmas SVGs
Check out these other 'My First Christmas' cut files:
Or there's my other Siser Glitter HTV project here – for those who enjoy a bit of Mary Poppins!
Pin this post! 🙂
(Please note: This post contains affiliate links. Read our full disclosure policy here.)