How To Convert JPEG To SVG In Inkscape
This post contains affiliate links. If you use these links to buy something, we may earn a commission, but it doesn't cost you anything. Thanks!
How can you convert JPEG to SVG in Inkscape for use in Cricut Design Space?
That's what we're going to share with you in this post. We're making Peppa Pig 'color me t shirts' by converting a coloring page in Inkscape into a cuttable SVG for Cricut!
Convert JPEG To SVG In Inkscape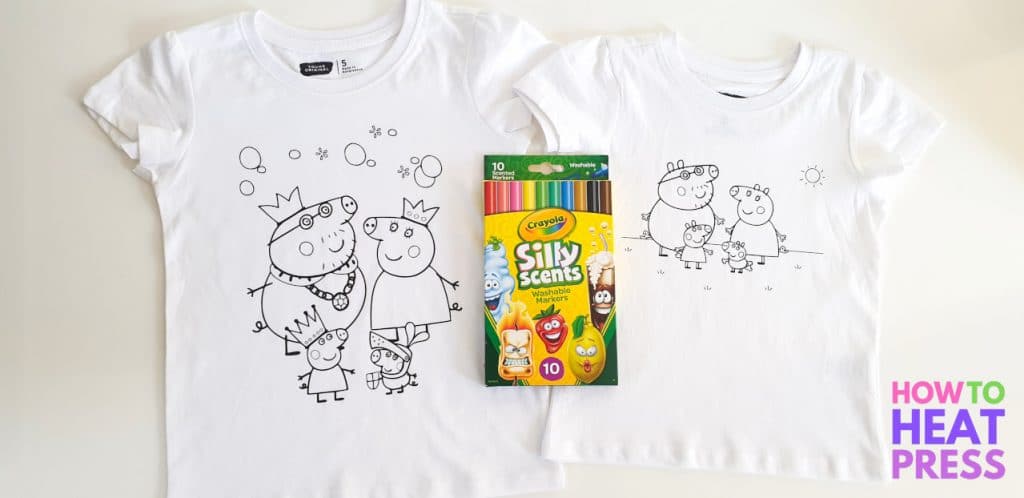 We found and downloaded a Peppa Pig coloring page that was perfect for this coloring shirt project. These files are usually JPEG, so we need to convert it into an SVG to use with the Cricut Maker, and we're using Inkscape! FYI there's really no difference between a JPEG and a JPG file, so don't stress and know that this method works for both!
Inkscape is a free design software that has far more features than Cricut Design Space. It offers better customization and design options when it comes to preparing SVGs for Cricut. We're focusing on the Trace Bitmap feature in this post.
If you've used Design Space (or other design software), then you will already be familiar with many of the features in Inkscape, they just have different names!
The Trace Bitmap feature isn't available in Design Space, and is well worth learning about. You can use this feature for so many different kinds of projects!
Inkscape Trace Bitmap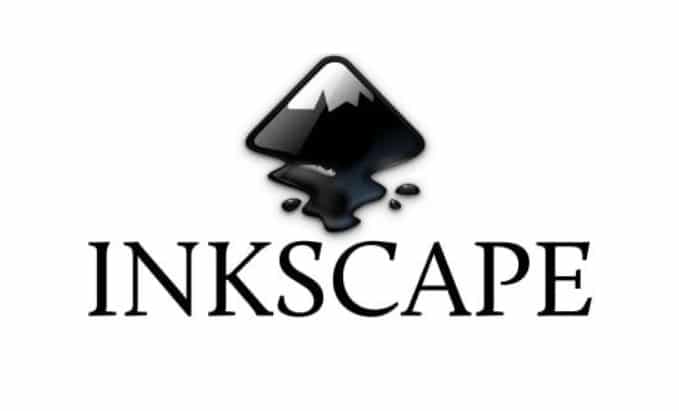 What is Trace Bitmap in Inkscape?
The Trace Bitmap feature copies, or traces an image and converts it into a cleaner, more usable SVG cut file.
Sometimes you can convert JPG images into SVGs in Design Space, but usually only with very simple images with little to no detail. Trying to convert a complex image in Design Space would mean A LOT of cleaning up of the image.
Inkscape on the other hand, converts your image into an SVG instantly, with barely any work on your part.
Inkscape Vs Design Space
I'm going to share some screenshots below showing this process in Design Space.
After you have uploaded your JPEG image, you have to spend a long time removing every piece of background. This is OK if you're image is very basic, but not with an entire coloring page!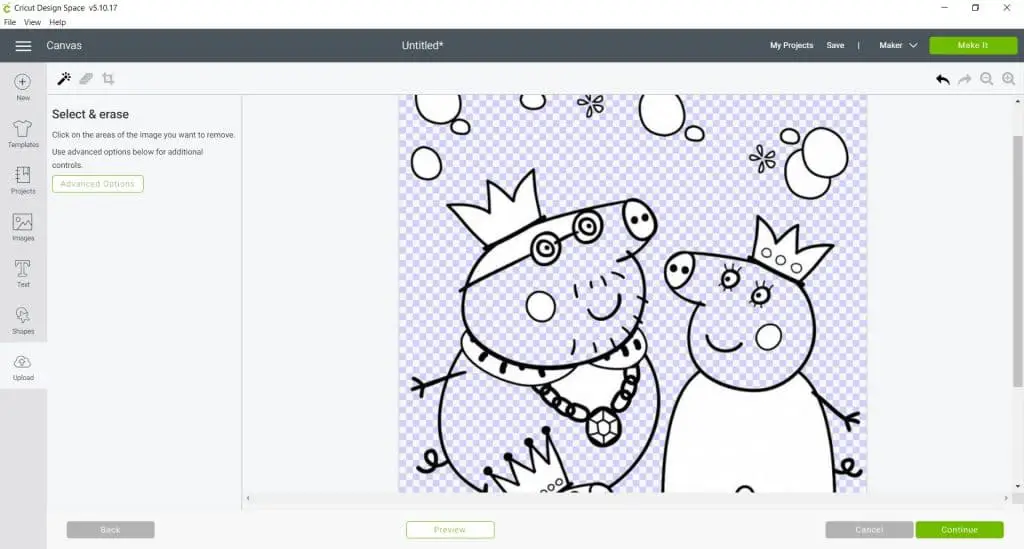 Even after removing the background, the cut lines can be very jagged and unusable. Inkscape cleans up your image entirely, giving you nice smooth cut lines, and a completely usable SVG cut file.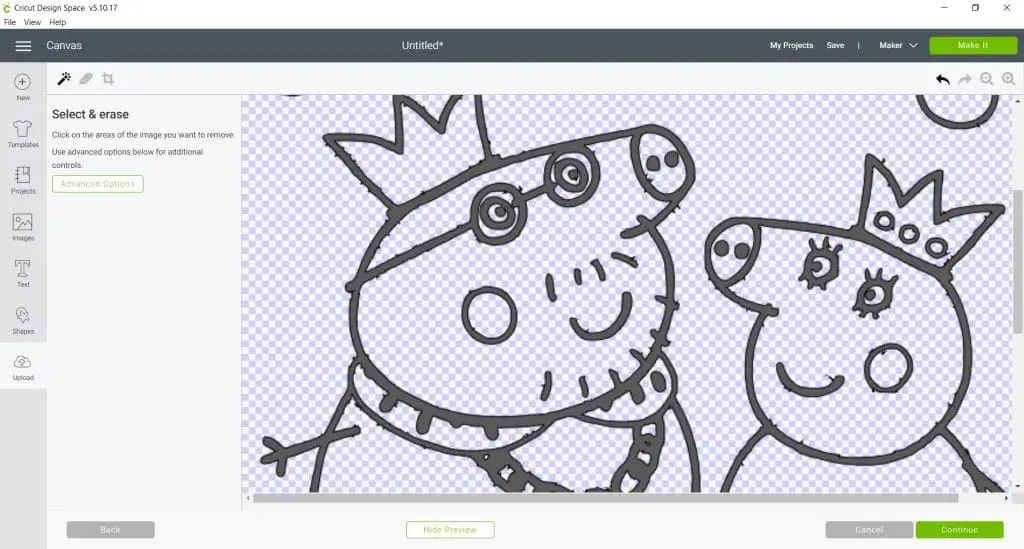 So that's why I prefer to use Inkscape, and I'm sure you will too!
How To Trace Bitmap In Inkscape
Now I'll go through the entire process of how to take your coloring page JPEG image, use the trace bitmap feature to copy it, and convert it into a usable SVG cut file. Afterwards, I'll also show you how to make the actual coloring t-shirt with black iron on vinyl and the Cricut Maker.
Once you've found a coloring page of your choice, and downloaded it to your computer, continue with the following instructions.
Open up Inkscape. Click file, then import.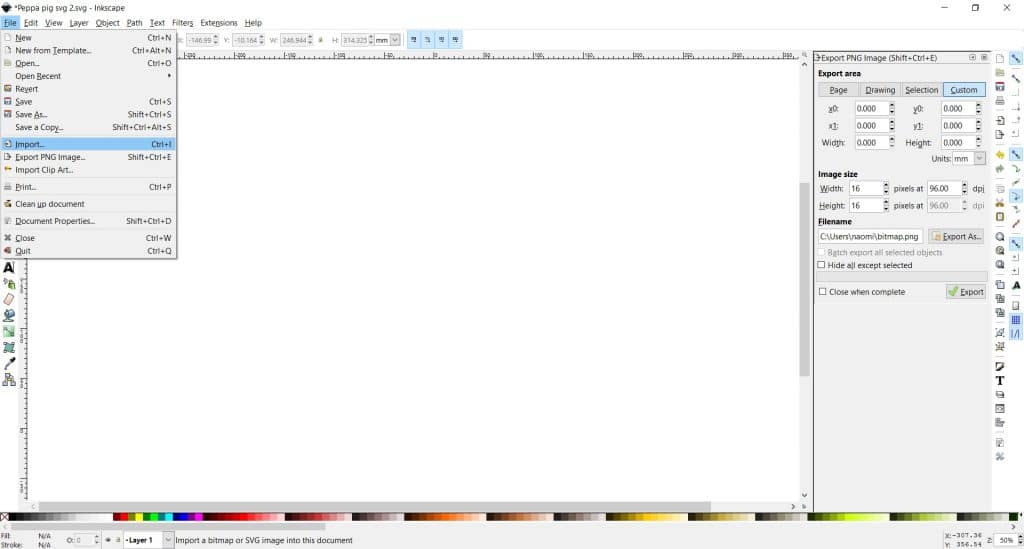 Find your coloring page download on your computer and select it. Click open.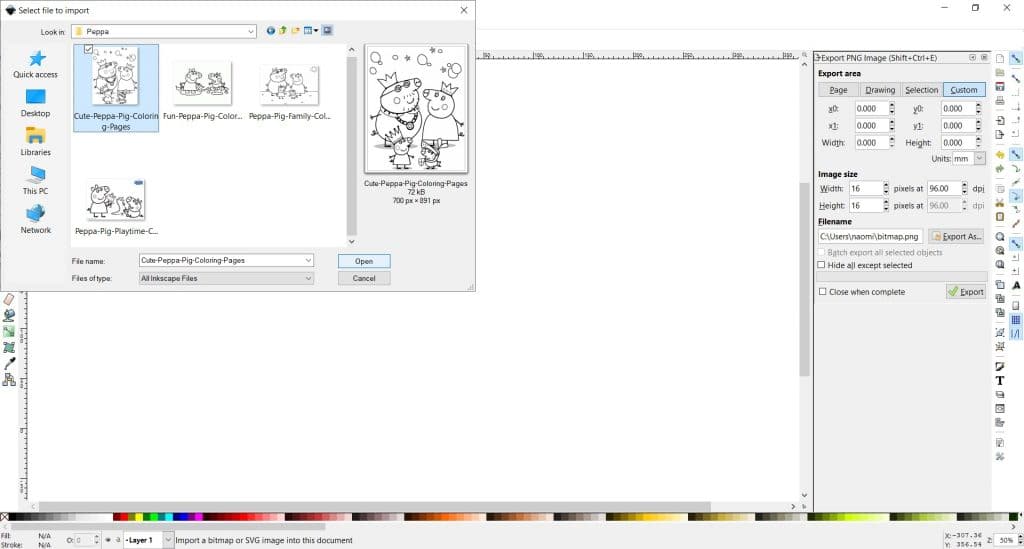 When this box pops up, click OK.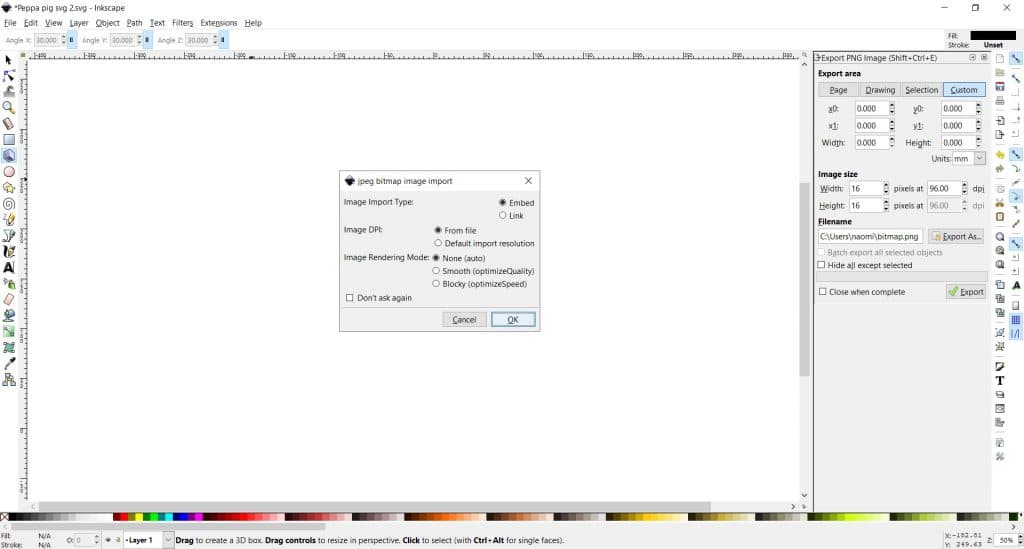 Your JPG image will now appear in Inkscape. Now click 'Path', and select 'Trace Bitmap'.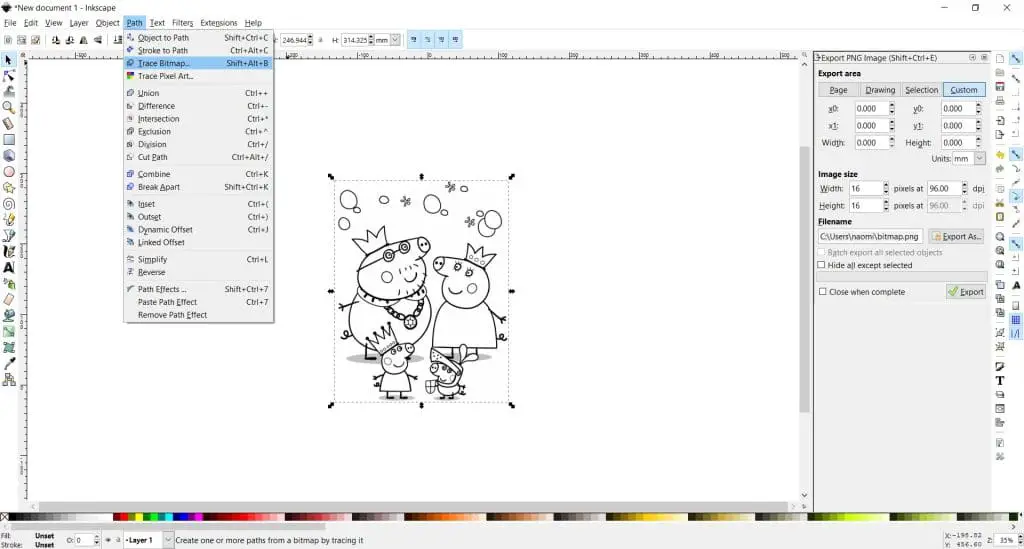 This Trace Bitmap box will show up. 'Smooth', 'Stack scans' and 'remove background' should be selected. Click update to preview the image, and then click OK.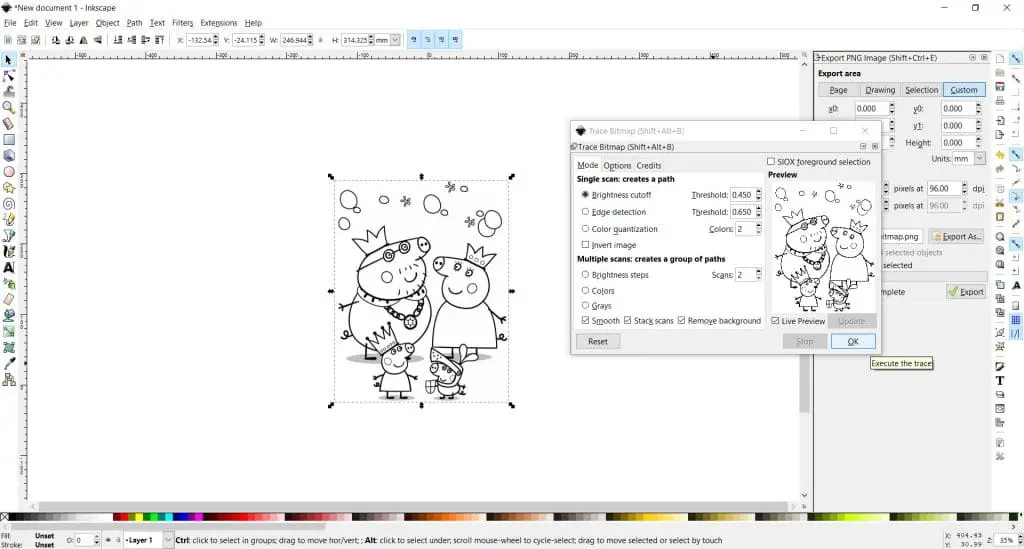 Now your traced image will appear on top. Move it aside, and delete the image underneath, which was your original JPG image.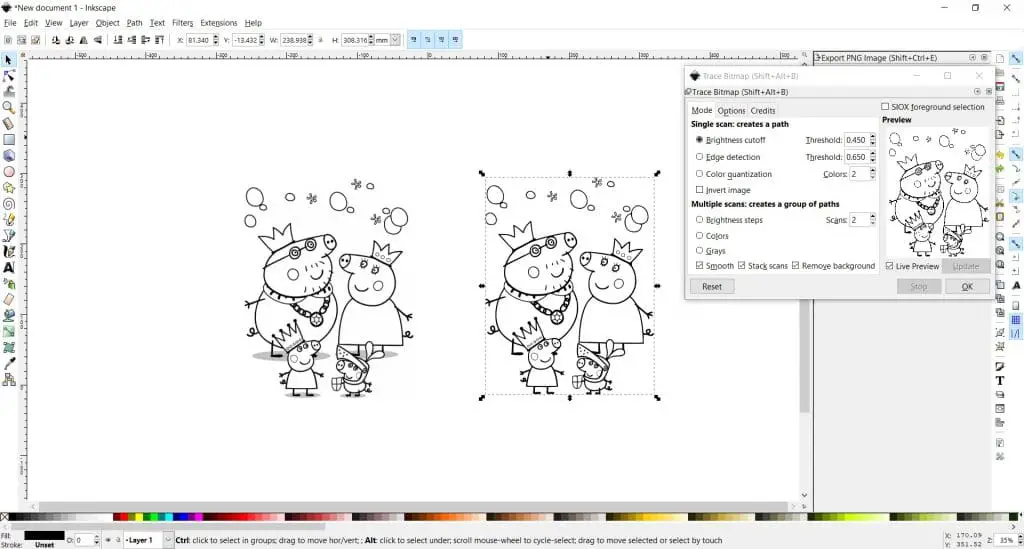 Now all you need to do is save this traced image as an SVG cut file. Click File, then Save As.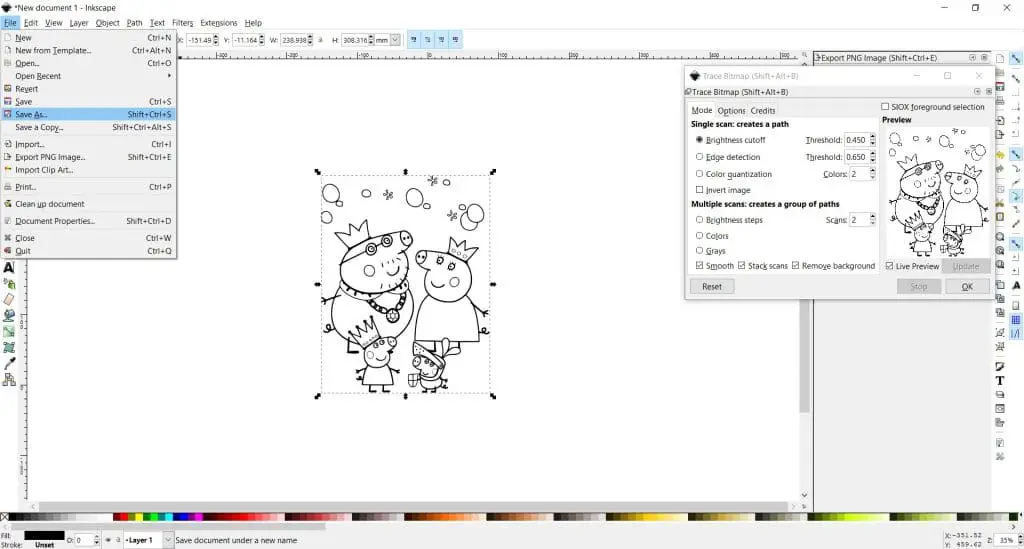 Write the file name, and for the save as type, click the down arrow and select 'Inkscape SVG'. This will save your image as a cut file.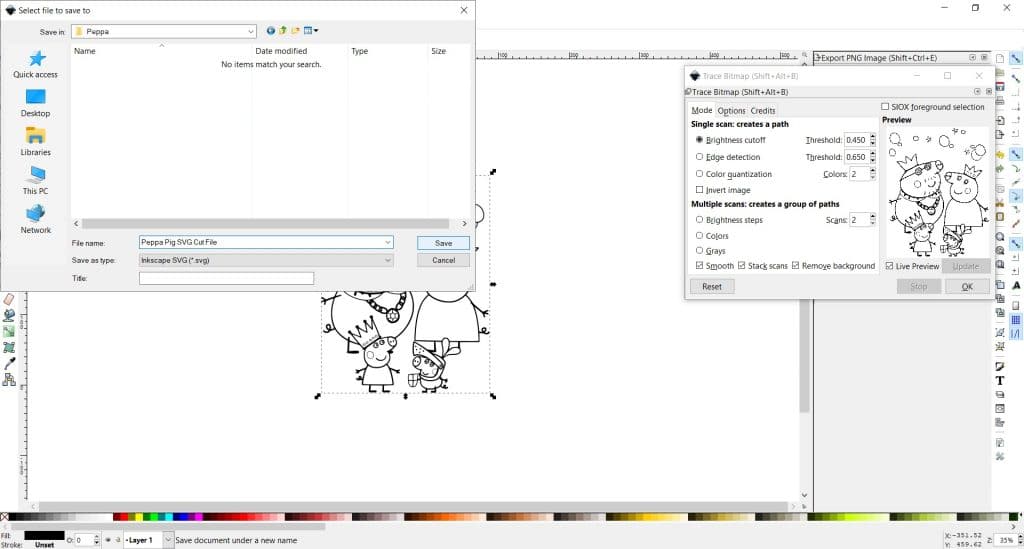 Uploading Inkscape SVG to Design Space
In Cricut Design Space, click Upload Image.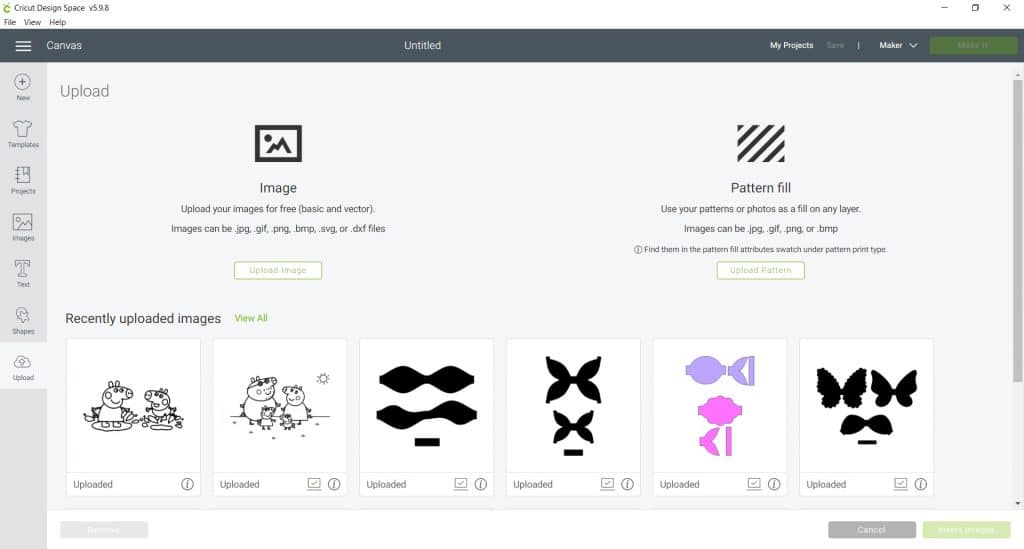 Click Browse.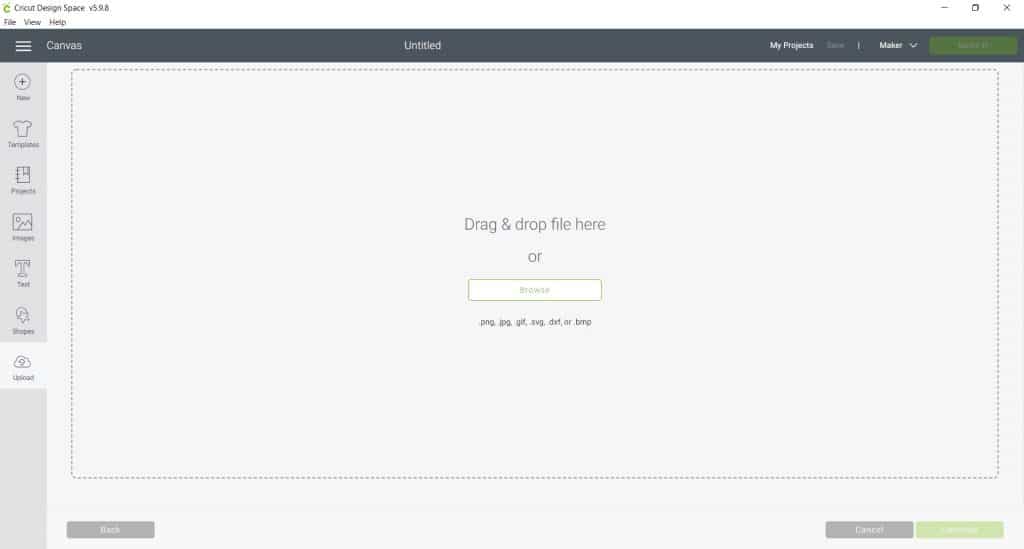 Find your Inkscape SVG file and click open.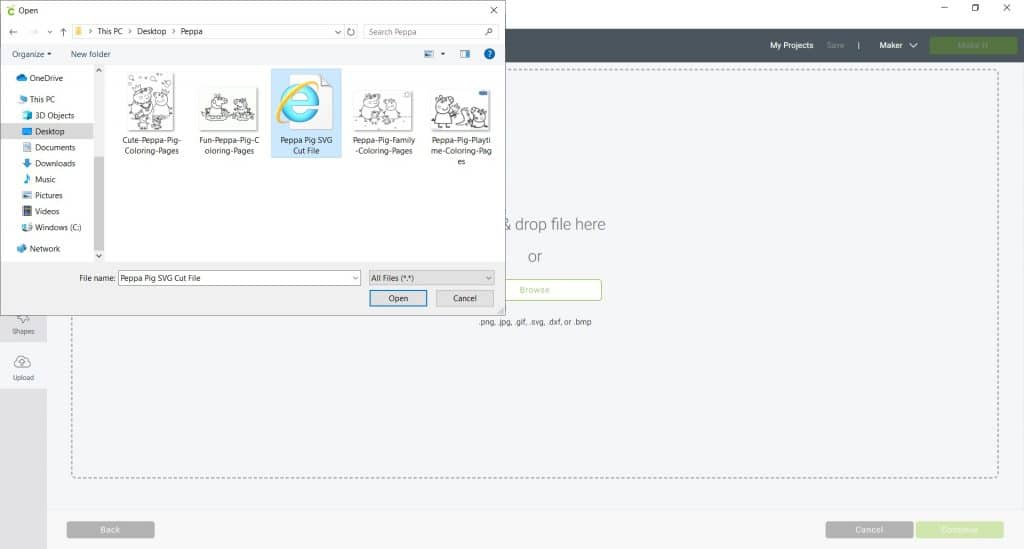 Write a name for your image and click save.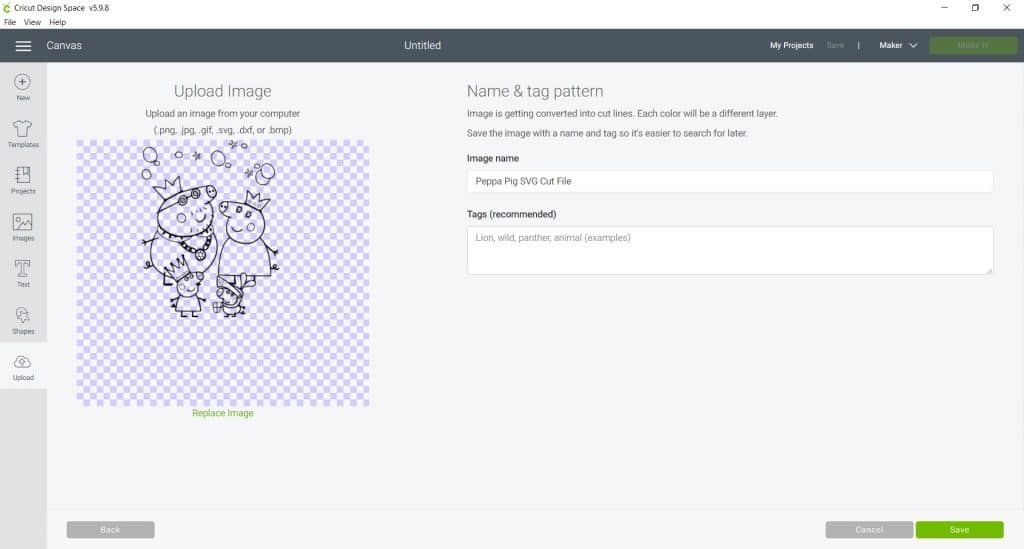 Now select your new SVG and insert it into a new project.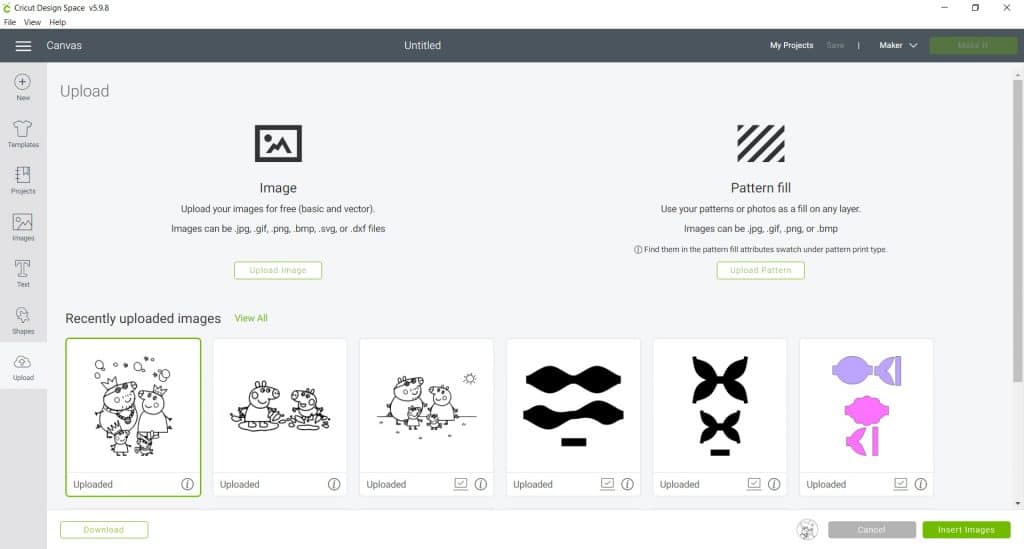 Re-size the image for your t-shirt blank.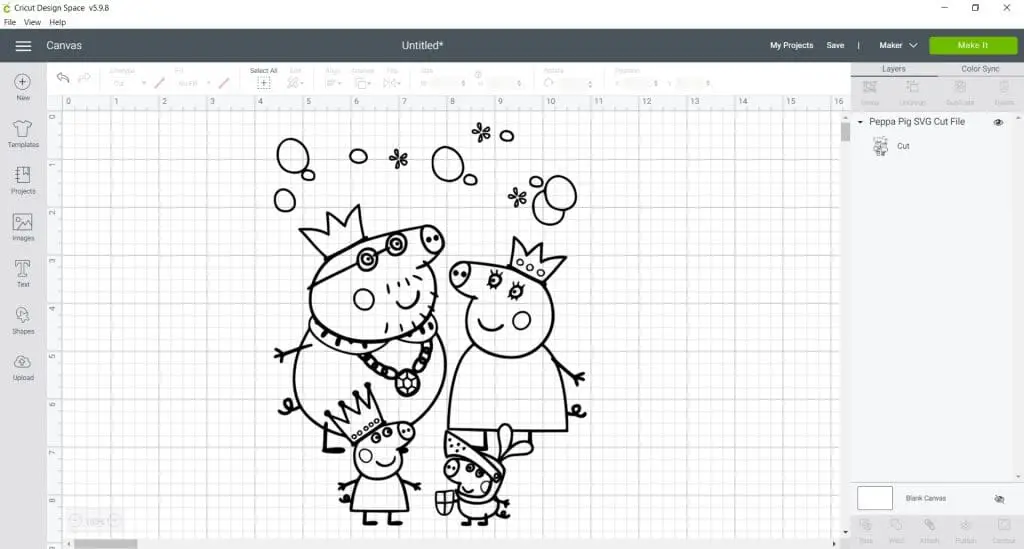 Coloring Book Shirt
In the mat preview, select to mirror your mat (for heat transfer vinyl).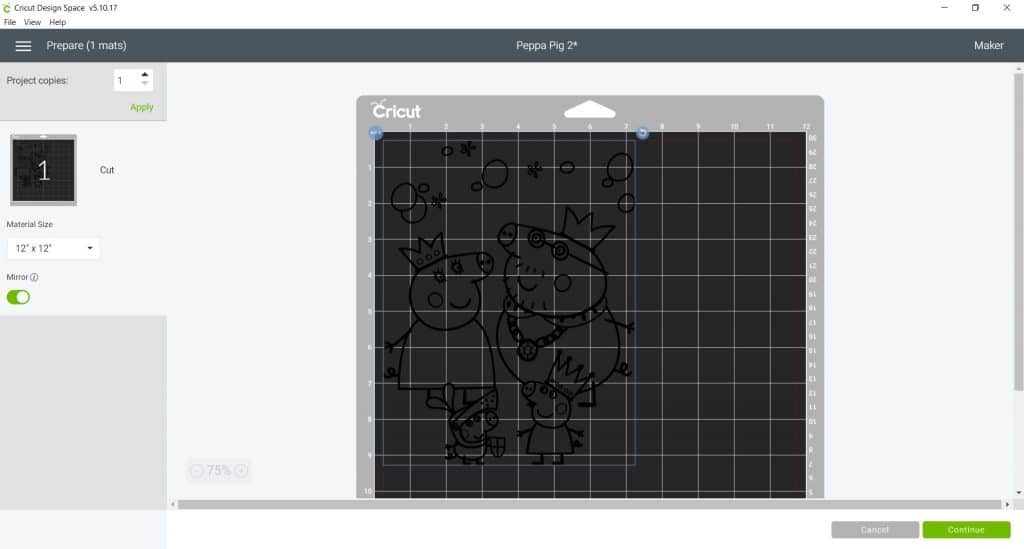 Set your material to Everyday Iron On.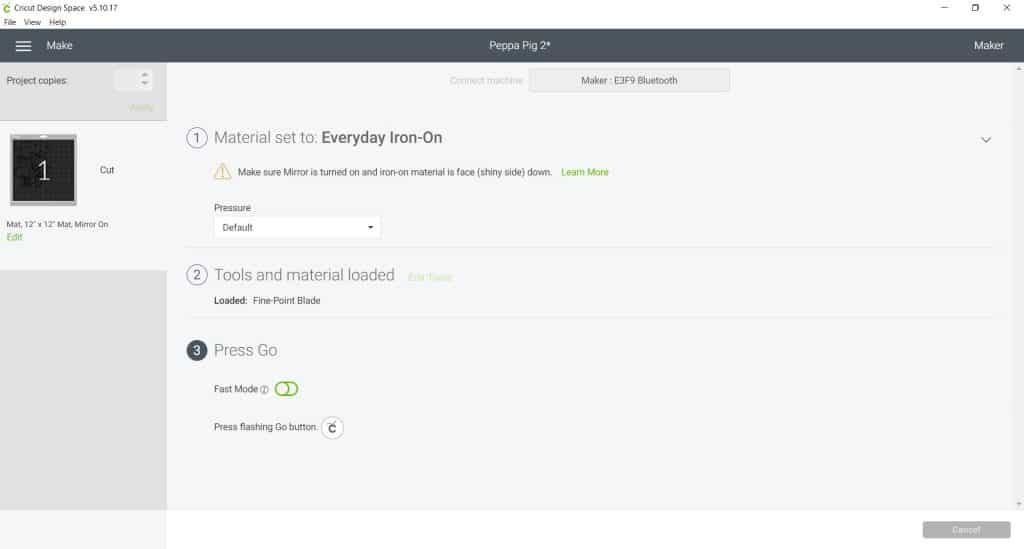 Place Iron On shiny side down on your StandardGrip Cricut cutting mat. Load the mat into the machine and click go. I'm using Siser EasyWeed HTV for this project.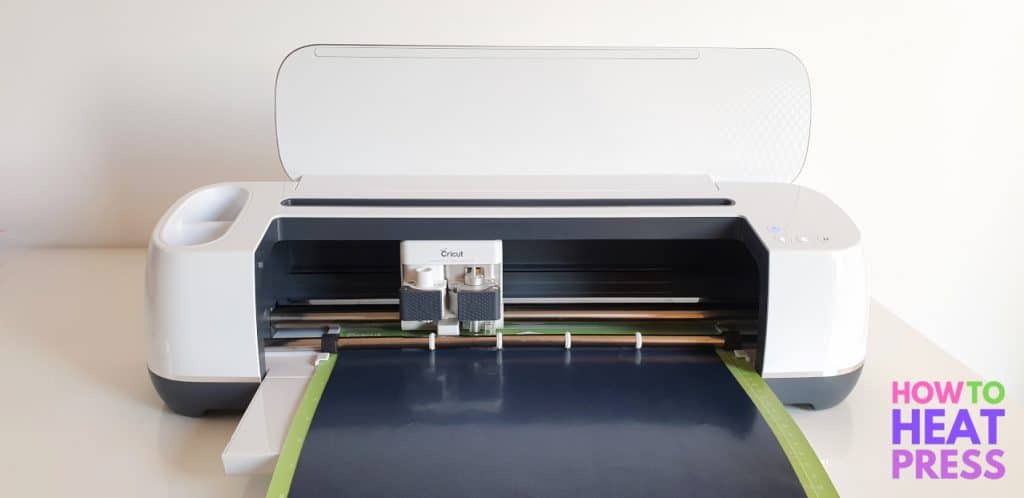 Once the design is cut out, weed away the excess Iron On from the carrier sheet.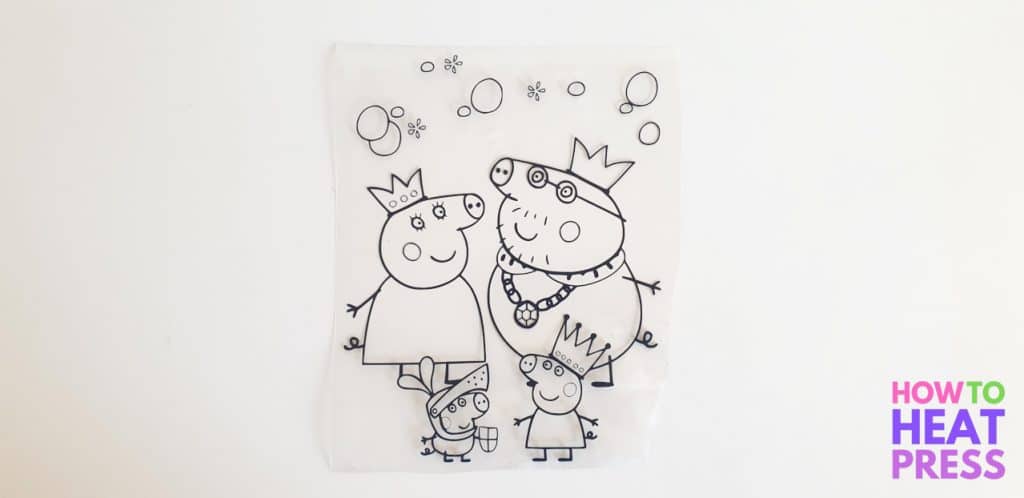 Turn on your heat press and let it heat up. Set the temperature to 305°F and the time to 15 seconds. Pre-press your t-shirt for a few seconds to remove wrinkles and moisture.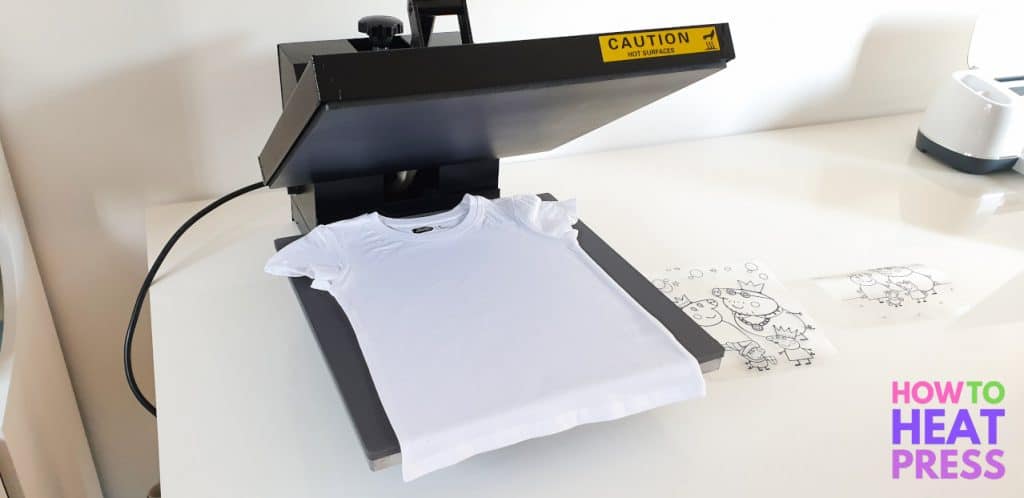 Press your design for 15 seconds with medium pressure. Use a Teflon sheet between the design and the heat press platen.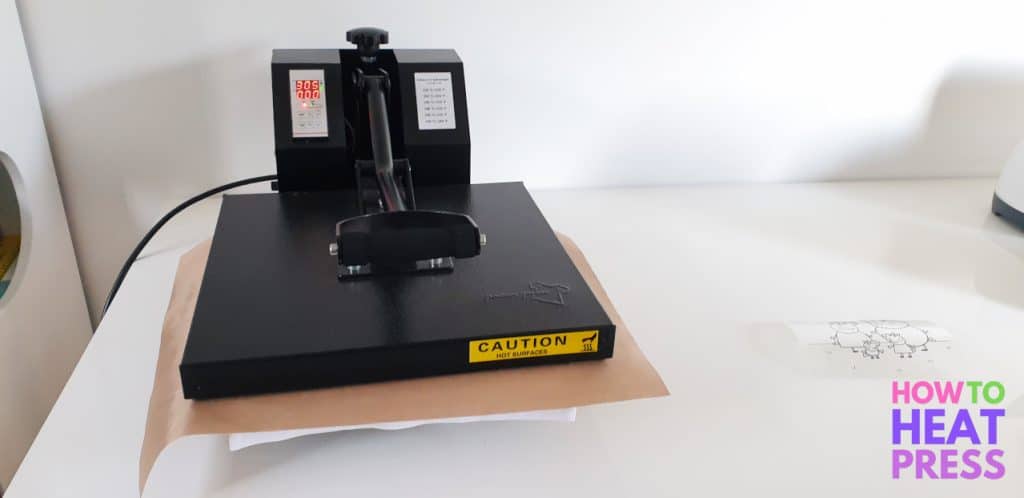 Peel the carrier sheet away hot or cold.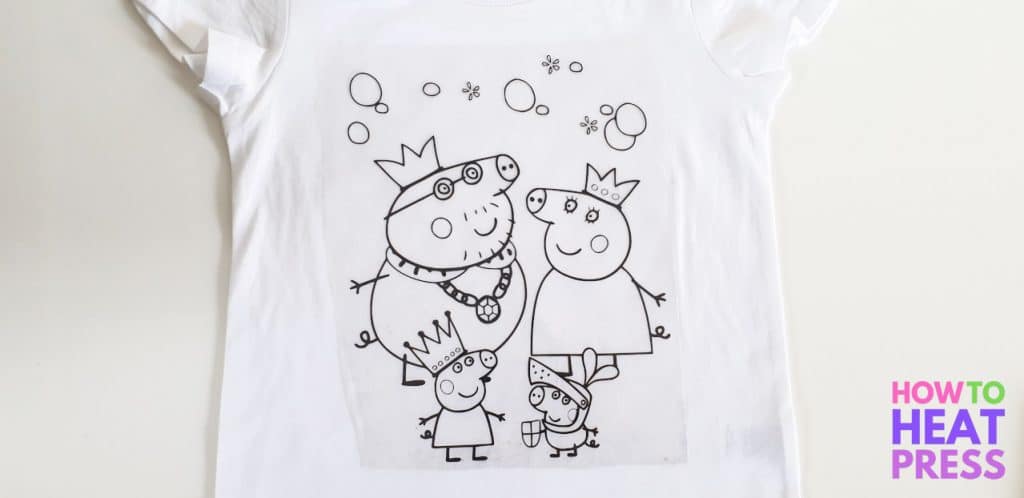 Remove the carrier sheet slowly, just in case the HTV needs more pressing time.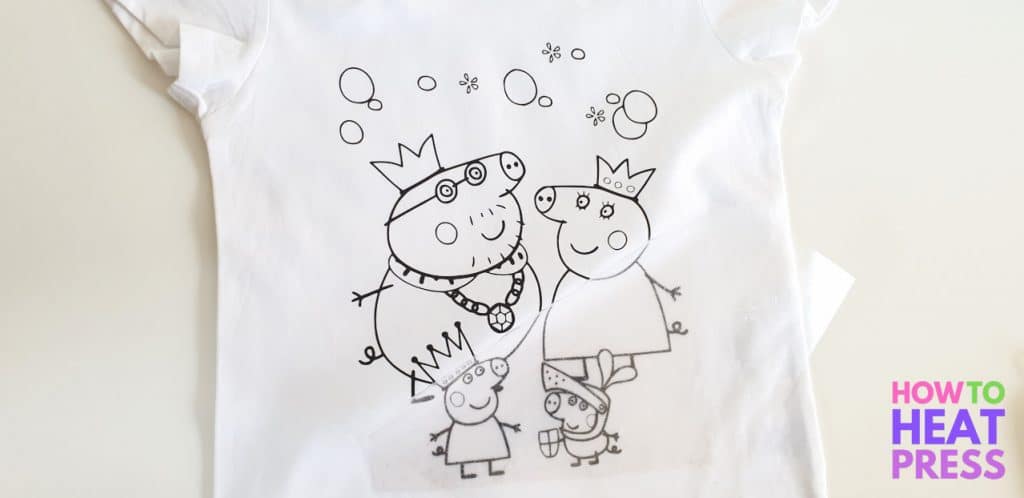 DIY Peppa Pig Shirts
Here are the finished coloring in t-shirts for my two daughters.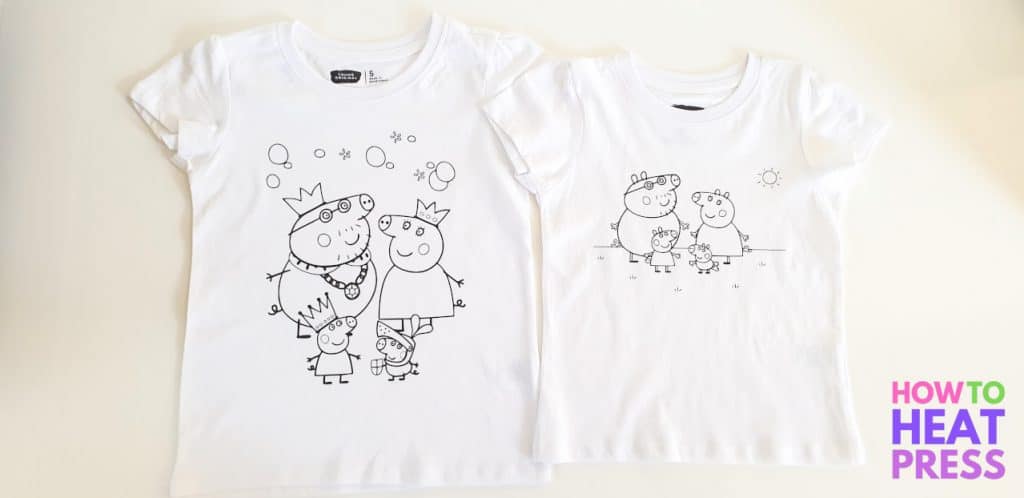 The designs are very similar, but slightly different!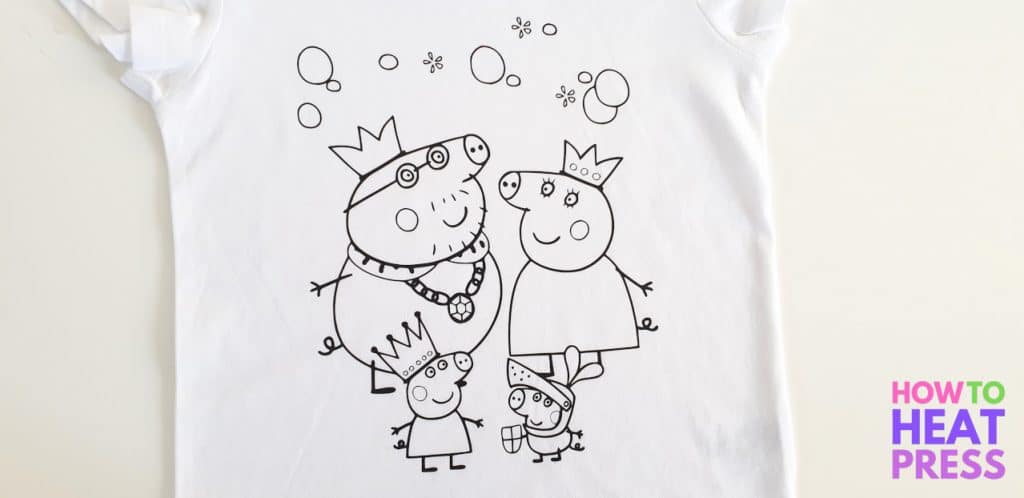 Medieval Peppa family vs modern day Peppa family!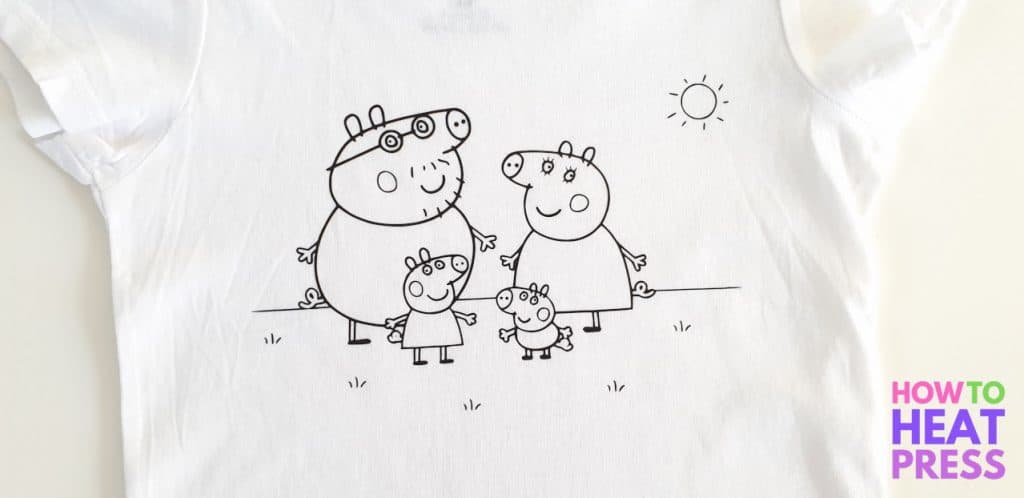 Your kids can color in these t-shirts with washable markers, wear them, and reuse them again and again.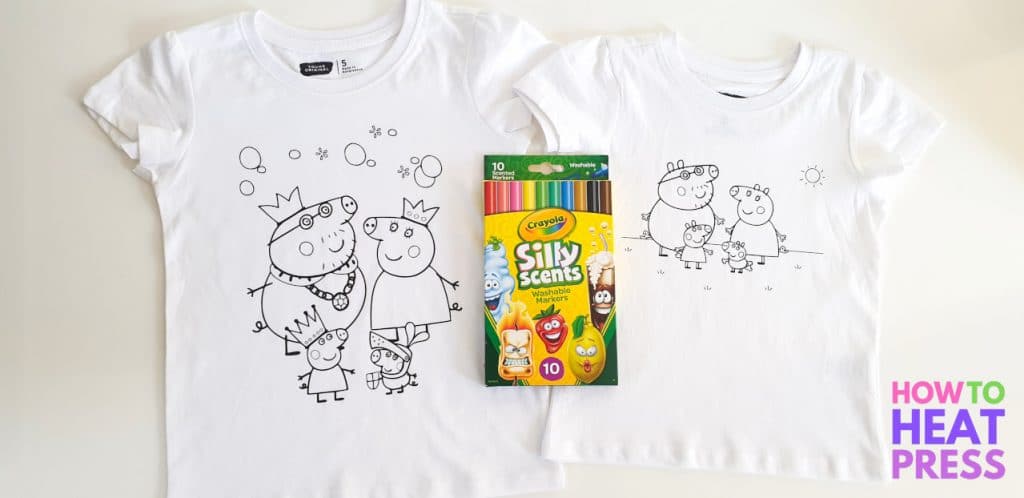 My 4 year old's tee colored in!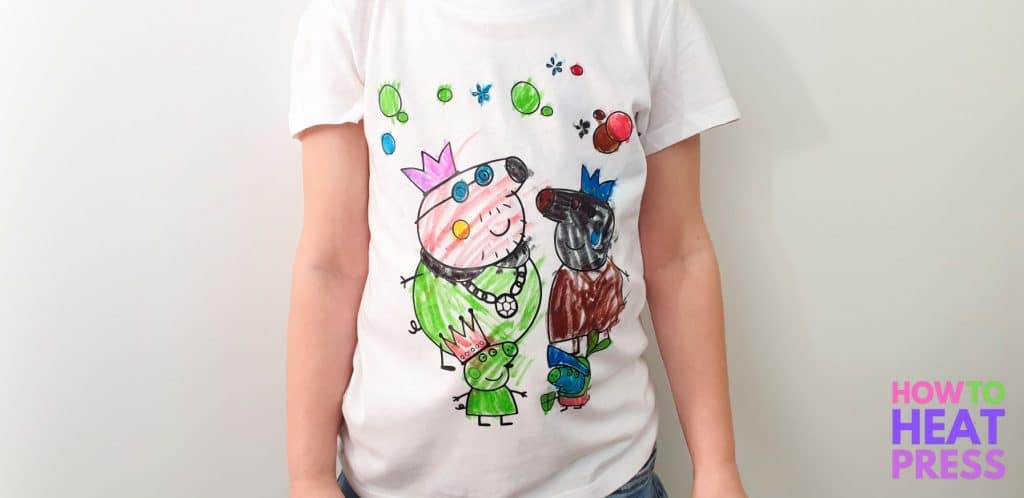 My 2 year old's t-shirt – so cute!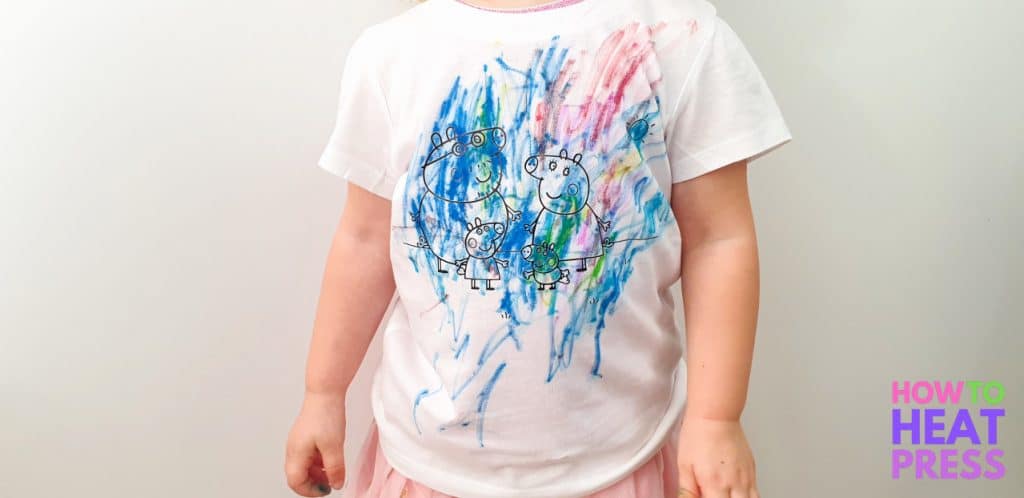 So that's how you convert JPG to SVG in Inkscape. Whatever you're using the process for can be done in the same manner, whether coloring pages for shirts, or other JPEGs you've downloaded.
These coloring in shirts make great gifts, and you can completely customize them with any images you like.
Let us know what you would put on them in the comments below!
(Please note: This post contains affiliate links. Read our full disclosure policy here.)