Cricut Pen Adapter – How To Use Any Pen With Cricut!
This post contains affiliate links. If you use these links to buy something, we may earn a commission, but it doesn't cost you anything. Thanks!
Looking for a Cricut pen adapter?
They are out there – lots of them!
And with these Cricut pen adapters, you will be able to use almost any pen, pencil, or crayon you want with your Cricut machine!
Cricut Pen Adaptor Guide
As you will know if you have a Cricut cutting machine, it has a pen holder to the left of where the blade is positioned. The Cricut pen holder is only really suited to holding expensive Cricut brand pens.
However, if you want to be able to use any pen with your Cricut machine, you will need to get a pen adapter. These are not produced by Cricut (because of course they would prefer you to buy Cricut pens!), but are made by private sellers using 3D printers.
The Cricut Maker and Explore Air 2 both have the same size pen holder – so if you get an adapter for one, it can also be used in the other.
Here is where you can get the best pen adapters for use with the Maker and Air 2.
1. Ultimate Cricut Pen Adapter Set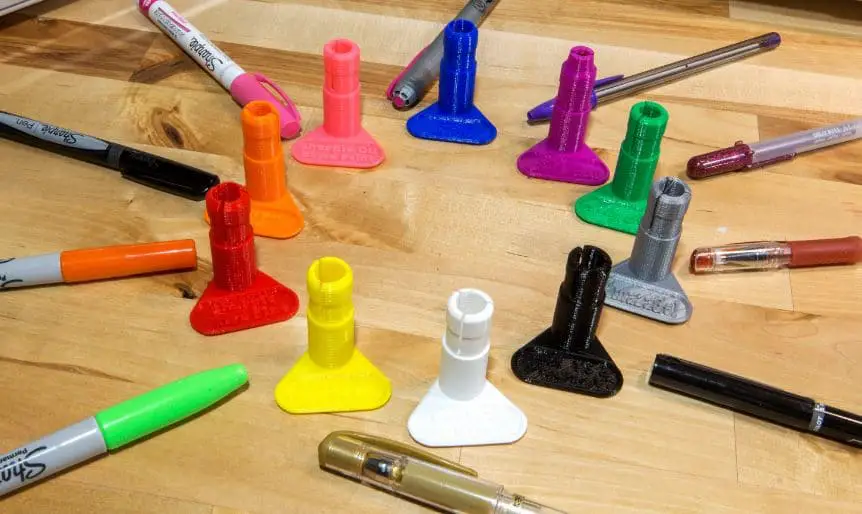 This set of Cricut pen adapters certainly lives up to its name – it is the ultimate!
In all my searching, this is the best set you can buy. It comes with adapters that will allow you to use almost any pen with your Maker or Air 2 – even pencils and crayons!
There are a few buying options, with the complete set (including the crayon adapters) costing slightly more than the 10 pack set.
These pen adapters are a bestseller on Etsy – check out the reviews for yourself!
2. Cricut Maker Pen Adaptor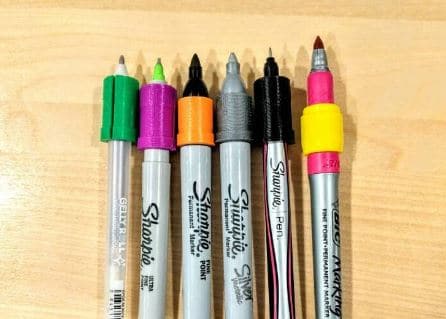 Another Etsy listing, and this set comes with 6 adapters with the following pens in mind:
Sharpie Fine Markers
Sharpie Ultra Fine Markers
Sharpie Metallic Markers
Sharpie Pens
Sakura Gelly Roll Pens & Sharpie Art Pens
Bic Mark-it / Marking Markers (both fine & ultra fine)
This set will also fit other brands of pen that are the same sizes as those listed (obviously)! They are a hardy option which are said to be "virtually unbreakable".
You can see these exact adapters in action in the following video!
3. Cricut Explore Pen Adapter
Now this is the ultimate Cricut pen hack! With this adapter from Amazon, you can simply put the pen in and the turn the screw to hold it in place!
Use this for any pen and maker up to a 1/2 inch diameter:
Crayola Markers
Sharpie Ultra Fine Point Pens
Sharpie Fine Point Markers
Gel Pens
Ball Point Pens
and so many more
This really is the most unique option, and also the cheapest Cricut pen adapter that is capable of being used with so many pens.
Cricut Pen Hacks
What other Cricut pen hacks do you know of? Share them in the comments below!
For more adapter options, check out:
(Please note: This post contains affiliate links. Read our full disclosure policy here.)