Cricut Tutorials: How To Use Design Space Step-By-Step
Want to get the most out of your Cricut…? Check out these Design Space Tutorials!
These Cricut tutorials will help you use the Design Space software correctly, and keep you from making frustrating mistakes!
Here's what you'll find:
Basic Cricut tutorials
Advanced Cricut tutorials
Where to find the best Design cut files for Cricut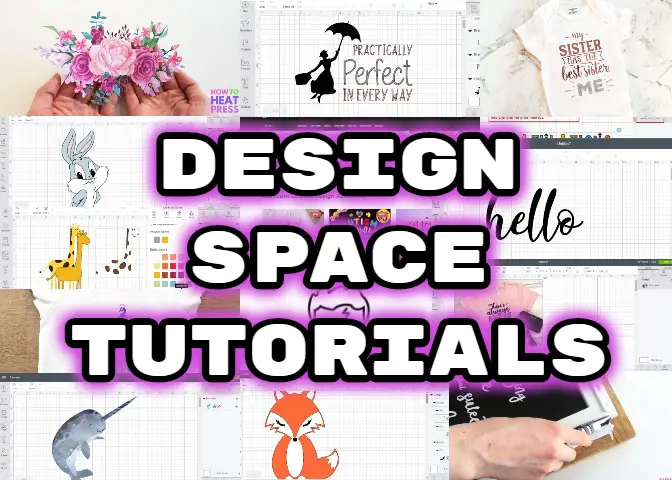 How To Use Cricut Design Space
This first group of Cricut Design Space tutorials are just the basics. These are for people just starting out with Cricut machines, and who are unfamiliar with Design Space.
Below the Basics, we'll get into the more advanced Design Space tutorials and project ideas.
Advanced Cricut Tutorials
The next Design Space tutorials are a step above the basics. In fact, they generally require a knowledge of the basics!
Some of these posts will be good for everyone (such as how to cut multiple colors), while others might only be for certain people with particular requirements (like how to make a mock-up in Design Space).
Skim through the list and find something new that you would like to try out!
More Design Space Examples
Some of the posts already linked above also contain a project.
Here are some more Cricut Design Space ideas and inspiration! You might have noticed most of our projects are using HTV or Adhesive Vinyl… it's just what we're into!
Design & Cut Files For Design Space
You'll be glad to hear that the last section in this collection is short!
Here are a few posts we have on SVG cut files & fonts for Cricut! Different cutting machines use different files with their software. DXF files for Silhouette, and SVG files for Cricut.
Cricut Design Space Tutorials
So those are most of the Cricut tutorials on How To Heat Press!
We're always creating new things, and will update this page as we do. There are a plenty of other spots you can go for excellent Cricut Resources.
Here are a few:
Thanks for visiting, please leave any comments or questions down below!
(Please note: This post may contain affiliate links. Read our full disclosure policy here.)