FREE Monogram Fonts For Cricut (PLUS Monogram Frames)!
This post contains affiliate links. If you use these links to buy something, we may earn a commission, but it doesn't cost you anything. Thanks!
There are plenty of free monogram fonts for Cricut that we're going to share here!
You can cut out a monogram design from vinyl or iron and apply them to mugs, t shirts, bags, hoodies, and basically anything and everything else. Cut them out of cardstock and use them in a card design even!
Monogram Fonts For Cricut
What is a monogram?
A monogram is a design consisting of one or more letters of the alphabet, combined or interlaced together. More often than not, a monogram is of ones initials.
Vinyl monograms are especially popular in the crafting world. We see a lot of monogram projects using both adhesive vinyl and heat transfer vinyl.
You can really make a monogram out of any font you want. There are no monogram fonts per se (excuse my Latin), but there are fonts that are popular for making monogram designs (like circle or vine monogram fonts).
Free Monogram Font Round Up
The difficult thing with listing free monogram fonts is that many of them are only around for a short time!
Use the table below to scan these best free font websites. Simply search the freebie section (which we've linked to) on any of these sites to find fonts suitable for monograms!
Circle Monogram Font

This free circle monogram font is available from The Hungry Jpeg.
In the comment section on the page there seems to be some confusion on how to use it. I haven't made a project with it myself, but will do so soon and update this on how it works!
Circle Monogram Frames
DesignBundles.net have a huge pile of paid and free monogram frames and fonts.
There are circle monogram frames, square frames, vintage frames, and everything in between. There are even flip-flop frames if you really want!
Design Bundles' (and sister site Font Bundles) range is really very cheap, and there are always hundreds of free fonts, SVGs and frames available.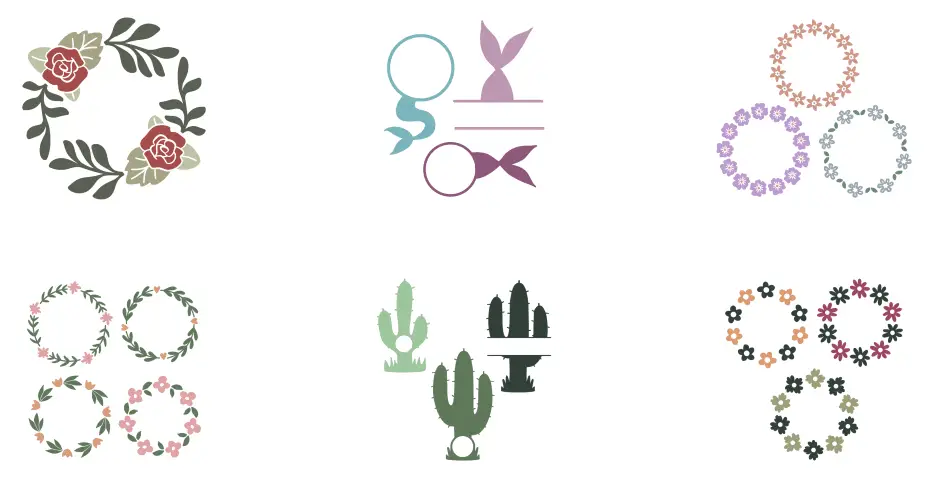 The free monogram frames above are available at Lovesvg.com.
Lovesvg has over 150 circle monogram frames for you to choose from, including the most popular designs. If you're ever looking for any type of font or SVG freebie, this site is a great place to start.
Unusual

 Monogram Fonts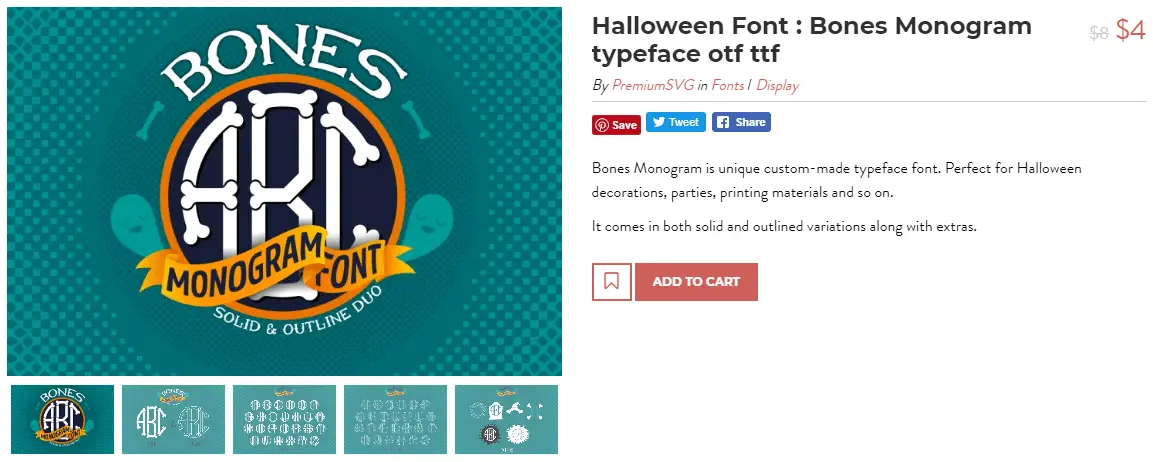 Here is a great monogram font for Halloween – or for anytime really… who wouldn't want a cute bones font for their personal monogram?
This bundle comes with the Bones font and 6 monogram frames.

Quite the contrast from the Bones font, this is a beautiful flowered monogram font.
Especially when used as all caps it makes a very attractive printed monogram. Not suitable for cutting in a cutting machine (though would be great for making stickers using the print then cut feature).
The Candlepin font and frames are a really fun and modern set.
This set is for sale on FontBundles.net. I can imagine using this to make really pretty logos as well.
Monogram Font Resources
Those are all the fonts we've got for you today. Here are some further resources to help and inspire you as you get going on your custom monogram projects.
(Please note: This post contains affiliate links. Read our full disclosure policy here.)