The Biggest Clipart Bundle You've Ever Seen! | Custom T-Shirt With Clipart
In this post I will show you how to make a t-shirt with Avery Transfer Paper.
The HUGE Clipart Bundle we used to make this project is no longer available for sale. It contained well over 4000 graphics that could be used for a ton of digital and physical projects (IDEAS BELOW). And remember, all of Hungry Jpeg's downloads include a complete commercial use license (more info here).
Every month Hungry Jpeg has new awesome bundles for sale – check them out here.
How To Use Clipart To Make T-Shirts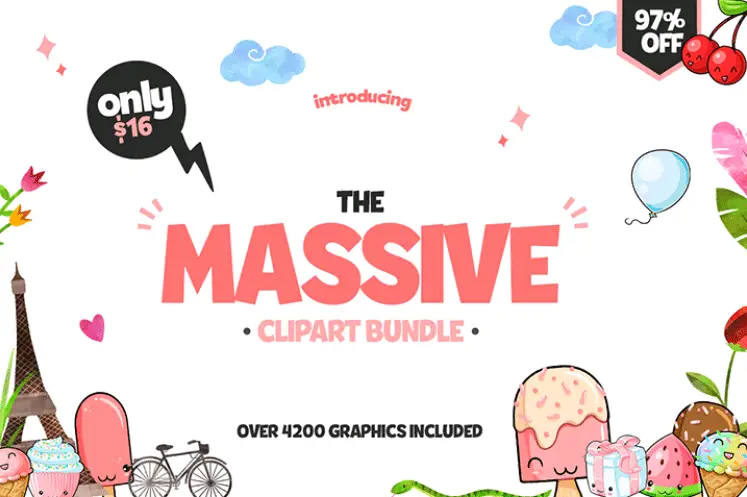 *This is a sponsored post on behalf of The Hungry Jpeg – though that does not lessen the amazingness of this bundle. We say what we mean and we mean what we say!
This clipart bundle truly is huge… my internet speeds are very good (see how fast in this post), but there is so much in this bundle it still took half an hour to download!
Scroll through the bundle for yourself to check it all out. To be honest it's a bit overwhelming! So many categories of clipart, including:
Halloween clipart
Thanksgiving clipart
Christmas clipart
Food clipart – like the macarons I use to make stickers below
Animal clipart – I use a Narwhal to make a custom t-shirt below
Plant/tree clipart
Clipart Projects
You can use clipart for almost anything! I used some of the images to make a t-shirt and some stickers, which I'll show you below.
Here are some more ideas for what to make with this clipart bundle:
printables & wall art
invitations & announcements
word documents
websites
clothing, bags, pencil cases, phone cases, etc
kids stickers
But let me show you how I made a custom t-shirt with clipart from The Massive Clipart Bundle!
Easy T-Shirt With Clipart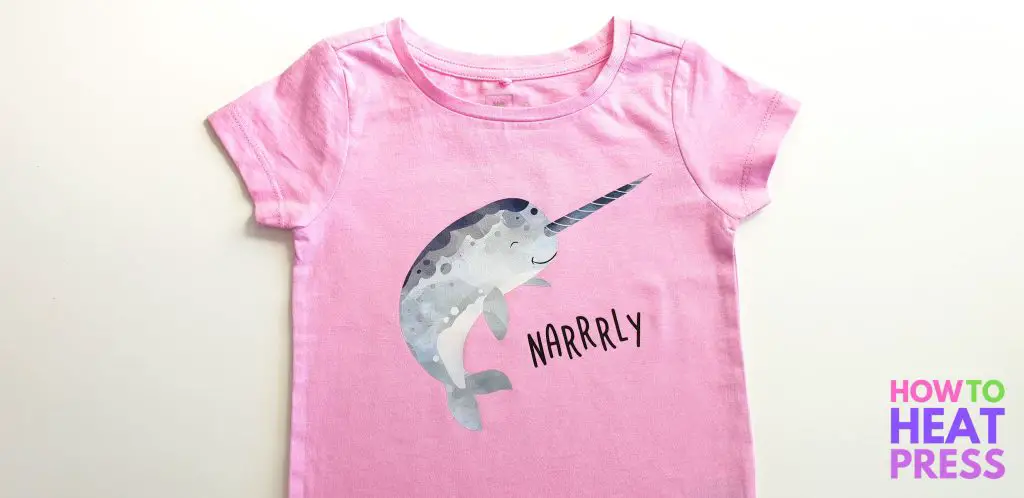 I made this Narwhal t-shirt using Avery t-shirt transfer paper and heat transfer vinyl.
I'm using Cricut Design Space to make this tee, but Avery also has free online software to upload and customize clipart and then print them using your home inkjet printer. You'll just have to cut out the image yourself with scissors (whereas I can use my cutting machine).
First up, I got the Narwhal PNG from the whales clipart set, which is part of The Massive Clipart Bundle. I downloaded it to my computer, and then uploaded it to Cricut Design Space. See all about how to upload images in our post here.
I saved the PNG as a print then cut, which you can see by the printer symbol in the layers panel. I changed the width of my design to 6.5 inches for my kids t-shirt.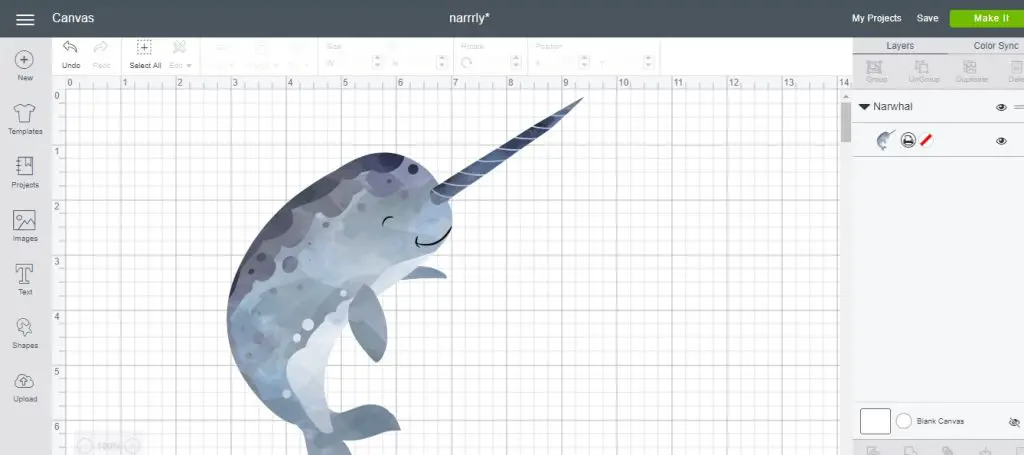 As I'm using Avery transfer paper for dark fabrics I don't need to reverse my image. The image will be placed onto the shirt facing upwards and the right way round. I could've used the light fabric transfer paper for this project, but I wanted to be sure the Narwhal image would stand out well on the pink tee.
If you are using the transfer paper for light fabrics, you will need to reverse your image. The transfer paper will be placed onto the garment with the image facing down, and the backing paper on top. The backing paper can be peeled away once the image has transferred.
As you can see in the mat preview below, my image is the largest it can be for Cricut print then cut. The page border is there so that my Cricut knows where to cut around the image.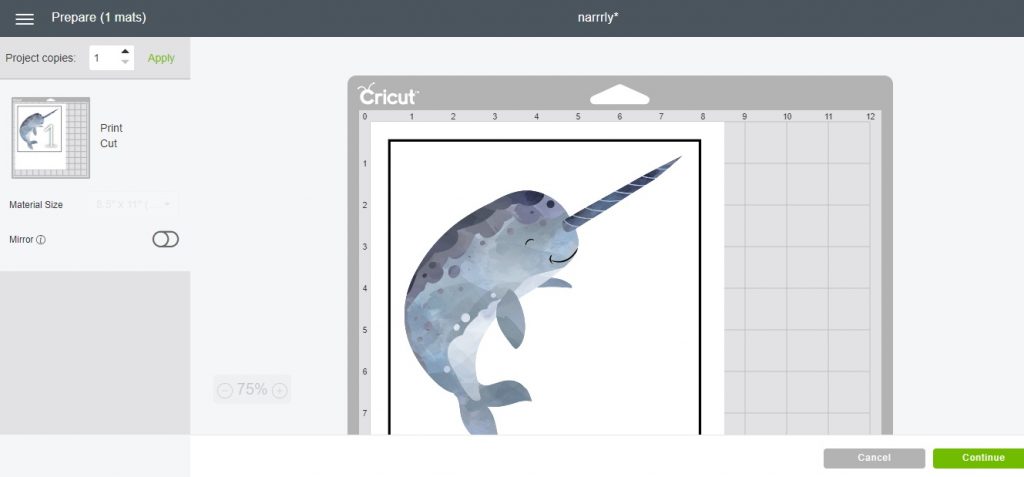 Next I clicked 'Send To Printer'. I left the bleed option selected, which will allow for a better cut around the image.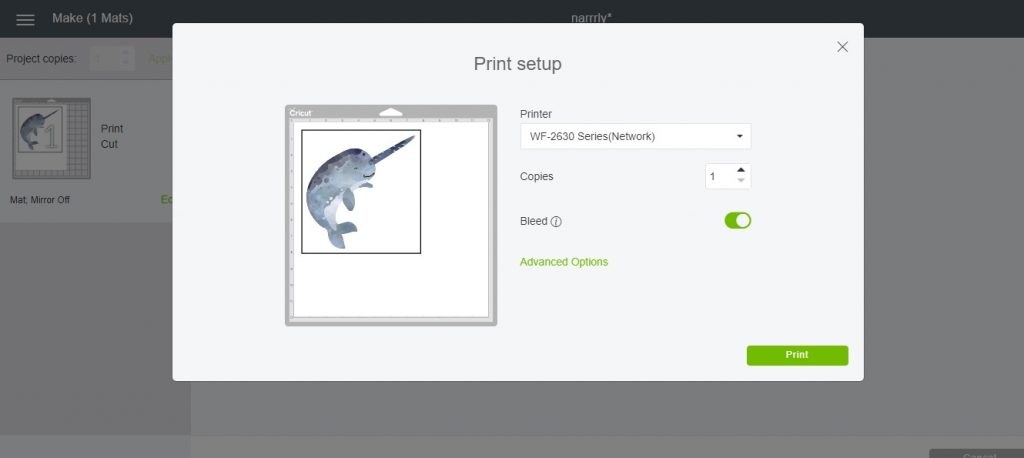 I used my Epson WF-2630 inkjet printer to print my image onto Avery transfer paper for dark fabrics. These are 8 1/2 by 11 inch sheets. There are 5 unprinted sheets in a pack, along with 5 tissue papers to protect your image.
After printing my image, I cut it out with my Cricut Explore Air 2. I set the dial on my machine to 'Custom' and after clicking 'Browse All Materials' in Design Space, I searched for 'printable' and then selected 'Printable Iron On, Dark'.

I placed my transfer paper onto my standard green cutting mat, with the picture facing up, and then loaded the mat into my machine and pressed go.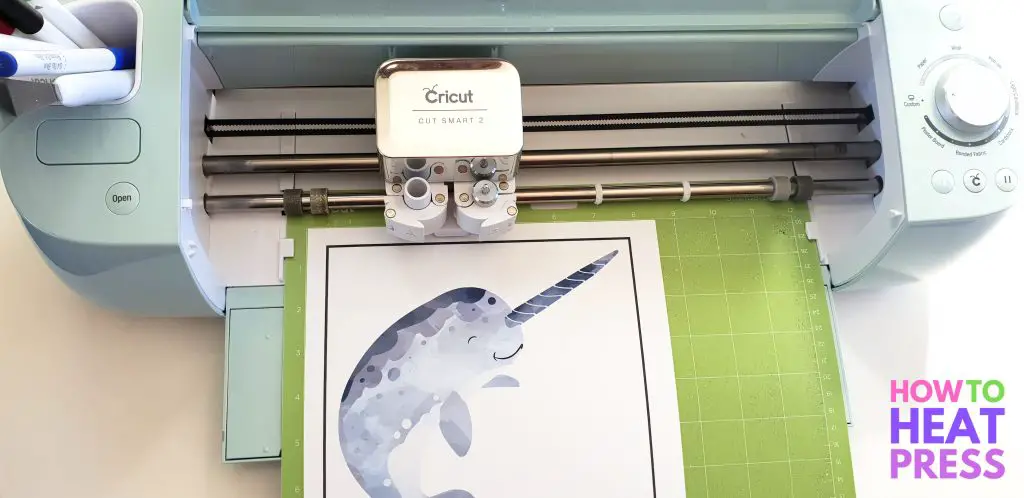 The backing on Avery transfer paper has already been cut into three sections, so that you can remove one section at a time. This makes it very easy to separate the image out from the rest of the paper.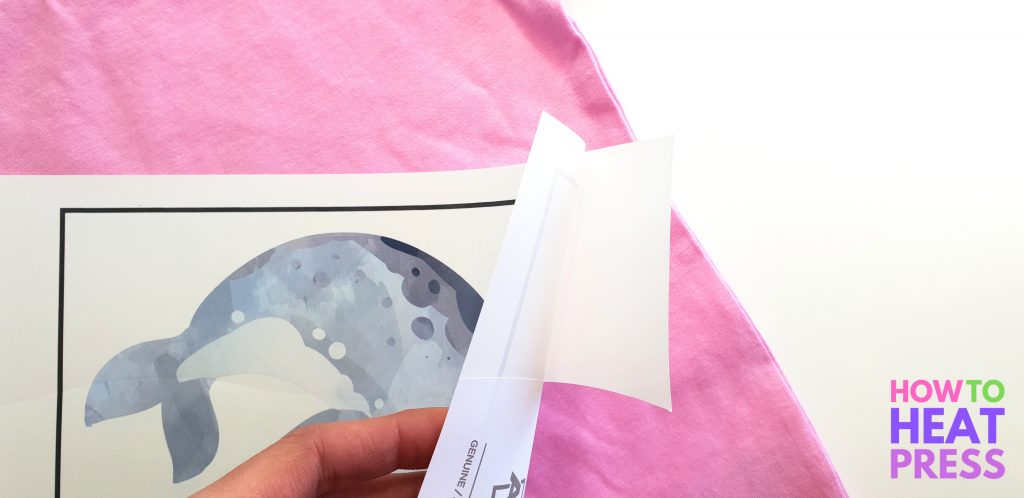 Here's what the transfer paper looks like when one section is removed – the printed image can easily be taken out.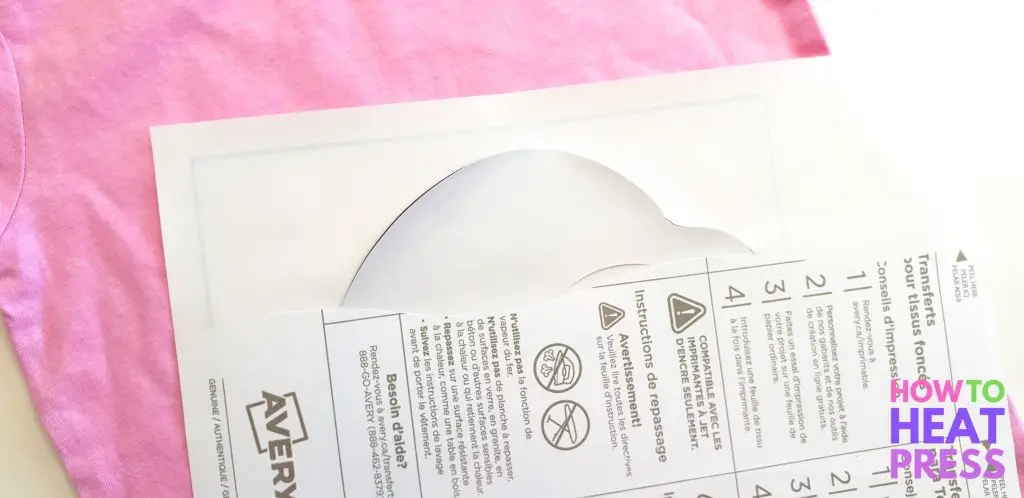 The image for my t-shirt is all ready to go and now I'm going to cut a word out of heat transfer vinyl to go with it. I'm using this free Karmina font from The Hungry Jpeg to write 'narrrly'.

I mirrored the design so that it will be cut in reverse.
I set the dial on my Cricut machine to 'Iron On'.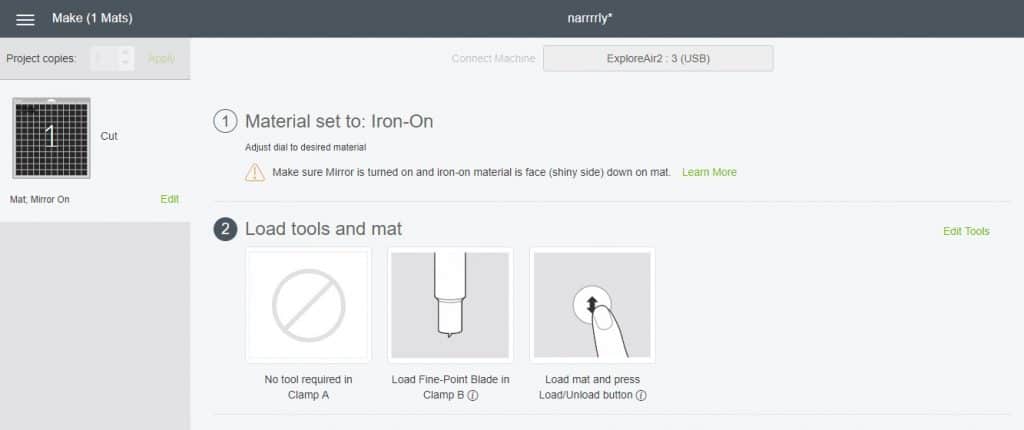 Heat transfer vinyl always goes shiny side down on the mat so that the blade is cutting through the vinyl, and not the carrier sheet. I'm using black Siser EasyWeed HTV.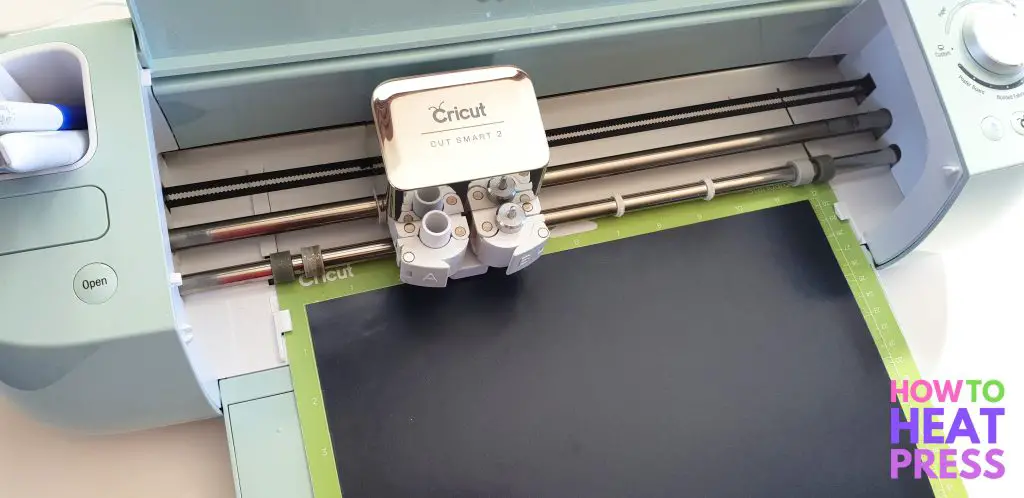 I weeded the excess HTV away from my word, and now both parts of my design are ready to go!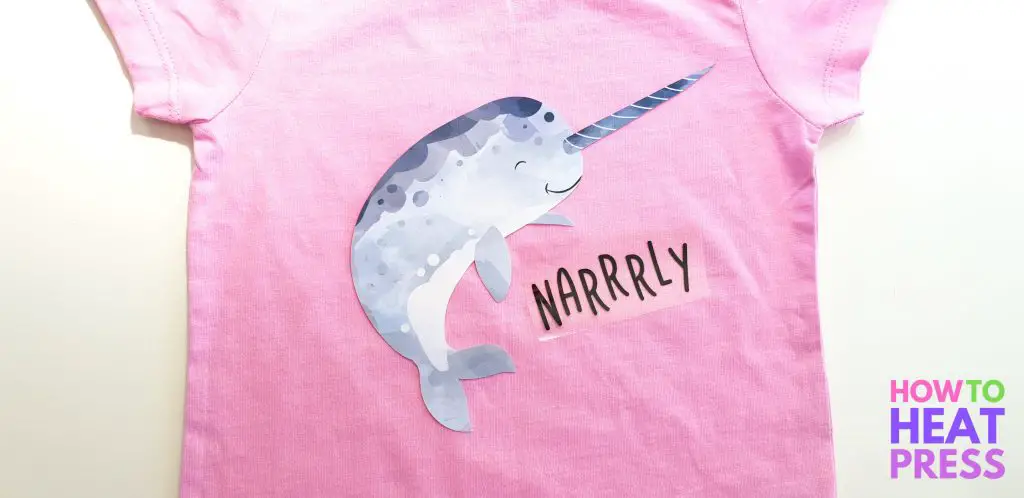 I always use my silicon pad when pressing transfers with my Cricut EasyPress. It's best to use a hard flat surface (not an ironing board).
Before pressing the transfer, I pre-pressed my shirt for 5 seconds to remove any moisture and wrinkles.
I put the HTV aside so that I could press the Narwhal image first. Avery transfer paper comes with tissue paper that is used between the iron (or heat press) and the transfer.
I couldn't find any specific instructions on how to use Avery transfer paper with the EasyPress online. As far as I know, Avery only give instructions for using an iron.
After a bit of research I decided to modify the ironing instructions and press the image at 340°F for 50 seconds. This worked great and I had no problems. Check out this video for the iron on instructions.
I left the tissue paper on and allowed the transfer to cool for a couple minutes. Then I slowly peeled back the tissue paper starting from the top corner to the bottom corner.
If any part of your image lifts, you'll need to replace the tissue paper and press it again in that area.
Siser recommends to press EasyWeed at 335°F for 10-15 seconds with the Cricut EasyPress. I lowered the temperature from 340 to 335, replaced the tissue paper over my Narwhal image to protect it, and pressed the EasyWeed for 15 seconds.
I positioned the EasyPress so that it didn't touch the Narwhal image at all while pressing the EasyWeed. I didn't want to over-press my Narwhal image! And lastly, I peeled the carrier sheet hot.
And there you have it – a custom t-shirt with a super cute Narwhal graphic! A cute new addition to my daughter's wardrobe! (She's getting quite the collection of personalized tees now! :D)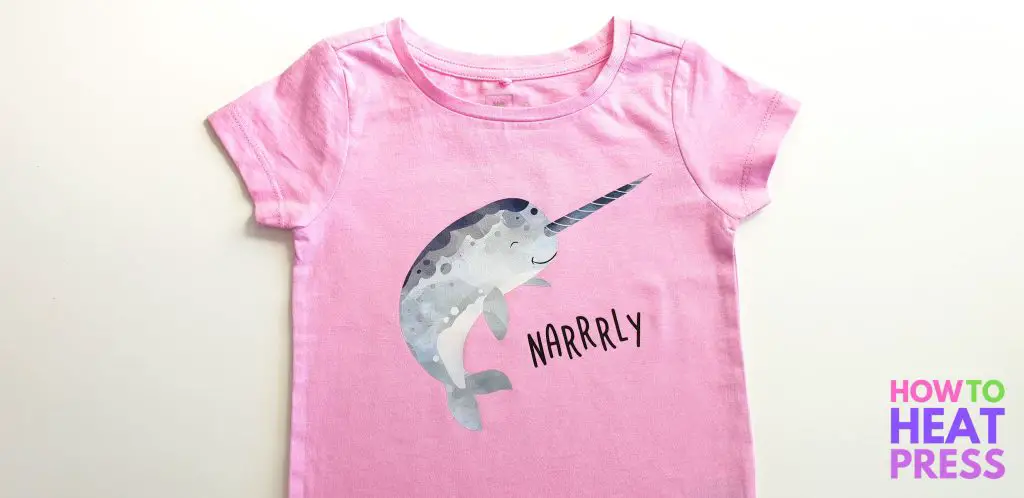 There are so many awesome graphics to choose from in The Massive Clipart Bundle, so have a browse, find one you love, and make your own cool t-shirt!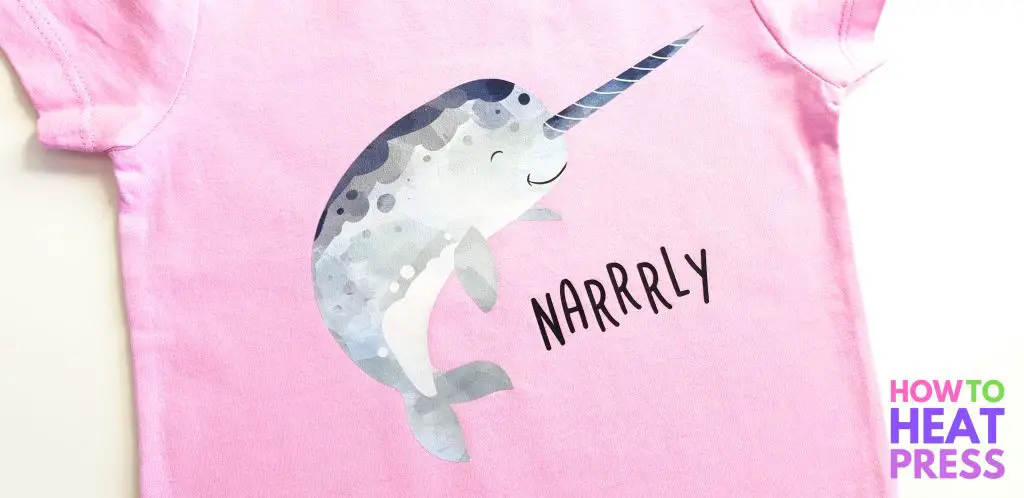 Easy Stickers With Clipart
These macaron cliparts were too cute to pass by – I just had to make some stickers with them! I used Cricut Printable Vinyl. You can learn more about how to make stickers using clipart in this Print & Cut Tutorial.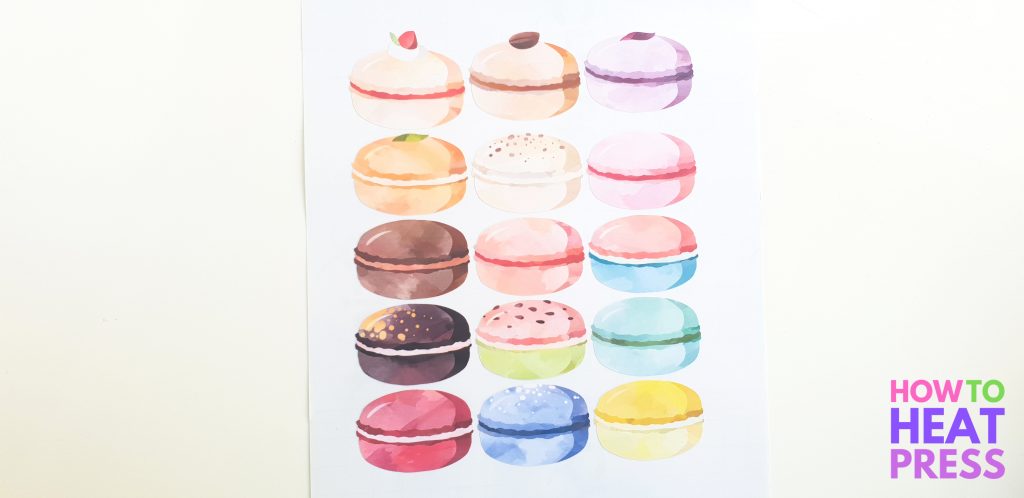 Of course, the macaron graphics came from the clipart bundle.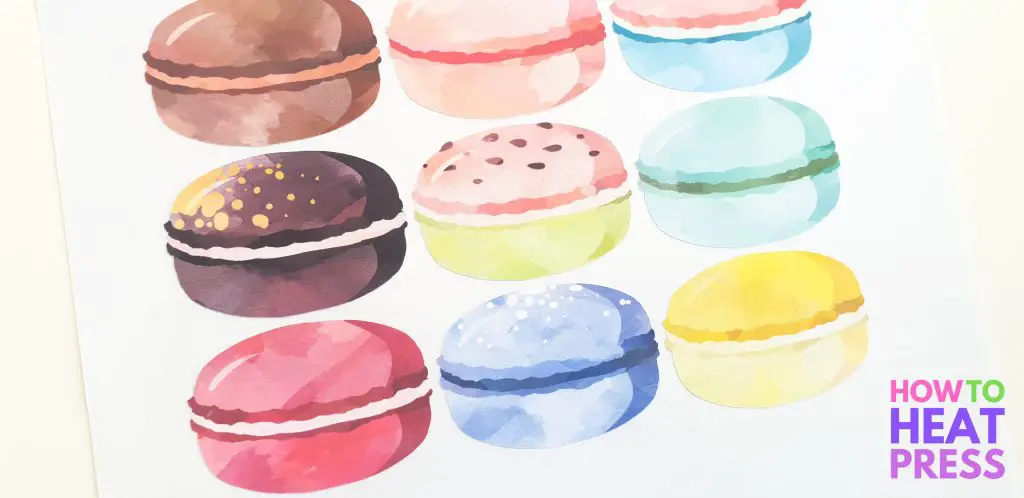 The Clipart Countdown Is On!
The Massive Clipart Bundle from The Hungry Jpeg is available for a limited time. Grab it and you'll be sorted for clipart for a long time to come. The hardest part is deciding what to make first!
I know I'll be going back to it for many projects to come. Let me know what you'd like to make with The Massive Clipart Bundle in the comments below. If you make something and take a pic, send it our way and we'd love to share it out. Thanks!
Pin this post! 🙂
(Please note: This post contains affiliate links. Read our full disclosure policy here.)