Mary Poppins Glitter Iron-On Project | DIY Baby Onesie Design
Today I'm going to be using Siser glitter HTV to make a custom Mary Poppins baby onesie!
I'm going to use the quote from the movie, 'Practically perfect in every way', along with a silhouette of Mary Poppins and her famous umbrella.
Mary Poppins Glitter Heat Transfer Vinyl Project
Pictured below are the 3 colors of glitter HTV I have chosen for this baby onesie project. Aren't they pretty? The silver one on the right looks like a million sparkling diamonds! These Siser glitter iron-on sheets are available in this bundle on Amazon.
Siser Glitter HTV can also be purchased from Expressions Vinyl.
Glitter HTV Project Tutorial
Let me show you how I made this design and then pressed it onto a blank baby onesie. I'm using the Cricut Explore Air 2 with the Cricut Design Space software. My heat press is the all famous Power Press Heat Press.
1. Make the design
Here's the design I made in Cricut Design Space. I'm using the fonts a little sunshine and GoodiesAlt2.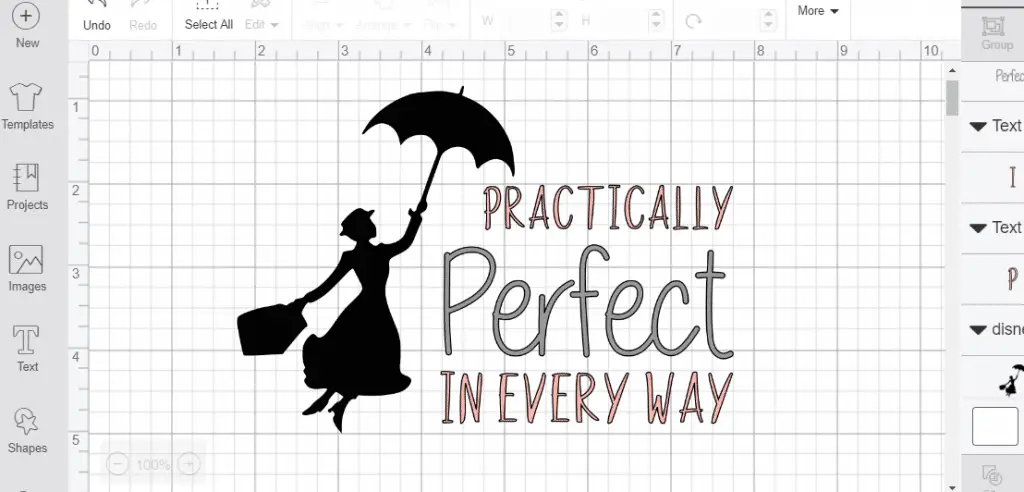 2. Cut the design
To cut Siser Glitter heat transfer vinyl I set my dial to custom and selected 'Glitter Iron On' in Cricut Design Space. I selected mirror for every mat and I placed my HTV shiny glitter side down (carrier sheet underneath) on my Cricut StandardGrip mat.
3. Weed excess vinyl
Once the design was cut I weeded out the excess material from the carrier sheet using my Cricut weeder. Siser Glitter heat transfer vinyl is so easy to weed! The excess vinyl pulls away so quickly and easily.
Because glitter HTV is so glittery, it's quite hard to see the cut lines! I recommend using weeding boxes to help you weed your design, or to weed under a bright light.
4. Pre-press baby onesie
I set my Power Press heat press to 320°F and let it heat up (it takes my heat press about ten minutes to reach temperature). Then I pre-pressed my baby onesie, to remove any moisture or wrinkles, for 2 – 3 seconds.
5. Arrange the design and press
I positioned all the parts of my design onto my baby onesie. As nothing is being layered here (you can't layer glitter HTV on top of glitter HTV), I can just go ahead and press it all at once.
I used a Teflon sheet over top to protect both my onesie and my heat press. I pressed my onesie for about 15 seconds, removed the carrier sheet, and pressed it again (with the Teflon sheet), for another few seconds.
Siser glitter HTV requires firm pressure and is a warm peel.
6. Enjoy!
Siser Glitter is so pretty! I definitely think glitter HTV looks best when used for large images/silhouettes instead of the thin writing, such as with the Mary Poppins silhouette below. I think in the future I might use a fatter font as well, to really show off the glitter HTV better.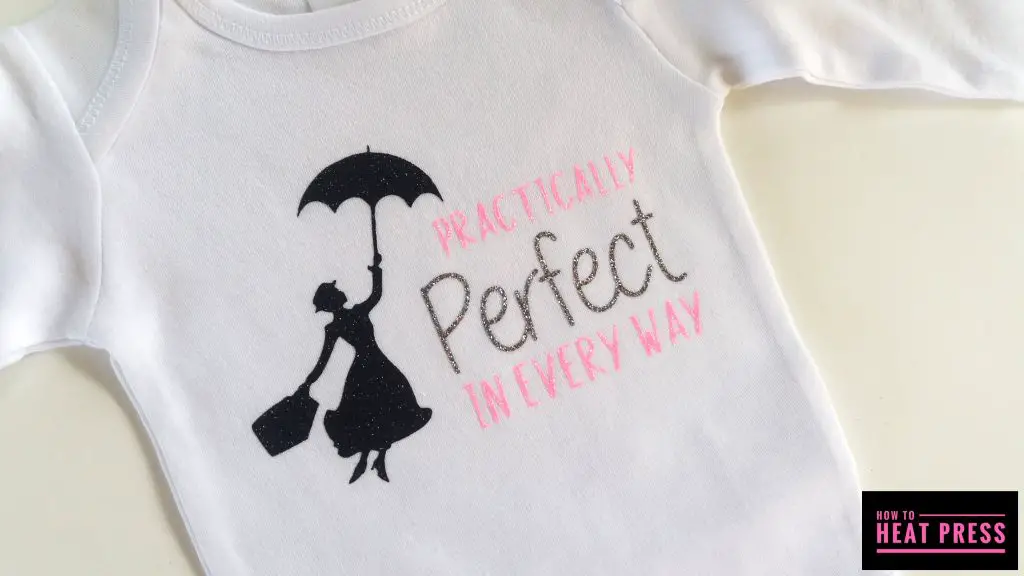 I love how the Mary Poppins silhouette turned out, she looks so cool. All finished!
Let me know what you think in the comments below. Any questions? Ask away!
(Please note: This post contains affiliate links. Read our full disclosure policy here.)