Continuous Ink Supply Systems For Sublimation – INKXPRO & More
This post contains affiliate links. If you use these links to buy something, we may earn a commission, but it doesn't cost you anything. Thanks!
What is a continuous ink supply system?
Continuous ink supply systems, or CISS, allow you to have larger volumes of ink connected to your printer. Instead of being restricted to the maximum cartridge volume, this is an external ink supply system. 
We'll cover:
what is a CISS?
the best CISS printers
best CIS systems
best CISS ink for sublimation
Continuous Ink Supply Systems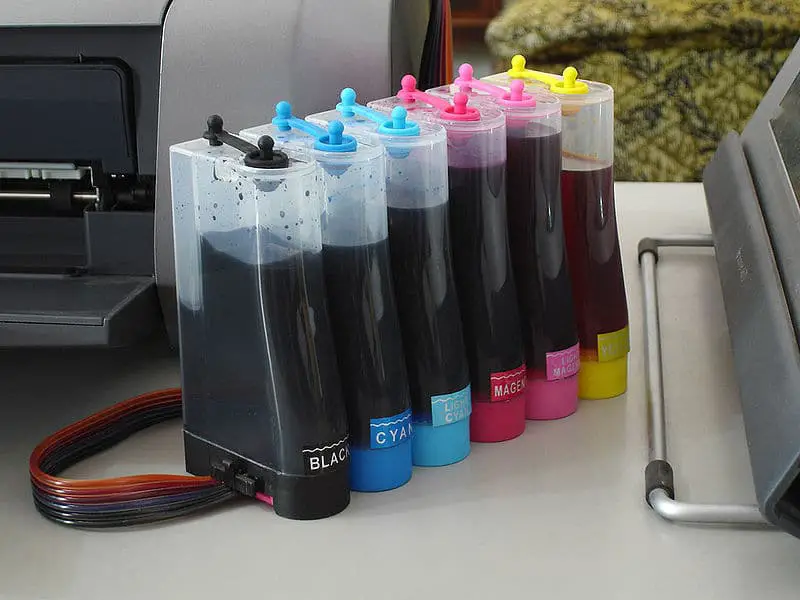 Continuous ink supply systems are exactly what you'd imagine after hearing the name… They're a way of providing a continuous supply of ink into your printer!
They come with a set of cartridges that are inserted permanently into your printer, in the usual location. The cartridges have a set of tubes running from them to an external set of larger ink tanks.
This means that instead of regularly buying and replacing cartridges, you simply top up the external tanks. You can pick up ink refills for these much cheaper than buying new cartridges all the time.
They are especially useful for sublimation, as when you are creating sublimation transfers, you are using a ton of ink. Cartridges just run out too quickly.
Best CISS Printers & Systems
There's a ton more info about continuous ink supply systems down below. For those who just want to know where to get the best gear, check out what's available here.
Epson C88+

Stand alone Epson C88+ - requires CISS
Entry level sublimation printer
Easy install and maintenace

View Option OneView Option Two

Epson C88+ With CISS

Epson C88+ with CISS included
Cheap entry into sublimation printing
Creates clean clear transfers with the right ink & paper

View Latest Price

Epson Workforce WF-7710

Can be easily converted to sublimation with CISS
Plenty of YouTube video tutorials
Highly rated, reliable printer

View Latest Price

INKXPRO CISS For Epson C88+

CIS System for Espon C88+
Great basic CISS
Easy to install and set up

View Latest Price

INKUTEN CISS For C88+

Designed as a CISS for Epson C88+
Holds approx 40x what a cartridge holds
Updated chip set

View Latest Price

CISS for Epson Workforce

For use with: WF-3620 WF-3640 WF-7110 WF-7610 WF-7620 WF-7710 WF-7720 WF-7210
Designed & assembled in the USA
Easy install

View Latest Price

Printers Jack Sublimation Ink

Top rated sublimation ink for epson printers
Suitable for C88+ & Workforce machines
ICC profiles & good warranty

View Latest Price

Ink Jet Sublimation Ink For CISS

For Epson printers
Use with cartridges or CIS system
Cheap sublimation ink

View Latest Price

INKXPRO Sublimation Ink For CISS

For C88+ & Workforce printers
ICC profiles available
For all sublimation applications

View Latest Price
Best CISS Printer
The Epson WF-7710 is one of the most popular CISS printers for sublimation. It's a step above the Epson Stylus C88+, which is another much loved CISS printer.
It's going to depend on your budget and requirements as to which you will choose. Watch the following video to see how to install a CISS into a Workforce printer.
For more printer options, check out these posts as well:
Best CISS
Either of the 3 CISS listed in the table above are good for Epson printers. Just make sure you choose the right one for your printer. The INKXPRO CISS for Workforce is definitely the best rated and most popular choice for those printers.
There are a lot of helpful video tutorials on how to install and set up a CISS, as well as troubleshooting support.
Best Sublimation CISS Ink
Printer Jacks CISS Ink is incredibly well rated, and is a quality sublimation ink for Epson printers.
The applied transfers are vivid, bright, and colorful, and last well. So long as you set up your printer settings correctly, this ink will work very well in your CISS.
Who Should Use A CISS Printer?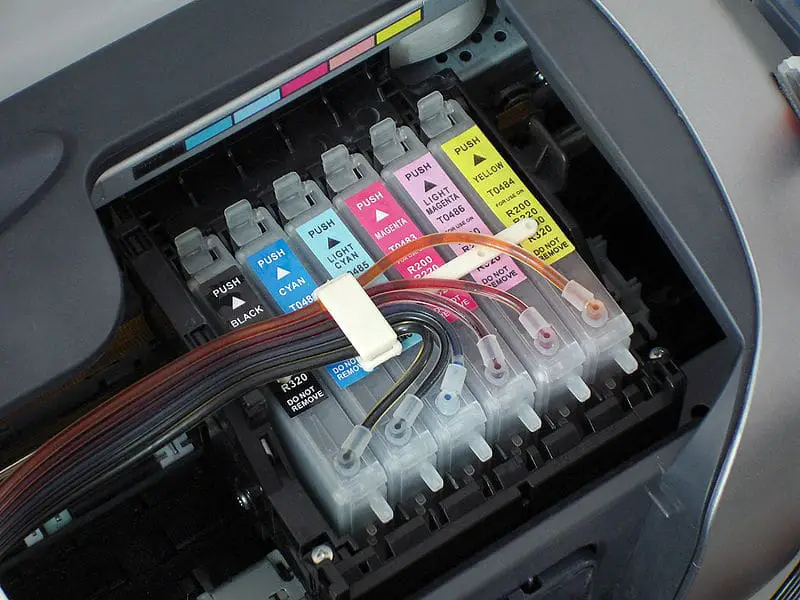 CIS systems are added aftermarket. Printer manufacturers do not tend to make, supply, or appreciate these systems. That's because printer companies make most of their revenue selling small ink cartridges as often as possible.
The printer is a one time sale, often priced to cover the cost of manufacturing (or even as a loss leader), and then they make their real money selling you the ink replacements for the years to come.
Nevertheless, a CISS is best for those who are using their printer a lot, whether for sublimation or regular inkjet use. This might include those in office environments, graphic designers or small business owners.
A CISS is especially useful for those doing a lot of dye sublimation printing. Printing images for dye sub uses a lot of ink and you don't want to be buying and replacing new cartridges all the time.
The other good thing about CISS ink is that you can see very clearly when you are going to run out of ink. When you can't see the ink levels you're liable to run out in the middle of a print and you lose what had been done so far. When you can see the ink levels you can easily top them up before they run out.
CISS Pros
Cheaper to print higher volume

Use for sublimation ink
Choose from more ink brands

Less chance you'll run out of ink mid-job

Save time by not replacing ink cartridges
Feel like a pro
Usually each time you change a cartridge, the printer will clean the heads. This wastes quite a bit of very expensive ink each time. With CISS installed, you only clean when it becomes necessary. This might be if you have a blockage or the quality of print decreases.
CISS Cons
Installing a CISS can void the warranty on your printer

An extra thing in your work area

More difficult to move printer

Upfront cost to set up

Can get blocked lines

You can have trouble with color profiles 
Perhaps the biggest con is that you might experience technical difficulties fatal to your printer. For example, if the ink tubing was to come off its clip and drop down into the printer during printing, you may destroy the print head. However, if you keep an eye on things, it will unlikely happen to you.
How To Set Up A CISS
Conde's install of a CIS system on an Epson WF7010:
HBT's CISS install on an Epson Artisan 1430:
Hotzone's Continuous Ink Supply System install on an Epson C88+:
Best Continuous Ink Supply System
These systems can be a bit tricky to setup and maintain, but if you follow the instructions, and test things out, you'll get there. It is a little complicated, but well worth it in the end.
If it sounds like a bit much, another option is refillable cartridges. This is a bit less complicated, but will still bring the cost of ink down.
I hope this has helped you to know whether or not a CISS is for you – let us know in the comments below!
(Please note: This post contains affiliate links. Read our full disclosure policy here.)