Continuous Ink Supply Systems (CISS) For Sublimation
Not long ago, I bought an expensive ink cartridge for my printer (whose brand will remain nameless).  It seemed like before I'd barely done any printing, it had run out. I couldn't believe it!
Continuous ink supply systems, commonly referred to as CISS, are a way of combating what I think is an all too familiar experience.
* We're currently updating this content to ensure it is still current and relevant. Please head over to Heat Press Nation for the best sublimation printers, blanks, ink, paper, and info!
Continuous Ink Supply Systems For Sublimation
CIS systems are exactly what you'd imagine after hearing the name. They're a way of providing a continuous supply of ink into your printer.
They are a set of cartridges inserted permanently into your printer in the usual location. The cartridges have a set of tubes running from them to an external set of much larger ink tanks.
This means that instead of regularly buying and replacing cartridges, you simply top up the outside tanks after purchasing much larger bottles of ink.
CIS systems are generally added aftermarket. That is, the printer manufacturers do not tend to make or appreciate these systems. That's because printer companies make most of their revenue selling the smaller ink cartridges as often as possible. The printer is a one time sale, often priced to cover the cost of manufacturing (or even as a loss leader), and then they make their real money selling you the ink replacements for the years to come.
Who Should Use A CIS Systems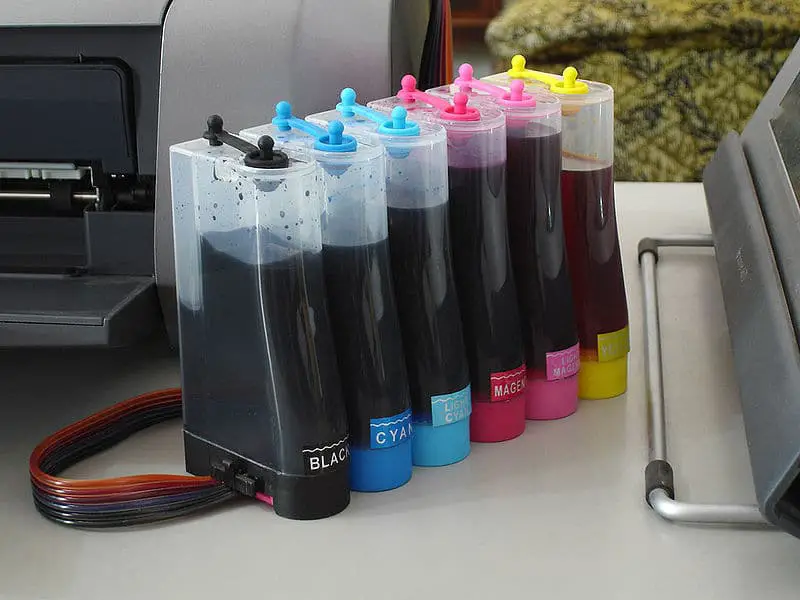 These contraptions are best for those who are using their printer a lot. It is very best for those using their printer everyday! This might include those in office environments, graphic designers or small business owners.
They are especially useful for those doing a lot of dye sublimation. Printing images for dye sub uses a lot of ink and you don't want to be buying new cartridges very often. The other good thing about CIS systems is that you can see very clearly when you are going to run out of ink.
When you can't see the ink levels you're liable to run out in the middle of a print and you lose what had been done so far. When you can see the ink levels you can easily top them up before they run out.
Pros
Here are some pros to installing a Continuous Ink Supply System to your printer:
A cheaper way to print when you're using your printer a lot

You won't run out of ink in the middle of a job

You save time by not replacing ink cartridges
Usually each time you change a cartridge, the printer will clean the heads. This wastes quite a bit of very expensive ink each time. With CISS installed, you only clean when it becomes necessary – if you have a blockage or the quality of print decreases.
Cons
As always, there are some cons:
Installing a CIS system can void the warranty on your printer – you might be able to install and uninstall without leaving any evidence, but if you can't then you're on your own

It can look a little bit ugly not having your printer closed up and tidy, but instead having these tubes running out of it

It can make shifting the printer around more difficult – best if you have a dedicated space for your machine

There is a small upfront cost to buy the system and inks – money you will likely save in ink in the long run

You can get clogged lines, dried ink in the lines or have problems with air in the lines

You can have trouble with color profiles 
Perhaps the biggest con is that you might experience technical difficulties fatal to your printer. For example, if the ink tubing was to come off its clip and drop down into the printer during printing, you may destroy the printhead. If you check up on it every now and again however, it will unlikely happen to you.
CISS Tips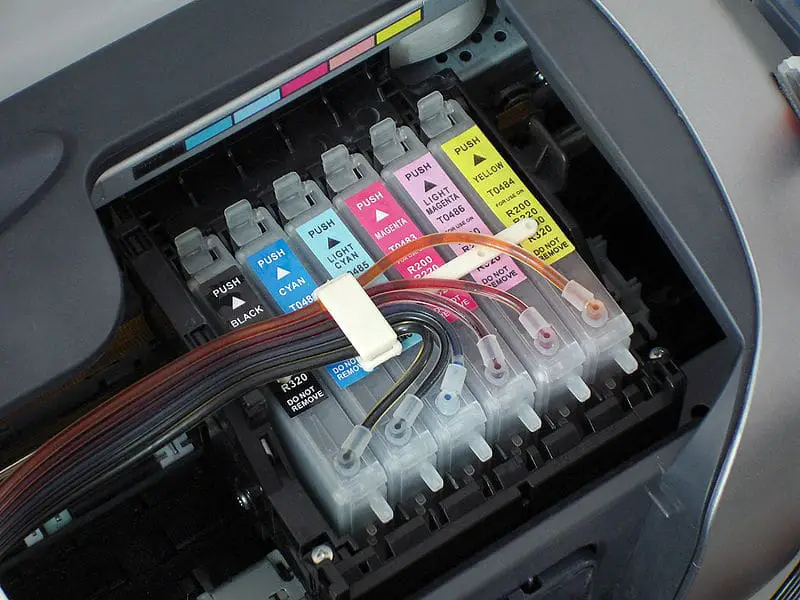 You must keep the external ink tanks at the same level as the printer. If you place them above the printer you could end up with gravity fed ink leaking into your machine.
Where To Buy Continuous Ink Supply Systems
When you're looking for a system for your printer, first make sure it is going to be compatible with it. There is not one system for all machines. The permanent cartridge insert must fit your printer.
Also, if you are wanting to use CISS for sublimation, you will likely need to buy it empty. You don't want to buy one pre-filled with an unsuitable ink.
Here are some CIS Systems for sale on Amazon:
INKXPRO Continuous Ink Supply System for Epson Artisan:
INKUTEN Continuous Ink Supply System for Epson WorkForce:
CISS On YouTube
Conde's install of a CIS system on an Epson WF7010:
HBT's CISS install on an Epson Artisan 1430:
Hotzone's Continuous Ink Supply System install on an Epson C88+:
Conclusion
These systems can be a bit tricky to setup and maintain, but if you do it right, there's no doubt it will work well for you. It is rather complicated and the risk of something going wrong is quite high.
If it sounds like a bit much, another option is refillable cartridges. I think that would be my preferred option, especially as I do not use my printer quite enough to justify a CIS system.  
I hope this article has helped you to know whether or not it is for you!
(Please note: This post contains affiliate links. Read our full disclosure policy here.)