10 Best Screen Printing Machines (And Screen Printing Kits!)
What is the best screen printing machine?
Screen printing is one of the most popular and effective ways of making the same t shirt design in large quantities. It's much quicker than HTV, and much cheaper than sublimation!
In this post we're taking a look at the 10 best screen printing presses for sale. They range in size from single color stations to more than 6 color screen printing machines.
Screen Printing Machine Review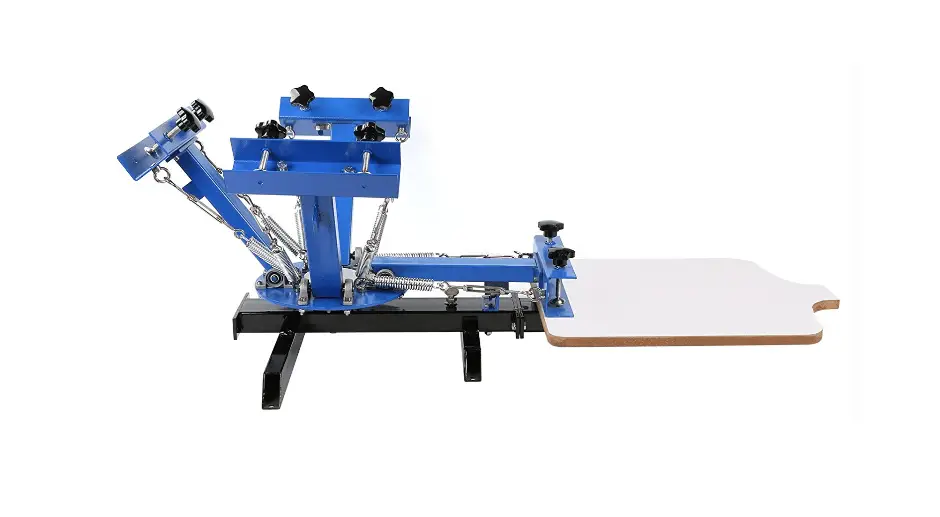 The main thing you need to know is that each machine has a certain number of 'stations' (aka pallets), and a certain number of 'colors' (screen grips). The pallets hold the shirt, while the screen grips hold the screens (obviously)!
The most common types of screen print machine are single station – single color machines, 4 color – 4 station machines, 6 color – 6 station machines, and so on.
So with that in mind, here is our list of the top 10 screen printing machines for home or business use. For full Screen Printing Kits, please take a look here for a wide range of buying options!
Commercial Bargains Screen Print Machine

This is a single color, single station machine
All parts stainless steel & good to attach to table
Screen frame clamp up to .78" thickness

View On AmazonView On Walmart

Vevor Screen Printing Machines

3 sizes: single station (4 color), 2 station (4 color), 4 station (4 color)
Most popular & well reviewed unit
Pallet size: 21.7" x 17.7"

View 1 Station - 4 ColorView 2 Station - 4 ColorView 4 Station - 4 color

SHZOND Screen Printing Press

3 sizes: single station (1 color), single station (4 color), 2 station (4 color)
Suitable for screens up to 1.8" thick
Station size 21.7" x 17.7"

View 1 Station - 1 ColorView 1 Station - 4 ColorView 2 Station - 4 color

Techtongda 6 Color Screen Printing Machine

6 Stations, 6 colors
Top and bottom both rotate either way
A taller stand than many machines

View On AmazonView On Walmart

Techtongda 6 ColorScreen Printing Kit

6 Station, 6 color print machine
Comes with everything you need to get started
Screens, inks, flash drier, & so much more

View On AmazonView On Walmart

Techtongda 8 Color Print Machine

8 Stations, 8 color screen print machine - also purchase as kit
Independently rotating top and bottom
Kit comes with the works

View 8 Station MachineView 8 Station Kit

Screen Printing Kits

Huge range of kits in all shapes and sizes
Different types of tables and attachment features
Entry level to Pro level packages

View Full Range
We'll now take a deeper look at these Silk Screen Printing Machines.
Commercial Bargains Silk Screen Machine
This single color/single station silk screen machine from Commercial Bargains is a good choice if you're only looking for a single color station.
It's perfect for beginners – for those just starting out and learning how to screen print. It holds a single screen, meaning you can do a single color.
Technically you can do multiple colors, but it would mean switching out the frame for each new color. This is time consuming and can get messy, so is not recommended.
Many people do desire to only do single color designs on their t shirts, however, and this would be the machine for them!
Pros:
Very cheap
Stainless steel
Holds shirt & frame in place
Move screen clamp down and up to .78 inch
Cons:
Not good for multi color screen prints
Not the best instructions
Vevor Screen Print Machine
The Vevor Screen Printing Machine is one of the most popular cheap machines on Amazon.
It comes in 3 sizes, all with four color screen grips:
1 station
2 station
4 station
The great thing about these machines is that both the pallets and the screens can rotate in either direction, speeding up your work flow and allowing you to print even more t shirts.
Pros:
Very affordable
Sturdy frame
Rotating pallets & screens
Attaches to table
Cons:
Poor set up instructions
Some units with flaws or missing parts
SHZOND Screen Printing Press
Next up is the SHZOND Screen Printing Machine, with 3 buying options:
Single station, 1 color
Single station, 4 color
Double station, 4 color
This machine is much like the previous models we've shared, and so the best idea is to compare prices among them, and go with the one which is the cheapest.
The screen clamp can open to a width of 1.8 inches, the pallet size is 21.7" x 17.7", and it has been positively reviewed.
Pros:
Variety of size options
Sturdy steel frame
Large pallet size
Cons:
Quality issues with some machines
Techtongda 6 Color Screen Printing Press
This Techtongda Screen Printing Press has 6 stations and can hold 6 screens at a time.
6 color t shirts are quite complex, but are well worth the effort if your customers request them. Most merchants charge out t shirts based on the number of colors, so the more you can do, possibly the more you can charge.
This machine is also available as a screen print kit. This includes everything you need to get started (minus the blank t shirts), and will likely save you money over buying everything separately.
Pros:
Do up to 6 colors per design
Have many t shirts up at a time
Get a kit with flash dryer and more
Cons:
Pricey, especially for the kit
Techtongda 8 Color Screen Print Machine
This 8 color Screen Printing machine and kit is for those wanting maximum color options!
Screen printing presses do not generally come much bigger than this, and it becomes much more time consuming and expensive creating all the frames for this many colors.
As with the machine above, this can also be purchased as part of a kit, which will set you up to get going quickly and easily. The kits include exposure sets, emulsion, inks, spatulas, washout tanks, cleaners, and so much more.
Pros:
The option to do up to 8 colors
For busy shops doing large volumes
Strong, sturdy screen print press
Cons:
Costly
Not the best quality gear
Screen Printing Kits
And finally, we recommend you consider these screen printing kits.
There are so many different kits to choose from that it's difficult to write about. There is everything from single station kits to 8 stations kits. Kits with everything you might possibly need, or kits with only the basics.
You can opt for a screen print kit that comes on a stand, or one which needs to be screwed onto a table. We recommend choosing a kit that also has an exposure unit and lighting options – like this one.
Silk Screen kits are going to cost a lot more than simply buying a machine, but if you need everything, you're going to have to buy it all separately anyway. A kit is often the best way to go!
Pros:
Everything you need
Range of sizes
From beginner to pro
Screen Printing Press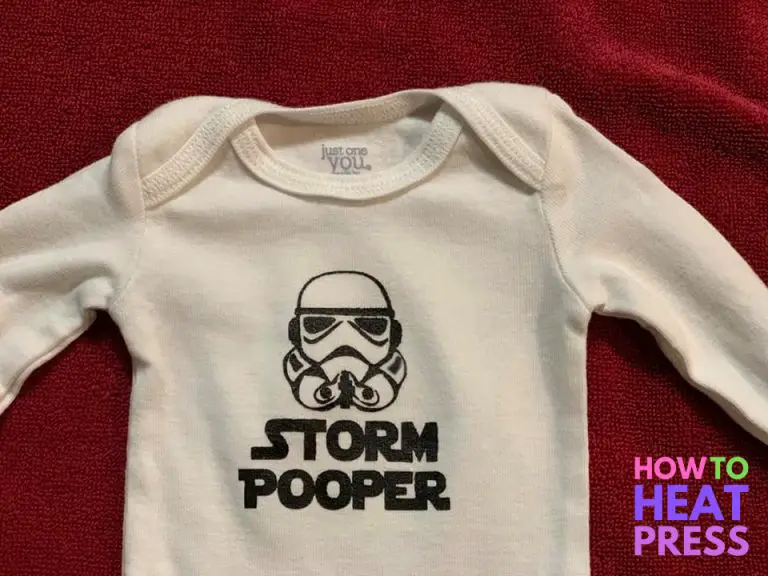 So those are all the screen printing machines we have to share with you today.
If you are not yet sure whether you want a screen printing machine yet, why not take a step back?
Speedball screen printing kits are a cheaper way to try out screen printing for a time. You can use these sets for screen printing at home, and for trying out some of the different print methods.
Or, the final option we'll mention here, is simply making a Cricut freezer paper stencil with Speedball Inks. It really doesn't get any easier that this!
Please let us know if you have any questions in the comment section below, and we'll get back to you asap. Thanks for reading!
(Please note: This post contains affiliate links. Read our full disclosure policy here.)