5 Best Janome Sewing Machines – A Janome Buyers Guide!
This post contains affiliate links. If you use these links to buy something, we may earn a commission, but it doesn't cost you anything. Thanks!
What is the best Janome Sewing Machine?
Janome is a popular name in the world of sewing machines. The company offers a wide range of models to cater to the needs of various users with different levels of experience.
If you're in the market shopping for a new sewing machine, a Janome Sewing Machine is certainly worth your consideration!
Janome Sewing Machine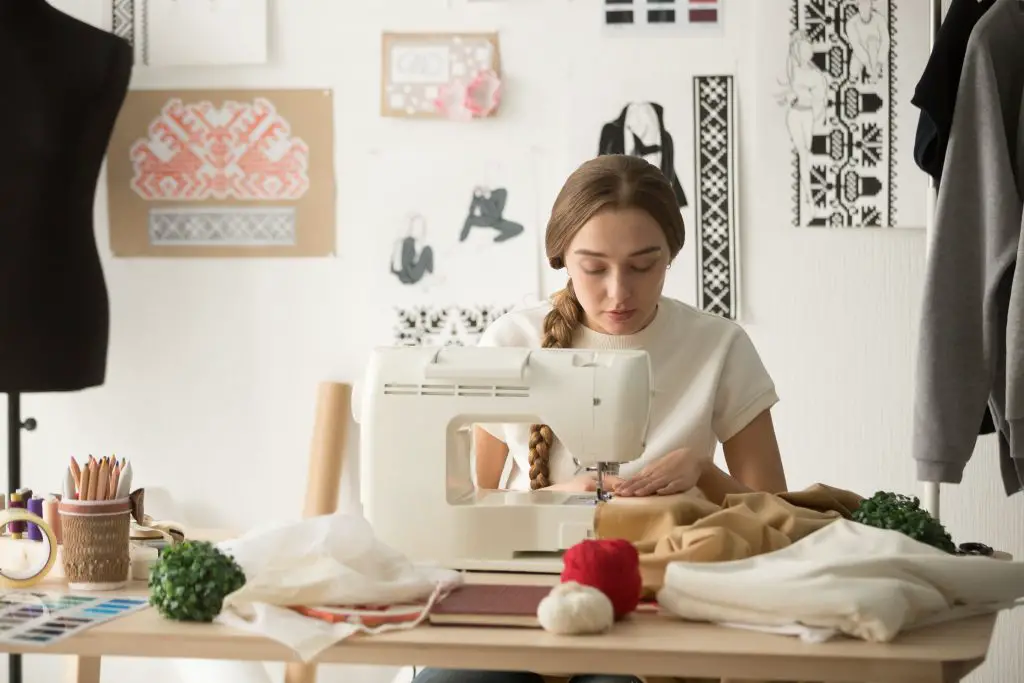 Janome is a Japanese company that has plants in Japan, Taiwan, and Thailand.
Their sewing machines come with a list of features that make them appeal to all users. In this article, we'll help you choose the right machine for you and list our 5 top recommendations.
Why Should You Buy a Janome Sewing Machine?
There are a ton of different sewing machines out there, so why should you consider Janome?
The fact that they are one of the most popular brands of sewing machine isn't enough in itself to justify the purchase.
Here are a few reasons why you should take a deeper look at a Janome sewing machine. And, if you were interested, take a look at these Janome Embroidery Machines as well – many of them are combo sewing & embroidery!
1. Range Of  Models
This brand offers a wide range of models. Regardless of your level of experience, you'll find a model that suits your skills. This is a big plus especially for beginners who can get overwhelmed by professional sewing machines.
While higher end and heavy duty models are great, they may provide too many features that a beginner just doesn't need.
2. High Quality & Great Price
Janome offers several high-quality sewing machines at an affordable price. With a range of models and price points, you should be able to find what you need within your budget!
3. Great Features
Janome sewing machines come with a lot of adjustable features.
Just because you're buying a budget-friendly model doesn't mean that it will come with limited abilities. As a matter of fact, the most affordable model allows you to adjust the speed and stitches for a customized sewing experience.
You can work with many types of fabric to complete whatever sewing project you have in mind – even these fun Cricut sewing projects!
Which Janome Sewing Machine Should I Choose?
Janome sewing machines are user-friendly. However, some of them are more suitable for more experienced users. Here are our top 5 recommendations so you can easily pick the one that you prefer.
1. Janome Magnolia 7318 Sewing Machine – Best for Beginners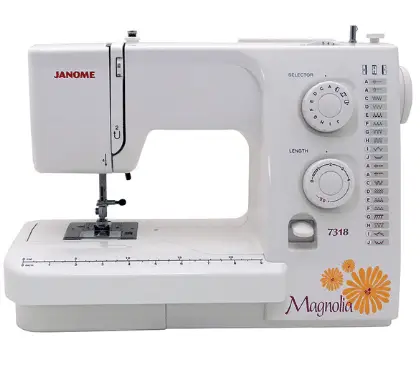 Adjusting this machine to suit your needs as a beginner shouldn't be a problem.
It comes with a dial knob for the perfect stitch selection allowing you to choose between 18 different stitches; adjusting their length and width. Moreover, it has a built-in 4-step buttonhole function to save you the hassle. It reaches a maximum speed of 830 stitches per minute.
The 7-piece fabric feed dog offers you the needed versatility so you can work with various materials. The machine also comes with a top-loading jam proof bobbin system and multiple needle positions. It weighs 17 pounds and comes with a carrying handle so it's an excellent choice for sewing classes.
You'll receive a user's guide to walk you through the first use and a needle set to help you get started. Moreover, you'll also get a lint brush and seam ripper. However, if you're looking for a machine that can work on quilting projects, this isn't the one for you. It's also a bit loud at certain speeds.
Pros
Precise fabric feeding
18-stitch selection with adjustability feature
Lock-in feature to save your stitch setting
Several sewing accessories to help you get started
Cons
Machine can be a little loud
Not suitable for quilting projects
2. Janome 2212 Sewing Machine – Best Budget Choice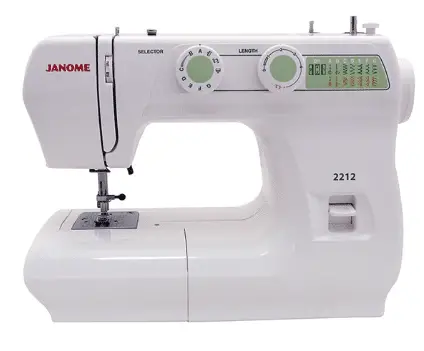 If you're on a tight budget, you can still get a good sewing machine for less than $200.
The 2212 model from Janome offers 12 stitches and a buttonhole feature, in addition to a 5-piece feed dog. You can easily adjust the size of the stitches and the machine can reach a maximum speed of 1000 stitches per minute.
Selecting and adjusting your stitches is very easy, and the machine comes with a reverse lever to lock stitches. Thanks to the free arm stitching, you'll be able to work on collars and sleeves easily. It's also a lightweight model that weighs 16 pounds so you can sew wherever you want to.
However, if you're planning to sew denim and other thick fabrics, then you should look for something else. It doesn't come with lots of accessories, but it does the job, especially if you need an affordable model.
Pros
Lightweight affordable machine
Built-in stitches and buttonhole feature
Adjusting the size of stitches is easy
Free arm for collars and sleeves
Cons
Doesn't work on denim and other thick materials
Comes with limited sewing accessories
3. Janome 3160QDC Sewing Machine
Janome offers a great selection of sewing machines for more advanced models for experienced and professional users.
This model comes with 60 built-in stitches, 6 buttonholes, and an automatic needle threader. It also has a LCD screen to help you select and monitor your favorite settings.
It's fully computerized with lots of cool features like the reverse stitching, the thread cutter, multiple needle positions, and several feet. Moreover, it comes with an extension table that allows you to work on bigger projects. It's designed to reach a maximum speed of 820 stitches per minute.
It's incredibly lightweight, weighing 12 pounds. However, working on darker fabrics isn't easy because the built-in light isn't that strong. For beginners, this machine might be too expensive, but you can definitely buy it if you want a versatile machine that suits your needs as you get more experienced.
Pros
Advanced model with 60 built-in stitches & 6 buttonhole styles
Lightweight sewing machine
Automatic needle threader
Extendable work area
Cons
Not suitable for beginners
More expensive than other models on the market
4. Janome Sewing Machine DC2013
Thanks to Janome, buying a versatile sewing machine at a great price is possible.
This model comes with 50 built-in stitches and 3 buttonhole styles. It comes with the Janome Superior Feed System that guarantees the quality of your stitches even if you're still a newbie. This system makes a huge difference when you're working on thicker materials.
It features a memorized needle stop position and easy-to-select stitch buttons for fast and hassle-free use. You can easily convert this machine to free arm to work on cuffs and collars.
It comes with a built-in light for your work area, which is brighter than what you can find on other models. You can also benefit from the automatic thread tension button.
It weighs 22 pounds, so it's not the most portable option, but it comes with a detailed guide so it's a good choice for beginners and professionals. It doesn't offer lots of fancy features, but it's a decent product if you want to start a professional sewing business.
Pros
Versatile machine with 50 built-in stitches & 3 buttonhole styles
Memorized needle stop position & automatic thread tension button
Various accessories including a free arm for cuffs & collars
Suitable for beginners
Cons
Not portable
Limited selection of stitches and buttonholes
5. Janome Horizon Memory Craft
For a higher price, you can use the Memory Craft Range from Janome to cover all your sewing and embroidery needs.
It's what you need to execute all sewing projects and apply decorations for customizable designs that you can wear or sell as it offers many built-in stitches, decorative and embroidery designs, and 13 one-step buttonholes.
Whats more, most machines also have fonts for monogramming.
The Memory Craft Range isn't ideal for beginners or first-timers. However, if you need to finish several projects before a specific deadline, it won't let you down.
It connects to your computer so you can adjust your stitches and designs. These machines have features such as a 7-piece feed dog, an automatic threader, free arm, and several buttons to help you make the best of your sewing experience, with a LCD screen and a user-friendly control panel.
Pros
Advanced machine for sewing and embroidery projects
Built-in stitches & buttonhole styles
Works on different fabrics and craft materials
Adjustable functions with a LCD
Cons
An expensive model
Not suitable for beginners
New Janome Sewing Machine
Whether you're a beginner or a professional, Janome offers a wide variety of amazing and reliable models that you can choose from. You can also check out these heavy duty sewing machines for further Janome options.
If you're willing to spend that extra cash, Janome also offers several models that are specifically designed for professional users. They come with a higher price but are totally worth it.
Thanks for visiting – please leave any comments or questions down below! 🙂
(Please note: This post contains affiliate links. Read our full disclosure policy here.)