Siser EasyWeed Foil Heat Transfer Vinyl Review
I'm not sure if you're here because you're interested in buying and using Siser EasyWeed Foil HTV, or because you've already got some in your hot little hands and you are wanting some info on how to get started – either way, it doesn't matter, you've come to the right place. If you like all your information on a product in one handy location, stick around and read on.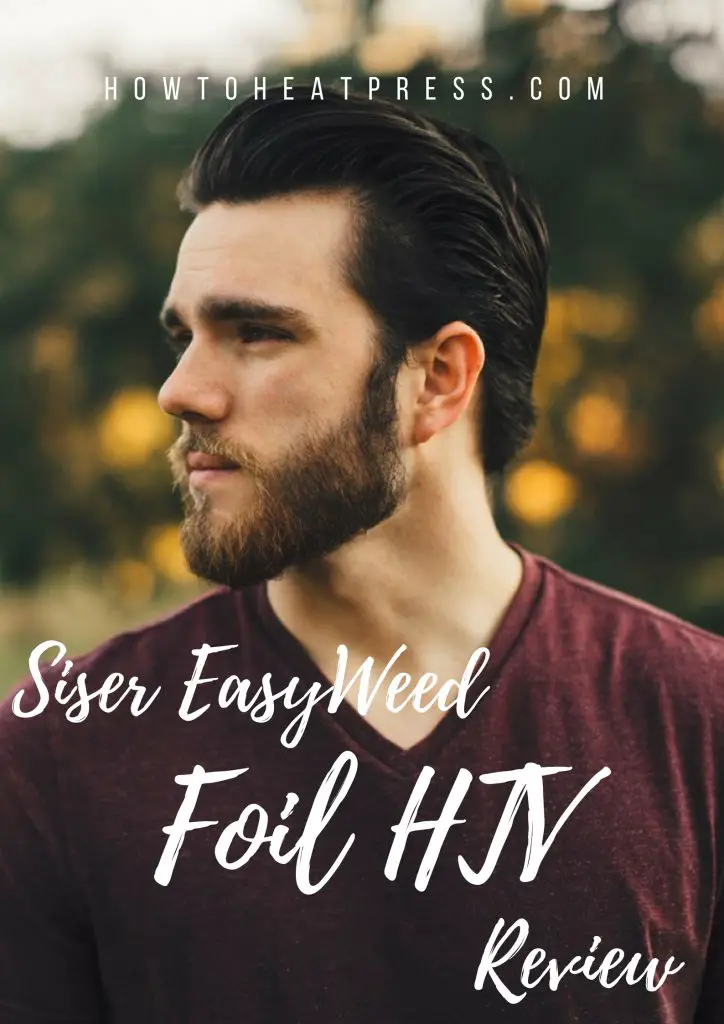 Skip to a heading in the contents down below or continue to read our review.
What Is Foil Heat Transfer Vinyl?
Siser EasyWeed Foil heat transfer vinyl is a thin, shiny material made to be cut and pressed onto various substrates. It has a metallic look to it, but feels very soft to the touch.
Siser EasyWeed Foil is the same as other EasyWeed vinyls in that it is extra easy to weed, making it easier and faster to work with.
Foil HTV is a strong trend for 2017, particularly on kids clothing, and on mom t-shirts and tank tops. Siser EasyWeed Foil Vinyl is CPSIA certified and is therefore safe for use on children's apparel.
What Materials Can Siser EasyWeed Foil Be Applied To?
Siser EasyWeed Foil can be applied to 100% cotton garments, 100% polyester garments, and to polyester and cotton blended garments.
How Do I Cut EasyWeed Foil?
Before you cut foil HTV you will need to flip your design horizontally, or mirror your design on your cutting machine software so that your machine cuts it backwards.
It's always a good idea to do a test cut when using foil vinyl for the first time, or any different type of foil for that matter, just to make sure you have the right cut settings. The thickness between different vinyls can vary which means you will need to alter your cut settings so that you get a nice clean cut.
Siser EasyWeed Foil can be cut with any craft cutter, such as the Cricut or Silhouette Cameo. The cutting specifications are listed under the specifications heading.
How Do I Press EasyWeed Foil?
Before pressing foil HTV, be sure to pre-press your garment for 2-3 seconds to remove any wrinkles and moisture.
You can also run a lint roller over the area where your design will go to remove any stray fibers from becoming embedded in your transfer.
Use a teflon sheet, baking paper or graph paper to cover your design when pressing, otherwise you will alter the look of the shiny, metallic finish.
To press Siser EasyWeed foil, you will need to heat your press up to 275° F or 135° C. Set your press to medium pressure and press your garment for 15 seconds. When your press is done, remove it from the lower heat press platen so it can cool slightly, and peel it warm.
When weeding Siser EasyWeed Foil, heat up your lower heat press platen for two to three seconds and then weed your vinyl on the warmed surface. The adhesive backing will loosen with the heat and allow you to weed your vinyl much faster. You can use the Siser Weeder tool to weed your vinyl, or any equivalent tool should work just fine.
Please take note that this foil cannot be layered. You cannot overlap foil with foil, or place foil upon foil.
Can EasyWeed Foil Be Ironed On?
Yes, Siser EasyWeed Foil can be ironed on.
To iron on EasyWeed foil, first change your iron settings so that it is set halfway between cotton and linen. It's important to wait for your iron to fully heat up before you start trying to iron on your transfer.
Make sure you use a cover sheet so that the metallic look of the foil doesn't get ruined – you can use teflon sheets, however parchment paper and graph paper are also good substitutes.
When your iron is nice and hot, place your cover sheet over your transfer and press nice and firmly with your iron for about 15 seconds. Let your transfer cool down a bit so that you can peel the backing paper warm.
If any of your design is not adhering properly to your garment, simply re-apply the backing paper and continue to iron it on for another 5 or 10 seconds.
For longer lasting results of your transfer we recommend using a heat press, however, if you are only doing the occasional DIY project, then your household iron will work just fine.
EasyWeed Foil Specifications
PU composition (a type of polyeurathane – great for this job)
Pressure sensitive backing
Gloss finish
Cutter blade: 100 microns / 3.9 Mils and 45°/60° blade
Price Of EasyWeed Foil
Click here to view the price of Siser EasyWeed Foil on Amazon.
EasyWeed Foil Care Instructions
In order for your garments to last longer, wait at least 24 hours after pressing before washing them for the first time. When washing your garments, turn them inside out and wash cold with mild detergent. You can put them in your household dryer at a normal setting. Do not bleach or dry clean your garments. These instructions are specific to Siser EasyWeed Foil, so be sure to check each individual garment's washing instructions as well.
Foil Inspiration Videos
Here are some videos to inspire you and teach you how to use foil HTV.
How to apply EasyWeed Foil:
How to press Siser Glitter Vinyl and The Rhinestone World Magic Foil:
How to press foil using Stahls' CAD-CUT adhesive:
Creating a foil shirt with EasyWeed adhesive & TRW Magic Foil & a Silhouette Cameo 3:
Create a 5 color foil shirt with Easyweed Adhesive and TRW Magic Foil: (my personal favorite, I think this turned out awesome!)
Siser Vinyls App
For more information on the different types of Siser vinyls available and their color options, you can download the free app on Android & iPhone. The Siser app also has the application instructions required for each of their vinyls – super handy!
For more information on Siser EasyWeed heat transfer vinyl you can also check out this post.
Have you tried out this product? Let us know what you thought of it in the comments below!
(Please note: This post contains affiliate links. Read our full disclosure policy here.)