Graphtec Plotter Review – The Graphtec CE600, FC8600, & LITE Series
This post contains affiliate links. If you use these links to buy something, we may earn a commission, but it doesn't cost you anything. Thanks!
Should you get a Graphtec plotter?
Whether you are deciding on which Graphtec cutting machine is best for you, or, if you're yet to decide if this is the brand for you, we'll tell you everything you need to know.
Graphtec is a well known and trusted brand, manufacturing quality cutting machines, and so we're happy to review these machines today.
The Best Graphtec Plotter
Graphtec plotters are made of high quality components which enable it to accomplish tasks that the cheaper cutting machines cannot.
These cutting machines also tend to be larger; making them able to take wider and longer media, making them perfect for high volume business use.
Common applications for these machines include:
t-shirt business
sublimation print and cut
graphic artists
sign-writing
vehicle signage and decals
Personally, I first used Graphtec cutting machines while working in thriving a sign-writing company. They are easy to use (once you've familiarized yourself with the software), particularly good for doing intricate cuts, long production runs, and the machines will last for years.
Take a look at the full range in the following table, then scroll down for all the features, specifications, and technical information.
Graphtec CE LITE-50 Cutting Plotter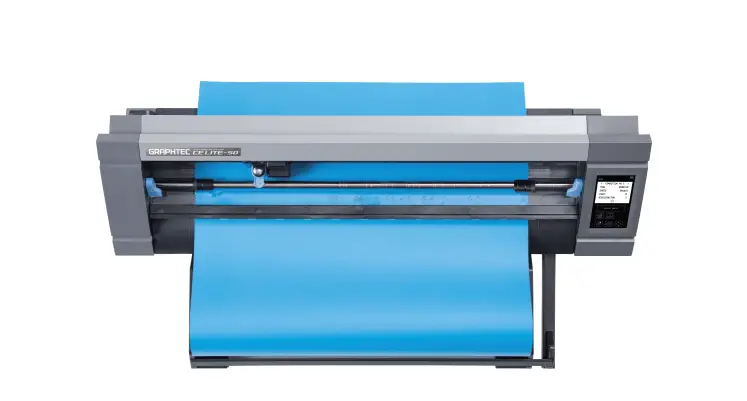 Best For Small Home Business & Advanced Crafts
The CE LITE-50 is Graphtec's entry level plotter for home business or advanced crafting! It  has a 20 inch wide cutting area, allowing you to cut a greater volume and work with larger rolls of vinyl.
Take a look at the range of features of the CE LITE-50 in the following video:
The CE LITE-50 has the following features and specifications:
takes media up to 20 inches wide
takes media up to 118 inches long
applies up to 210 grams downward force
has a 4.3 inch touch screen display (supporting 10 major languages)
includes the software Graphtec Pro Studio (Windows) or Graphtec Studio (Mac)
plugins available for Adobe & CoralDraw (Cutting Master 4)
Graphtec CE6000
Best For Commercial Business Use
The CE6000 Series is the next step up in Graphtec's range. These are good for commercial business use (as well as home business and craft use).
There are 4 cutting machines in this range, with the main difference being the size:
The CE6000-40 is 15 inches wide
The CE6000-60 is 24 inches wide
The CE6000-120 is 48 inches wide
The CE6000-AKZ is 48 inches wide & designed especially for automotive decals, etc.
Here is a comparison between the CE6000-60 with the Silhouette Cameo:
Features of the CE6000-60 include:
precision cutting
450 gram max cutting force
pre-set 8 different cut settings
large 3.7 inch LCD screen
rear vinyl roll holder (takes up to 24 inch wide rolls)
accomplish easy test cuts at multiple force levels at the same time
durable blades
Graphtec ARMS 5.0*
fast & accurate servo motor*
4 point, dual-axis skew correction*
Tangential control*
Graphtec Studio Software*
Graphtec FC8600 Series
Best For Commericial & Industrial Use
The FC8600 Series is the best Graphtec cutting machine range. These cutters are for professional, industrial and commercial use.
There are 5 cutting machines in the FC8600 range:
FC8600-60 which is 24 inches wide
FC8600-75 which is 30 inches wide
FC8600-100 which is 42 inches wide
FC8600-130 which is 54 inches wide
FC8600-160 which is 64 inches wide
Take a look at the FC8600 in the following promo video from Graphtec:
The Graphtec FC 6000 is certainly one of the best professional cutting machines that you can buy. It has the same features as the CE 6000 series, but here is what's better:
a 600 gram max cutting force (as opposed to the Graphtec CE6000 450 gram)
an almost twice as fast cutting speed
when purchased from Heat Press Nation, a 5 year warranty (as opposed to the CE6000's 2 year warranty)
and of course, there are more sizes to choose from
Graphtec Cutting Machine Technical Terms
Here is an explanation of what some of the Graphtec technical terms mean.
Graphtec ARMS 5.0
ARMS stands for Advanced Registration Mark Sensor. Graphtec states that the "renowned ARMS system produces high precision print & cut results – even on challenging materials such as high gloss and high intensity reflective."
The system uses sensors to detect registration marks and performs the Axis Alignment. It enables significantly improved productivity in Print & Cut jobs (for example, stickers or decals).
Graphtec Overcut Feature
This feature means that the blade will over cut on straight corners by however many millimeters you set it to. For example, on jobs where you need extremely sharp corners, set to over-cut by a millimeter. This can be especially necessary when cutting thicker materials, or creating Rhinestone transfers.
Digital Servomotor
These motors are used in a wide range of industrial and commercial applications, allowing for precise precision control of machinery. In the case of Graphtec cutters, you are getting a high performance motor that is also quiet and fast. It makes cutting materials such as flocked vinyl or stretch vinyl easier as well (more on Wikipedia). The Consew 206RB is an example of a sewing machine with a Servo motor.
Graphtec Studio Software Plugin
This is the editing software that comes with Graphtec cutting machines. There are tons of features, including:
text editing tool similar to word doc
changing object shapes
grouping features
resize, rotate, or mirror designs
Plugins are available for Adobe Illustrator and CorelDraw.
4 Point, Dual-Axis Skew Correction
Most cutting machines have a 3 point positioning system, and so Graphtec is superior with a 4 point system. This means it precisely cuts your media in the perfect position as it monitors the placing of these four points.
Tangential Emulation
Allows for smoother corner cuts, especially when cutting intricate designs. The cutter with pick up the blade and pivot it when going around corners, rather than dragging the blade around, as with many other cutting machines. Using Tangential Emulation takes longer, but is not required for all jobs.
Graphtec Plotter Review

Graphtec Cutting Machines are at the high end of the price and quality spectrum in the cutter plotter market. They are for advanced and professional users, with business applications in mind.
Their machines are designed for high production quality in quick time, coupled with excellent precision cutting and processing. These are the best cutting machines for sign-writers, those doing large print-and-cut jobs, vehicle signage, and more.
There is a learning curve, as with all things, when you first get a Graptec cutting machine. However, there are plenty of online resources and  support to make this no more painful than it need to be!
Let us know if you have any questions in the comments below, or click through to receive live purchasing support and advice from the chat boxes.
Pin this post!
(Please note: This post contains affiliate links. Read our full disclosure policy here.)