Consew 206RB-5 Industrial Sewing Machine Review
This post contains affiliate links. If you use these links to buy something, we may earn a commission, but it doesn't cost you anything. Thanks!
Is the Consew 206RB the right machine for you?
Many workshops around the country make use of both industrial heat press machines, and industrial sewing machines like the Consew machine we're looking at here.
A full workshop allows you to take on whatever job the customer brings you – let's find out if this is the right machine for you!
Consew 206RB-5 Review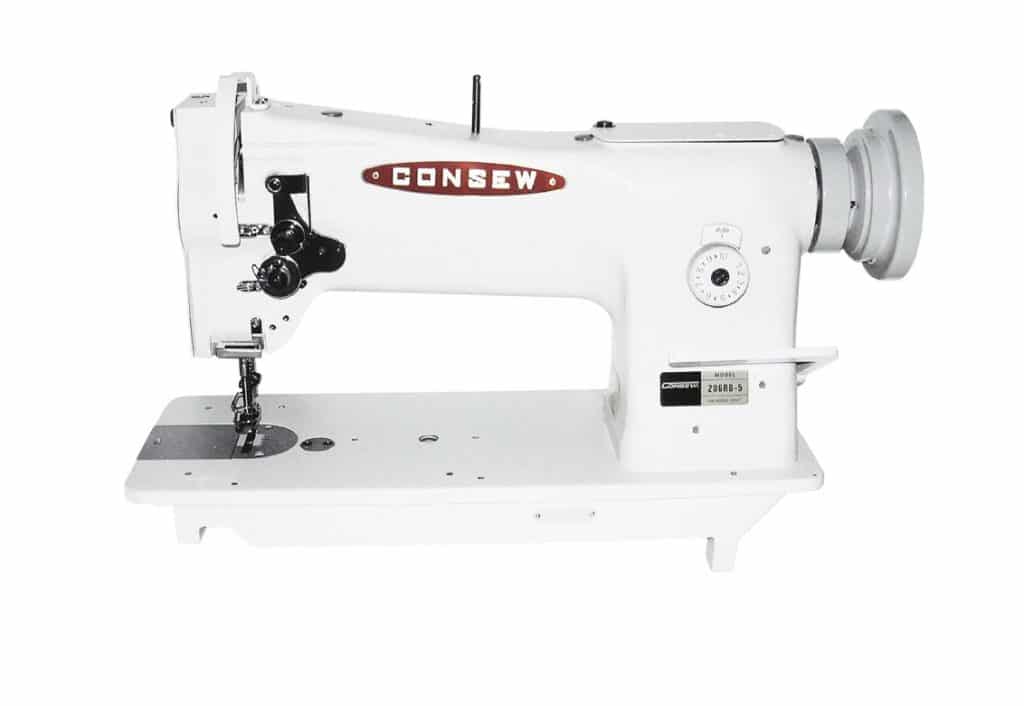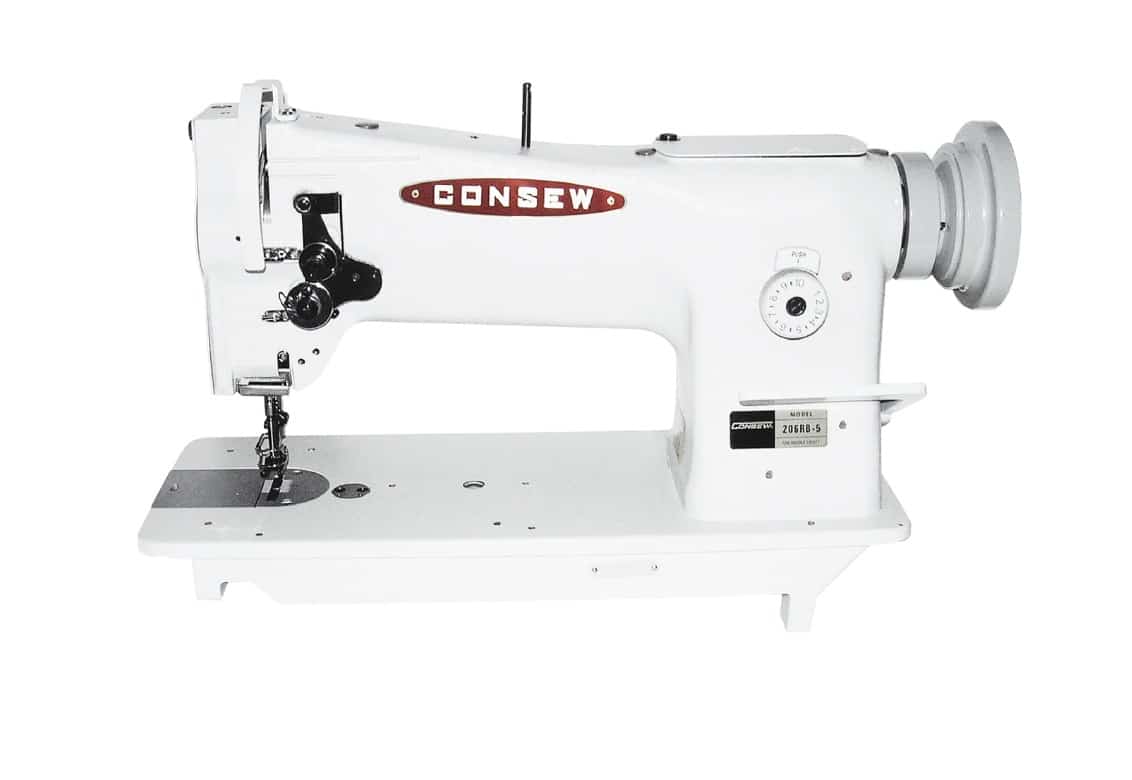 What types of materials can you sew with the Consew 206RB?
It is a heavy duty, industrial walking foot machine that can take on both light materials and heavy-weight materials like leather, vinyls, upholstery, canvas and coated or laminated products.
It can stitch together sports and camping gear, outdoor tarpaulins, sails, awnings, heavy jackets, outdoor wear, and so much more.
A machine like this is often employed in sign writing businesses, garment and decoration businesses, and other businesses working with upholstery.
Watch the following video to see the Consew 206RB-5 in action, and to see how competently it stitches together a wide range of fabrics and materials.
Consew 206rb-5 Features
Here are some of the features and specifications of the Consew Walking Foot Machine.
Features
Long stitch – 10mm
Large bobbin – change without removing work from machine
Handy thread release finger
Centralized arm lubrication
All gear driven hook mechanism
Safety clutch with push-button re-engagement
Adjustable reverse stitching (can be same length as forward stitch)
Standard attachments easily installed
Compound feed – walking foot provides even feeding of material
Locking stitch regulator prevents changes in stitch length from vibration
Specifications
Single needle 135 x 17
Walking foot
Standard workspace
Standard functions
Max speed 3300 SPM
High presser foot lift – 14mm
Stitch length 2 1/2 s.p.i. (10mm)
Bobbin pre-wound M
Bed size 7″ 18 7/8″ (178mm x 480mm)
Stitch type 301
Needle bar stroke 1 5/16″ (33mm)
The other thing to consider is whether or not to upgrade to a Servo Motor. The machine comes with a Fixed-Speed Clutch Motor as standard, but there are benefits of upgrading.
A servo motor, such as is in Graphtec cutting machines, uses less energy, is much lighter, goes into reverse easier, and is a hardier option.
Consew 206RB Manual
Another benefit of the Consew 206RB is that it comes with a great manual.
The manual is also available for download here, and contains information on how to set up the machine, how to oil it, and other important things you will need to know.
This includes:
how to adjust the height of the Feed Dog
how to adjust pressure on the materials
setting up the timing of needle and hook
Consew 206RB For Sale
Finally, where can you find the Consew 206RB-5 for sale?
Amazon is actually one of the best places to compare prices. There are multiple sellers selling this Consew walking foot machine on Amazon, and they are listed at different prices. You can easily see who has the cheapest Consew 206RB!
The other spot you should check out is here on Ebay. Ebay sometimes has second hand or near new Consew machines, as well as many Consew 206RB parts, accessories, and other complementary products.
And finally, we recommend checking out this machine over on Sewing Machines Plus.
They have a chat box option you can use to ask any further questions you have, will recommend other alternatives that may be better for you, and have all the buying options you need!
(Please note: This post contains affiliate links. Read our full disclosure policy here.)