The Martha Stewart Cricut Collection – See The Range Of Products!
The Martha Stewart Cricut Collection has some great additions!
In this post we're sharing the Cricut Martha Stewart collaborations – from the Vanilla Explore Air 2, to the Martha metallic vinyl and the Vanilla EasyPress!
Cricut hasn't partnered with many other names like this, so these items truly are special editions worth checking out.
Cricut Martha Stewart Collection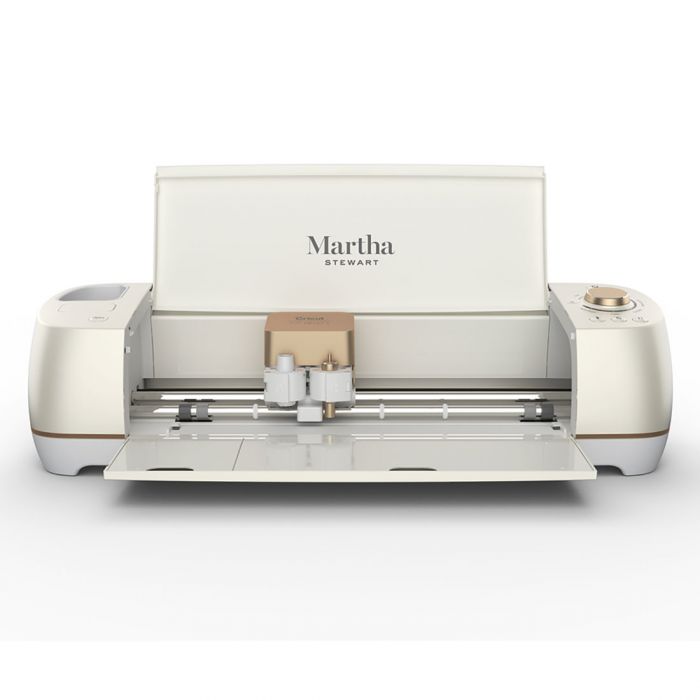 The 2 big items in the collection are the Cricut Explore Air 2 and EasyPress 2. Along with these machines, there are tools, materials, and pens bearing the Martha Stewart name.
Here are the items in the collection – many of them exclusive to Michaels Stores.
Explore Air 2 Martha Stewart Edition

Special edition of the Explore Air 2
Vanilla Colored Explore Air 2
Comes with mat & tools

View On CricutView On Michaels

EasyPress 2 Martha Stewart Edition

Special edition of the Cricut EasyPress 2
Only in 9 x 9 inch bundle model
Exclusive to Michaels Stores

View On Michaels

Martha Stewart Tool Collection

The Cricut weeding tool set in Martha colors
Comes included with the Martha Air 2 bundle
Sold seperately exculsively on Michaels

View On Cricut

Martha Stewart Pen Collection

A range of pens and markers in the Martha Stewart collection
Glitter gel pens, fine point pens, markers
Many sets exclusive to Michaels

View On CricutView On Michaels

Martha Stewart Cricut Materials

Cricut materials in Martha Stewart color palette
Fabrics, vinyls, iron on
Make unique products with a wide range of Martha materials

View On CricutView On Michaels
While the Martha Stewart EasyPress is the latest model of the EasyPress, that's not the case with the Explore Air 2. The Cricut Maker is the more recent, and best Cricut machine.
If you were wanting the latest model of cutting machine, you will need to skip the Martha Stewart part. Though I wouldn't put it past them to release a version at some point!
Martha Cricut Materials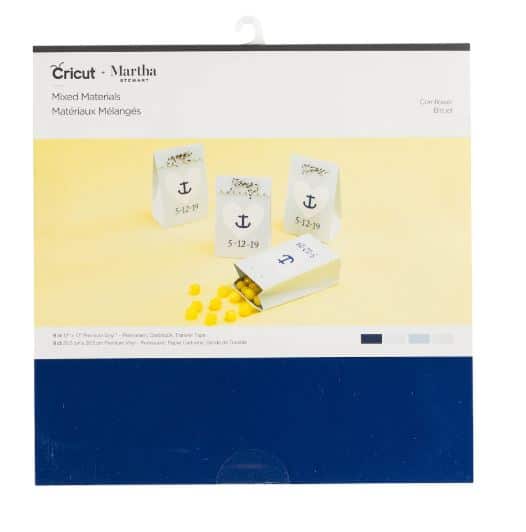 Some of the materials in the collection are really cool! For example, the mixed materials packs which give you a variety of products to try out.
The pack pictured above is the Martha Stewart Cornflower Mixed Materials. It includes Premium Vinyl – permanent, cardstock, and transfer tape.
Other materials include the Martha Stewart Patterned Iron-On which is used to make projects like the striped pencil pouch project above, found in Design Space.
That's the other cool Martha Cricut product: along with the physical products, there are a range of Martha Projects within Cricut Design Space. They are available to those with Cricut Access.
Martha Stewart Cricut Cake Machine

The Cricut Cake Machine is a thing of the past!
There was a Martha Stewart special edition of this machine as well, which goes to show you how long she's been partnered with Cricut.
This machine used the old cartridges, of which there were many Martha cartridges, of course!
This was a super cool machine for its time, being:
able to cut gum paste, fondant, frosting sheets, and more

designed for decorating cakes, cupcakes, cookies, and more
It's an interesting piece of Cricut history, and in some senses it's a shame they discontinued it.
If you want to see it in action, check out this video clip. I've set it up to start playing when the Cricut cake machine comes into play!
Martha Stewart Cricut Machine
And so that's all there is to the Martha Stewart Cricut Machine!
If you're an avid fan of Martha, and you love the vanilla color, don't hesitate to grab the products.
As far as the machines are concerned, they are identical other than the color and Martha name!
(Please note: This post contains affiliate links. Read our full disclosure policy here.)