Flocked Heat Transfer Vinyl: What It Is & How You Can Start Using It
Are you looking for something different to use on your t-shirts? How about trying flocked vinyl? In this article we tell you all about this suede-like vinyl, and how you can start using it to create unique and awesome products your customers will love.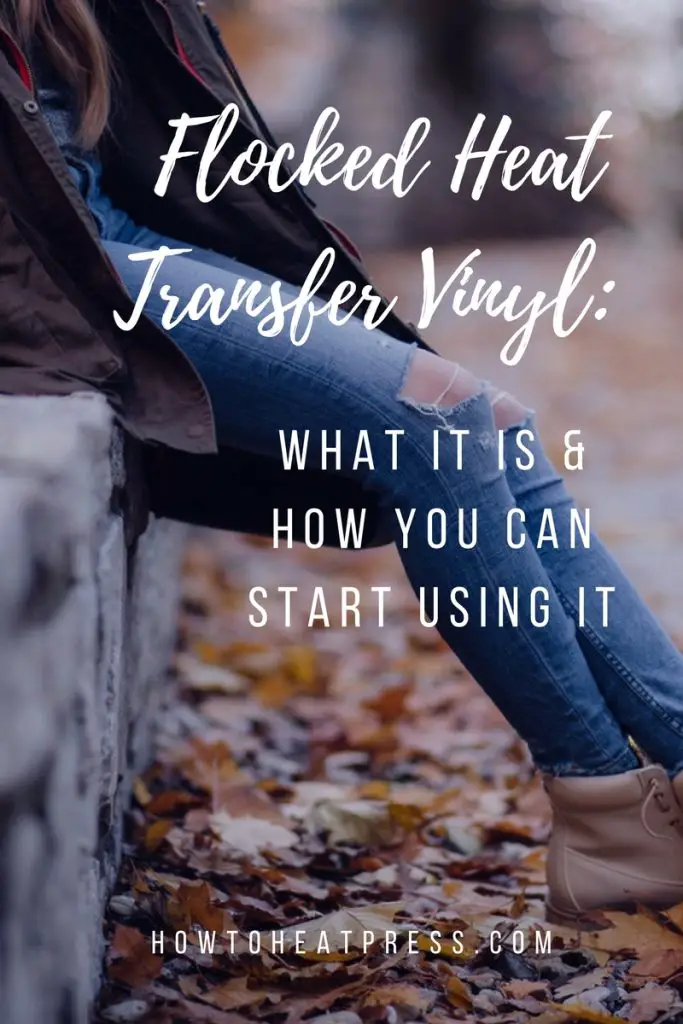 Click to skip to a heading in the contents below or continue to read our full article.
What Is Flocked Vinyl?
What is flocked vinyl? Or, as it is sometimes called, vinyl flock?
Flocked vinyl is a type of vinyl which is fuzzy or furry – it has a texture a bit like felt or suede material. It is a much thicker variety of vinyl than regular Heat Transfer Vinyl (HTV). The fuzz means it is raised, adding dimension to your design.
It is a cheaper alternative to embroidery. The result of using flock can be a similar professional looking logo at a much lower price.
It is a great vinyl to use on things like kids clothes. They will love the feel of it! It looks good when used on sports hoodies and tops to make the numbers really pop.
What Materials Can Flocked Vinyl Be Applied To?
Always check the manufacturer's instructions, but the following materials will generally be perfect for pressing flocked vinyl:
100% cotton
100% polyester
Polyester/cotton blends
Leather
Sublimated polyester
You can also apply it to other non-garment items like cardstock. In this project on the siser blog you will see examples of a variety of HTV being pressed onto cardstock – the last example is flocked vinyl!
How Can I Use Flocked Vinyl?
Flocked vinyl can be layered upon other vinyls. It can be pressed on top of regular flat HTV for example. It is often used as a border line around text, an image, or a design.  
Vinyl manufacturer Siser has created a special type of flock which can also be used as a base layer. With this brand you are even able to press other vinyls on top of the flocked vinyl!
In the following video, Joe gives a couple of examples working with Siser Stripflock®. You will see the raised fuzziness of the flocked vinyl in the final products. Don't you just want to run your face on it?
What Settings Do I Need For Cutting & Pressing Flocked Vinyl?
Each manufacturer should specify the requirements for cutting and pressing their particular vinyl. It will also depend on the type of cutter that you will be using.
You can use the Cricut cutting machine, which we've reviewed on our blog, or the Silhouette cutting machine to cut this product.
For cutting Siser Stripflock® for example, they specify the following:
A sharp 60° blade, 410 microns / 16.1 mils.
For a Cricut Explore Air 2 cutting machine, you can set your machine to 'Iron On', and then test to see if this has worked. If it needs to go deeper, change the setting to 'Iron On/Glitter.' For a Silhouette Cameo cutting machine, try a thickness setting of 33 and a blade setting of 2.
Set your cutter to a medium setting if you have this option.
As with any new vinyl or new machine, before jumping straight to your main product you should do a test. Take a moment to cut a design and see if it has worked. Change what needs changing and then go for it.
For pressing:

Pre-press your garment without the transfer first to get rid of moisture and wrinkles.
Time: 15 – 20 seconds
Temperature: 320℉
Pressure: medium
Please note that flocked vinyl requires a cold peel of the backing paper.
Can Flocked Vinyl Be Ironed On?
Yes it can, though it would be best to do it with an iron where you can set the temperature.
Some tips:
Use an ironing board with some cushioning to do the transfer.

Cover the garment and the transfer with something like a cotton tea-towel before ironing. This will protect your items.
However, we recommend using a heat press so that your finished product will last a lot longer. Click here to read our article on three reasons to use a heat press instead of an iron.
Flock Inspiration (AKA Flockspiration)
Here are some further videos to give you some ideas for projects and to better show you how to use this vinyl.
From Stahl's TV using Cad-Cut® Flock:
From The Rhinestone World:
From Imprintables:
Thanks for reading this post. Is there anything else you'd like to know about flocked vinyl?
What projects have you completed with this product?
(Please note: This post contains affiliate links. Read our full disclosure policy here.)