Cosmos Ink Review – Sublimation & Pigment Inks For Epson
Should you purchase your ink from Cosmos Ink?
Cosmos Ink are a small company focused on providing ink products for heat transfers. In particular, they are well know for their sublimation inks and systems for Epson Workforce printers.
Let's take a look at what they're all about!
Cosmos Ink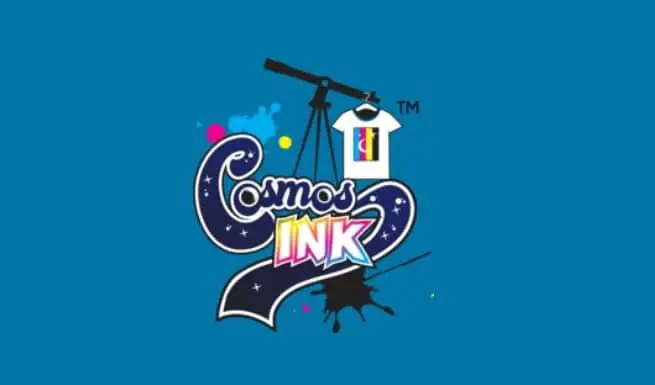 Cosmos Inks was formerly known as Caps On Fire, so you will likely see that name pop up from time to time. They also sell some of their products in their Etsy Store.
They have been involved in the heat transfer industry for quite some time now, and have a ton of experience and knowledge which they freely share.
Here are some of the highlights of Cosmos Ink:
quality sublimation inks manufactured for Epson
no color profiles needed for sublimation
helpful FREE online training videos
a great supportive community through a FB group
sublimation CISS
Cosmos Sublimation Ink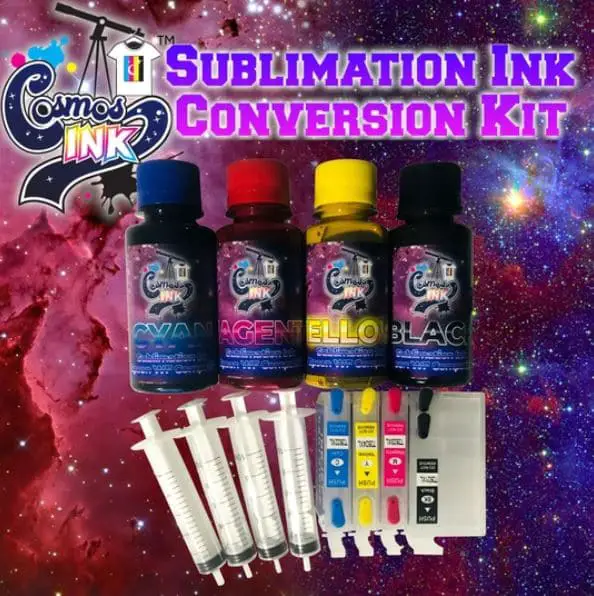 Cosmos has sublimation ink for both Epson and Sawgrass printers.
Their range of sublimation products include:
Sub inks for Epson and SawGrass
Blank and empty cartridges for Epson
CISS systems
Blank poly t shirts for sublimation
Sublimation sock jigs
Epson Workforce printers are designed for pigment inks, but can easily be converted into sublimation printers.
Cosmos Ink are special because they are manufacturing inks especially for these printers, which means set up and use is much easier than using other sublimation ink.
Cosmos Ink Review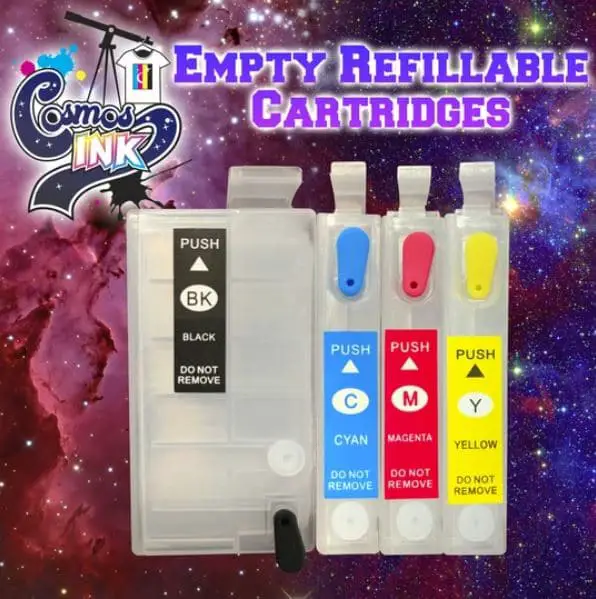 The other great thing about Cosmos Ink are the FREE extras which are invaluable when starting a business or needing sublimation help.
1. Facebook Group
Anyone can join the Cosmos Ink Facebook Group – also known as Sublimation Cove!
It's a great place to go for more information about any of the Cosmos Products, or sublimation in general. The admins and owners of the business are active in the group, and you can search past posts for quick answers to most questions.
Acceptance to the group is usually quick and easy, so join today!
2. YouTube Videos
The YouTube Channel is another awesome benefit of using Cosmos Ink inks. There is so much supporting content that it's difficult to go wrong!
The channel is full of videos like the one above showing how to refill cartridges for Epson printers, or others such as:
3. Giveaways
Something else to get involved with are the Giveaways!
They have regular competitions running on their Giveaway Page – the one running at the time of writing is for a complete sublimation printer giveaway.
The best part, not a whole lot of people enter, and so the odds are far greater that you are going to win!
Cosmos Ink Review
So what is the verdict on Cosmos Ink?
Guilty of being fantastic!
And yes, you should visit them and try out their ink products, especially their sublimation ink for Epson printers.
(Please note: This post contains affiliate links. Read our full disclosure policy here.)