Cheap Vinyl For Cricut: Is It Worth It?
This post contains affiliate links. If you use these links to buy something, we may earn a commission, but it doesn't cost you anything. Thanks!
Should you take the risk using cheap vinyl for Cricut?
Recently I was browsing the aisles of our local craft store and came across American Crafts Vinyl. I usually stick to Cricut or Oracal 651 Vinyl, but enjoy trying out new brands to see what the quality is like. There are currently two negative reviews (the only reviews!) on this brand on Amazon, but sometimes I just need to see for myself.
Let's see if this is better vinyl for Cricut or not!
Vinyl For Cricut Machine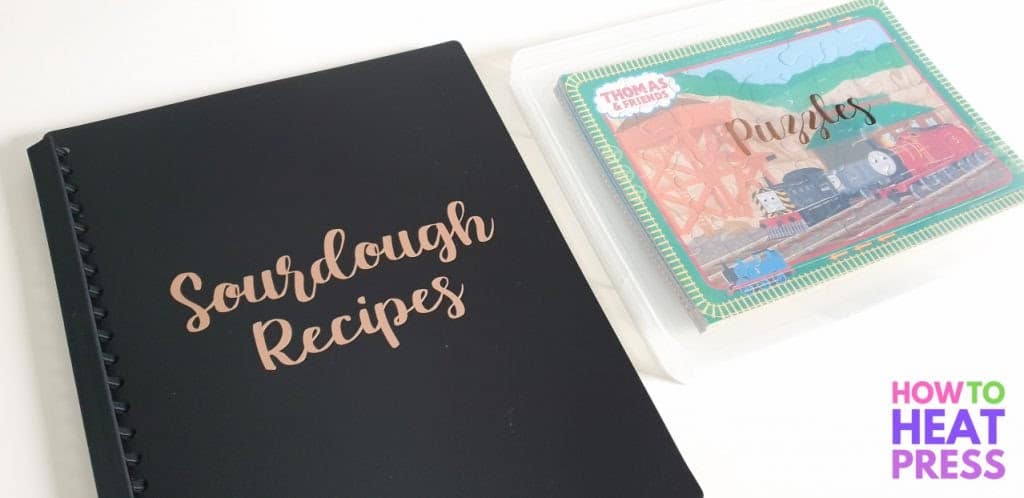 We're going to do a simple project using American Crafts Vinyl and the Cricut Maker.
This brand of vinyl was about half the price of Cricut, Oracal, and Siser adhesive vinyl, so it's a very cheap craft vinyl. We want to find out if we can save some money by using this type of product more often. Sometimes saving money is great, sometimes it's just best to stick with the premium vinyl brands, but we have to give it a go to find out!

Here are the products that I'll be trying out today: American Crafts Rose Gold adhesive foil and their vinyl transfer tape. I'm going to make some labels with them.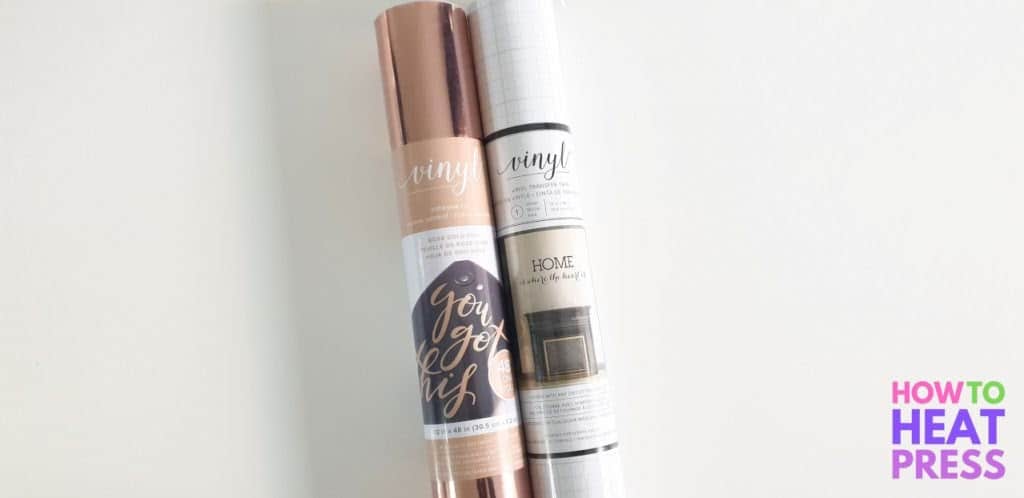 We have tried many other brands of vinyl for use with Cricut and Silhouette cutting machines. If you'd like to read those reviews and see those projects, here is where you'll find them:
Best Place To Buy Vinyl?
I highly recommend checking out our post 'what's the difference between iron-on vinyl and adhesive vinyl which has a big list of all our favorite places to buy vinyl.
Now to try out these cheap vinyl rolls – drumroll . . .
The Test Project
To start with, I'm cutting the Rose Gold Foil Vinyl. I couldn't find any cut settings online, so I had to experiment a little, and do some test cuts to find out which cut setting worked best.
I have to admit, I've never had this much trouble cutting out vinyl before.
In Cricut Design Space I first tried to cut out this foil vinyl using the 'adhesive foil' material setting, but this was a complete fail! It didn't cut through the vinyl at all, not even close! I changed the default pressure, and it was still a no-go.
After a few more failed attempts, I finally had a successful cut result using the 'Adhesive Foil, Matte' setting with the default pressure changed to 'more'. This worked well. Success!
But don't get excited yet, cheap vinyl for Cricut is feeling pretty cheap . . .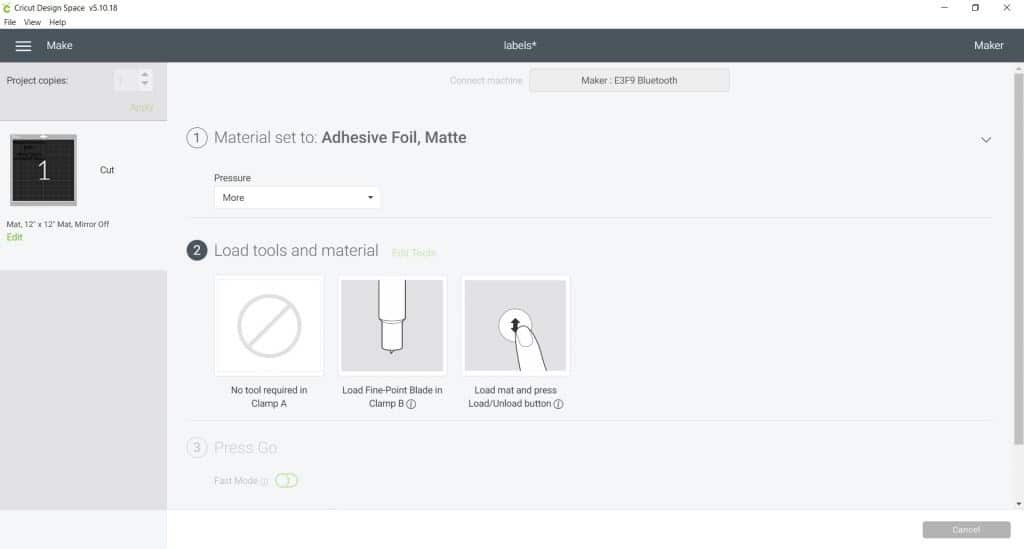 If you're trying out a new non-Cricut vinyl brand, then it's always a good idea to do a small test cut first, so that you avoid wasting any of your precious vinyl.
My problems didn't stop there though. While cutting out my labels, little pieces of vinyl would keep sticking to the blade, and then the blade would stop cutting through the vinyl. What I planned to be a quick and easy project ended up taking me at least 3 times as long.
I even changed my blade half-way through, just in case my blade was dull, but that didn't help either.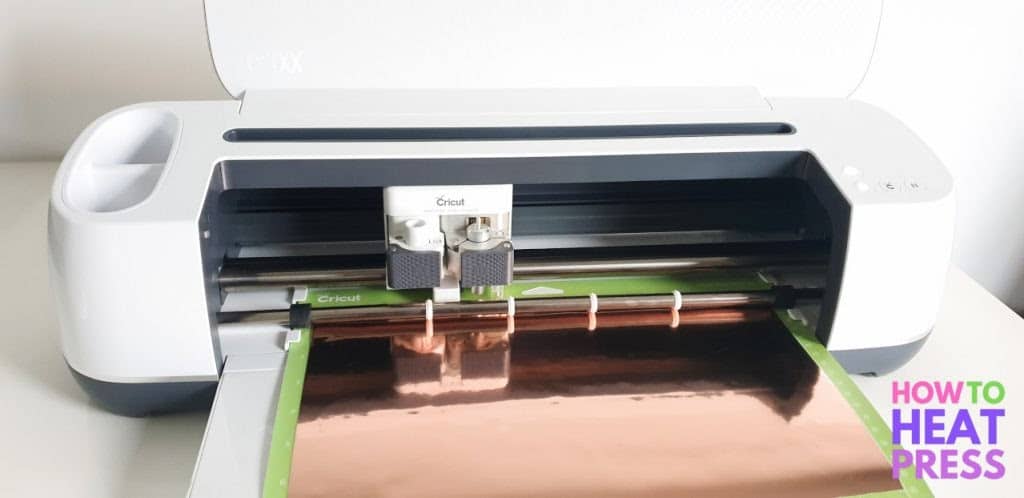 After multiple attempts, my label finally cut out OK.
Next, I weeded the excess vinyl from my label.
I did not have much luck here either.  The vinyl kept ripping through the letters. The letters would also keep lifting up from the backing paper and stick to the excess vinyl that I was trying to pull away!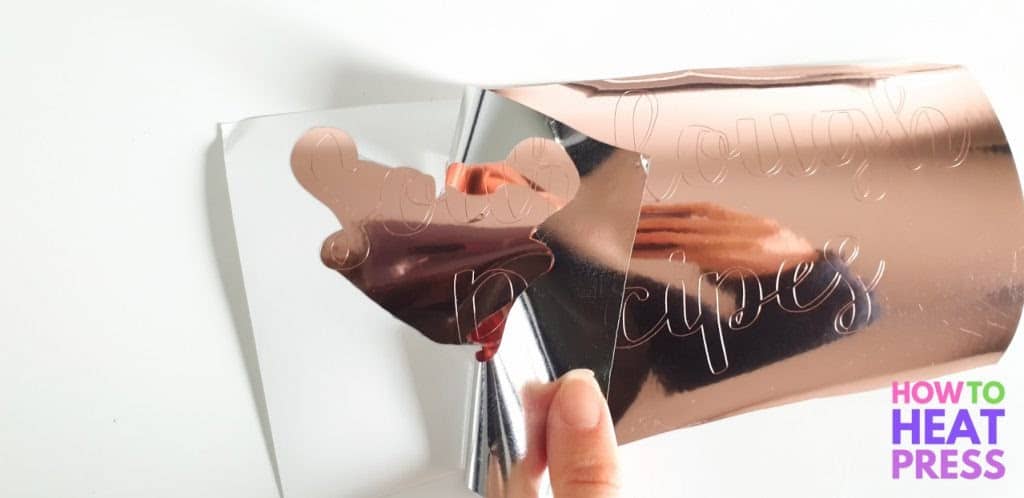 Cheap Adhesive Vinyl
Next, I tried out the American Crafts Vinyl Transfer Tape to transfer my label onto my folder.
It was quite difficult to remove the tape from the backing paper, which was not a great start. Then, some crinkled lines appeared all through the tape which made it horrible to work with. This happened multiple times… I'm not sure why!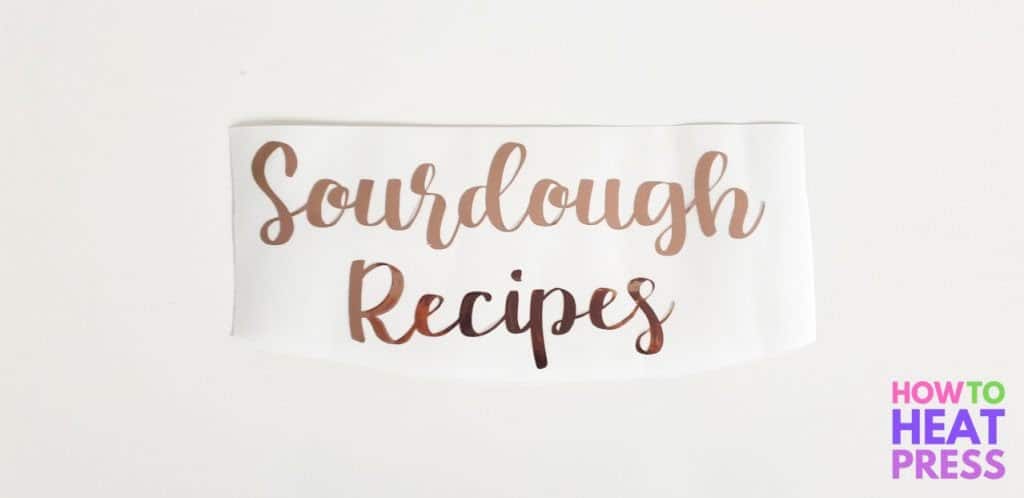 The vinyl stuck well to the tape though, which is the main thing. I burnished it down with a squeegee to make sure it was well-adhered to the vinyl.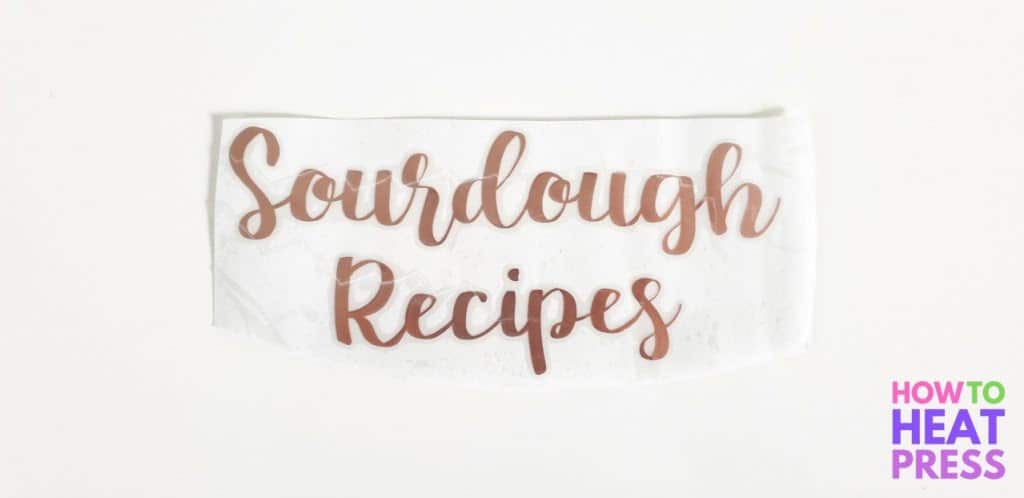 The vinyl also came off the transfer tape easily, which was a plus. I had no problems getting the adhesive foil to stick to my folder.
After burnishing the design onto the folder, I removed the transfer tape. To remove the transfer tape, roll it back onto itself slowly – don't lift it straight up as it will just pull up the vinyl.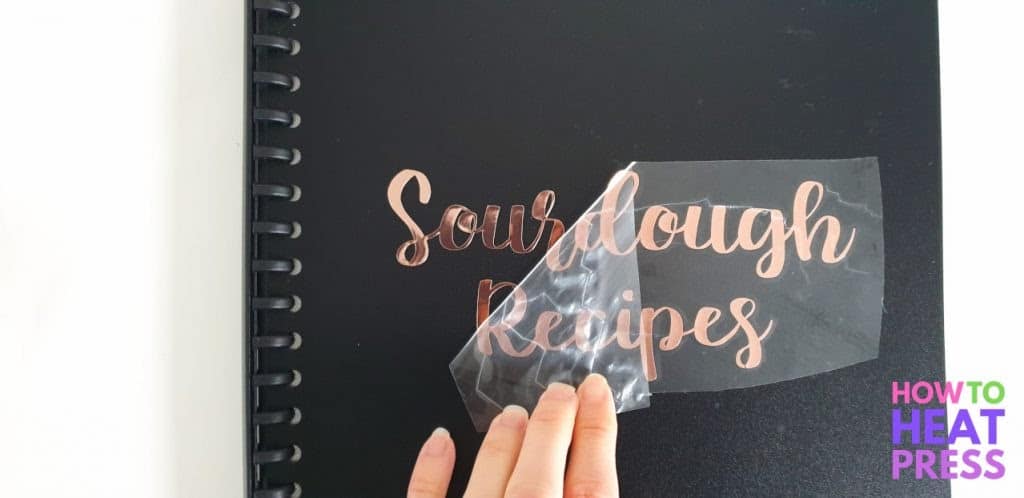 The finished result – looks great, and I do like the look of the Rose Gold Adhesive Foil.
I also really love this free font, it's called 'Chasy'.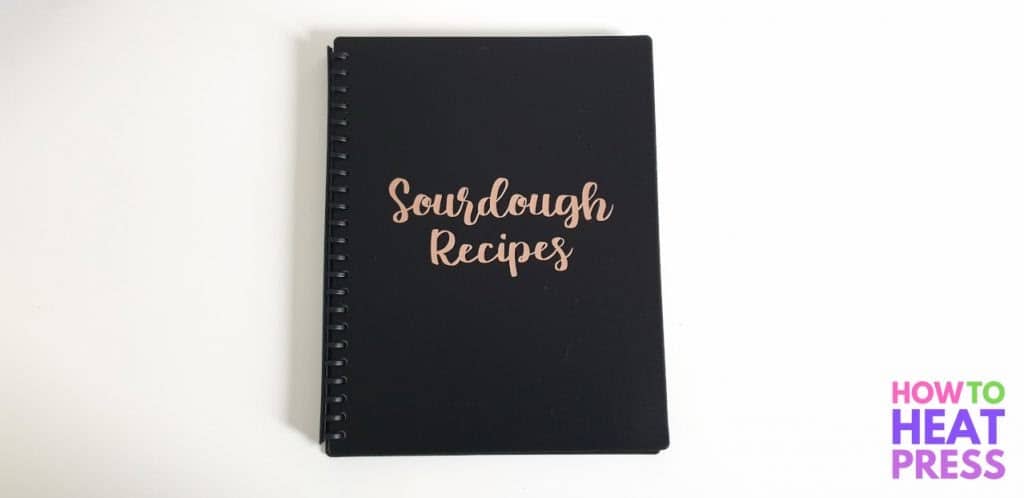 I also made another label for this puzzle case.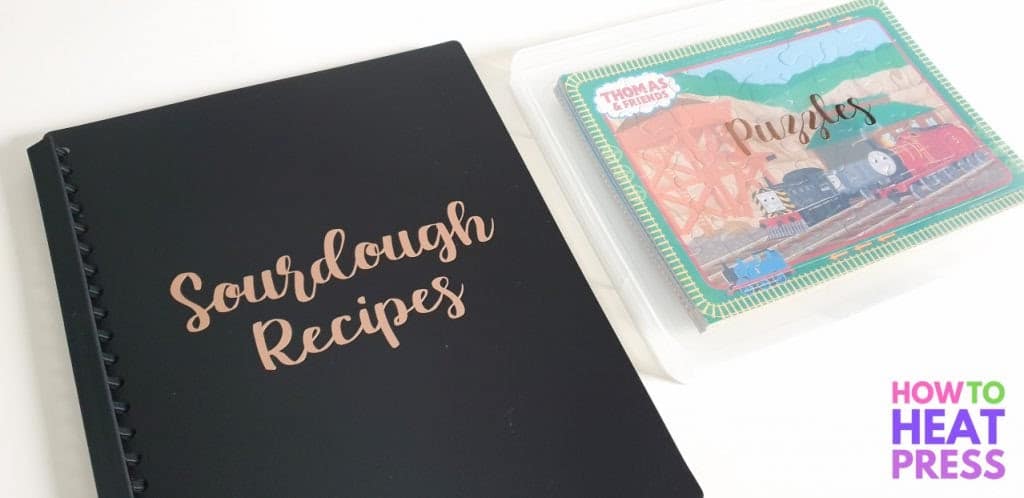 Despite the final result looking O.K., I wouldn't buy this product again. In this case, the single Amazon reviewers were totally right.
I had so many issues trying to cut and weed it that I would rather spend the extra money and buy my usual trusted brands.
That goes for both the vinyl and the transfer tape. In my opinion, the transfer tape wasn't that great that I would want to purchase it again.
After I finished these labels I used Cricut transfer tape for another project and it was so much easier to use.
Best Vinyl For Cricut
We wasted time, so you don't have to!  After this round, we still recommend using Oracal 651 Vinyl, or Cricut Vinyl.
The American Crafts Rose Gold Foil Vinyl isn't worth the trouble. Even though it is half the price, you might spend 4 times as long, and use 4 times as much vinyl, as you would with a more expensive product.
(Please note: This post contains affiliate links. Read our full disclosure policy here.)